How to fertilize a lawn – an expert guide
This expert guide to feeding and fertilizing a lawn will ensure lush, thick grass in the season ahead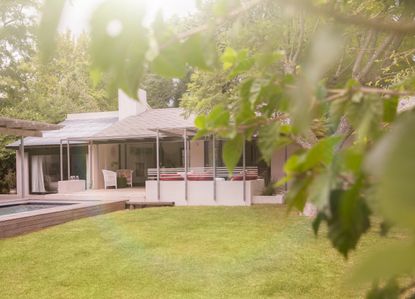 (Image credit: Alamy)
Fertilizing a lawn is vital to its health and lushness and now is a perfect time to do tackle the task. There is a ton of different methods and lawn fertilizers that you can use, some better and more effective than others.
Below, we take you through the best ways to fertilize a lawn with the most effective types of fertilizer so that you will not only make your lawn green and thick, but have one that better stands up to the daily wear and tear it gets.
How to fertilize a lawn
Fertilizing a lawn the the proper way will keep it growing strongly and densely, but once it's done, keeping it well fertilized is what will maintain its health and good looks moving forwards. It will also mean your lawn can withstand harsh conditions – whether a kids' football game or bad weather. Even better? Fertilizing a lawn regularly can ensure it's less likely to suffer from disease, pests and weeds.
Note that fertilizing is in addition to knowing when to add lime to lawns and not a substitute for this.
1. Prepare the lawn for fertilizing
It's best to fertilize a lawn when it's been prepped in advance. This means taking the lawn mower to it three or four days before you are planning to fertilize it. Once mown, it pays to aerate the lawn, remove any weeds (you don't want to be feeding them). This is a good time to dethatch a lawn if necessary, too. The night before you plan to fertilize it, give the lawn a light watering, too, as you don't want to soil to be too dry, or the grass will not absorb the nutrients you are adding to it.
2. Apply the fertilizer
A cloudy day or in the evening is the best time to fertilize a lawn. Scattering fertilizer with your hands is not the most effective way to do the job; ideally, you want to use a spreader to get the right amount of fertilizer evenly spread.
There are many fertilizer spreaders available on Amazon. If your lawn is a small or an uneven shape, a hand-held or shoulder spreader is the easiest to use. For a larger, square or rectangular lawn, there are push-along spreaders that make the job quicker and simpler. If you have opted for a liquid fertilizer, you can use a spray; this is particularly good for patches in grass.
'Spread the lawn food evenly and uniformly, either by hand or a suitable spreader such as a garden sprayer, and water thoroughly after application,' advises Angharad James, product expert at Phostrogen®.
3. Water the lawn after fertilizing
Lawn care experts like Angharad will usually tell you to water a lawn after feeding to allow the fertilizer to be better absorbed and to stop the individual blades of grass being scorched by the chemicals. So take the hose to the lawn or time your fertilizing for just before a good rain shower.
4. Check the lawn after fertilizing
A couple of weeks after you have fertilized your lawn, check it for weeds; these can be lifted out and you can use fast-growing grass seeds to fill the patches.
5. Begin the fertilizing cycle again
When you buy fertilizer, take note of how long the feed lasts. There are slow- and quick-release fertilizers and these differ in how long they take effect for. Slow-release fertilizers tend to be effective for three to four months; quick-release ones last for a month or so. So, make a note in your diary of when to begin the process again.
Which are the best lawn fertilizers to use?
You can buy lawn fertilizer in granule or liquid form. There is no 'best fertilizer' as such, because the one you use will need to suit these variables below.
You need a fertilizer that suits the season – so one that is suited for spring or one suited to fall. 'In spring, the fertilizer will be higher in nitrogen to kickstart your lawn's growth and color and it will also tackle the oncoming warmer weather. In the summer, the fertilizer will help retain the healthy green color, nourish your lawn and avoid scorching. And then in the autumn, which is perhaps the most important time of year for a lawn feed, [it] should be higher in potassium and phosphate to produce healthy roots and help the lawn get in good shape to cope with winter. It will also keep away various pests that can harm your turf,' says David Truby, Managing Director of lawncare experts, Greensleeves.
You need to avoid cheap fertilizers which can often contain too much nitrogen (most lawn fertilizers count nitrogen along with phosphorus and potassium in their ingredients). These cheaper feeds may work in the short-term but won't over a long period. 'Use a fertilizer that contains the right ingredients for your lawn's needs. For example, a high nitrogen content will encourage growth and greenness, whereas a high phosphorus content will improve root growth,' says Fiona Jenkins, gardening expert at MyJobQuote.
You need to buy a fertilizer that suits the type of lawn and soil type you have.
Slow- or quick-release fertilizer? Most lawn care experts will promote slow-release fertilizers for long-term use, as quick-release fertilizers are best for giving your lawn a pep up. David Truby, Managing Director of lawncare experts, Greensleeves, says, 'Use a controlled released fertilizer. This is the best type of product to use as it releases nutrients gradually into the soil on a little and often basis. This has no scorch technology, so it won't damage the lawn in any conditions, and it means you are not having to make repeat applications on a regular basis.'
Organic or chemical? There are organic alternatives to chemical lawn fertilizers.
When is the best time to fertilize a lawn?
The best time to fertilize a lawn is in the evening or on a cloudy day when the grass is wet or at least damp, and with more rain promised.
In terms of season, the best time to fertilize a lawn is in March or April after the last frosts have passed to promote growth, in July as a boost, particularly against hot weather, and in September or October to prepare the lawn for winter weather.
When shouldn't you fertilize a lawn?
Do not fertilize a lawn when the ground is bone dry or frozen; you will not necessarily harm the lawn doing so but it's unlikely you will do it much good as the grass' roots will not be able to absorb the fertilizer.
How often should you fertilize a lawn?
You should fertilize a lawn two to three times a year: in spring after the last frosts have passed to help with healthy growth; in high summer to help it withstand hot weather and to restore color; and in fall to help grass withstand the onslaught of winter. If your lawn needs help, an early summer feed, perhaps in May, won't hurt either. Do follow the manufacturer's instructions of the lawn fertilizer you have used to get the pacing between feeds right.
'Generally speaking, lawn food should be applied three times a year from March to October when the grass is actively growing, but lawns should be watered more regularly, particularly during the summer months,' agrees Angharad James, product expert at Phostrogen®.
When should you not use lawn fertilizer?
You should not use a spring fertilizer in fall or a winter lawn fertilizer in spring, since spring fertilizers are designed to promote growth, which is not something you want in the fall. Neither should you use fertilizer on very dry or frozen ground, since the fertilizer won't be absorbed.
Are lawn fertilizers safe to use?
The majority of lawn fertilizers are safe to use, but if you have pets that like to eat grass, it is worth checking the packaging when you buy for any contraindications, and keeping the pets off the lawn until it has had a good post-feed soaking to ensure the fertilizer has moved off the grass and down into the soil.
Are there are alternatives to chemical lawn fertilizers?
There are organic alternatives to chemical lawn fertilizers but if you want to use a really sustainable approach, one way to feed a lawn is through mulching. Paul Hicks, Product Manager at STIHL, says: 'One way to achieve a lush lawn is through regular fertilizing, however this doesn't just mean using chemical treatments as mulching is a great natural alternative. Mulching is basically the process of cutting the grass and chopping the clippings into tiny pieces, with one pass of the mower. These clippings are then returned to the turf containing all the essential nutrients the lawn needs for healthy growth.
'Mulching can be achieved by using a special mower that has been designed to mulch. These mowers are often not able to collect grass and instead, they have a special profile in the cutter deck and a specially designed blade.
'However, there are some mowers out there that offer the best of both worlds and can collect the clippings in a grass box but can also be converted into a mulching mower with an accessory kit.
'Some top tips to consider when starting to mulch: check the length of your grass – if it is too long the clippings can clump together and won't break down. It can also cause problems with the performance of the mower; mulch up to three times every fortnight – whilst this might seem a lot, it will help to maintain a healthy lawn, especially throughout the key growing season; avoid mulching when it's wet – damp clippings can build up under the mower and won't break down on the lawn.'
Sign up to the Homes & Gardens newsletter
Decor Ideas. Project Inspiration. Expert Advice. Delivered to your inbox.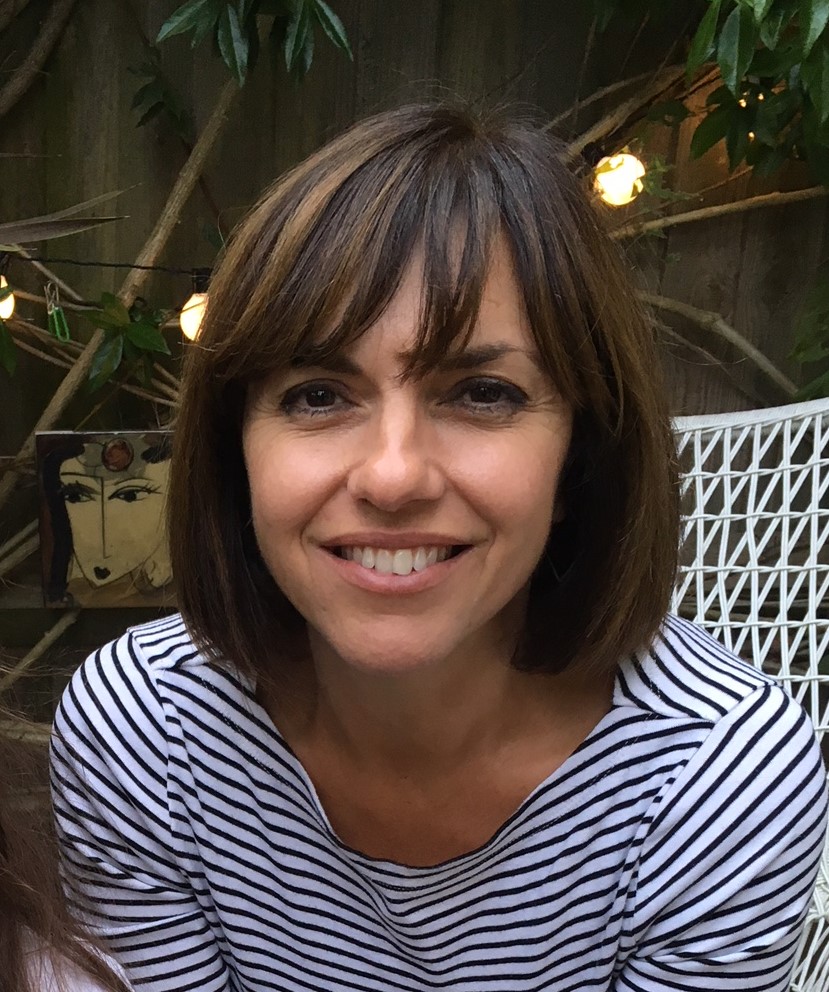 Lucy Searle has written about interiors, property and gardens since 1990, working her way around the interiors departments of women's magazines before switching to interiors-only titles in the mid-nineties. She was Associate Editor on Ideal Home, and Launch Editor of 4Homes magazine, before moving into digital in 2007, launching Channel 4's flagship website, Channel4.com/4homes. In 2018, Lucy took on the role of Global Editor in Chief for Realhomes.com, taking the site from a small magazine add-on to a global success. She was asked to repeat that success at Homes & Gardens, where she has also taken on the editorship of the magazine.