Best fast-growing grass seeds – 10 seeds and sods for a lush green lawn
These are the best fast-growing grass seeds for a lush, green lawn in no time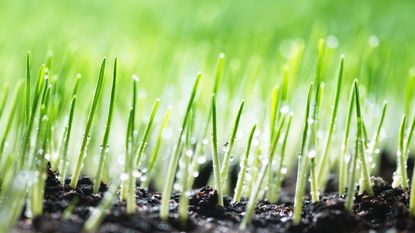 (Image credit: Getty Images)
Stroll barefoot across a lush lawn in no time by choosing the best fast-growing grass seed for your garden. Opt for the grass that most suits your situation: the climate, air quality, light levels, and soil type determine which variety to go for – we offer advice on all these elements below.
Select the right grass seed to sow, prepare the ground well, or lay ready-grown sod (turf) to further save time. Do all that and your luscious, verdant lawn will establish in no time, ready for summer croquet, parties, and sunbathing.
Below, we bring you the best fast-growing grass seeds to make a lawn green and thick – fast. Many, we are showing uncut, so you can see how they look grown for meadows, but obviously you will want them trim for a lawn.
Best fast-growing grass seeds – and grass
Whether you are looking to patch a bare lawn in a hurry, to sow a lawn that grows quickly or to put in fast-growing plants all round to create a more established look for your backyard, these fast-growing grass seeds and grasses are the best place to start, according to our favorite gardening experts.
1. Best fast-growing grass seeds for a temperate climate
'Perennial ryegrass is the fast-growing lawn grass that I would suggest for temperate climates like the northern US and the UK,' says Peter Landschoot, Professor of Turfgrass Science at Penn State College of Agricultural Sciences. 'It is a dark green, fine-textured species that germinates and establishes quickly, and can accept light traffic within 8-10 weeks.'
Avoid the perennial ryegrass variety 'Linn', which – although cheap – is poor quality and short-lived. Give annual ryegrass a wide berth too, although it is incredibly fast-growing, it has a rough texture and thins in the long-term, so that – a few years down the line – you'll have to re-do the lawn again.
Most perennial ryegrass forms are good quality and this is one of the best grass seed for overseeding dead patches of lawn or thickening an existing lawn. For a new lawn, they combine well with Kentucky bluegrass.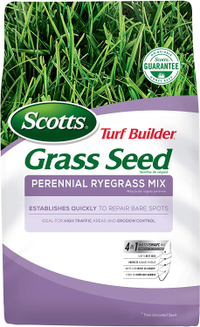 Perennial Ryegrass Mix, $28.99, Amazon
This grass seed establishes quickly even on compacted soil to repair bare spots. Ideal for high traffic areas, it will grow thick, green grass. This price is for a 3lb bag (covers approx 3,000 sq ft).
2. Best fast-growing grass seed for a warm climate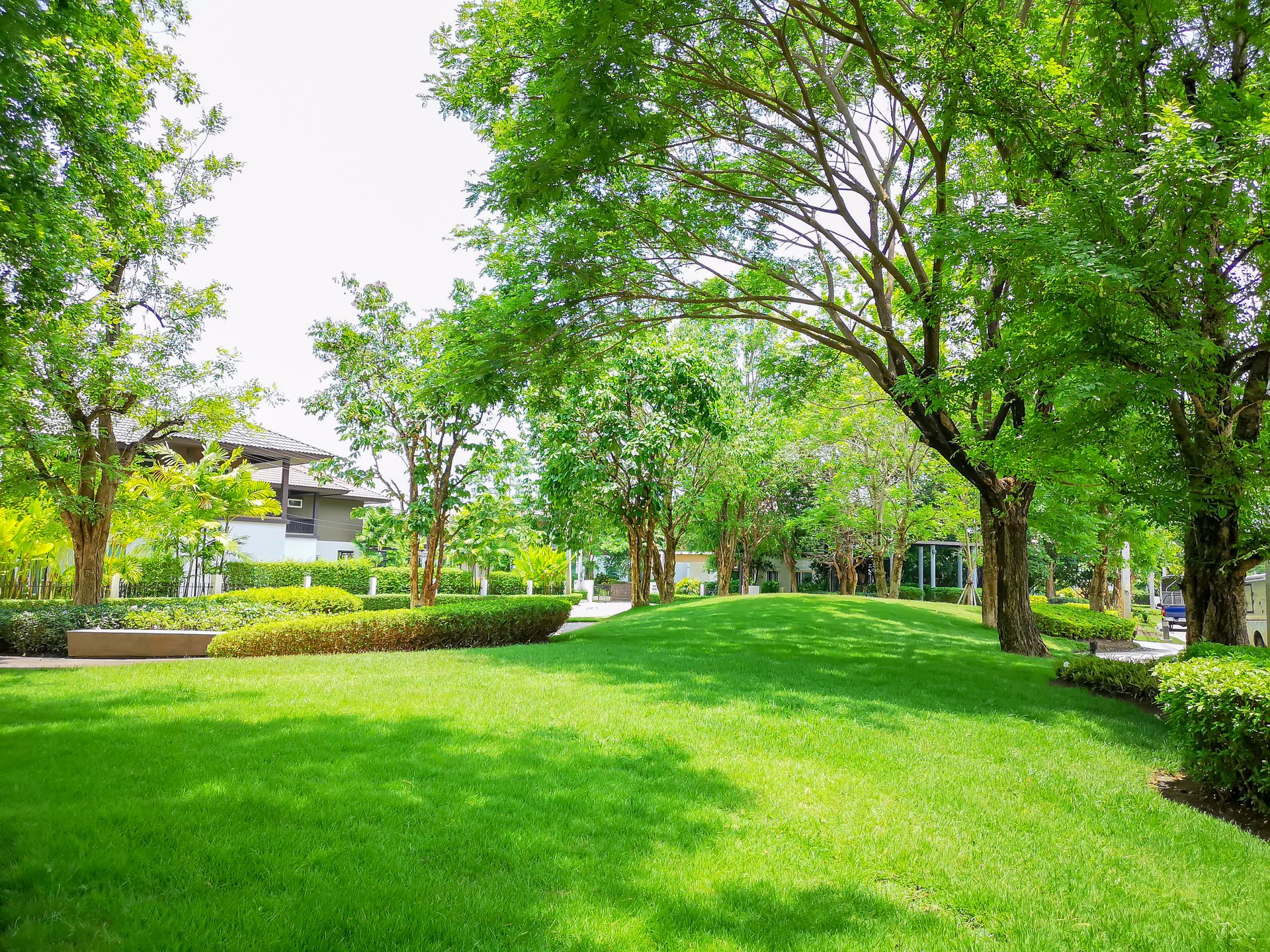 Zoysia is an attractive, dense dark-green grass that performs well in hot sun and needs less irrigation than other sun-loving grasses. Its only negative is that it is not cheap and – like all warm-season turf – looks pale brown over winter.
'Zoysia is one of the finer options for a lawn in a warm-weather climate,' says Florida-based garden designer Matthew Giampietro. 'Paspalum is also excellent. They are not as economical or as readily available as Palmetto St Augustine grass, which establishes very quickly, but unfortunately is a rather coarse grass. Zoysia and paspalum are the much finer options.'
Being a slow-to-establish grass, the way to enjoy zoysia quickly is to purchase it as sod (turf).
3. Best fast-growing grass seed for the least mowing
Turf-type tall fescue creates a lush greensward that copes with foot traffic and requires less mowing and watering than some turf grasses. It also has a good growth rate and loves open, sunny ground.
'Tall fescue provides moderate to good levels of turf-grass quality with limited maintenance,' says Suleiman Bughrara, who has researched grasses with Michigan State University. 'If you are concerned about conserving water for lawn irrigation, tall fescue is a good choice. Tall fescue is the most heat and drought tolerant of the cool-season turf-grasses with the ability to produce deep root systems. Also, research at MSU shows that tall fescue root has good tolerance to European chafer grub damage when compared with other cool-season grasses.'
It can be seeded on its own, without the need for creating a seed mix. Where the soil's drainage is not good, try to improve it before sowing tall fescues. Suleiman advises sowing in August.
4. Best fast-growing grass seed for shade
Fine fescues are ideal for shady areas of the garden, as long as they receive at least 2-3 hours of good sunlight each day.
'In the Mid-Atlantic region of the USA, seed mixes that include fine fescues, such as hard fescue, creeping red fescue, and sheep fescue are best suited for shady areas,' says Maryland-based landscape architect and designer Kirsten Coffen.
'Hard fescue is the best performer in the group. It is important to keep in mind that the fine fescues do not handle foot traffic well, should be infrequently mowed, and need at a bare minimum two hours of direct sunlight. However, they can be a cost effective and aesthetically pleasing way to cover a large shady area in the yard.'
Where the soil's drainage is not good, try to improve it before sowing fine fescues. If there are a lot of trees nearby, sowing in autumn after clearing the leaves will give the grass several months to establish before the shade intensifies again with spring leaf growth.
5. Best fast-growing grass seed for sun
Buffalo grass is a warm-season native grass for sunny areas in zones that enjoy hot summer months. In scorching heat, many other grasses would quickly brown, but Buffalo will remain a lush shade of green. It does not require a lot of mowing or watering, being slow and drought-tolerant. To help it establish quickly, it is best bought as sod (turf).
UC Verde is a good form of buffalo that was introduced by the University of California, bred specifically for the Californian climate, as well as dry desert valleys, such as Tucson in Arizona.
For those who live in cooler temperate zones, perennial ryegrass is a great option grass seed or sod (turf) for sunny areas.
6. Best fast-growing grass seed for semi-shade
A grass mix is often the best option for sowing or sod (turf) purchase, since many people's backyards have both areas of sun and areas of partial shade.
'A diverse seed mix ensures that your lawn will thrive under different conditions,' says Peter Landschoot, Professor of Turfgrass Science at Penn State College of Agricultural Sciences.
For a sunny lawn with some trees, go for a mix of 40-60% Kentucky bluegrass, 30-40 % fine fescues, and 10-20% perennial ryegrass. 'The Kentucky bluegrass and ryegrass will predominate in the sunny areas, and the fine fescues do well in the shade,' explains Peter.
For a shaded lawn with some sunny areas, he suggests a mix of 50-60% fine fescues, 30-40% Kentucky bluegrass, and 10-20% perennial ryegrass.
7. Best fast-growing grass seed for heavy foot traffic
Kentucky blue copes well with the onslaught of feet and paws walking and running across it repeatedly, which is why it's probably the most widely grown grass in the US. It produces a dense dark-green lawn with an average texture. Being relatively slow to establish, it is best bought as sod (turf) to enjoy a fast result, and in many areas is better mixed with perennial ryegrass.
Having a shallow root system, Kentucky blue is fine in colder climates, but not the best option for warm areas – unless you have children who love to spend hours charging through sprinklers! Bermuda and zoysia are good options for a lot of foot traffic in a warm-weather zone, and tall fescue is a great option for mild to cool zones (such as the mid-south states of the US).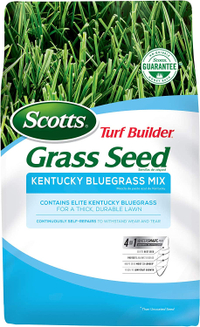 Kentucky Blue Grass Seed, $28.99, Amazon
This Kentucky Bluegrass Mix will grow into a thick, durable lawn. Perfect for full sun and light shade, it offers medium drought resistance. This price is for a 3lb bag (which covers around 3,000 sq ft).
8. Best fast-growing grass seed for no foot traffic
Carex (sedge) is a very attractive grass to use a contemporary alternative to traditional mown lawn turf. If you want to grass a patch of land (such as a front garden) that nobody ever walks across, carex is a great option.
'We grow several grasses and sedges that make excellent alternatives to turf grass,' say the team at Hoffman Nursery in North Carolina, which specializes in ornamental grasses and native grasses. 'They create a low ground cover that does not need regular mowing or fertilizing. Some are more appropriate to shady conditions, while others thrive in full sun. All can be mowed high (3-8in/7-20cm) two to three times a season for a traditional look, or left unmowed for a more natural look.'
Carex is a low-growing evergreen grass with beautiful, arching growth and elegant, narrow foliage. There are many different types, including gold, cream, bronze, and green forms. C. flacca (glauca sedge) has lovely green-blue foliage. To attract and help wildlife, you could consider mixing such low grasses with nectar-rich perennials (for example, coneflower) to create an informal prairie look that has movement, texture, and color.
9. Best fast-growing grass seed for a low-rainfall area
Tall fescue is a drought-tolerant, low-maintenance choice for open, sunny ground in regions that experience low rainfall or where irrigation is not possible.
'During a drought, tall fescue will be the only green grass in the lawn,' says Peter Landschoot, Professor of Turfgrass Science at Penn State College of Agricultural Sciences. 'But plant tall fescue alone – its light-green color and coarse texture don't blend well with the finer turfgrasses, such as Kentucky bluegrass, ryegrass, and fine fescue. Also, buy a good quality "turf type" tall fescue from a reputable dealer. Stay away from the variety Kentucky 31, which produces large, coarse clumps.'
Where the soil's drainage is not good, try to improve it before sowing tall fescues. Fine fescue grasses are an alternative for shady ground in drought-prone areas, but do not tolerate a lot of foot traffic.
10. Best fast-growing grass seed for pets
Bermuda grass is a great option for handling the patter of dog paws and patches of urine, being a tough, coarse turf that grows back quickly. It thrives in warm areas and withstands drought.
Research by the University of Florida found that Bermuda and St Augustine were the grasses that recovered fastest from dog urine, and that zoysia and paspalum were also good. All of these grasses are ideal for warm areas, with St Augustine being perhaps the most shade tolerant. In cold areas, Kentucky blue is a tough-cookie grass, able to withstand pets; and, in zones in between, perennial ryegrass and tall fescue are safe bets.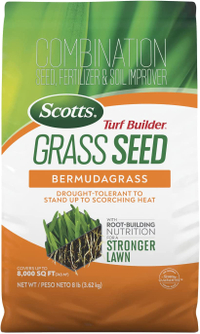 Bermuda Grass Seed, $83.48, Amazon
This 8lb bag covers around 8,000 sq ft. Drought-tolerant to stand up to scorching heat with root-building nutrition for a stronger lawn, this Bermuda grass includes a mix of seed, fertilizer, and soil improver.
FAQs
What are the best grass alternatives for deep shade?
Grass will not grow well in dense shade, so – unless the area has heavy foot traffic (in which case hard landscaping may be a better option) – it's best to plant a grass alternative.
'For areas that get fewer than three hours of direct sun, use a shade-tolerant ground cover, such as myrtle or pachysandra,' says Peter Landschoot, Professor of Turfgrass Science at Penn State College of Agricultural Sciences.
Other options include moss (which is used to carpet large garden areas in Japan), sweet woodruff (which has scented white flowers), Persian ivy (English ivy should be avoided in areas of the US where it is invasive), and golden star (which is evergreen in mild winters).
Why isn't my grass thriving?
Most turf grass enjoys good drainage, so that could be an issue. Regularly spiking the lawn with a suitable tool (even a large fork will do the trick) will help. If there is somewhere for the water to seep, it may be worth installing a drainage system. But to start all over again or when creating a new lawn, add sharp sand and topsoil that is rich in organic matter.
Peter Landschoot, Professor of Turfgrass Science at Penn State College of Agricultural Sciences, also advises being careful about which seed or sod you buy: 'Don't rely on brand names or choose a seed because the bag says it's a sun or shade mix. Read the label to learn the grass species included, the percentage of each seed and the date of the germination test. For best results, the test date should be within nine months of purchase. The germination percentage should be at least 80 percent – preferably higher.'
Sign up to the Homes & Gardens newsletter
Decor Ideas. Project Inspiration. Expert Advice. Delivered to your inbox.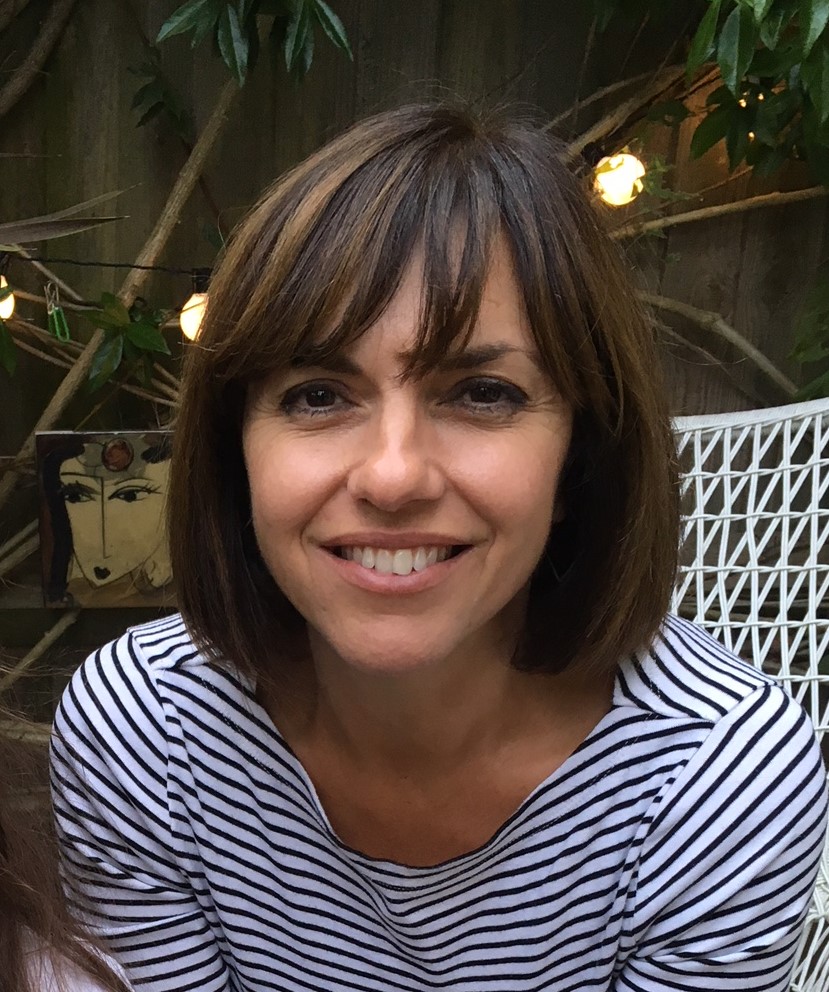 Lucy Searle has written about interiors, property and gardens since 1990, working her way around the interiors departments of women's magazines before switching to interiors-only titles in the mid-nineties. She was Associate Editor on Ideal Home, and Launch Editor of 4Homes magazine, before moving into digital in 2007, launching Channel 4's flagship website, Channel4.com/4homes. In 2018, Lucy took on the role of Global Editor in Chief for Realhomes.com, taking the site from a small magazine add-on to a global success. She was asked to repeat that success at Homes & Gardens, where she has also taken on the editorship of the magazine.