Best lawn mowers: 7 top rides, according to our team
Looking for the best lawn mowers on the market? From electric to gas, cordless to robotic, we've found the top 7 to invest in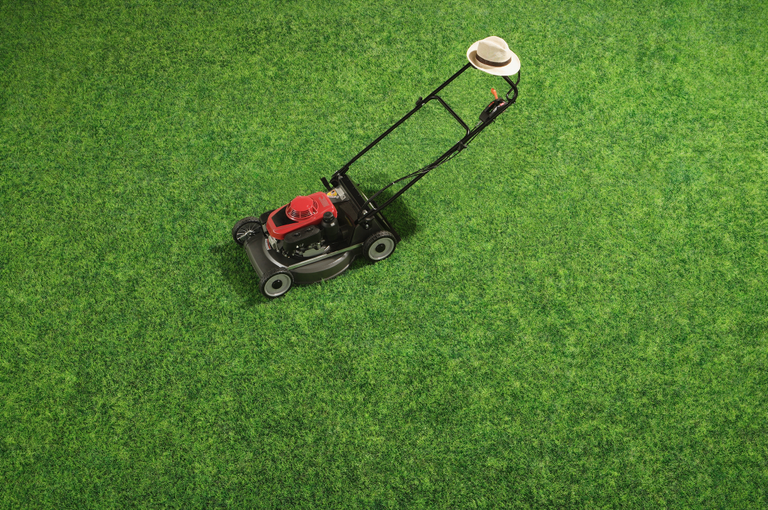 (Image credit: Getty Images)
Very few of us actually enjoy mowing the lawn. It's one of those annoying summer chores that gets bumped further and further down the to-do list, usually until we have visitors coming. But could the best lawn mower make a difference?
Having a good lawn mower does make the job a whole lot easier. In fact, the very best lawn mowers might just encourage you to stay on top of this job that little bit more regularly, so it's not a mad rush every time the mother-in-law announces she's paying a visit.
We've pulled together our pick of the best lawn mowers you can buy that will keep your lawn looking lovely all year round, plus some best buy guidance so you can make sure you buy smarter.
Best lawn mowers
1. EGO Power+ LM2100 21-Inch 56-Volt Lithium-ion Cordless Lawn Mower
The best lawn mowers: the best electric lawn mower
Specifications
Power: 56V
Grass box capacity: 73L
Best for: medium-sized yards
Reasons to buy
+Cordless design+Quick charge and 60 minutes of run time+Weather resistant+Sloping nose for getting under bushes
Reasons to avoid
-Larger yards will need a mid-mow recharge
Promising all the torque of gas without the noise, mess, or fumes, this self-propelled cordless electric mower offers up a simple push-button to get it started and 60 minutes of cut time on a single charge. Once it's out of battery, an hour on charge will see it ready to go again.
It has a weather-resistant construction, plus bright LED headlights that mean you can mow whenever you need to. Its sloping nose design also means it can reach under low-hanging bushes more easily.
There's a single lever for choosing between six different cutting heights, and a 3-in-1 option for cutting too – choose from mulching, bagging, or side discharge. Its design means it should be able to handle most terrains, so if your grass is sloped or uneven, the EGO should be able to handle it.
Despite its full-sized 21-inch deck, the LM2100SP manages to be surprisingly compact for storage, thanks to its forward-folding handle, while a five-year warranty finishes off this little package nicely indeed.
2. Greenworks 20-Inch 3-in-1 12 Amp Electric Corded Lawn Mower 25022
The best lawn mowers: the best value electric mower
Specifications
Power: 120V
Grass box capacity: Not listed
Best for: small to medium-sized yards
Reasons to buy
+Superb value+Good performance+Low noise+Lightweight
Reasons to avoid
-Too compact for large yards-Grass bag is a little flimsy
This is one of the most popular lawn mowers on Amazon, and we aren't surprised. Though it is a corded electric mower, meaning it is a little more restrictive than the cordless options you can buy, it still holds its own with how well it mows.
For a start, if you're on a budget, you'll get a lot of performance for your money. The deck is on the smaller side at 20 inches though, meaning you might want to leave this one if you have a larger yard. This is better for nipping around smaller areas and getting into smaller corners easily instead.
Noise levels are low and an easy push-to-start button will get it up and running without any hassle. It's nice and reliable too since you've got no worries of running out of fuel or battery at any stage.
Features are pretty functional here, but there's enough. You can choose between seven mow levels and between bagging, side discharge, and mulching for the cuttings. There aren't lots of mowers we would wholeheartedly recommend at this price, but this is absolutely one of them.
3. Troy-Bilt 11A-A2SD766 21 in. 3-in-1 Walk-Behind Push Lawn Mower
The best lawn mowers: the best value gas mower
Specifications
Power: 140cc
Grass box capacity:: 70 liters
Best for: small yards
Reasons to buy
+Lightweight and easy handling+Reliable+Range of cutting efficient options
Reasons to avoid
-Will find long grass a challenge-Not one for hills
The 140cc engine might seem modest, but this gas-powered mower doesn't leave you wanting, especially at this price.
For a start, the smaller engine helps to keep the machine nice and lightweight, which makes for easy handling as you're pushing it around your lawn. It performs well too, bagging and mulching grass with almost surprising efficiency, and is nimble enough to be whizzed into smaller spaces without much worry.
Hills are probably asking too much from this mower, and you'll want to be sure you don't leave too long between mows too. Longer-than-ideal grass will likely get the better of it, though its side discharge chute does come in useful in these situations.
Above all, it's reliable and super easy to set up, thanks to coming almost fully assembled in the box. At this price, that makes it something of a bargain.
4. Honda HRX 200-cc 21-in Self-Propelled Gas Push Lawn Mower
The best lawn mowers: the best gas mower on the market
Specifications
Power: 190cc
Grass box capacity: 88 liters
Best for: medium to larger-sized lawns
Reasons to buy
+Powerful+Feature packed+Multiple cutting options+Five year warranty
Reasons to avoid
-Expensive
It's a bit of a splurge, but this self-propelled gas mower from Honda offers a considerably better experience than cheaper gas-powered mowers thanks to several handy features.
For a start, its powerful 190cc engine ensures it makes light work of long grass and hills, while its smooth-running hydrostatic cruise control allows you to adjust the speed up to 4mph.
Honda's 4-in-1 Versamow system also offers up the option to mulch, bag (with a sizeable grass bag), discharge, and shred leaves without the need for any additional tools, while the Roto-Stop feature allows you to stop the blades while you step away from the mower, without stopping the engine.
We're impressed with the five-year warranty too, compared with the industry standard of two or three.
5. RYOBI 20 in. 40-Volt 6.0 Ah Lithium-Ion Battery Brushless Cordless Walk Behind Self-Propelled Lawn Mower with Charger Included
The best lawn mowers: the best value cordless option
Specifications
Power: 40V
Grass box capacity: Not listed
Best for: small to medium-sized yard
Reasons to buy
+Cordless+Great value+Good performance+Well featured
Reasons to avoid
-Side discharge requires extra accessory-Battery run time won't suit every yard
You can spend a pretty penny on a cordless lawnmower these days, but that doesn't mean the technology is out of reach to those on humbler budgets.
The Ryobi Push Lawn Mower has a 20-inch deck with a choice of seven cutting positions between 1.5 and 4 inches. It's aimed at smaller yards, probably around half an acre or less, as its 48-minute run time should suit that perfectly.
It does have a battery storage compartment for storing a spare though, so you can always swap it out while mowing if you're caught short – presuming you buy another battery.
It's a quiet mower, but its brushless motor offers up plenty of power that would challenge a similarly priced gas mower. With 3-in-1 mulching, bagging, and side discharge capabilities (though you will have to buy the accessory for side discharge separately), you won't find yourself wanting for much when it comes to its performance.
Other features include LED headlights for 24-hour mowing potential, a telescoping handle for easier storage, and a simple push-button start.
6. Toro TimeMaster 30 in. Briggs and Stratton Personal Pace Self-Propelled Walk-Behind Gas Lawn Mower with Spin-Stop
The best lawn mowers: the best for larger-sized yards
Specifications
Power: 223cc
Grass box capacity: 88 liters
Best for: larger-sized yards
Reasons to buy
+Powerful+Easy to use+Adjustable speed control
Reasons to avoid
-Expensive -Doesn't deal so well with tighter spaces
If you've got a large yard, you'll appreciate the Toro TimeMaster's time-saving design. With its 30-inch steel deck, the Toro can cut a larger path with every pass than your regular mower would, meaning you get the job done quicker and easier.
It also offers Toro's Personal Pace speed control, so you can adjust the speed to match how fast you want to go. Its top speed is a nippy 4.5mph, which adds even more to its time-saving functionality.
Other great features include its two-lever height control, a forward-fold handle to help for more compact storage, and a large grass bag to hold all the cuttings. There are also mulching and side-discharge options should you prefer, and a choice of seven different cutting heights.
It won't be the mower for you if you have lots of tight spots to navigate, but for making quick work of large spaces, it's exactly what you need – even if you will have to swallow a fairly hefty price tag for the privilege.
7. Husqvarna AUTOMOWER 315X Robotic Lawn Mower
The best lawn mowers: the best robot lawn mower
Specifications
Power: Not listed
Grass box capacity:: N/A
Best for: medium to larger-sized yards
Reasons to buy
+Independent mowing ability+Convenient+Lots of features
Reasons to avoid
-Expensive-Lengthy setup require patience-Performance isn't as good as standard mower just yet
Robot lawn mowers are for those of us who don't want to mow the lawn ever again. They're still relatively new, meaning prices are still relatively high, but if you've got the cash to spend, they're a fantastic investment for the time-tight gardener.
This Husqvarna is pricey, but it's also one of the best robot lawn mowers you can buy when it comes to features. It takes a bit of set up (and patience) to get up and running, but once it's done, you can hand over the entirety of the mowing chores to your robot and never think of it again.
The 315X has built-in Bluetooth and cellular, meaning you can use the companion app and check in on your lawnmower's progress wherever you are in the world, as well as stop and start it manually if you prefer. Set a schedule and you'll never need to worry about mowing the lawn ever again or use voice commands to bark instructions at it via Amazon Alexa or Google Home instead.
As for performance, robot mowers still have some way to go before they can rival a "proper" mow, but this 315X gives it a good go all the same, with a choice of grass heights, adjustable via the unit itself, ground coverage of 1600 m² and the ability to tackle slopes of up to 40%. The ideal easy mow system at a price that reflects that.
How do I choose a lawn mower?
As we've touched upon, the very best lawn mower is so much more than just how well it cuts the grass. It's how easy and – dare we say it – enjoyable it makes the job for you.
There are several options when it comes to lawn mowers, from gas-powered to an electric motor and cordless models powered by lithium-ion batteries. Each has its strength, be it speed, durability, versatility, power, or lack of noise.
Think of what's important to you out of these things – if convenience and low noise are top of your wishlist, you might want to think about going cordless. For ease and maneuverability, an electric mower might tick the boxes best for you (assuming you have outside power), while gas mowers promise durability and pure power.
If you have a very big garden, you'll want to think how long the cord will stretch on an electric lawn mower, and whether a cordless one will have the battery power to get around it in one. This is another time when gas-powered comes in handy, despite being pricey and not exactly the best for the environment.
How much should I spend on a lawn mower?
Like most appliances of its size, buying a lawn mower can be a sizable expense, so it's worth making sure the money you spend has been put into something that will last.
If you're spending upwards of around $400, you're in premium mower territory. This is where you'll find the widest selection of quality electric mowers, and gas mowers that are a little more reliable.
Drop down to the $250 to $400 range and there are still some great options, but the overall performance and ease of use will just be a level down.
If you're on a stringent budget, you can pick up models for just under $200, but you'll have to manage your expectations when it comes to some parts of their performance.
How long should a lawn mower last?
With proper maintenance and care, a good lawn mower should last anywhere between eight to 10 years, and of course, the more you spend, the longer you can expect to keep using it.
That means if you spend towards the lower end of the budget, you may find yourself needing an upgrade a little sooner, with a cheaper lawnmower averaging about 200 service hours before it'll need replacing or fixing.
A premium lawn mower, on the other hand, should do over double that. Expect around 500 hours before it'll give up the ghost.
It is important that you take good care of your lawn mower though. Making your lawn mower work harder, by routinely pushing it through thick long grass will shorten its lifespan considerably. Also, larger gardens that take longer will take a hit on that service life, so that's worth bearing in mind too – larger gardens would definitely benefit from a more long-lasting premium model.