Best riding lawn mower: 7 best buys that are worth the investment
Here are the seven best riding lawn mowers to fit every size, budget, and level of expertise.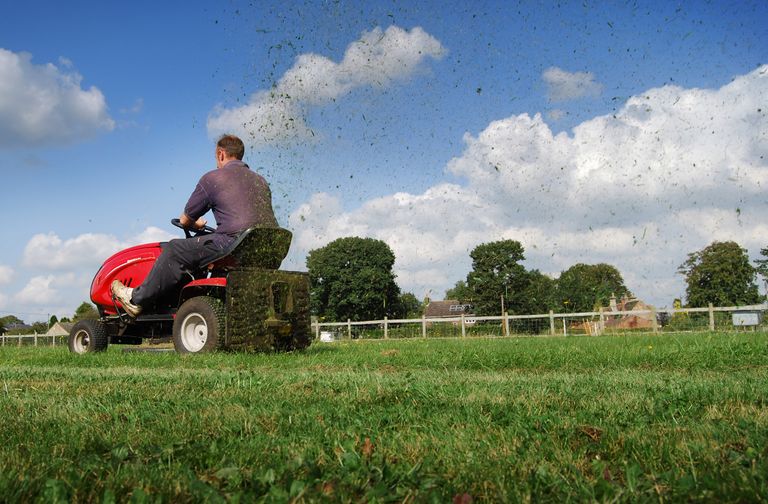 (Image credit: Getty Images)
Are you searching for the best riding lawn mower on the market? Whether you have a giant yard to get lost in or are struggling to find a push mower that grants all your needs, our buying guide might be just what you need. 
Ride-on mowers are exceptional for large properties with acres to tend to but can also be extremely helpful for those reeling with mobility concerns and are still aiming to keep their grass neat and tidy without enlisting help.
However, making sense of the best riding lawn mower — without testing them first-hand — is no easy task. Each version has a handful of features and functions customized to suit specific yards. And, when we are talking about spending hundreds or thousands of dollars, you want to feel confident you are making a sound investment. 
Thankfully we've done the legwork for you, finding the best ride-on mowers you can buy. Here are the seven best riding lawn mowers on the market. 
The 7 best riding lawn mower
1. Cub Cadet XT1 Enduro LT 42 in. 547 cc Engine with IntelliPower Hydrostatic Gas Front-Engine Riding Lawn Tractor
The best riding lawn mower: the best option for an overall ride
Specifications
Power: 18HP
Deck width: 42-inch
Fuel capacity: 3 gallons
Reasons to buy
+Powerful 18HP engine+Large 42-inch cutting deck+Good turning radius+Comfortable
Reasons to avoid
-Assembly required
This ride-on mower from Cub Cadet has it all. Not only does it offer uploads of features, with all you could want in terms of specs and performance, but it still comes in at an affordable price.
For a start, it has a 42-inch cutting deck for covering a decent amount of ground with every pass and 12 cutting levels that deliver a clean and precise finish.
It also promises a 16-inch turning radius, making the Cub Cadet far more versatile when used in smaller spaces than a lot of ride-on. It won't challenge the very best zero-turn mowers in this respect, but it helps to reduce the amount of re-mowing required.
We're impressed at how comfortable the seat remains even over long periods of use, while its three-gallon gas tank will ensure you don't have to fill up too often either.
Thanks to an 18-horsepower engine, it has plenty of power for residential use, plus its automatic transmission means there's no shifting required – select the cruise control option and enjoy the ride.
2. John Deere E120
The best riding lawn mower: the best selection that provides ease-of-use
Specifications
Power: 20HP
Deck width: 42- inches
Fuel capacity: 2.4 gallons
Reasons to buy
+Effective cutting+Good turning circle+Easy operation+Well designed
Reasons to avoid
-Fuel gauge is a little tricky to read
If you have a couple of acres to maintain, the John Deere E120 is the perfect backyard companion.
Not only is its performance effortless, thanks to its powerful 20HP engine and a superior turning circle. Additionally, it's also well constructed in the design department. Everything you need: from steering and levers to foot pedals, has been ergonomically situated for easy access, while the high-back seat is easily adjustable, with ten possible positions.
Plus, it is easy to get started, thanks to its choke-free ReadyStart technology, and offers a 42-inch cutting system with a deep deck design that helps lift the grass for a superior cut. You can choose from heights between one to four inches to get the finish you prefer.
Cruise control is on board for keeping a constant speed when mowing larger areas, and there are nice little extras for helping you keep on top of maintenance, like the company's EZ Change 30-second oil change system.
3. RYOBI 38 in. 100 Ah Battery Electric Rear Engine Riding Lawn Mower
The best riding lawn mower: the best electric ride-on version
Specifications
Power: N/A
Deck width: 38 inches
Fuel capacity: N/A
Reasons to buy
+Eco-friendly+Quiet+Low maintenance+Good performance
Reasons to avoid
-Batteries are expensive when they need replacing      -Run time won't be enough for bigger lawns
Gas-powered ride-on lawnmowers might be the go-to for most due to the added power they offer, but electric is worth a look if you prefer lower maintenance, less noise, and better eco-credentials.
The Ryobi 38in is powered by 75Ah batteries and offers up to two hours of runtime. That should be enough to get around a couple of acres with ease, and it can be charged via a standard 120-volt outlet when it needs it, which is handy. It'll take about 14 hours to charge from the flat.
It features three brushless motors and a two-blade 38-inch deck, with 12 different cutting heights. It cuts well too, plus the ride is smooth, quiet, and fume-free.
Cruise control and automatic transmission are on board for an easy ride, plus there's a battery indicator on the control panel that'll tell you how much juice is remaining at a quick glance.
Of course, it's worth remembering that for all the time and hassle you'll save in servicing your mower as often as a gas one requires, the batteries of your electric mower will need replacing every now and then. They should last a fair few years though, so it's far from a pressing concern.
4. Troy-Bilt Pony 42X Riding Lawn Mower with 42-Inch Deck and 547cc Engine Tractor
The best riding lawn mower: the most cost-effective ride-on design
Specifications
Power: 17.5HP
Deck width: 42 inches
Fuel capacity: 1.36 gallons
Reasons to buy
+Wide 42in cutting deck+The 18-inch turning radius for minimal re-mowing+Good power for the price+Seven speeds
Reasons to avoid
-Manual transmission-Fuel capacity on the smaller side
The Troy-Bilt Pony 42-inch riding lawn mower offers all the power and features you need to manage a few acres of lawn, as the high-end versions, but does so at a very affordable price point. 
With a solid engine onboard and 17.5 horsepower to deal with, there's plenty of power to go around, though you'll need to know how to use a manual transmission with seven speeds to work through.
The 42-inch deck ensures you're cutting a good amount of grass with every pass, with five cutting positions to use when in use. There's also an 18-inch turning radius to ensure minimal re-mowing, plus the ability to mow in reverse, which isn't a feature you see on a lot of the competition.
Next, there are additional features: automatic headlights, a cup holder, and a comfortable low-back seat. 
Lastly, you will find accessories such as bagging and mulching kits also extremely useful and included.
5. Husqvarna Z254 54 in. 26 HP Kohler Hydrostatic Zero Turn Riding Mower
The best riding lawn mower: the most exceptional overall zero-turn mower
Specifications
Power: 26HP
Deck width: 54inches
Fuel capacity: 3.5 gallons
Reasons to buy
+Large 54-inch cutting deck+Powerful and reliable+Zero-turn for no re-mowing+Precise cutting performance
Reasons to avoid
-More expensive than ride-on option
Husqvarna has an excellent reputation in lawn care, and the Z254 sits at the top of the Z200 zero-turn range.
With a 54-inch cutting deck and a powerful, durable 26HP engine, it offers a wide-range cutting area that'll make keeping on top of those larger-in-size lawns up to four acres quick and easy. It turns on a dime, is simple to use, and is smooth in operation, making every mow straightforward and hassle-free.
There is also a cooling fan included keeping the mower running efficiently during those longer mows. Plus, it aids in the built-in Air Induction Mowing Technology. 
Concepted to lift the grass before cutting to ensure consistent, neat cutting height. 
An ergonomic control panel puts everything you need for operation at arm's reach, as the padded seat, generous legroom, and large accessible handles make for a comfortable ride and easy handling. 
6. Cub Cadet Ultima ZT1 50 in. Fabricated Deck 23 HP Kawasaki FR Series V-Twin Gas Engine Zero Turn Mower with Lap Bar Control
The best riding lawn mower: the best choice when planning to go up hills or terrain
Specifications
Power: 23HP
Deck width: 50 inches
Fuel capacity: 3.5 gallons
Reasons to buy
+Powerful commercial-grade motor+Hydrostatic transmission+Large 50-inch deck+Good on hills
Reasons to avoid
-Expensive
If your lawn is on the hilly side, you'll want to make sure you've got a machine that's up to the job. The Cub Cadet Ultima ZT1 is a superior option for situations like this, with 20-inch rear tires and a powerful commercial-grade 23HP engine to give it the extra oomph and control it needs up slopes.
With a large 50-inch cutting deck and all the precision a zero-turn mower offers, it should cut a strip of lawn in a single pass, with 15 cutting heights in quarter-inch increments to choose.
It also has a 7.5mph forward speed, with a 3.5mph reverse speed helping you to make quick work of those larger jobs, as well as a hydrostatic transmission for straightforward operation.
It's a comfortable ride too. There are a full adjustable lap bar and high-back seat, as well as ergonomic handgrips and electronic blade management at the touch of a finger.
7. Toro Titan 75303 60in
The best riding lawn mower: an expensive model that is worth every penny
Specifications
Power: 24.5HP
Deck width: 60 inches
Fuel capacity: 5 gallons
Reasons to buy
+Commercial-grade power+Large cutting deck for larger lawns+Comfortable+Reliable
Reasons to avoid
-Expensive-The controls are sensitive
If you have the money to spend, and the space to make the most of what it's capable of, the Toro Titan is a beast of a machine, and nothing short of a powerhouse.
Offering a commercial-grade 24.5HP engine, with a large 60-inch deck and upgraded blades it'll make quick work of acre after acre. You should be fine servicing lawns of up to seven acres with this machine, be that your own or a client's.
With a maximum speed of 8.5mph, you can cover a decent amount of ground pretty quickly with this mower, and hills are tackled without issue, even in less-than-ideal conditions.
You can choose between cutting heights of 1.5 to 4.5 inches and enjoy a number of thoughtful features that make it incredibly comfortable to operate. This includes a step-through front end for easier obstacle clearing, smooth steering, and a comfortable padded seat and armrests.
How do I choose the best riding lawn mower?
There are several things to consider when buying a ride-on mower: ranging from engine power, deck size, transmission, and ease of use. You might also want to look into how ergonomic the seats are and how grass clippings are collected, and of course, you can choose between gas and electric.
Our picks are largely gas-powered; due to the extra power and exact run-time offered. However, if you don't need those things, there are some sensational electric options out there that will be cheaper to run, easier to start, and quieter, too. 
You'll see some of our choices split into a ride-on and zero-turn. Regular ride-on lawnmowers have a wider turn radius, which will require a little bit of going back over already-cut grass to complete the job. 
A zero-turn mower can turn 180-degrees to leave no strip of grass uncut, saving you time and effort. You'll pay for the privilege of this, of course, but prices are coming down, and those with large lawns may find it worthwhile.
Plus, most homes should aim towards a residential-grade riding mower. Though, for those with significant acreage, there are commercial-grade mowers that are suitable for larger areas. 
Of course, you can expect to pay a lot more for them, but if your needs warrant it, then it could be worth the investment.
How much should I spend on a riding mower? Can I negotiate the price?
While you can pick up the most budget ride-on mowers for upwards of $1,000, good riding mowers for residential use will generally start around the $1,500 mark and can go up to around $3,000-$4,000. If you step into the more commercial-grade territory, you can be looking to spend $5,000 or more, so this is no small purchase. 
Negotiating the price will be dependent on where you go to buy your mower. You'll probably find some of the best prices from online retailers, and they will be non-negotiable. 
Go to your local dealer, and there may be some movement based on how old the stock is and whether you're paying cash or credit.
Don't expect significant savings, but there might be something to be gained by asking. A credible local dealer can be a handy contact when it comes to servicing your mower too.
Do I really need the best riding lawn mower?
It depends on how big your lawned area is or how much you need to reduce the physical activity of pushing a mower around your yard. There's also your budget to consider too.
Those with many acres of grass to cut would almost certainly benefit from the speed and ease a riding mower offers, as would those struggling to get around seamlessly. However, if you don't have the budget to spend on one that'll do the job well, it may be worth paying for a gardener to do it instead.
Got the money to spend? Do it: Unless you've got a smaller scale lawn, a riding lawn mower takes the time and stress out of keeping your grass neat and tidy.
How do I take care of a riding mower?
Keeping your riding mower in good working order is essential to ensure it operates at its best, and one of the most essentials parts of this is simply keeping it clean. Ensure the mower deck is clear of grass and leaves, take a look under the hood to brush off any debris, and do a general check of the outside, ensuring wheels are free of twigs and hazards.
You can avoid too much wear and tear on your mower's moving parts by using a grease gun to keep them lubricated — while keeping your mower topped up with oil will ensure a good performance too.
You'll want to carry out an annual change of your spark plugs and air filter to keep your mower running at its best, plus you should keep an eye on your riding mower belts to ensure the correct tension.
You can do all of this maintenance yourself with some know-how, but you may prefer to find an experienced local dealer who can do it instead. 
Brittany Romano joins Future as their U.S. Shopping E-commerce Editor, residing on the Upper East Side in New York City. Originally hailing from Connecticut and a graduate of New England College, Brittany started her career as a freelance fashion market assistant at Marie Claire. She later joined AMI, where she designed a highly profitable commerce vertical. Noted for her award-winning content, she's covered everything from celebrity beauty hacks to the most lavish home decor; Brittany has maintained her penchant for the finer things in life. 
If a genie granted Brittany one wish, it would be for Kelly Wearstler to bring her vision to life and transform her living space, but until then? You'll find Brittany continuously evolving her chilled-out sophisticated style, shifting her attention to eclectic pieces (with a hint of retro), grounded by a rich understanding of history, focused on functionality, luxury, and quirkiness.
Find her on Instagram @Rammmyyy