Textured bathroom wall ideas – 10 ways to create interest with imaginative treatments
Raw organic finishes make for fabulous textured bathroom wall ideas – giving them a tactility that is captivating. But there's more to explore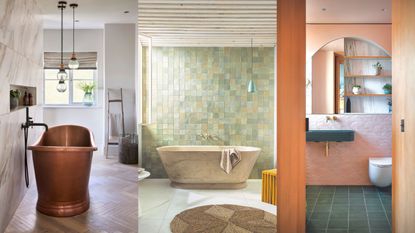 (Image credit: BC Design / Mandarin Stone / Natasha Hidvegi/Stiff + Trevillion)
There are many ways to texture bathroom walls, but unlike in a living room, and more so than in a kitchen, these surfaces need to be able to deal with splashes and, occasionally, a real drenching.
Natural materials, such as stone, make for the best textured bathroom wall ideas, but you can be successful simply with carefully selected tiles and even wood and wallpaper suited to the steamy conditions.
So, if you are looking for bathroom wall ideas with impact, think: texture. Here, bathroom experts show you how.
Textured bathroom wall ideas
Why use textured wall ideas in your bathroom? 'Bathrooms can be hard-edged spaces when really what we want is for them to be warm and welcoming,' says Lucy Searle, Editor in Chief, Homes & Gardens. I'm very much against sleek and shiny bathrooms with zero character, but it's not easy to layer a space that's often damp. This is where using texture in your wall decor ideas can come into its own.'
Lucy Searle has written about homes, interiors and property for 30 years, and in that time has renovated seven homes, including seven bathroom remodels, and has helped countless friends with their bathroom remodels. She loves to introduce texture into bathrooms, layering with rugs and pretty fabrics, but always ensures her redesigns include at least one wall with a textured finish.
1. Draw focus to the bath with tile textures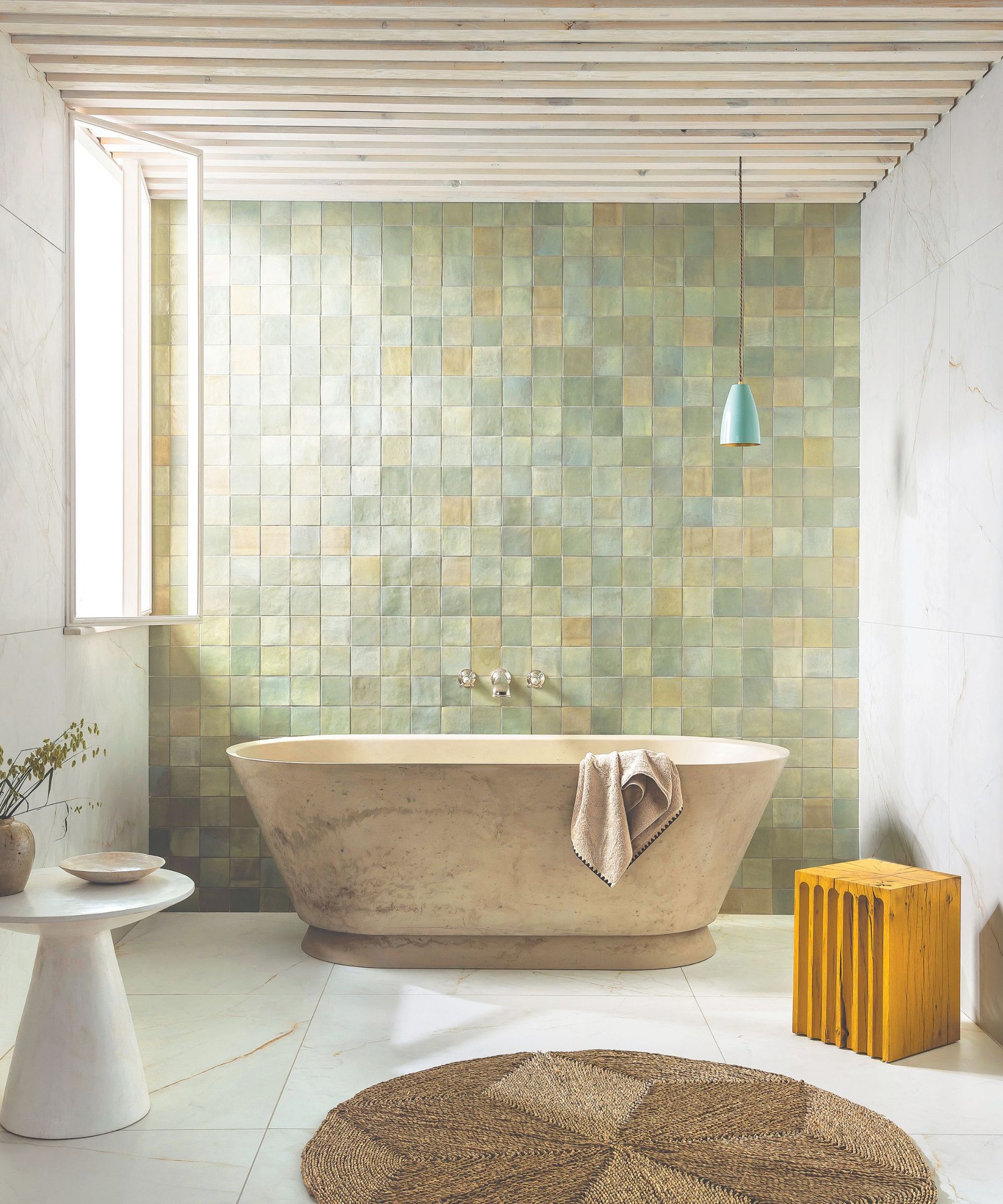 Using texture in interior design can be quite simple, especially if you are focussing on bathroom wall tile ideas. Forget perfectly flat gloss tiles, shimmering zellige designs yield a more sophisticated way to bring texture into your bathing space.
'Zellige-style tiles provide a subtle shimmer that undulates rather than dazzles,' says Louisa Morgan, creative director, Mandarin Stone.
Celebrated for their imperfect, artisanal appearance, Moroccan-influenced zellige tiles pair well with other rustic materials, such as untreated timber and raw concrete.
'If you're using zellige-style tiles to create one dramatic feature wall, be sure to pitch it adjacent to a window, or wash with downlights, to emphasize the light reflecting and refracting across their irregular surface contours,' adds Louisa.
2. Create touchable texture with stone
Textured surfaces are not solely about looks; functionality also comes into play, especially when you are looking for shower wall ideas.
'It's important to approach materiality from both a practical and aesthetic perspective,' agrees Deborah Bass, creative director of Base Interior.
In this wet room, hammered limestone on the floor provides non-slip qualities, while the smooth stone on the walls that host brassware make it easier to achieve tight joints between the fittings and tile.
'The split-face Catalunyan limestone wall, which is clear of fittings, creates the perfect stony backdrop to the cascading water from the shower head – adding a cave-like ambience in this windowless room.'
3. Match fluid lines with curves to soften a space
Often hard-edge spaces, wash spaces can be softened with curves and textured bathroom wall ideas.
You can increase texture with shapely tiles in fluid installations that break free from the confines of rigid grout lines. In this tranquil bathroom by interior designer Natasha Hidvégi Design and Stiff + Trevillion architects, the unusual leaf-shaped zellige wall tiles look delightfully organic, especially in contrast to the smart grid of encaustics below.
Texture-wise, the encaustics will feel chalky-soft underfoot, while zellige tiles have a subtler satin sheen. Let's not forget the thickly ribbed concrete basin, in forest green to match the flooring, which will be almost impossible not to stroke when passing through.
4. Highlight natural stone in fittings
Texture on bathroom walls can be introduced in your bathroom vanity ideas, as here.
Raw limestone and brushed oak make a compelling duo that champions nature's imperfections. For this modern bespoke vanity unit by Hetherington Newman, interior designer Lisa Keates of Keates Interiors specified an unfilled Belgian limestone for the external elements of the vanity top, and the same material honed and filled for the basin interiors.
'The idea was to enjoy beautiful texture and practical durability without switching materials, while the brushed fumed oak cabinet featuring a bronze shadow gap adds yet more texture,' explains Lisa. 'Stone needs resealing regularly to stop agents such as soap or toothpaste from etching the surface finish,' she advises.
5. Create cool contrasts with plasterwork
Take the rough with the smooth by combining rustic hand-applied plaster with modern high-gloss lacquer.
In this basement bathroom by Gunter & Co, the walls and ceiling are clad in Tadelakt, a natural, lime-based plaster. Paired with a contemporary lacquered washstand and mirror, the contrast is compelling.
'Tadelakt has a raw, earthy aesthetic that adds texture and visual warmth,' says director Irene Gunter. 'Here, tiles could have looked very awkward due to the curved shape of the room. A seamless finish such as Tadelakt is much sleeker and also free of nasty chemicals, so good for your health and the planet.'
Interior Designer
Interior Designer
Irene Gunter
Irene Gunter is Creative Director of Gunter & Co, overseeing the design for every project, many of them bathrooms, alongside her team of designers. Her designs center around the tension between organic forms and regular repetition to create spaces that catch the eye, are thought provoking and packed with interesting talking points.
6. Contrast textured bathroom walls with floors
If you are going for textured bathroom walls, especially if matched with bold bathroom paint ideas, give some thought to choosing bathroom flooring ideas that can stand up to the competition without creating a chaotic feel. Relying on natural materials for this is perfect.
Give your feet a tactile treat with reclaimed terracotta, the older the better. Repurposed from salvaged bricks, the terracotta flooring in this bathroom is a rustic, eco-friendly option that's lifted by vibrant jewel-green walls and light-boosting glass.
'What you can be sure of with terracotta is that it is warming, thanks to its rich Siena-style colors and earthy texture,' says Hamish Smith, creative director, Artisans of Devizes. 'We also love how it builds up a patina over time. In other words, the more you use it, the better, and more lived-in, it will look,' adds Hamish.
7. Create spa style with cladding
Wall paneling ideas bring warmth to a bathroom, and carrying the timber cladding up the walls and across the ceiling lends a modern sauna aesthetic that evokes the calming influences of an exclusive spa bathroom.
Bathroom ceiling ideas like this can be about more than the aesthetic: cladding overhead is also a practical way to make bathrooms with high ceilings feel cozier and more cocooning.
Choose crisp, slatted cladding to keep the look fresh and contemporary or shiplap wall ideas for a more rustic appeal.
Limiting the panelling to one or two elevations will prevent claustrophobia setting in and allow a more practical tiled surface on walls that come into direct contact with water. Combine with bleached wood furniture and tiles in sandy tones to lock down the luxury beach resort vibe.
8. Stick with the classic subway tile
Subway bathroom tile ideas are a reliable textured bathroom wall backdrop that you can use to show off texture in other pieces in the space. For example, in furniture, grooved detailing can help solid wooden furniture shake off its 'heavy' image to play a far more decorative role in the bathroom.
The width and spacing of grooves will impact results; go fine for refined elegance or thick and chunky for a more modern, dramatic look. The reed-like vibes of the vanity unit in this colorful scheme by Heidi Caillier Design has a sunny, 'on vacation' atmosphere that's elevated by coarse-grain textiles in vintage tones. The use of black accents and flooring helps to ground the multitude of materials, keeping the array of textures under control.
9. Go wall-to-wall, floor-to-ceiling
Marble bathroom ideas will bring texture, but they do need contrast to shine.
'Neutral color palettes can be brought to life by layering texture and pattern,' says Susan de Glanville, head of interior architectural design at Alexander James Interiors.
Here, a delicate tone-on-tone color scheme has been invigorated by three-dimensional surfaces with plenty of feel appeal.
'Fluted drawer fronts, bevelled edge mirror and penny mosaics – the smaller the better – all work to inject extra depth and interest, which was crucial for ensuring the design will grow with the family and not date too quickly,' explains de Glanville.
Push the color depth outside with dark painted windows that frame the view.
10. Introduce texture with bathroom wallpaper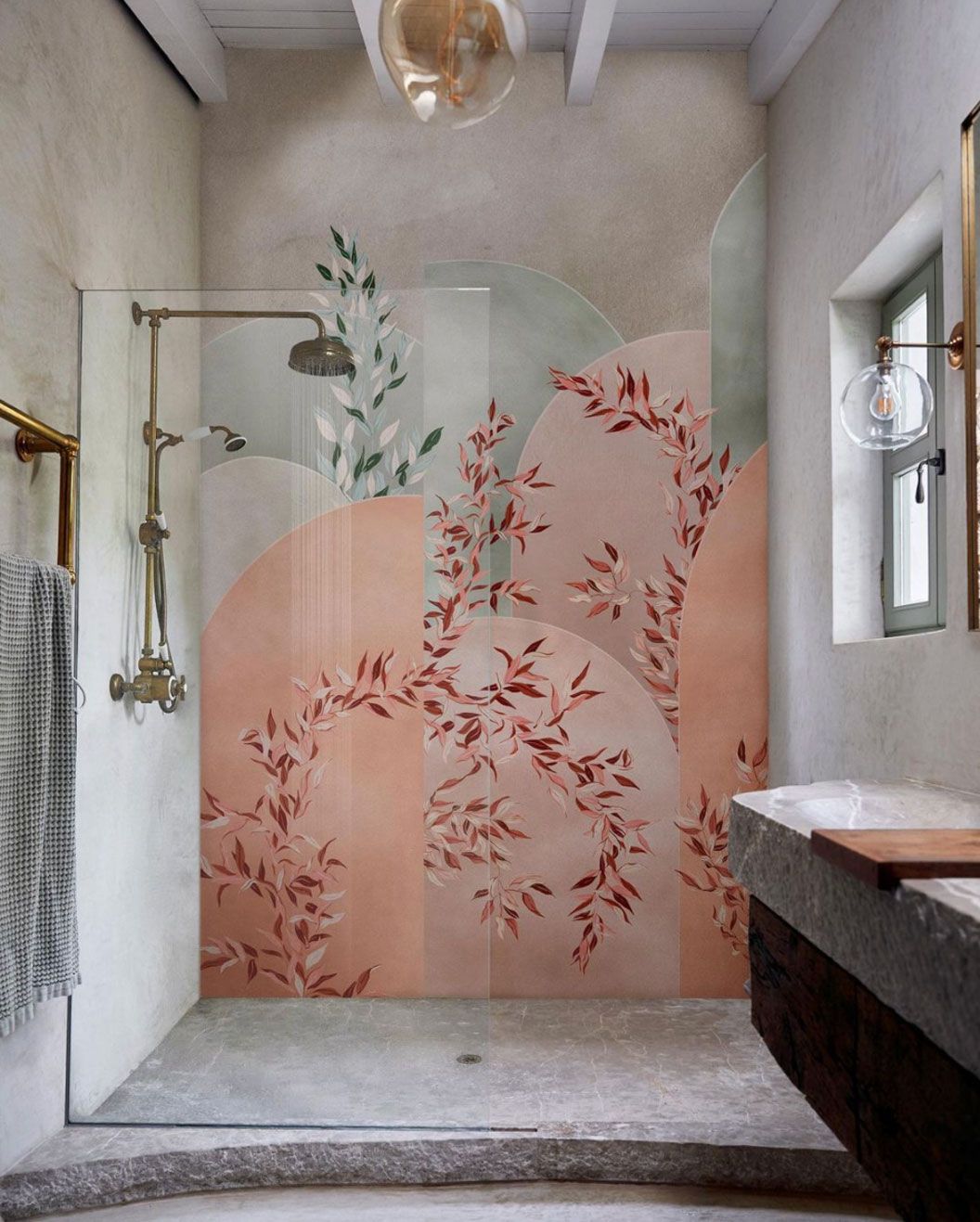 Bathroom wallpaper ideas range from accent wall ideas created with lightly water-resistant designs intended for parts of the bathroom that won't experience much splashing, right through to designs like the above by Wall&decò, which are fully-waterproof and can even line the walls of a shower.
'Wall mural ideas are having a moment in every room of the home,' says Lucy Searle. 'But they are particularly impactful in small spaces, where a large-scale design can turn a plain, boxy bathroom into a work of art.'
What are the most popular wall textures for bathrooms?
Aside from natural stone and tiles, paneling and more contemporary plasterwork finishes are most popular in bathrooms. Least popular is textured paint because these paint finishes tend to be difficult to clean and easily catch dust.
Should I texture my bathroom walls?
'You should texture your bathroom walls because it can make a room typically furnished with hard surfaces and materials feel much warmer and more welcoming,' says Lucy Searle, Editor in Chief, Homes & Gardens. 'However, do so with caution; what you choose needs to be able to stand up to the moisture levels in the room, splashing and cleaning.'
Sign up to the Homes & Gardens newsletter
Decor Ideas. Project Inspiration. Expert Advice. Delivered to your inbox.
Linda graduated from university with a First in Journalism, Film and Broadcasting. Her career began on a trade title for the kitchen and bathroom industry, and she has worked for Homes & Gardens, and sister-brands Livingetc, Country Homes & Interiors and Ideal Home, since 2006, covering interiors topics, though kitchens and bathrooms are her specialism.