Textured wall ideas – 13 surfaces you'll want to reach out and touch
Using textured wall ideas in your interiors can create luxurious, layered looks for any and every room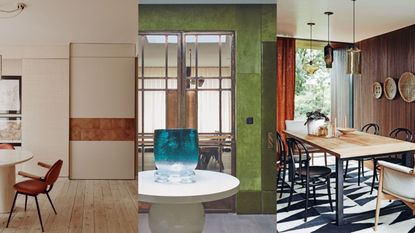 (Image credit: Retrouvius / Future / Michael Sinclair)
Textured wall ideas can make an architecturally plain space more intriguing, a cool space more cozy, and every room richer and more characterful and layered.
You can apply texture through plaster, wallcoverings, paint, wood and tiles, and doing so will add interest to rooms that can be matched with textured furnishings and accessories, too.
However, there is an art to getting textured wall ideas right, which our team imparts here with their favorite wall decor ideas, and with the help of interior designer Maria Speake.
'I'm always looking for ideas on how to make walls interesting when my clients don't have great art,' says Maria. 'It's about creating lovely textured walls that bring calmness within the home.'
Maria Speake, along with Adam Hills, founded Retrouvius in 1993, the UK's destination salvage company. Maria is a fan of creating interesting walls in her designs for the Retrouvius design studio, which turns respectfully re-used materials to distinctive, contemporary ends in properties ranging from contemporary penthouses to a medieval priory.
Textured wall ideas
If you're keen on using texture in interior design, the best place to start is with your walls. Which materials to use for your textured wall ideas? You'll be spoilt for choice: 'Tiles, timber, leather and suede, for example – they add a kind of atmosphere. What is really lovely is when you don't need so many layers of decoration because the walls are providing it themselves,' says Maria Speake.
1. Treat tiles like paint
Textured bathroom wall ideas can transform a plain space. But if you are dreaming up impactful bathroom wall ideas and are looking to introduce texture, practicality has to come to the fore, which can mean reinventing how you use bathroom wall tile ideas.
'For me tiles have always been a fantastic material: sculptural, textural, practical. And on the whole, I prefer to always just do the entire wall in tiles. I would rarely put a small tiled backsplash for instance. In effect, you're treating the tile like it's paint. I prefer ceramic and glazed tiles or they could be smaller panels of marble or stone.'
2. Use wood flooring on the walls
The simplest of wall paneling ideas can be a wonderful way of adding texture to walls, and Maria has a clever way of creating cladding on a budget, whether you are looking for shiplap wall ideas or something more refined.
'Timber is always super useful. One of my favorites is woodstrip flooring, because this tends to be quite good value, and comes in long lengths,' says Maria Speake. 'That makes it faster to install than, say, parquet. When you put that on a wall – I tend to run it horizontally – the result is much more calming on the eye.
3. Put leather – with a twist – on walls
Leather or suede textured wall ideas will look incredibly luxurious, but you needn't think they are limited to natural shades.
'Suede and leather have become new favorites,' says Maria Speake. 'We've used hides to make up panels which I've used in either single colors or a mixture, in hallways for example. Anyone could do it themselves. And because they are slightly soft and a bit padded they are brilliant acoustically, and as well as their tactility there's a kind of wonderful smell.'
4. Combine wood with other wall textures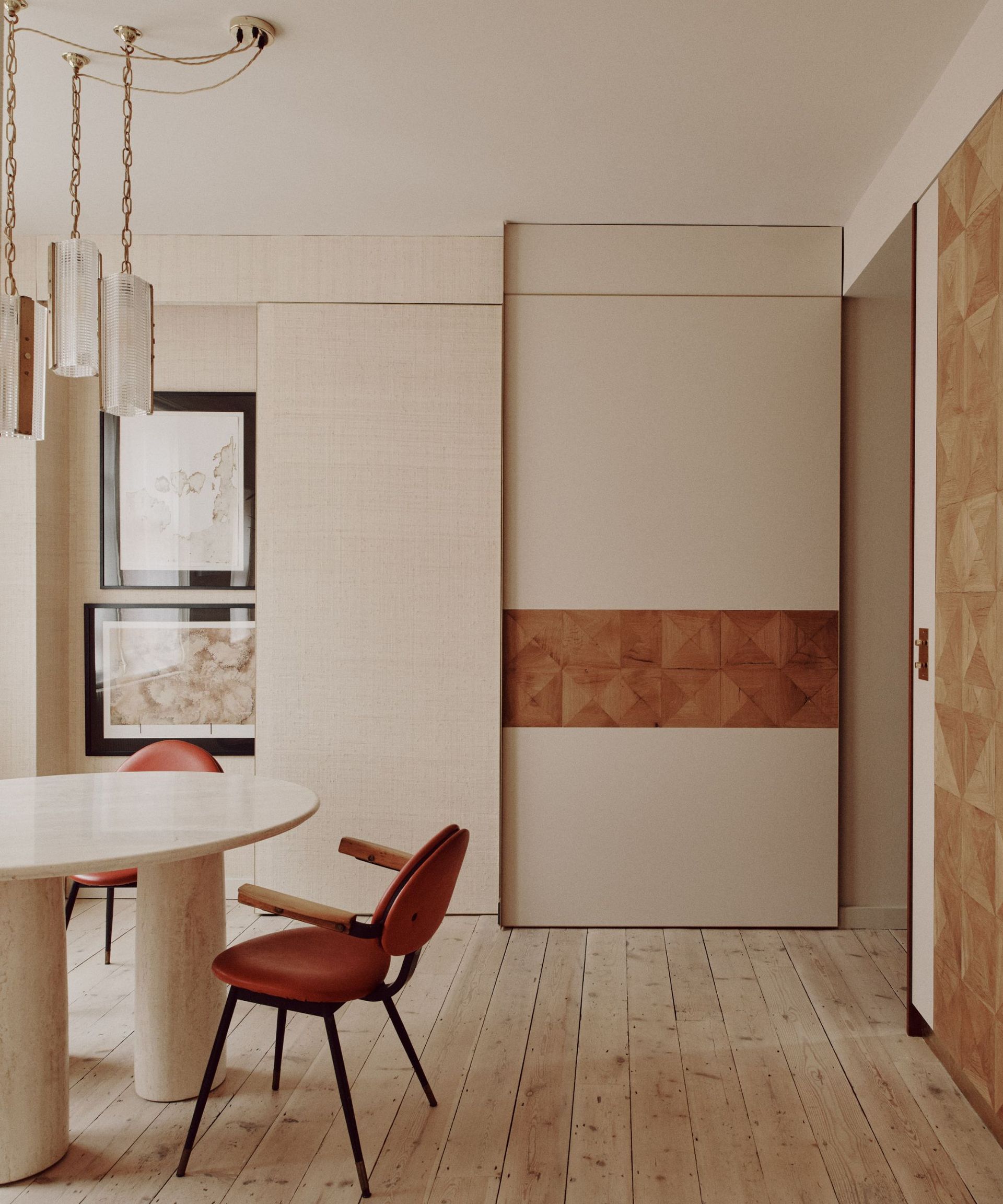 'Textured wall ideas needn't be overt, singular nor need it be used wall-to-wall or floor-to-ceiling,' says Sarah Spiteri, Editorial Director, Homes & Gardens. 'We love how Maria has used strips of parquet on a wall and door as accent wall ideas in this dining space, which are cleverly juxtaposed with a very subtly textured wallcovering. Together, they complement each other perfectly, with neither competing for attention nor overpowering.'
5. Use fabric to create softly textured walls
Installing fabric walling might be a wonderful bedroom wall decor idea, but that doesn't mean it's a textured wall idea limited just to traditional schemes or bedrooms.
'This beautiful fabric walling in a room by Kate Guiness Design is a beautiful example of how textured wall ideas can create luxurious, layered look,' says Jo Bailey, Deputy Editor (Print), Homes & Gardens. 'And while it errs on the side of traditionalism, there are many plain wall fabrics. I particularly love neutral, natural fabrics, which inspired our eco decor feature, but you can find fabrics with lustrous, satin finishes.'
6. Use paint tricks to create a textured wall effect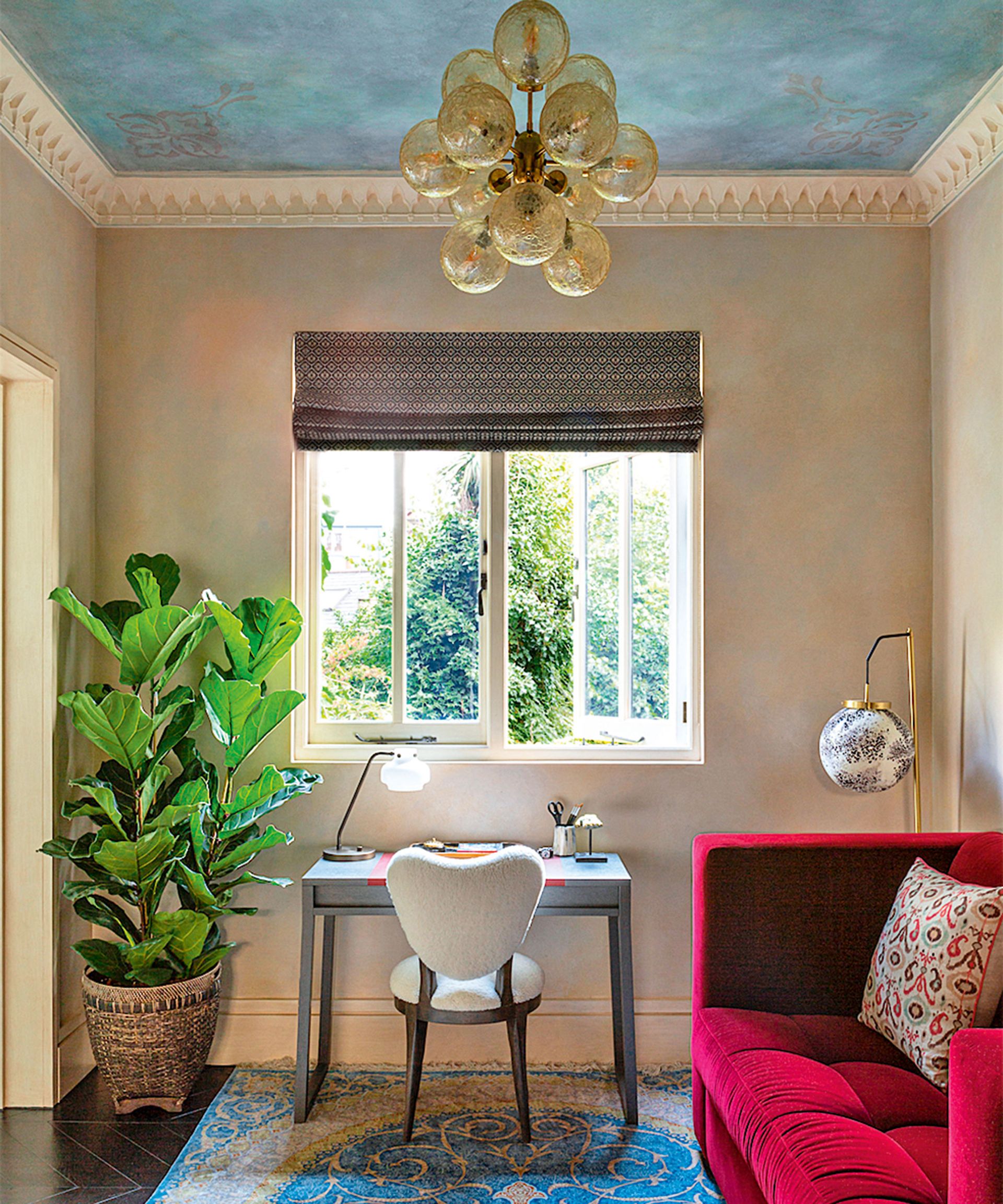 The paint tricks of the 1980s are making something of a comeback, thanks to the popularity of adding texture to walls.
For the room above, interior designer Elnaz Namaki, creative director, Elnaz Namaki Studio, had a bespoke plastered paint color applied to the wall by a plaster finish artisan, overlaid by bespoke stencilling around the corner light fittings.
And since ceiling ideas and wall decor are intimately entwined, the ceiling of the room was also given the same treatment – a more thoughtful approach to texturing a ceiling.
'The "fifth wall" is a great way to add layering and a three-dimensional aspect to the design of a space, says Elnaz.
7. Use textured wall finishes to boost light levels
Textured paint needn't only mean matte finishes; recently, interior designers have been embracing paint finishes with both subtle and high shine effects.
'This is particularly useful when you want to make a small room look bigger,' suggests Jen Ebert, Deputy Editor (Digital), Homes & Gardens. 'Often used by designers as living room wall ideas in light-starved spaces, they can actually be used to boost space and light-levels in any room, and because they are wipeable, they make for great powder room wall decor or entryway wall decor ideas, too.'
8. Turn to Moroccan plaster for subtle texture
We are big fans of tadelakt, a natural, lime-based plaster originally found in the Marrakech region of Morocco. Though it looks delicate, its honed, barely textured surface is waterproof, with the look of natural stone. Tadelakt comes in a range of earthy colors, making it a beautiful backdrop for neutral room ideas and colorful room ideas alike.
Here, Michaelis Boyd Associates has used the subtly reflective finish by Decor Tadelakt to bounce light around the entryway of a London Victorian house.
9. Use wallpaper to create a painterly effect
Conjuring up the finish of an Impressionist painting, wallpaper ideas with faux textured effect are an easy route to adding depth to walls. 'Abstract wallpaper in painterly sea colors applied to a single wall or recess acts as a compelling backdrop for shapely vessels and evokes the tones and textures of the coast,' says H&G's Decorating Editor Emma Thomas.
10. Use texture to create a feature wall
Living room accent walls are the perfect focus for texturing. One way to achieve this is with tiles, an unusual and eye-catching addition to a living space. Go for whole-wall inspiration to simpler fireplace tile ideas.
'Tiles are always fabulous around fireplaces because they continue that twinkly reflective nature. Even when the fire isn't lit, they work with the light in a slightly different way which is especially lovely,' says Maria Speake.
11. Bring the rich tones of wood to walls
While wall paneling is often created with wood substitutes or cheaper woods that are intended to be painted, you can apply hardwoods and even veneers to create a warm, welcoming space that celebrates the tones of the timber, as well as its unique imperfections.
'People don't tend to touch floors but when you use something like a tropical hardwood, the moment it goes on to a wall, it just has this very tactile feel – amazing, rich and warm. You can see and enjoy the grain and the richness,' says Maria Speake.
12. Hang a textured wallpaper
Specialist wallpaper brand Arte is beloved by interior designers for its textured wallpapers, created imaginatively with a range of materials. Above is just one: Manila.
'Threads of different materials and thicknesses are meticulously placed in patterns by hand, creating a minimalist design with corresponding relief,' says the experts at Arte. 'The transposition of this artisan precision work to the wall results in a very refined and sophisticated look.'
13. Choose natural stone for walls
Textured wall ideas of course include stone. You can apply stone veneers or brick slips to walls or salvage stone to clad existing substrates with. However, the very best results will often be had from uncovering the original stone walls that your home was built with.
Inevitably these will need some repair and it's often worth sealing the stone to help it keep its looks, but the result will be more than worth it.
How do you make a textured wall look modern?
A textured wall can look modern with the right paint finish – matte paint in earthy colors will create a contemporary effect. If the textured finish you have isn't to your taste, a skim coat of plaster will cover it and it can be painted or wallpapered. Or you could cover the existing texture with a new materials, such as wood paneling.
Are textured walls outdated?
Textured walls have never been more popular, though like popcorn ceilings, some textures are less desirable. The most fashionable textured walls include those created from raw plaster finishes, specialist wallpapers and wall paneling.
Lucy Searle has written about interiors, property and gardens since 1990, working her way around the interiors departments of women's magazines before switching to interiors-only titles in the mid-nineties. She was Associate Editor on Ideal Home, and Launch Editor of 4Homes magazine, before moving into digital in 2007, launching Channel 4's flagship website, Channel4.com/4homes. In 2018, Lucy took on the role of Global Editor in Chief for Realhomes.com, taking the site from a small magazine add-on to a global success. She was asked to repeat that success at Homes & Gardens, where she has also taken on the editorship of the magazine.