Bathroom vanity mirror ideas – 10 practically perfect looks
Often the focal point of the space, the bathroom vanity mirror should do more than just reflect your lovely face...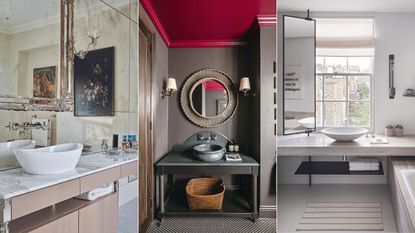 (Image credit: Future / Paul Raeside / Davide Lovatti)
Sign up to the Homes & Gardens newsletter
Decor Ideas. Project Inspiration. Expert Advice. Delivered to your inbox.
Thank you for signing up to Homes & Gardens. You will receive a verification email shortly.
There was a problem. Please refresh the page and try again.
Before you make a snap purchase, have you really considered all the best bathroom vanity mirror ideas to suit your room's shape, light levels, style, size and existing storage options?
'Bathroom mirrors are often chosen for practicality alone, and of course, you can buy perfectly serviceable bathroom vanity mirrors at the best places to buy bathroom vanities,' says Lucy Searle, Editor in Chief, Homes & Gardens. 'However, who wants a one-size-fits-all look that does so much more than just provide a reflection? Bathroom vanity mirrors can and should be so much more exciting than that.'
We spoke to interior and bathroom design experts for pointers on choosing the best vanity mirror for your bathroom.
Lucy Searle has written about interiors, property and gardens for over 30 years, starting within the interiors departments of women's magazines before switching to interiors-only titles in the mid-1990s. In 2018, Lucy took on the role of Global Editor in Chief for Realhomes.com, taking the site from a small magazine add-on to a global success. She was asked to repeat that success at Homes & Gardens, where she has also taken on the editorship of the magazine, which is the UK's oldest interiors magazine at 103 years old. Lucy is a serial renovator and also owns rental properties in the UK and Europe, so brings first-hand knowledge to the subjects she oversees.
Bathroom vanity mirror ideas
No doubt you are considering bathroom vanity ideas hand-in-hand with mirrors. But what yours is an after-thought? Or if designing a bathroom vanity alongside the mirror is a step too far? We asked design experts for their help. This is what they suggest.
1. Create a coherent scheme with repeated shapes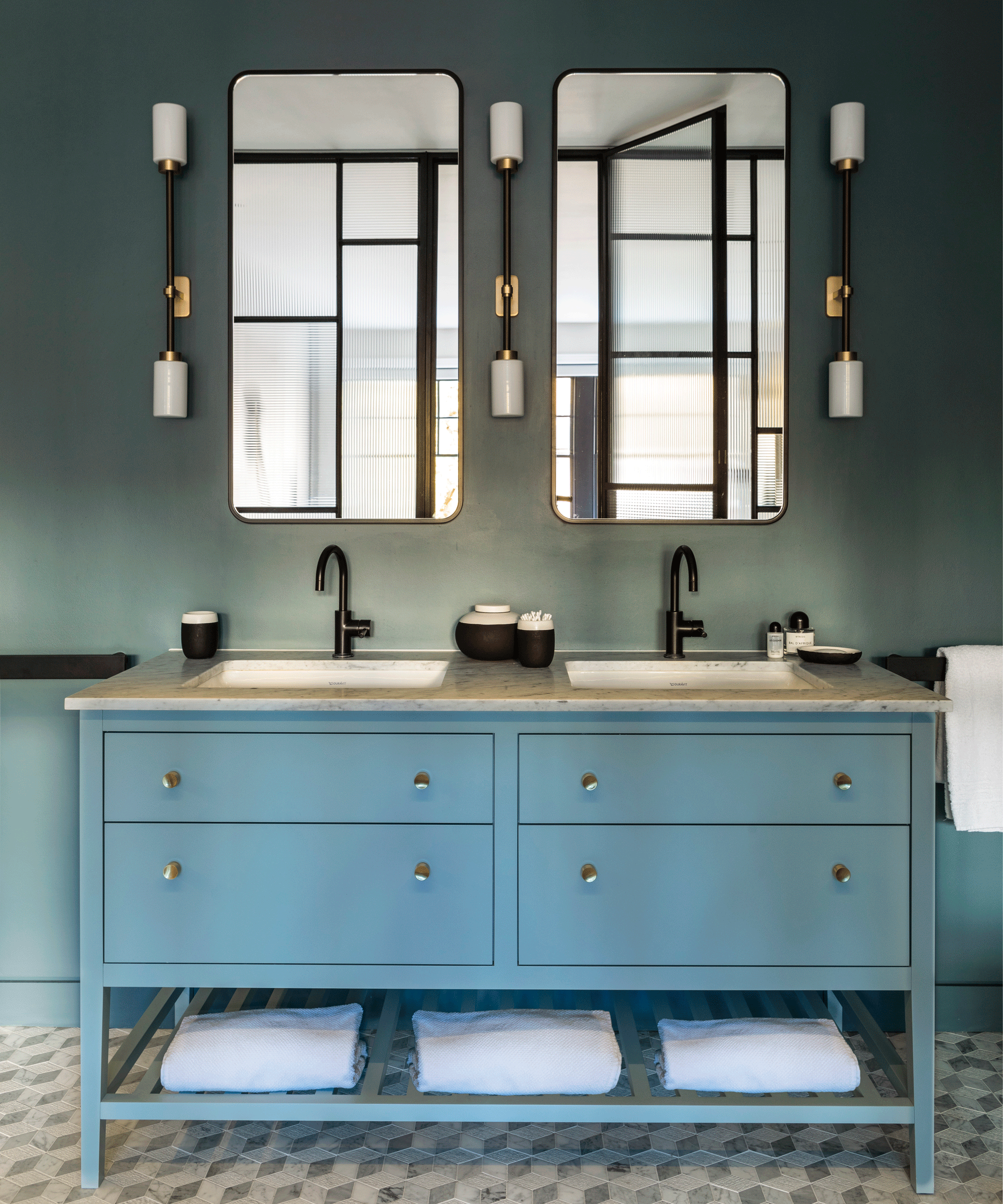 'Repetition in interior design, balance in interior design and symmetry in interior design can unite to make a small bathroom look bigger.
'This is shown perfectly in the bathroom above,' says Jennifer Ebert, Deputy Editor, Homes & Gardens. 'And, of course, it's a practical solution for a double vanity bathroom.'
Creating a theme in your bathroom, reflected in your choice of vanity mirror, whether through a repeated shape, texture, color or pattern can create a more cohesive look. You can work upwards from the features that may already exist in your bathroom to inspire the kind of vanity mirror you're going to choose. For example, if rectangular or circular shapes exist in your flooring, bathtub or sink shape, then you may want to echo these in the shape of your mirror.
I am the Deputy Editor (Digital) of Homes & Gardens online. Before starting this position, I had completed various interior design courses at KLC Design School, as well as working across Ideal Home, LivingEtc, 25 Beautiful Homes and Country Homes & Interiors as an interiors writer. When the opportunity to work on such a prestigious, influential brand came up, I just couldn't pass up on the offer. I had long admired Homes & Gardens, and to me, this brand epitomizes luxury and beauty at its finest. My perfect space would be a grand Georgian property – it is an architectural style that I admire greatly – though my style varies wildly from anywhere between classic design to modern farmhouse simplicity. If I could pick one interior designer to remodel my home, it would be Beata Heuman. Her classic yet quirky interior choices are unparalleled.
2. Maximize daylight with an angled vanity mirror
When bathroom vanity mirrors meet makeup vanities, there's no need to be shy and retiring: a large mirror can provide all the practical uses you need it for, and be a feature in its own right.
An angled bathroom vanity mirror like this one allows you to make the most of natural daylight, and to have the best of both worlds when there really is only one spot for your vanity unit.
This mirror placement above offers another benefit than just lighting your face well in daylight: it reflects lots of natural light back into the bathroom.
Artificial bathroom lighting ideas will need to be good, though in this arrangement. Which leads us to our next bathroom vanity mirror.
3. Combine lighting with a vanity mirror
The very best types of bathroom lighting for a vanity mirror are those that highlight your whole face.
Martin Smith, the founder of Showers to You comments, 'Strategically placed lights surrounding vanity mirrors contribute significantly to establishing a well-lit environment, which is particularly beneficial for tasks such as makeup application or shaving.
'Moreover, illuminated mirrors help to set the desired mood and ambience in the space, adding to its aesthetic appeal – setting the lights in dim mode can create a cozy, hotel-like atmosphere in the bathroom.'
A mirror with an in-built light such as the Habsi LED Lighted Bathroom Mirror Cabinet at Amazon, above, is a great budget choice, and adds valuable storage to a small bathroom or powder room.
Using artificial lights can also give you the choice of deciding whether you want your bathroom to be light or dark, since you have more freedom when you are not relying on natural lighting.
Jacky Chou, owner of online design firm Laurel & Wolf says, 'In your bathroom sanctuary, let your vanity mirror take center stage in the illumination spectacle. Seek mirrors that embrace the enchantment of integrated lighting options. Illuminate your reflection with the mesmerizing glow of backlit mirrors or indulge in the radiance bestowed by gracefully placed LED strips. Enhance your mirror's brilliance with adjustable lighting features, granting you the freedom to create the perfect ambiance and cater to every mood.'
Martin Smith, founder of Showers to You comments, 'Vanity mirrors with built-in storage compartments can be a lifesaver, especially in small city apartments where storage space is precious. Some vanity mirrors feature adjustable shelves that can be positioned at different heights or removed altogether; this allows for customization based on the size of your items and is particularly useful for accommodating taller bottles or objects.'
Also consider when choosing the bulbs for your vanity mirror, especially for those that are used when you are applying makeup: you want the light to resemble that of daylight, which will give you a more accurate representation of how you will look outside.
Jacky Chou is the Principal and Director at Archute, an editorial magazine about architecture, home and garden and owner of Laurel & Wolf. They have been referenced by The New York Times, Bustle, House & Home, Bloomberg, and Angi. Jacky also his own an online interior design company as well called Laurel & Wolf.
3. Let your mirror show off storage and display
Storage space near or behind your vanity mirror is key for keeping the area tidy and efficient and is a great way to organize your bathroom by maximizing the space you have.
However, it needn't hide your favorite bathroom bottles; instead, it can be used to reflect and show them off.
Jacky Chou, owner of online design firm Laurel & Wolf adds, 'Vanity mirrors can be your allies in the quest for an organized and clutter-free sanctuary. With strategic placements, these mirrors transform into guardians of your toiletries, skincare treasures, and even plush towels, ensuring everything you need is within arm's reach. Experience the joy of streamlined surfaces, where every essential finds its designated space.'
'When selecting a mirror, start by assessing the depth, width, and configuration of storage options to ensure they align with your intended items. Consider your daily routines and product preferences for the most convenient storage solution,' Martin Smith recommends. 'It's important to consider shelf depth and width. Shallow shelves may restrict item types, while excessively deep shelves can lead to wasted space and difficulty accessing items at the back.'
4. Enhance space with a vanity to ceiling mirror
Want to feature a double vanity in your bathroom but have limited space? To create the illusion of more space you can use one large vanity mirror instead of two separate ones above each basin to make a small space look drastically bigger.
Additionally, this streamlined, no-frame mirror is well-suited to a small space.
When using a larger mirror, potentially covering a whole wall, you may want to consider positioning your lights in the mirror, as in the room above, so that you don't have to compromise on either the mirror size or lighting. Adding a side magnifying mirror with an in-built light is practical, too.
5. Create a layered effect with two mirrors
Decorating with mirrors is a perfect way to make dark bathrooms lighter and tight spaces feel bigger. But why just stop with one large over-vanity mirror when you can go wall-to-wall and floor-to-floor?
'The trouble with a vast mirror is that it can look a little bland,' advises Jo Bailey, Deputy Editor of Homes & Gardens. 'This bathroom shows how to do it with style: with vintage or antiqued glass panels, overlaid with a framed antique-style mirror.
'One thing I would say is to be careful with sanitaryware positioning when you have a really large bathroom vanity mirror – not everyone wants to see themselves entirely reflected in their bathroom.'
Jo Bailey is Deputy Editor of Homes & Gardens, overseeing all features for the print edition. Before joining Future PLC, she worked as an interior stylist for over ten years, specializing in commercial photo shoots for luxury clients such as; Design Centre Chelsea Harbour, Christopher Farr Cloth and Heal's. She has worked with Homes & Gardens for over a decade, having styled and produced editorial shoots and events over the years.
6. Use mirror frame color and shape for drama
Make your vanity mirror the centerpiece of your bathroom by choosing a color, texture, pattern or shape that stands out.
'Visually, vanity mirrors provide an excellent opportunity to showcase creativity through their frames: ornate carvings, sleek minimalist designs, or vintage-inspired details – the frame selection can set the tone for the entire bathroom,' says Martin Smith, founder of Showers to You.
'Embrace the sleek and contemporary allure of frameless mirrors for a clean, modern vibe,' continues designer Jacky Chou. 'Alternatively, indulge in the ornate beauty of framed mirrors adorned with exquisite details or captivating antique finishes to infuse your space with timeless elegance.
'Delve into the world of mirror shapes, from sharp-edged rectangles to graceful ovals and captivating circles, to find the perfect complement to your sink and vanity ensemble.'
The frame of your bathroom mirror can act as an accessory in itself, says Bob Gifford director at Hastings Tile & Bath: 'Mirrors with thicker, heavier frames are a good fit for transitional and rustic spaces. For a lighter look, a framed or frameless mirror with a slimmer edge captures a modern, architectural detail and style without the added weight. A frosted glass edge provides a refined, modern look with subtle contrast and optional illumination. Glass frames are a way to create additional storage with a sophisticated vibe that maximizes space. With a slim profile and sleek appearance, frameless mirrors blend into the space for a minimalist, modern aesthetic.
'The preferred mirror shape in a bathroom depends on the design aesthetic and other room elements. Classic square or rectangular mirror shapes complement modern and contemporary spaces with sleek profiles. Round or oval mirrors add organic curves to transitional and rustic spaces.'
You're also probably wondering how big should your bathroom mirror be?
Selena Lewis of Selena Lewis Designs recommends: 'Always get a mirror smaller in width than your vanity. Incorporating different shapes, such as ovals and circles to offset the squared lines in your vanity can create a more soft look. Have tall ceilings in your bathroom? Try hanging floor length mirrors above your vanity to create a statement to your space.'
Selena Lewis's company, Selena Lewis Designs, is based in Atlanta, Georgia. Her company consists of interior and architectural design, space planning, upholstery and drapes, wallpaper and furniture.
7. Double the impact with coordinating finds
We love the ornate design of this vanity mirror. More than that, we love that it's part of a pair, hung, strategically on adjacent walls to create a more traditional feel.
If you are choosing an antique-style frame like the ones above for a modern bathroom, choose material for the vanity and beyond that are highlighted in the frame. Here, the gold of the framing is echoed in the wood furniture and warm-toned marble.
8. Choose a toning frame for drama
Even when you are picking out a one-off bathroom vanity mirror, it never hurts to at least reference other elements of your bathroom's design in your choice. Here, the mirror frame is matched by the color of the walls and the referenced in the textures of the basket below.
The entire scheme is lifted by the red of the ceiling, which is reflected in the mirror to create further drama.
9. Suspend vanity mirrors from the ceiling
Often, bathrooms have little usable wall space, and when you've gone for a broken-plan room, that wall space be further compromised. This, though, is the perfect solution: the ceiling-hung mirror.
'Note the gold frames used here against the black framing of the glazing,' says Lucy Searle, Editor in Chief, Homes & Gardens. 'It not only matches the faucets, it's also a visually lighter color than then black, and with the slim framing, this creates a spacious feel in the room, further enhanced by the wall-hung vanities below.'
10. Choose a mirror-tap combination
Your bathroom vanity mirror could, of course, be your room's stand-out piece, such as the shapely piece above with in-built faucets.
'Let your vanity mirror be the pièce de résistance of your bathroom getup!' advises Jacky Chou, Principal at Laurel & Wolf. 'Adorn its surroundings with decadent accessories that exude elegance and charm. Embrace the allure of decorative sconces or pendant lights, gracefully framing your mirror and providing an additional layer of task lighting. Consider the delightful effect of a matching or complementary backsplash, adding a dash of cohesion and sophistication to your space.'
FAQs
Where should I place my vanity mirror?
Bob Gifford, director of business development at Hastings Tile & Bath says, 'It's important to consider the height of people who will be using the mirror. The top mirror should be at least a few inches above eye level of the tallest person, and the bottom also needs to be low enough to provide sufficient visibility for shorter people.'
What should I look for in a bathroom vanity mirror?
James Scaife, Director at Olson and Baker, suggests, 'Look for smooth finishes, crisp edges, and smooth surfaces for that luxurious feel. Adornments and special touches may add a touch of elegance.'
'Let us not overlook the importance of functionality,' continues design principal Jacky Chou. 'Choose a vanity mirror that fits like a tailored suit, perfectly proportioned to the available wall space and the dimensions of your sink or vanity. Treat yourself to the convenience of anti-fog features or incorporate well-planned ventilation, banishing the nuisance of foggy mirrors and ensuring clarity even in the midst of steamy moments.'
James Scaife, Director at Olson and Baker suggests, 'Consider how you will use the mirror. Adjustable lighting, swivel or tilt options, storage compartments, and magnifying mirrors for increased functionality and versatility. Not only this but having the right size and proportions for your space is essential.'
As a Director at Olson and Baker, a company renowned for its designer furniture, James Scaife styles and provides personal shopping for hundreds of customers. Their high-end furniture and lighting spans from mid-century modern to contemporary styles. This independent business offer a personalized service, tailored to their customers.
---
Whatever you choose, ensuring that you can clean your mirror easily is important. So while ornate framing is an attractive option, bear in mind that it will gather dust and debris over time. 'Maintenance should always be easy,' concludes James Scaife.
Sign up to the Homes & Gardens newsletter
Decor Ideas. Project Inspiration. Expert Advice. Delivered to your inbox.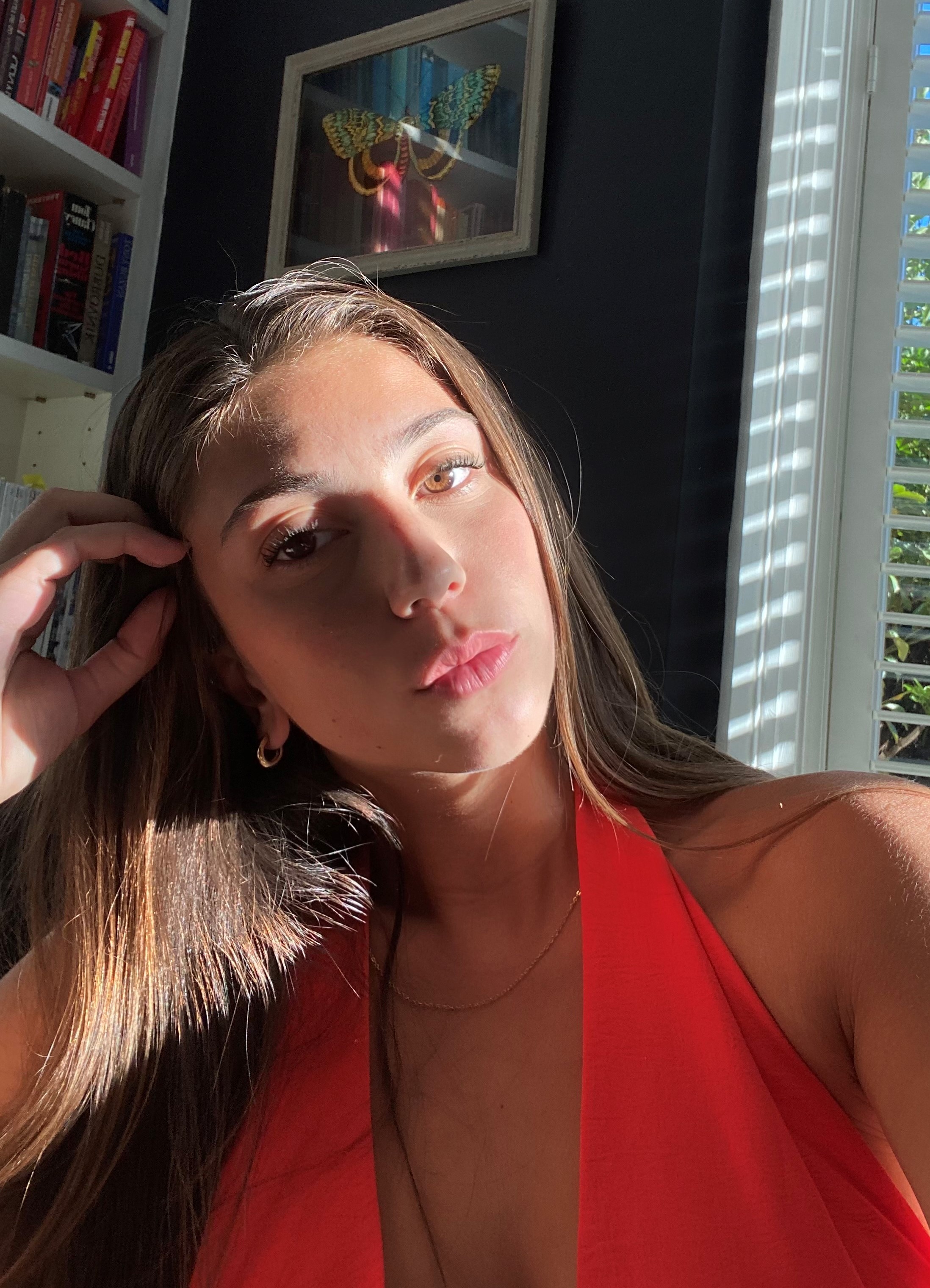 Lola Houlton is a news writer for Homes & Gardens. She has been writing content for Future PLC for the past five years, in particular Homes & Gardens, Real Homes and GardeningEtc. She writes on a broad range of subjects, including recipe articles, reviewing products, writing 'how to' and 'when to' articles. Lola now writes about everything from organization through to house plants. Lola is a graduate student, who completed her degree in Psychology at the University of Sussex. She has also spent some time working at the BBC.