These bathroom storage tips from interior designer Irene Gunter will help you create a clutter free space
The London-based design guru shares her bathroom storage tips to help you transform your sanctuary space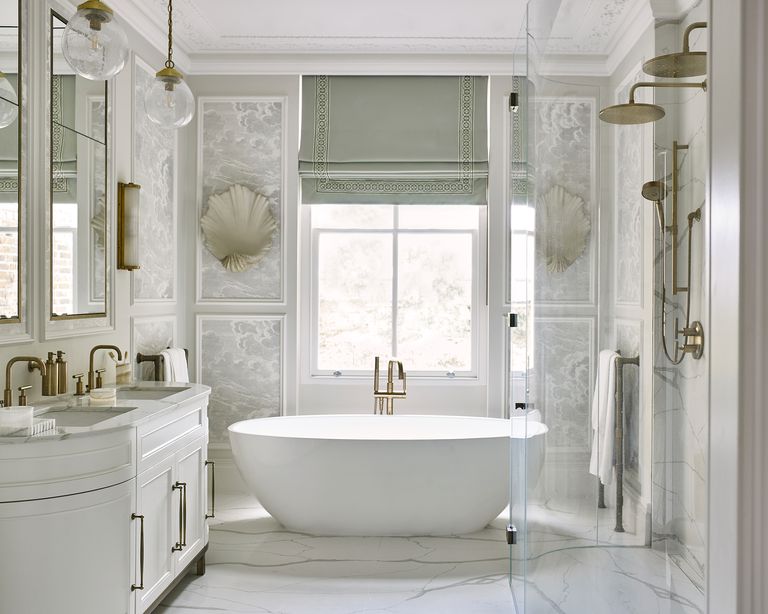 (Image credit: Future)
To ensure our own bathrooms are tidy and peaceful spaces, we've taken bathroom storage tips from London-based interior design guru Irene Gunter of interior architecture and design studio Gunter & Co.
She has revealed how to make the most of every inch to keep the lines of the room free from clutter, while creating space for everything that needs to be in the room.
Conspicuous clutter is a definite no-no if your bathroom is to be the sanctuary it should. Who can relax surrounded by stuff – essential though it might be? Great bathroom storage ideas, therefore, are a must.
Irene Gunter's bathroom storage tips
Gunter & Co's blog is a great place to find design inspiration for your home. In a recent post, Irene Gunter told her followers the secrets of bathroom storage. Here, we share the clever bathroom ideas that will give you the inside track on keeping clutter at bay.
1. Plan small bathroom storage whatever the room size
Whether your bathroom is small or large, you need to plan the storage as if it's a small bathroom, reveals Irene. Creating storage in wasted space – for example above toilets, beneath basins, or underneath baths – is a clever solution for bathrooms, whatever their proportions.
'Small bathroom storage ideas allow you to make the most of every inch, ensuring you keep surfaces free from clutter and enhancing the calming influence of uninterrupted lines,' says Irene.
2. Conceal storage in a partition
If you're remodelling the entire bathroom, it's the perfect opportunity to build storage into the fabric of the room by researching smart bathroom shelf ideas. Irene shares a room in which a sizeable set of shelves behind a mirrored door has been built into a partition wall above the vanity unit.
This way, the storage can be positioned to start low down on the wall without restricting a user of the basin from bending forward freely to wash. In a room with a high ceiling, you can take the shelves high up the wall as well to make maximum stash space.
3. Choose fitted bathroom furniture
Building furniture into the bathroom means you can get bespoke solutions to your particular storage needs, advises Irene. Made-to-measure fitted furniture will also ensure there's absolutely no wasted space in the room.
For toiletries, she recommends discreet and hidden mirror cupboards. Take the opportunity to fit a de-mister pad for the mirror for maximum utility.
Shaving socket sets can also be positioned in bathroom cabinets, she says, and can be combined with Bluetooth technology or integrated with wi-fi to bring you music when you're showering or in the bath.
4. Don't forget the laundry
If you're opting for fitted bathroom furniture, don't miss the chance to build in laundry bins to keep the room tidy. They're a personal favorite for Irene.
Consider laundry bins with internal dividers and you can sort loads as you go, saving time and effort.
5. Add freestanding furniture
In a bathroom of big proportions, freestanding pieces can be transformational. 'It really creates the feeling of a living space that happens to have some elements of a bathroom in it, which feels incredibly luxurious,' says Irene.
She suggests freestanding bathroom vanity ideas such as units, armoires, consoles and tallboys as well as linen baskets. You might want to add seating and side tables, too, if the bathroom has generous enough dimensions.
Sarah is a freelance journalist and editor writing for websites, national newspapers, and magazines. She's spent most of her journalistic career specialising in homes – long enough to see fridges become smart,
decorating fashions embrace both minimalism and maximalism, and interiors that blur the indoor/outdoor link become a must-have. She loves testing the latest home appliances, revealing the trends in
furnishings and fittings for every room, and investigating the benefits, costs and practicalities of home improvement. It's no big surprise that she likes to put what she writes about into practice, and is a serial house revamper. For Realhomes.com, Sarah reviews coffee machines and vacuum cleaners, taking them through their paces at home to give us an honest, real life review and comparison of every model.