TV wall ideas – 10 ways to incorporate this essential item into your design scheme
These TV wall ideas are perfect for making the pesky tech we all have blend into our room schemes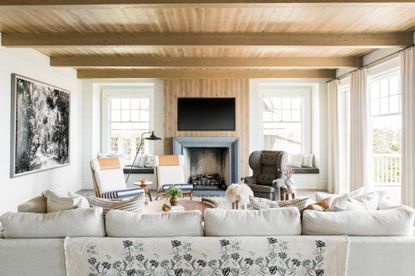 (Image credit: Cortney Bishop)
Movie nights have made TV wall ideas something of a phenomenon, with widescreens too, well, wide to sit practically anywhere but mounted on a wall. However, doing so can make them entirely dominant in a space – turned off, they are a big, black slab on an otherwise beautifully decorated wall; turned on, they are just totally impossible to ignore.
So, if you are looking for living room ideas that don't make the TV the star of the show, these TV mounting ideas will be for you. And, of course, they can be adapted to bedrooms, kitchens and even bathrooms, too.
'We are increasingly wiring for TVs in multiple rooms, although they may not often be used - some clients like to have the option of installing a TV later on,' says Emma Emma Deterding, founder and creative director at Kelling Designs.
'I will say that I think gone are the old days when everyone wanted to hide their TVs as if they were big, ugly brutes. Now, in the right place, with the right care and with so many modern, designer-led options available, they can look quite smart, especially when surrounded by joyous color.'
TV wall ideas
We spend so much time sourcing beautiful wall decor ideas that it's a shame to make them secondary to the TV. These TV wall ideas will help you to blend yours into your living room space – we can't promise it will disappear altogether, but our interior design tricks will certainly help even the best TV an understudy to your decor.
1. Integrate your TV into a bookcase
Considering making a shelving unit one of your accent wall ideas? You can incorporate a TV into it.
'When it comes to installing TV wall ideas in projects, we are definitely installing more and using some inventive ways to conceal them,' says Emma Deterding, founder and creative director at Kelling Designs.
'In previous projects we've installed them into the foot ends of the bed, where they can be concealed when not in use and we've often put TVs into cupboards, where the doors fold back into themselves to reveal the TV when needed, or like shown here – incorporated into a bookcase.
'We're currently working on a project where we've actually installed a TV into the kitchen island, and when it's out, it can spin and rotate all the way round allowing viewing from any angle. We've found that any size of TV goes, so long as the space is available and in cinema rooms we tend to install anything from 75in to 90in.'
2. Choose black accents to tie in your TV visually
This scheme works well with this TV – the black lampshade and accessories link to it and because it's not huge in size the proportions work well with the rectangular inset shelves.
The neutral fire surround, flooring and sofa soften the look perfectly so the result is a well-balanced scheme.
3. Invest in a TV that looks like art when switched off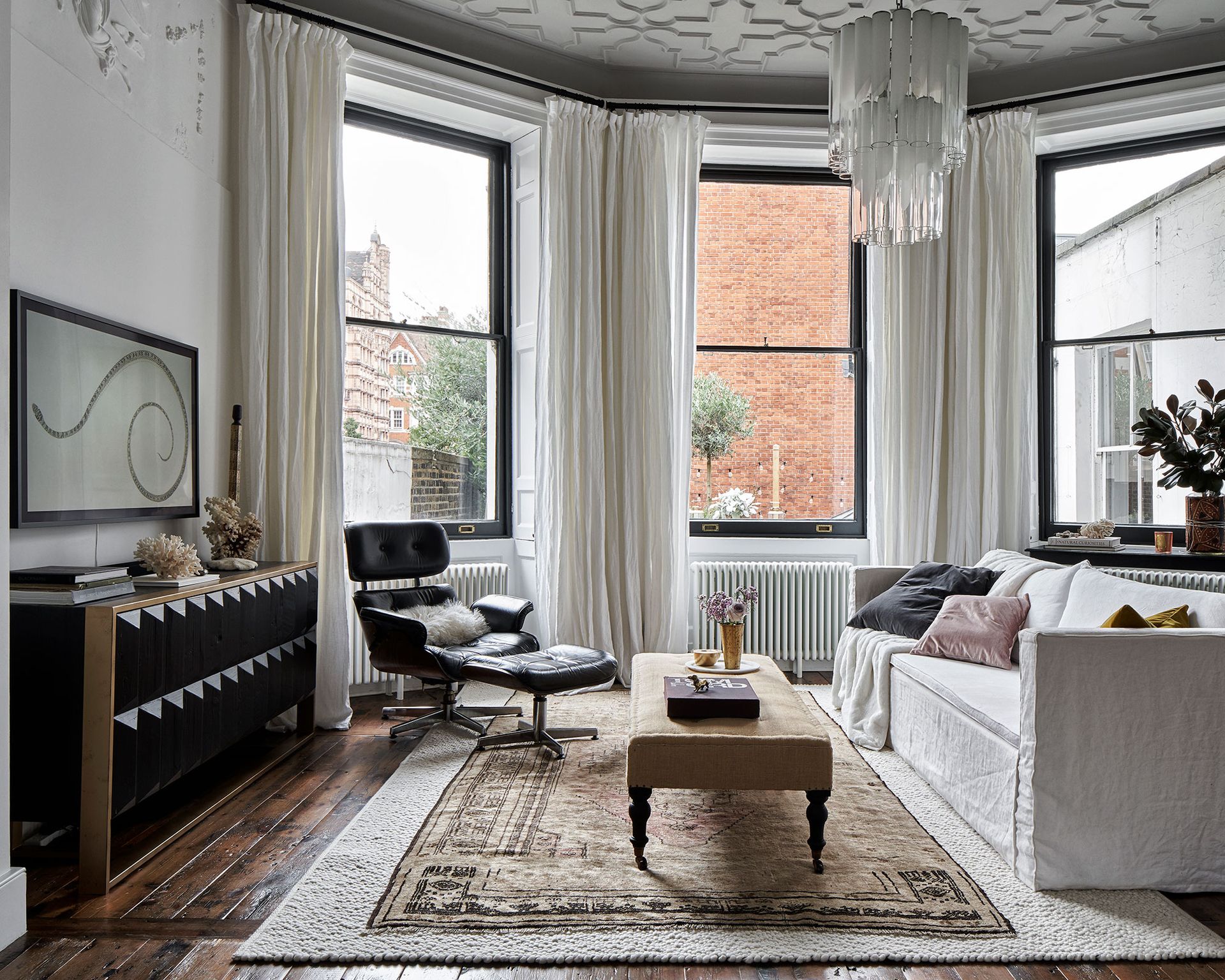 Thankfully, technology is moving on and as a result you can buy TVs that give you an option of an image instead of the black view.
We asked London based interior designer Louise Bradley, how she makes her TV work in her living room:
'In my London home, the TV sits above the fireplace, within a bespoke specialist metal finish. Don't be afraid to be playful by combining finishes and textures to make a statement. In doing so you will ensure that the TV is not the central focus of the room but rather the artisan finish that it sits against.'
4. Create a scheme that's decorative to distract the eye
If you're lucky enough to live in a warmer climate that allows you to watch TV outside, then the same interior design rules apply. In the case of this great outdoor space, there's enough texture and pattern going on to distract from the fact there's a TV on the wall.
The beautiful beaded chandelier is a perfect example of this – as are the print pouffes, cushions and rug, and not forgetting the fabulous fire pit!
5. Use texture to distract from the TV
The wood panelling behind this TV wall idea is a great way to introduce texture to the space around it. The warmth of the wood mitigates the black of the TV, which is also just the right size for the space at a little narrower than the fireplace; this helps to create a balanced feel, too.
6. Go for a dramatically dark color scheme
Here's an easy option for those who love a dark and dramatic scheme – simply paint your walls in a deep shade like Mylands Bond Street No.219.
There's no way your TV wall idea will stand out with this inky shade, but you will need to balance the scheme so it's not like walking into a cave – keep your flooring warm like the herringbone wood in this living room, add mirrors to bounce the light around, and add in a few textured accessories to create a further dimension.
7. Use texture and pattern together to create balance
Bring out the big guns by teaming both texture and pattern – they will draw the eye down and around instead of focusing on the TV.
The dark wood shelves on each side of the white-painted brick fireplace help to balance the look too, as does the monochromatic rug. Cushions with prints and weaves work well as do the two leather footstools in the foreground, their black metal legs balance the black elements in the room perfectly.
8. Use a TV wall idea to build out storage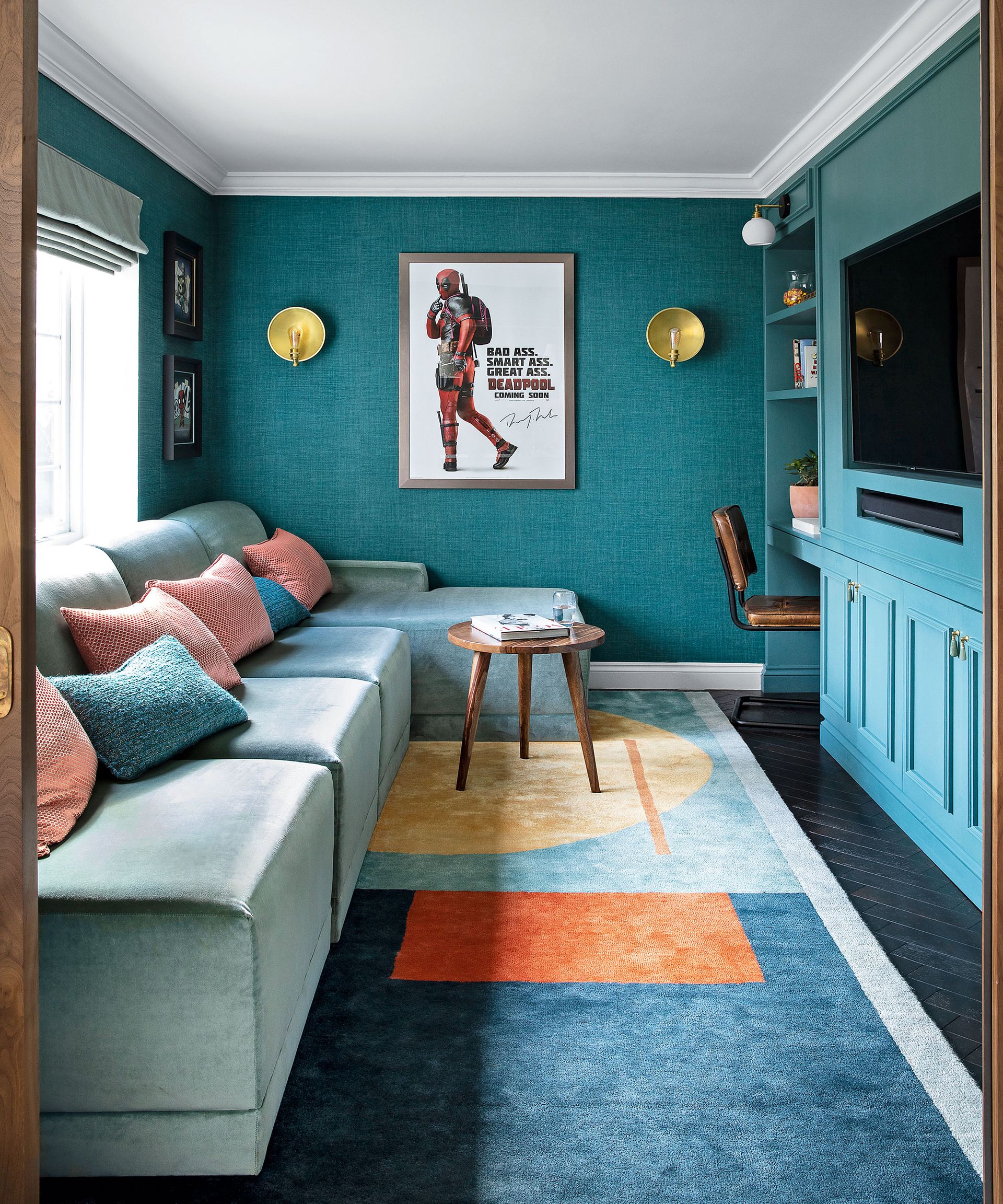 If you need storage and are looking for good TV wall ideas, this one is for you. A false wall has been built out to hide wiring behind the TV and to create storage beneath. Doing so has also created alcoves either side, which can be used for display or as neat desk space with more storage above.
9. Go sleek with sliding doors
There's one option we haven't yet mentioned – sliding doors – a fabulous TV wall idea that will enable you to hide it all away, particularly great if your TV is super large.
London based interior designer Louise Bradley gives her advice on how to make this work:
'Make your space work from dawn till dusk with bespoke joinery that conceals the TV when not in use. In this project we opted for a charred look, inspired by the Japanese shou sugi ban technique.
When closed, the joinery creates a design statement and contrasts beautifully with the lighter upholstery and soft furnishings. When open, the almost-black finish creates the perfect backdrop to a movie night.'
10. Give your TV a bespoke stand
Sometimes we have to pick our battles, and if you've tried the TV that features a screensaver and it still jars, the only idea left might be to give your TV its own special area.
This TV wall idea by interior designer Sara Cosgrove is rather good – the clever linear detailing of the bespoke units mimics the lines of the TV and therefore stops it from standing out so much, coupled with the floating shelves on each side, the TV definitely takes a backseat.
What do you put under a wall-mounted TV?
What you put under a wall-mounted TV really depends on your interior style – if you're a minimalist then you may want to keep it bare and go for a more streamlined look. Or it may be that you are looking for TV mounting ideas above a mantel so there is something naturally underneath anyway. A sideboard is a great idea if you're a little tight on space as you can use it for displaying your favorite pieces.
What wall should I put my TV on?
To decide which wall to put a TV on, you first need to work out where it will be viewed from. Living room seating ideas, for example, might dictate the wall that you will naturally face to watch the TV. This might mean that the best place for the TV to sit is on the wall over a fireplace.
Symmetry can also play a part and as mentioned above, most great TV wall ideas center around a fireplace. Other considerations are how the existing configuration works – do you want the TV to be the focal point or is something else already doing that?
Sign up to the Homes & Gardens newsletter
Decor Ideas. Project Inspiration. Expert Advice. Delivered to your inbox.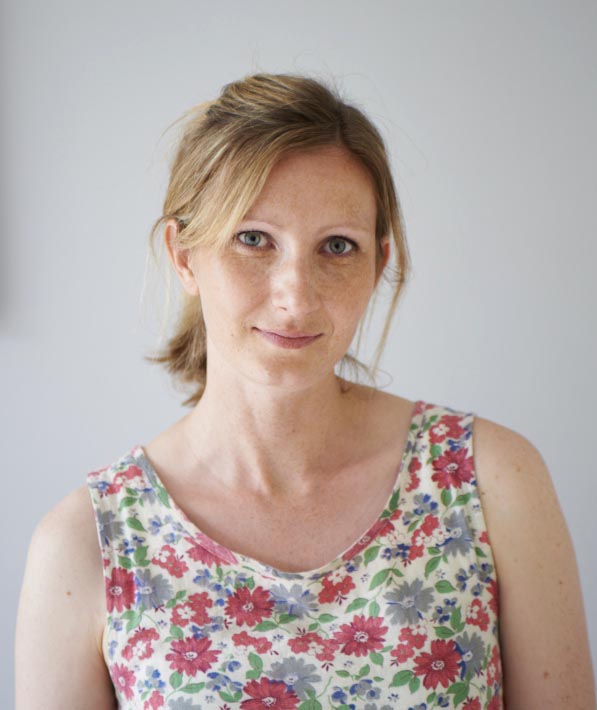 Sophie has been an interior stylist and journalist for over 20 years and has worked for many of the main interior magazines during that time, both in-house and as a freelancer. On the side, as well as being the News Editor for indie magazine, 91, she trained to be a florist in 2019 and launched The Prettiest Posy where she curates beautiful flowers for modern weddings and events. For H&G, she writes features about interior design – and is known for having an eye for a beautiful room.