Barn conversion kitchen ideas – 10 designs that make the most of your space
Combine rustic charm and original features with today's design ideas to create a country-style kitchen that works for you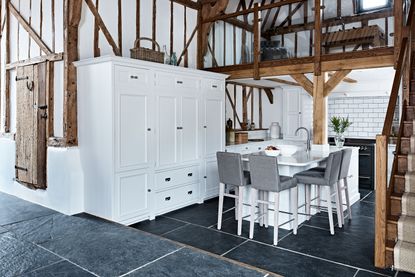 (Image credit: Neptune)
Sign up to the Homes & Gardens newsletter
Decor Ideas. Project Inspiration. Expert Advice. Delivered to your inbox.
Thank you for signing up to Homes & Gardens. You will receive a verification email shortly.
There was a problem. Please refresh the page and try again.
High ceilings, wooden beams, rustic stone walls and original flagstone flooring – it's easy to see why barn conversions are so desirable. But while these architectural details have a charming aesthetic, when it comes to a kitchen the space needs to be practical for modern day homeowners too.
Fortunately, there are plenty of kitchen ideas you can incorporate into and combine with your barn conversion ideas to make it functional without detracting from the original features that you like so much about your property.
Barn conversion kitchen ideas
The main benefit is often the size of the room you have to work with, as Rohan Blacker, Founder of Pooky explains. 'If you're lucky enough to have a barn conversion, it's likely you have plenty of space for a kitchen island, which will quite possibly become one of the most important areas of your home.'
1. Expose your beams
One of the most common original features in a barn conversion is exposed wooden beams. They are something you'll likely want – and need – to keep intact and use as a starting point for your design.
'Architecturally speaking, structural details like beams shouldn't be hidden or changed in any way,' says Tom Howley, Design Director at Tom Howley.
'The beauty of working within listed or special properties is that the brief is already defined. All designers love working within a brief. It helps to direct your design ideas, and instead of limiting you, these restrictions can actually provide further platforms for great design if you consider the possibilities rationally and creatively.'
Photography / Tom Howley
2. Embrace natural textures
Whether you are restoring elements of a barn conversion kitchen that are already in-situ, or needing to introduce new materials, it is a good idea to opt for natural textures and reclaimed pieces which will add warmth and character to your design, such as this impressive wooden worktop.
Photography / British Standard by Plain English
3. Zone with an island
Islands are a popular feature in all kitchens, as they create a central hub for friends and family to congregate around.
A multifunctional island can help zone a large space, providing ample seating as well as allowing the cook to look out into the rest of the room while preparing food.
Photography / The Real Shaker Kitchen by deVOL
4. Pay attention to rustic detail
For a rustic look, keep pots and pans out on display (or at least your favourite selection, so not to look too cluttered). Adding herbs and plants around the kitchen can help bring the room to life, and lighting will also have a big impact on the overall look and feel of the kitchen.
'Look at the zones of your kitchen and think about the activities that will happen by the family in each space,' says Marketa Rypacek, Managing Director of lighting brand Industville.
'Some, such as food preparation zones, the kitchen sink and above the hob, will require task lighting, while others, such as the dining area, might call for mood and accent lighting.'
Photography / Industville
5. Embrace the character
If you have an old or listing building, it may not be possible to change too much of the structure. Here, the homeowners reconfigured the internal layout so that the kitchen – complete with an island – could sit within the main part of the barn beneath the original vaulted ceiling.
They opted for traditional style cabinetry to emphasise the style of the property.
Photography / Neptune
6. Let in the light
While ceilings are high, windows are not usually huge to begin with when working with a barn conversion, so you may want to plan your layout around sources of natural light.
Where possible, your kitchen sink should face outwards with a window so whoever is washing up can enjoy a view – ideally it's one of picturesque rolling fields.
Photography / Charlie from Lukonic Photography, Sustainable Kitchens
7. Blend old with new
A traditional property doesn't necessarily mean you have to stick with traditional design style. Contemporary features can work well if they are blended into the scheme with a particular colour or texture running throughout.
Photography / Rebecca Hughes Interiors
8. Embrace scale
The design of this large kitchen extension honours the heritage of the Grade II* Listed 14th Century former cloth hall it sits within, while also incorporating modern elements. Large hanging pendants make the most of the high ceilings, while an impressive array of sleek appliances line the back wall.
Photography / Martin Moore
9. Go open plan
With plenty of room to play with, it may be best to zone your barn conversion kitchen into different, but linked, areas: the main kitchen and cooking area, a dining area, and even a casual snug. Use similar colours and materials throughout the space to maintain a cohesive look.
Photography / Neptune
10. Flag the floor
Stone flooring is an obvious choice for a barn conversion, but you may want to consider alternative materials if starting from scratch. Ceramic, porcelain and stone all work well with underfloor heating, keeping your kitchen cosy underfoot all year round.
'Porcelain tiles can also now be manufactured in a whole range of realistic finishes, including marble, natural limestone, and concrete,' says Jo Oliver, Director, The Stone & Ceramic Warehouse. 'This makes it possible to achieve the look you want without the challenges and maintenance issues the real materials can bring.'
Photography / Martin Moore
What style of kitchen suits barn conversions?
Traditional kitchens tend to work best with barn conversions, such as painted Shaker-style cabinetry, as they are in keeping with the original style of the property.
'Opt for earthy tones to blend with the theme rather than ultra modern jarring or too traditional,' advises Jayne Everett of Naked Kitchens.
What appliances are best for a barn conversion?
A large AGA or range cooker is an obvious choice for a barn conversion, but integrated appliances can work really well too as they can be hidden behind cabinet doors. A downdraft extractor hob on an island is also a good option, especially if high ceilings would make a ceiling or overhead model impractical.
How do I make my kitchen look suitably rustic?
Focus on classic, traditional cabinetry for your kitchen, and combine this with natural materials to add warmth and character. 'The English country house style is all about comfort, charm and abundance,' as Rohan Blacker, Founder of Pooky explains.
'Incorporate rustic materials like jute for example, or subtly printed linen fabrics for lampshades to give your space the quaint, country-esque effect you are after. Ultimately, what you want to achieve is a sense of cosiness to complement the traditionally stone and wooden fixtures by bringing in softer materials.'
Sign up to the Homes & Gardens newsletter
Decor Ideas. Project Inspiration. Expert Advice. Delivered to your inbox.
Yvette's first steps into interior journalism came several years ago when she joined the team at specialist consumer magazine Kitchens Bedrooms & Bathrooms, which is where her love for home design (and obsession for decorating) began to truly flourish. She worked on the title in a variety of positions, before being appointed as Features Editor on Essential Kitchen Bathroom Bedroom magazine, further cementing her voice as an expert in the three core rooms of our homes.
During her years working in London, it became a running joke that Yvette wanted a fully stocked cocktail trolley in her apartment but would need to leave the city if she wanted to afford – and comfortably fit – one in her own home. Funnily enough, in 2019 she did exactly that, and can now be found sitting happily in her spacious Bristol adobe, cosmopolitan in hand.
With a keen eye for new trends and innovations, Yvette continues to write about homes and interiors as a freelance journalist, sharing tried and tested advice for renovation projects and top tips for transforming your home into something beautiful.