Green and white kitchen ideas – 10 ways to embrace this refreshing color combination
There's nothing more visually uplifting than a combination of a green-and-white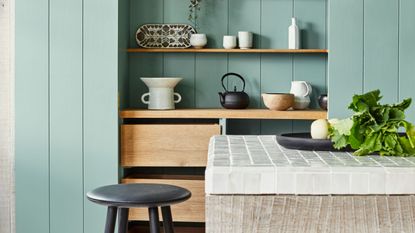 (Image credit: Damian Russell / Future)
A green and white kitchen is energising, light and airy. It takes all the benefits of both green and white shades and puts them together in one fabulous color combination.
The beauty of these two shades in one space is that they work in both modern and traditional kitchen ideas, all you need to do is watch the tones that you choose so they suit the light you have coming in.
Green and white kitchen ideas
From sage green and brilliant white to apple green and off-white, there's a combination for everyone whether your home is modern or classic. Use them to inspire your new green kitchen ideas or white kitchen scheme.
1. Go for a fun yet timeless scheme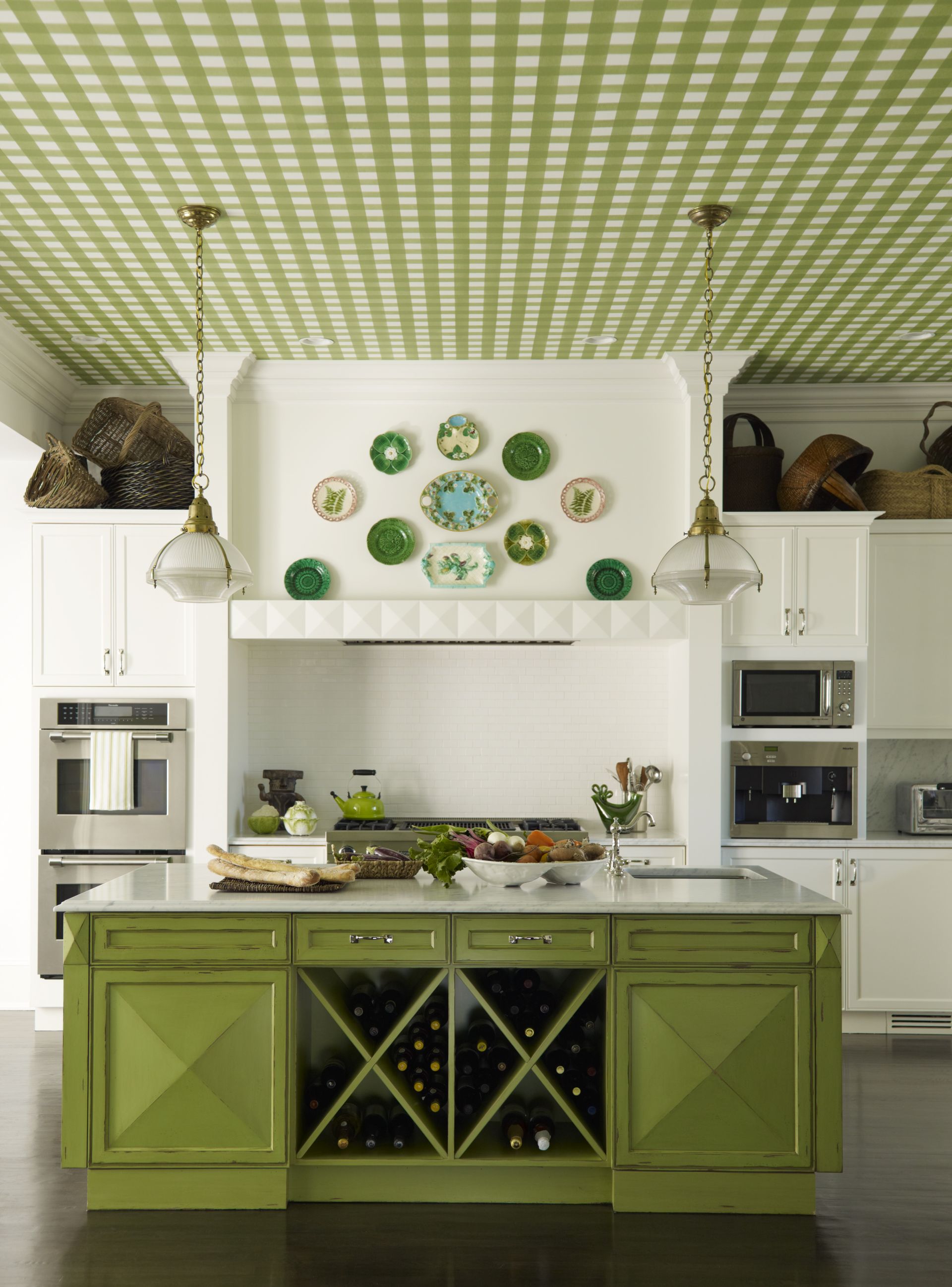 Gideon Mendelson, Founder of interior design studio Mendelson Group that's based in New York, believes that great design can relieve stress, inspire conversation and help clients create memories. And he certainly has with this striking kitchen. We asked him his thoughts on using the green and white color scheme:
'I think a range of greens can work in a kitchen and tend to look for greens that have a connection to the outdoors. So I might use anything from a happy spring-y green or a dark moody green. Here, this candy-apple green kitchen is a fun but timeless color, and it has just enough acidity in it that gives it some real punch and personality. All the greens in this kitchen were custom colors.
The counters are natural marble, which I always defer to if the client is up for the maintenance, and the floors are wood – we thought the warm wood was needed to break up and balance all of the white in the kitchen.'
And let's just admire that ceiling for a minute or two – we thought it was wallpaper, but no, it's handpainted.
2. One shade of green not enough? Choose two
Loving the idea of a green and white kitchen color scheme – but want more than one green? The beauty of using white with a color is that you can be flexible with your other color choices.
Here, a more teal shade called Deep Water Green by Paint & Paper Library is used on the cabinets and their warming Salvia above the shelf. They work together because they are of a similar tone, neither shade is brighter than the other. The white in the middle section splits them up nicely as does the wood countertop.
3. Utilise a variety of greens
For three shades of green you need to be a little cleverer with what you pick because balance is key. For starters we have the deep green of Paint & Paper Library's Stable Green on the cabinetry which really grounds the scheme. Then on the right the beautiful pale tone of Willow V.
The green and white kitchen is completed by the Lighthouse Palm wallpaper in Chelsea Green, a more vibrant shade that perfectly sits in the middle tonally of all three shades and the crisp white countertop and ceiling creates a visual break. Dark toned wood looks great with this combination of greens and a pop of black will work too.
4. Match green and white to perfection
'Green and white in combination feel incredibly timeless and can be tweaked to create both modern and traditional feeling spaces,' says Charlotte Cosby, Head of Creative at Farrow & Ball.
For a contemporary scheme, inject brighter greens on the woodwork such as Arsenic and a clean white like Wevet on the walls, or opt for our Calke Green teamed with All White for a crisp contemporary look.'
When you have an all-white kitchen island that's very prominent in your kitchen and you want to use white elsewhere the key is to match the paint as best you can. You don't want to choose a creamy white as it will look off against the white island. Get as many paint chips and samples as you can to help you pick the right shade.
5. Play with the color ratios
We tend to only allow white on woodwork like coving, skirtings and window frames, but when it comes to a green and white kitchen scheme you can mix up the ratios - there are no rules to say you must only have green painted cabinetry. We asked Tom Howley, Creative Director at Tom Howley Kitchens for his advice on using a white to enhance green:
'White is a classical kitchen choice that works well on its own but can prove even better when used in a two-tone scheme. Bright white is a great choice for creating crisp contrasts that will freshen and lift earthy greens. If you're considering bright white on cabinetry, you should use warmer shades of whites and creams on the walls and floors to ensure the kitchen doesn't feel too clinical and sparse.'
6. Add personality with a wallpaper
If your kitchen struggles with natural light but you still yearn after a green and white scheme then it's completely fine to opt for more white than green, this stunning Little Greene kitchen is a great example of this – and how to use wallpaper successfully in a kitchen.
The green is only on one wall and it's their bold and bright Sage & Onions, it's strong enough to make a statement in its own right and works well in small doses. You can carry the green through into the rest of the scheme with foraged stems, herbs and accessories – color doesn't need to always come from paint or wallpaper.
7. Go dark and off-white in a traditional kitchen
Fresh white and bright green might not be your thing, or suit the era of your home. Darker tones work well in period properties, they're more authentic and often tie in better with the natural elements that are existing like beautiful old terracotta tiles and a vaulted ceiling.
Charlotte Cosby, Head of Creative at Farrow & Ball explains: 'For a more traditional look, opt for warmer whites like Pointing for the walls and a more earthy green such as Card Room Green, for the units – a scheme that also works well in reverse.'
8. Bring nature in with a verdant green – and pure brilliant white
'Bright colors in the kitchen wake you up in the morning and send you into the world energised and positive. Try pairing white walls with bright green cupboards to maximise the vibrancy and juiciness of the green,' advises Annie Sloan, Color and Paint Expert.
'Greens are a broad spectrum, so try to look at the tone and character of the green you're using and ascertain whether it's more blue-green or more yellow-green when choosing colors to pair it with. Experiment in your kitchen. As with food, so with paint. I've got grassy, fresh Antibes Green on my cupboards and sideboards, with lots and lots of greenery and foliage for texture. It's so fresh and compliments my cooking style – organic ingredients in a back to nature environment.'
9. Contrast dark with light in a large kitchen
Naturally, green comes in an array of shades which means you can go for a deep dark shade too. A space full of natural light can easily cope with that level of depth colorwise and if it has a low ceiling white of course will help combat that perfectly.
Henriette von Stockhausen, Co-Founder of VSP Interiors explains how she chose the green and white kitchen scheme shown here:
'I used Studio Green from Farrow & Ball with the white because it has incredible depth and changes at different times of the day. It works as a fantastic backdrop to art, almost like white gallery walls. Everything looks good on it and really stands out. And, furthermore, if you're lucky enough to have doors opening to your garden, it relates brilliantly with the outdoors, blurring the lines between interior and exterior.'
10. If your kitchen has a low ceiling, keep the green on the units and white on the walls
Keeping the green reserved for the units only will keep the eye always on the lower third of your kitchen. This is ideal when your ceiling is low, then, paint the rest of the walls and ceiling white to add brightness. A darker green like an emerald or forest green will ground the space over a pale brighter shade.
A beautiful mid-toned wooden floor will add character and warm up the overall visual feel whilst acting as a 'middle' element between the green and white.
What shades of white go best with green?
This depends on how intense you want your green and white kitchen to feel. For a fresh bright look then a pure brilliant white will lift any shade of green that you choose. A country cottage kitchen with original features would suit a more muted white for example, one that still bounces the light around but isn't super bright and a deep green would work really well with a softer white.
Why is green and white such a good combination to choose?
'As a colour combination, green and white work really well in a kitchen, giving a fresh, clean feel. White is the perfect choice for dressers, cupboards, worktops or flooring and will create a classic stylish look that is guaranteed never to date,' explains Adam Brown, Director of Painted Furniture Company.
'Green can then be added with soft furnishing and accessories to give a natural look and is a great way to bring the feeling of outdoors inside. Try natural shades such as Olive and Sage or go bolder with a Moss green if your kitchen has plenty of natural light.'
Sign up to the Homes & Gardens newsletter
Decor Ideas. Project Inspiration. Expert Advice. Delivered to your inbox.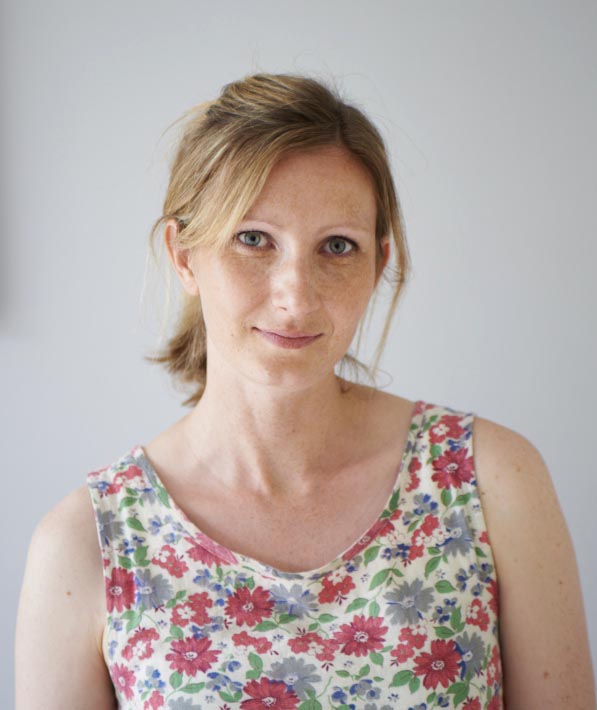 Sophie has been an interior stylist and journalist for over 20 years and has worked for many of the main interior magazines during that time, both in-house and as a freelancer. On the side, as well as being the News Editor for indie magazine, 91, she trained to be a florist in 2019 and launched The Prettiest Posy where she curates beautiful flowers for modern weddings and events. For H&G, she writes features about interior design – and is known for having an eye for a beautiful room.