What is the best layout for a galley kitchen? 10 design rules to maximize a narrow space
Turn this long, narrow room into a dream space that is a joy to use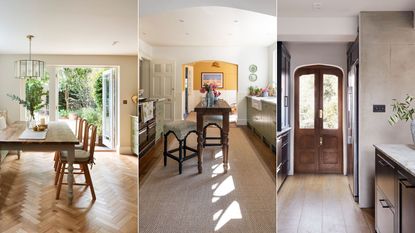 (Image credit: Davonport / British Standard by Plain English / Harvey Jones)
Galley kitchen layouts are one of the main ways to plan out your kitchen. These efficient cook spaces are generally long, narrow layouts, comprising two rows of base and wall cupboards with a corridor or walkway between them.
The name is derived from the galley kitchen of a ship, airplane, or train where space is generally at a premium; hence these two-sided kitchen layouts provide an efficient and ergonomic way to pack in storage and appliances in a small kitchen. Such a double run of parallel units does suit the proportions of a compact footprint but galley kitchens are also a really slick way to organize your layout in a larger kitchen. For instance, you can incorporate a galley kitchen layout into an open floor plan by introducing an island that forms one side of the galley.
We've asked some of the best kitchen designers and decorators to share their favorite inspirational design tips to make the most of a traditionally compact galley kitchen layout.
What is the best layout for a galley kitchen?
'Often a hallmark of older homes, galley kitchens can be thought of as being dated and cramped due to their narrow layouts and parallel counters,' says Elizabeth Sherwin, creative director at Naked Kitchens. 'However, for maximum efficiency when short on space, a galley kitchen absolutely excels. Its two parallel counters make all points of the work triangle equally accessible, plus – due to the nature of the layout – there are no awkward corner areas so all cupboards can be easily utilized.'
Melissa Klink, creative director at Harvey Jones agrees: 'Galley kitchens offer a simple, practical, and efficient layout and provide easy access between worktops, storage areas, and appliances. They are great for narrow kitchens, however, in order for a galley layout to operate effectively, it is imperative that there is plenty of room between your appliances, so the workspace doesn't become cramped. It is also important to minimize the traffic flow so that the cook is not obstructed as they use the kitchen. Plan your kitchen with this in mind – look at placing your refrigeration away from windows and ideally near the main entrance of the kitchen to avoid natural light being stifled or too many people being inside the working triangle.'
For more creative ideas with a galley kitchen layout, and what to avoid in a small kitchen, we've approached the experts for some inspiring design tips, whether it's ingenious ways to build in a seating or paring everything back to a one-wall kitchen or single galley layout.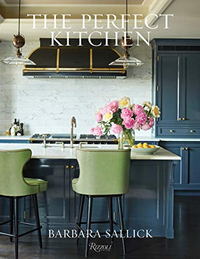 The Perfect Kitchen, Barbara Sallick | From $21.87/£30.45 at Amazon
Learn more about the fundamentals of kitchen design in this bestselling book. Find practical advice as well as hundreds of images to inspire your own remodel
1. Opt for a single galley layout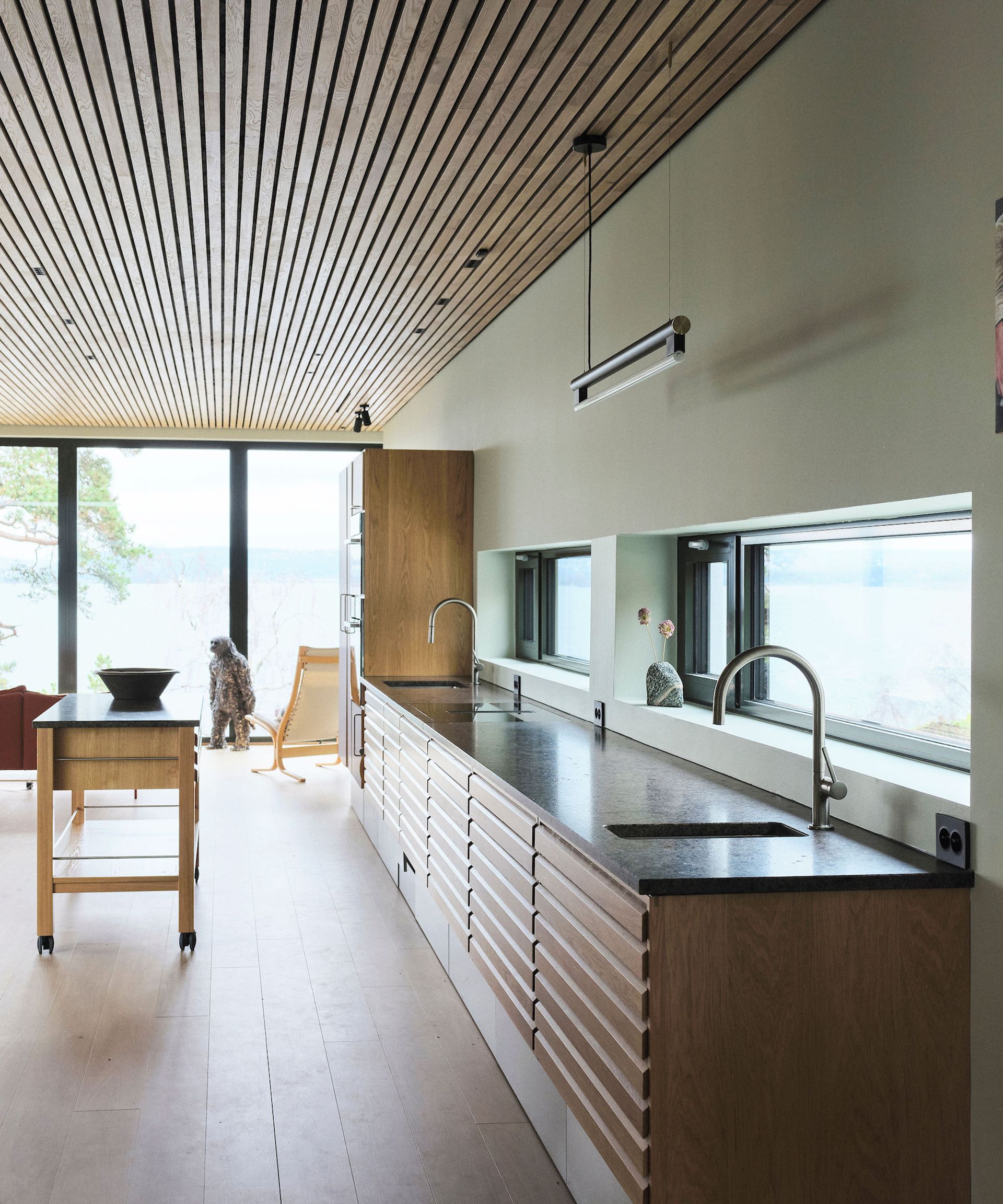 Single-line galley kitchens featuring just one run of units work particularly well in an open-plan layout. Here, homeowner and director of Norwegian Crafts, Hege Henriksen, chose a single galley layout, without upper wall kitchen cabinets, to create a seamless flow that echoes the long lines of the house. The long run of oak cabinetry with linear detailing ends with a tall cupboard, clad in contrasting burgundy tones, to house the appliances.
2. Be clever with depths and heights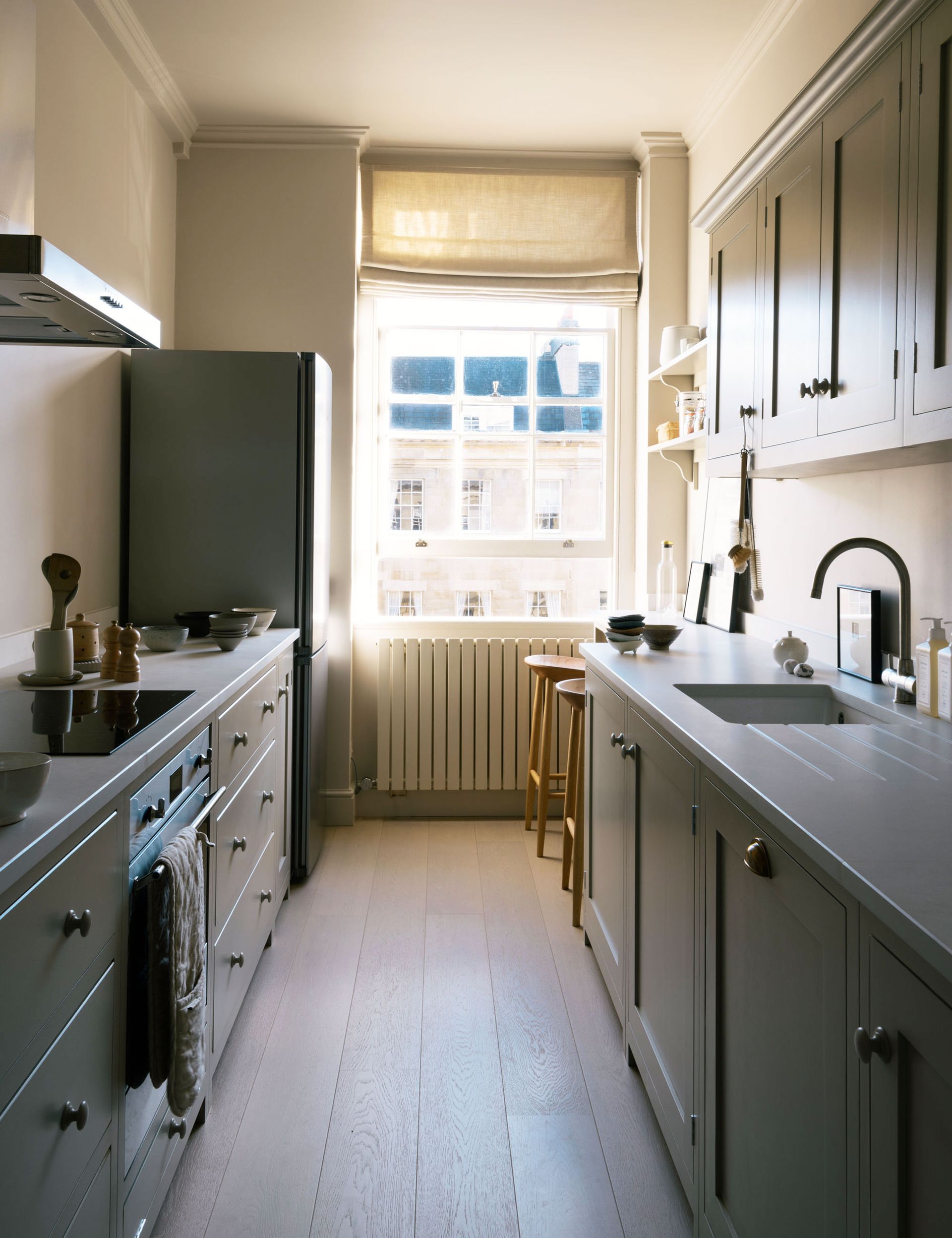 Galley kitchens offer efficient layouts with small kitchen storage and appliances all within easy reach. However, you can optimize your galley layout even further, by paying close attention to the depth and height of cabinets and worktops –tweaking these dimensions will tailor your design to suit your space and individual requirements.
'Small kitchens can be challenging but fun to design,' says deVOL's creative director Helen Parker, 'you have to make use of every little spot and be clever with depths and heights. A small indent in a wall is a perfect place to fit some slim shelves and when painted the same color as the walls they almost disappear. Staggering the depth of your kitchen countertops is another good option as it allows you to create small shallow areas for seating or slim cupboards. You need depth for sink and appliances so if your kitchen is long and thin, a staggered countertop is the perfect solution for a little breakfast bar, as galley kitchens rarely have enough width for a kitchen table.'
Helen joined deVOL as a Kitchen Designer in 2004 after a lengthy sabbatical raising a family, she quickly proved that she has the wherewithal to guide prospective clients through the kitchen design process. Helen was promoted to the position of Creative Director in 2011 after showing an innate ability to forecast trends and give deVOL a style direction.
3. Squeeze in a slim prep table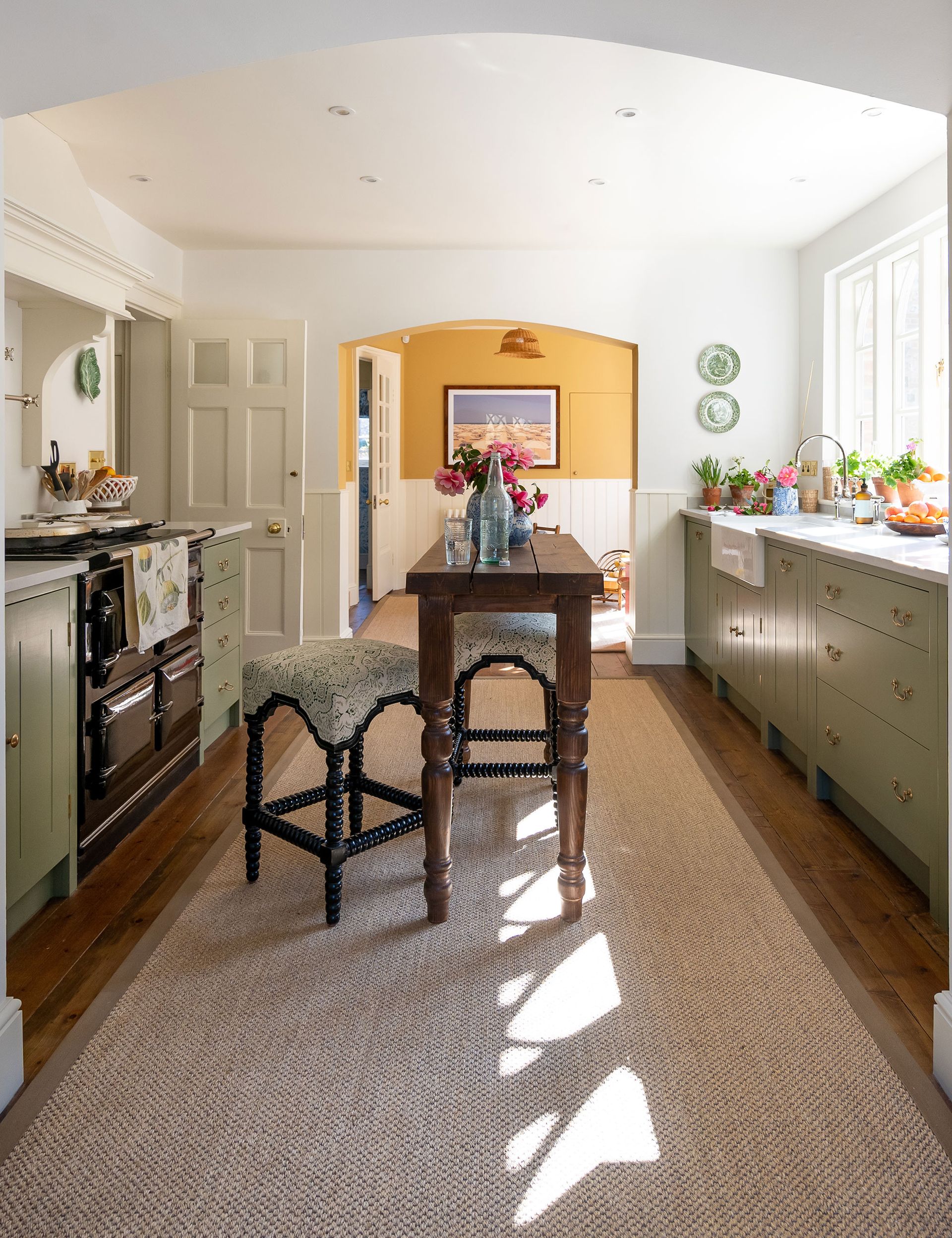 Galley kitchen layouts might generally be narrow but that doesn't mean you cannot include a kitchen island or dining feature. Look out for slim freestanding tables – a vintage antique or bespoke piece creates an eye-catching centerpiece – that can be used for a perch with friends or an extra preparation surface.
'Ensure there is enough space on either side of the island to move freely without it feeling cramped,' comments Will Eaves, international design co-ordinator at British Standard by Plain English. "Also consider the placement of cupboards and make sure drawers and cabinets can open easily without disrupting people at the breakfast bar or island.'
4. Utilize every inch of high cupboards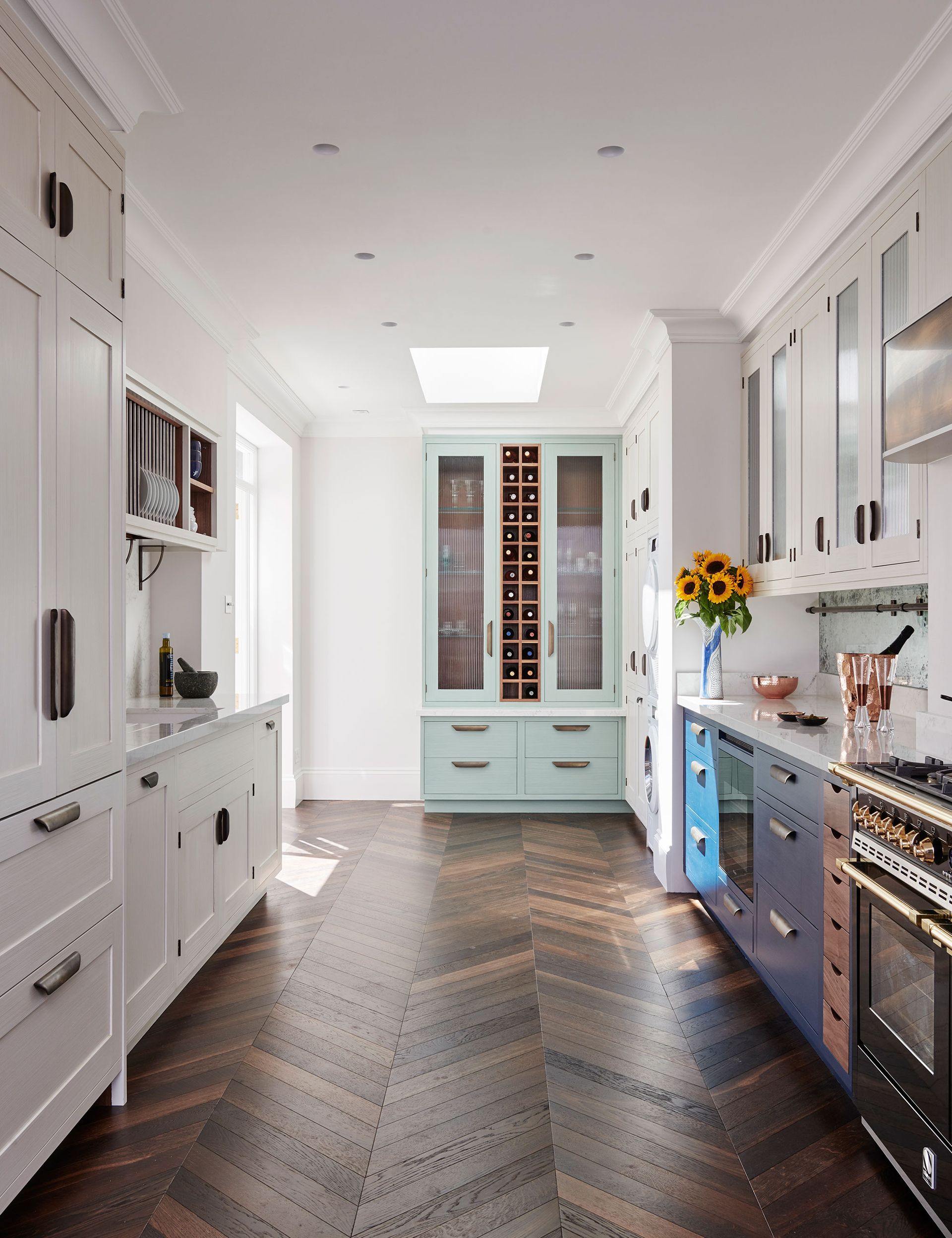 Galley kitchen layouts are often long and narrow, and, in particular, this 1920s house in North London had very little natural light. To improve natural lighting, designer and founder of Ledbury Studio, Charlie Smallbone, suggested installing a roof light plus a discreet lighting recess at the very top of the tall units.
'The client wanted to maximize storage space by pushing the cupboards as high as possible while retaining the original coving,' says Smallbone. 'To achieve this, we added coving on top of the furniture and used it as the lighting recess that runs around the room. The recess seamlessly joins with the ceiling coving above which becomes part of the furniture. This approach links the architecture of the room and the furniture, making them appear as one – it's a great way to maximize storage while preserving the original design features of the room.
'Wine storage was also a priority, so we integrated a wine cooler into the kitchen, in addition to the open wine storage in the mint-colored cupboard. To the right of this is a walk-in cupboard for the boiler, with a slot for the washing machine and tumble dryer stacked on top of each other to maximize space.'
5. Extend with a built-in bench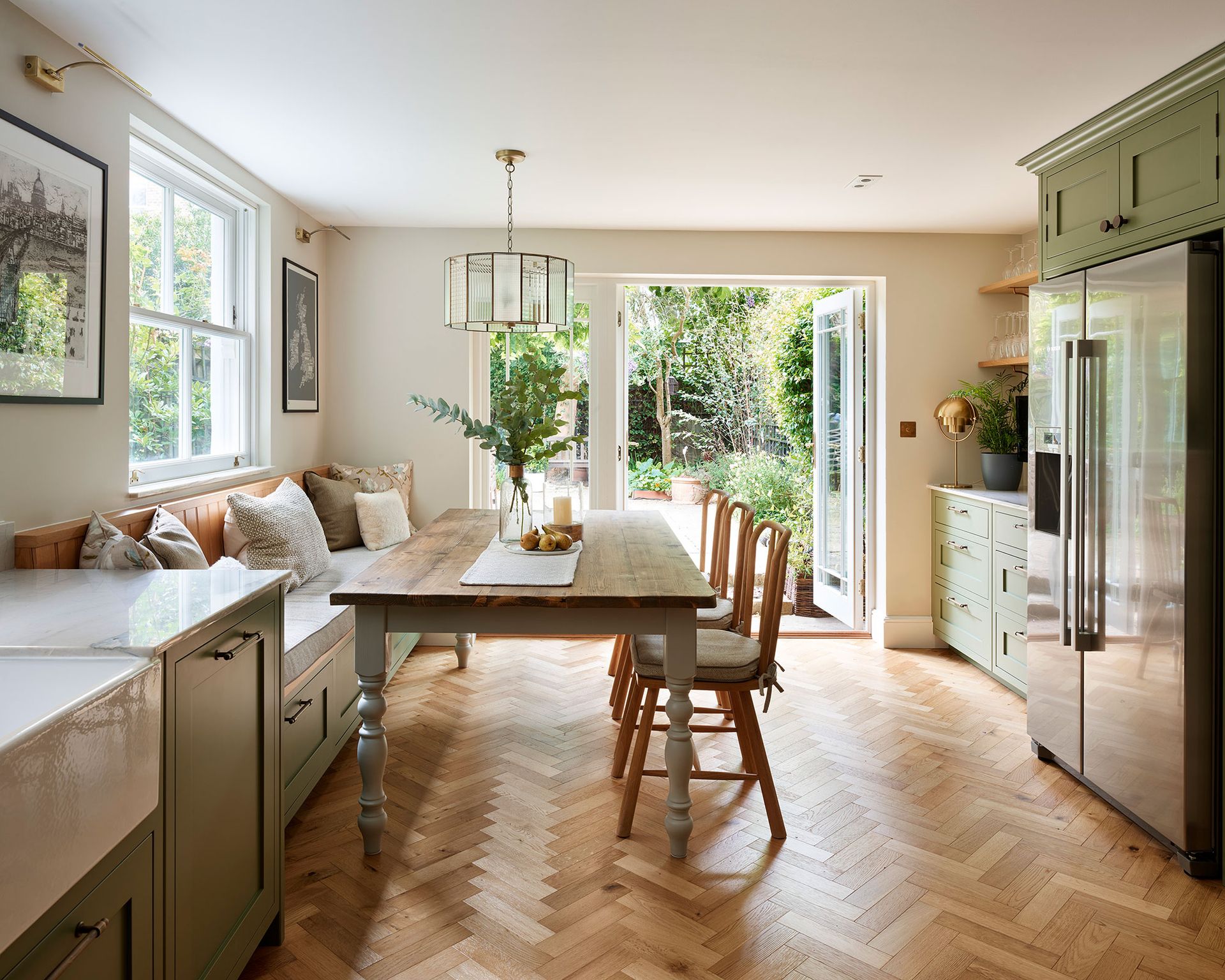 A galley kitchen layout should not be a barrier to fitting in a seating and dining zone as is displayed by this fairly wide space. Created as an extension of one run of cabinetry, the built-in bench offers somewhere comfortable to sit with extra storage underneath – with room for a freestanding table and extra chairs on the other side. The low level sideboard and open shelving on the opposite side of the room clearly demarcate this end of the galley layout as the space for eating and entertaining.
6. Create a pleasing symmetry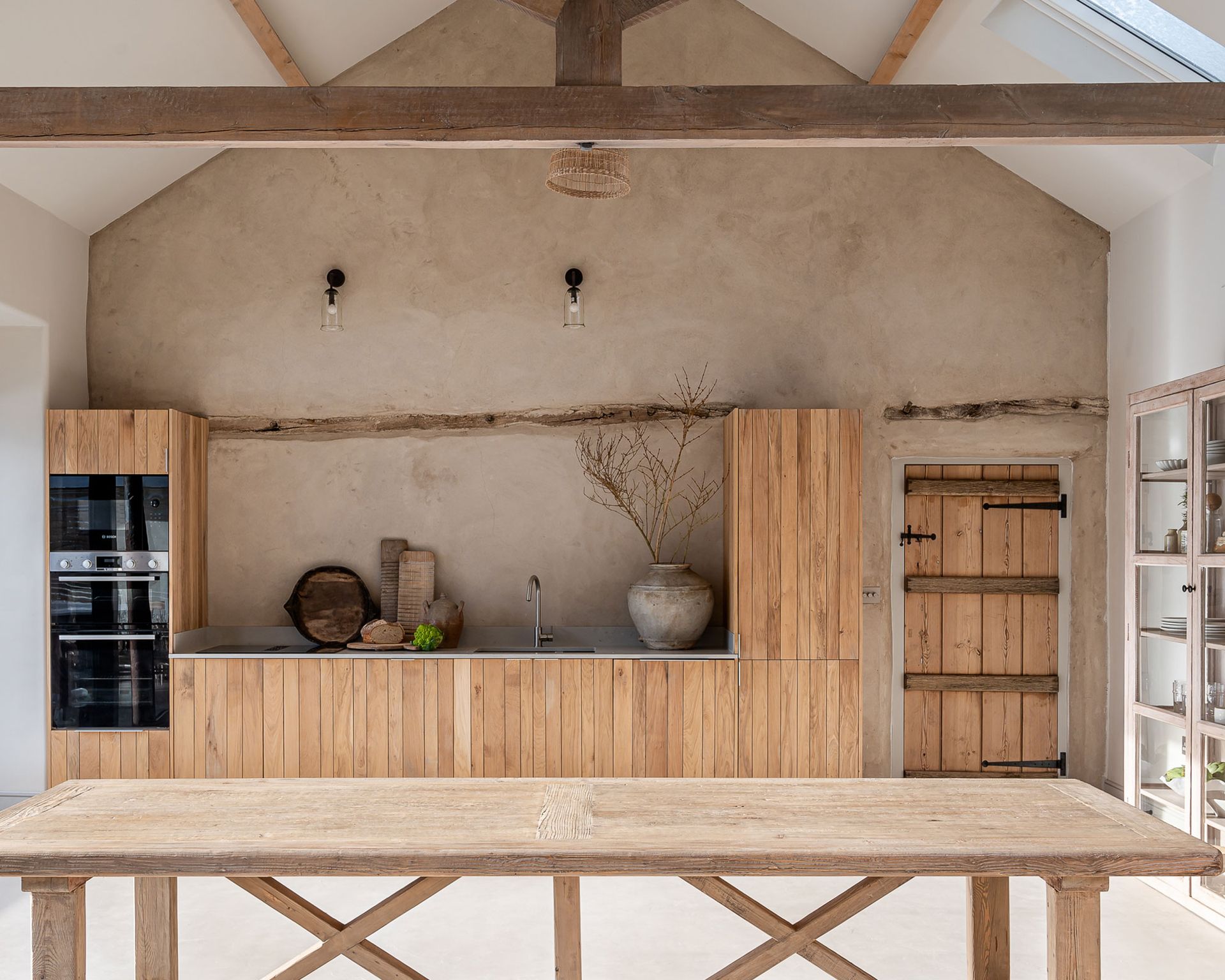 In open-plan living, there is something rather pleasing about the compact dimensions of a single galley kitchen – especially when it displays a harmonious symmetry as shown in this modern rustic décor. There is still space for a double oven, sink and plenty of storage despite its small footprint, demonstrating how galley kitchens are the ultimate in efficiency.
As Helen Parker, deVOL's creative director says: 'Keep colors to a minimum and try to stick to a calm and soft color palette. And just get rid of bulky items and things you don't use – as storage is tight you should make sure everything you keep is used and useful.'
7. Recreate a galley layout with an island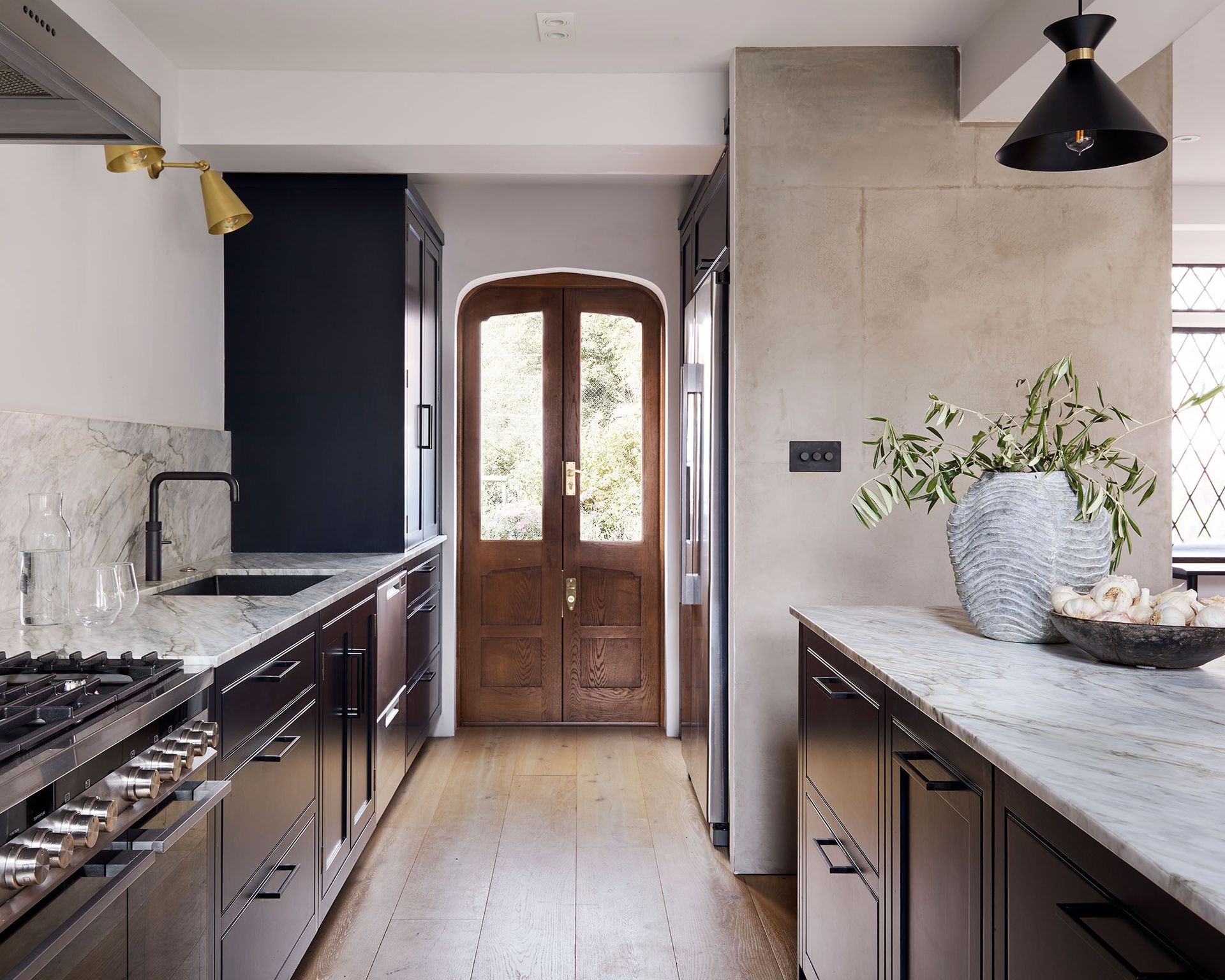 Recreate the efficiency of a galley-style kitchen layout in a larger, open-plan space by installing an island unit. In this kitchen, there is a traditionally narrow galley layout at one end of the kitchen formed by the fridge-freezer standing opposite the kitchen dressers. Then, the section that leads out to the open-plan living zone is maximized with a freestanding island, installed to stand perfectly in line with the galley zone.
'If you'd like to recreate the efficiency of a galley kitchen in a larger space, an island can help you achieve a similar feel, especially when positioned close to a run of tall cabinets or a freestanding fridge,' explains Melissa Klink, creative director at Harvey Jones.
8. Add a breakfast bar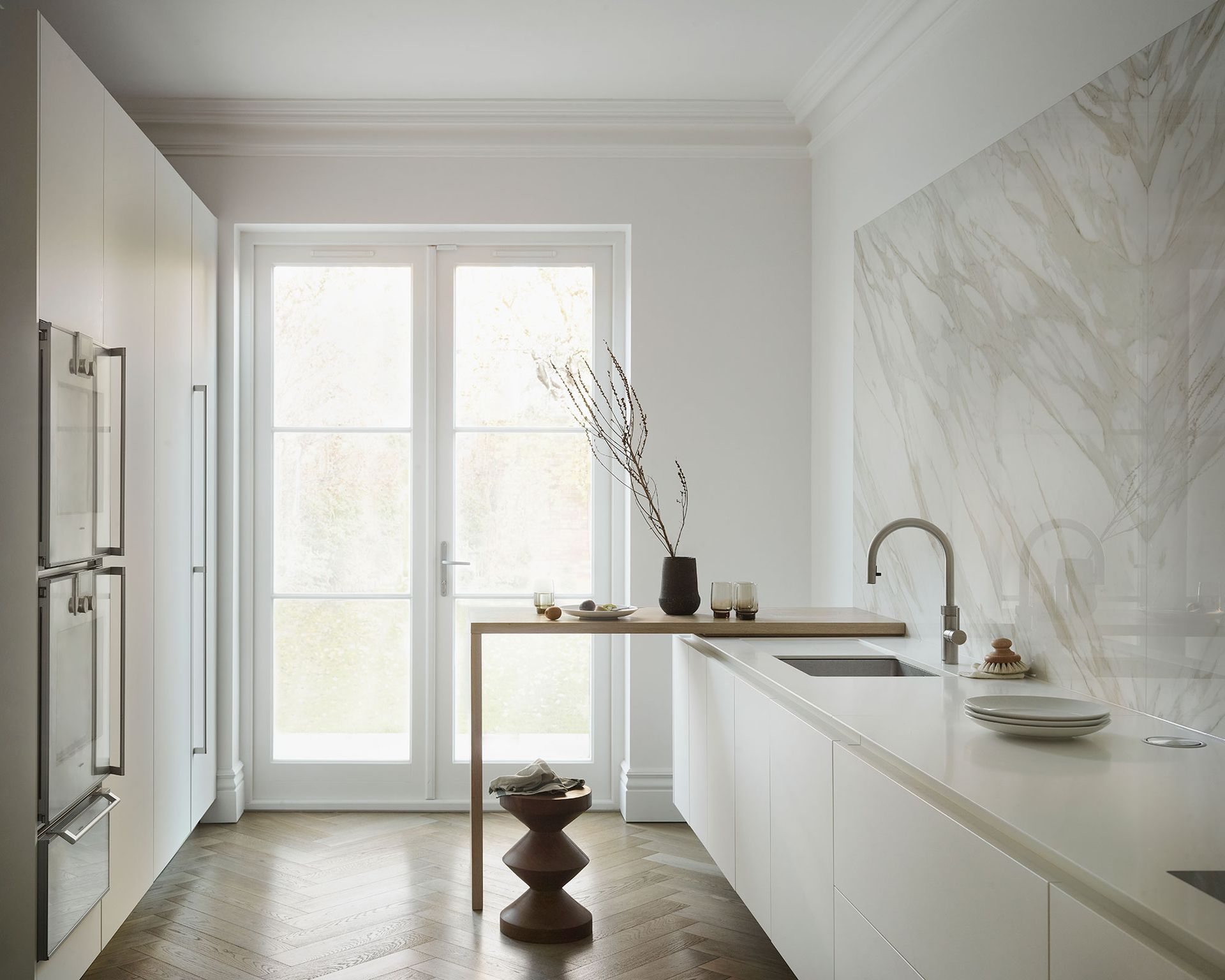 Break up the straight lines of a very modern galley kitchen layout with a stripped-back breakfast bar. The simplicity of this overhang adds an extra visual dimension to the sparse contemporary galley layout.
'A breakfast bar can take the form of a structure built off a worktop or an overhang created by reducing the depth of the cabinetry beneath the worktop, depending on the space available,' says Ben Hawkswell, senior design consultant at Roundhouse.
'In the case of this project, we favored a simple, cantilevered solid timber structure that would retain the straight lines of the main cabinetry and offer a sociable table arrangement for coffee and drinks.'
9. Group tall cabinets together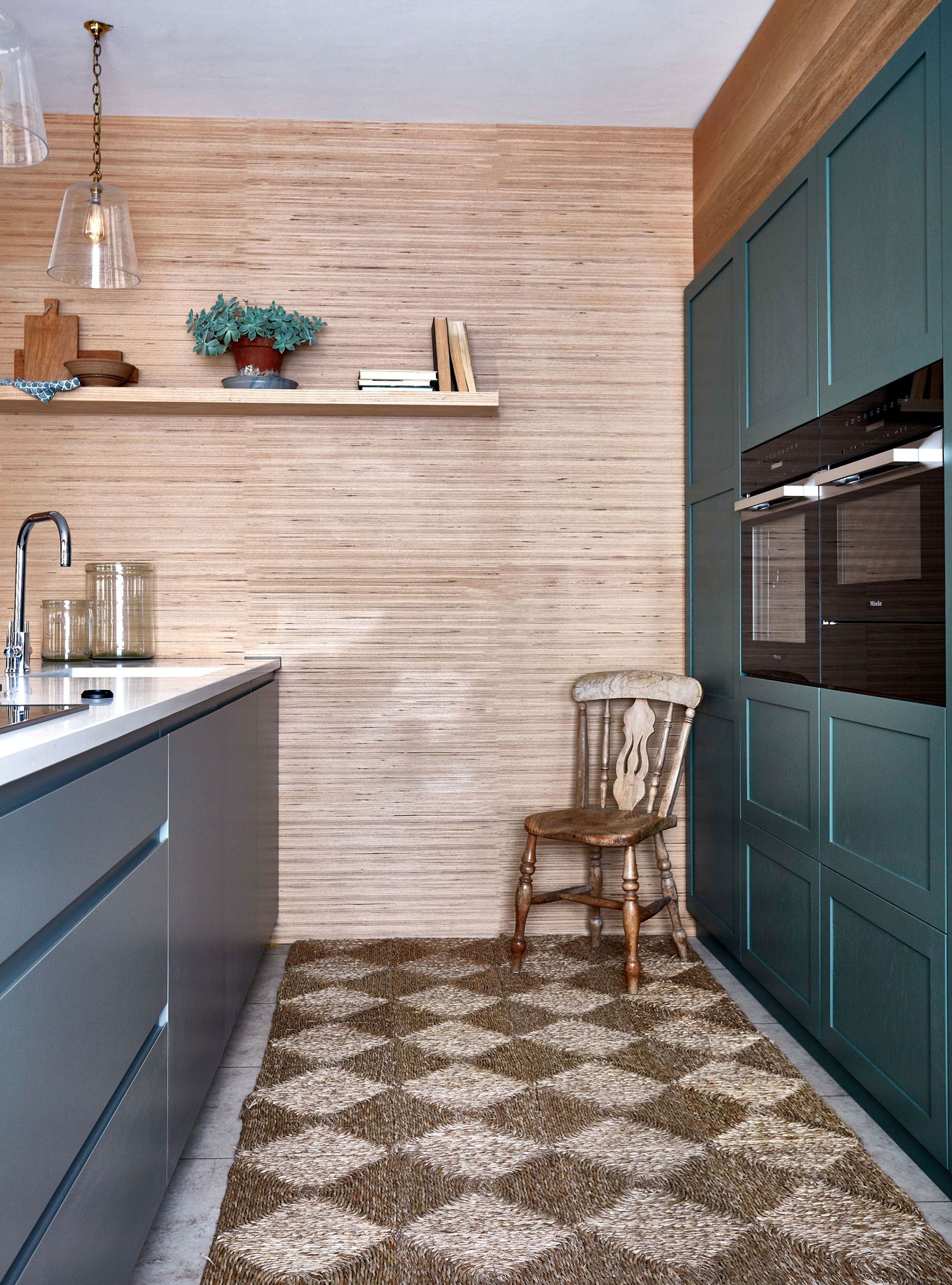 Both sides of the galley layout don't need to be perfectly symmetrical – in fact, it's often a good idea to group tall cabinetry on one side to enhance a feeling of spaciousness.
'When it comes to the design, some of the most important aspects to consider for a galley kitchen is the entry point and the placement of different cabinet heights,' says Elizabeth Sherwin, creative director at Naked Kitchens.
'For example, if you're instantly faced with a tall, overwhelming wall of cabinetry as you enter, it will only enhance the feeling of it being a smaller space. In the same way, think about grouping all the tall cabinetry together rather than having them dotted throughout, as this will cleverly open up the room.'
10. Extend into an L-shaped corner hub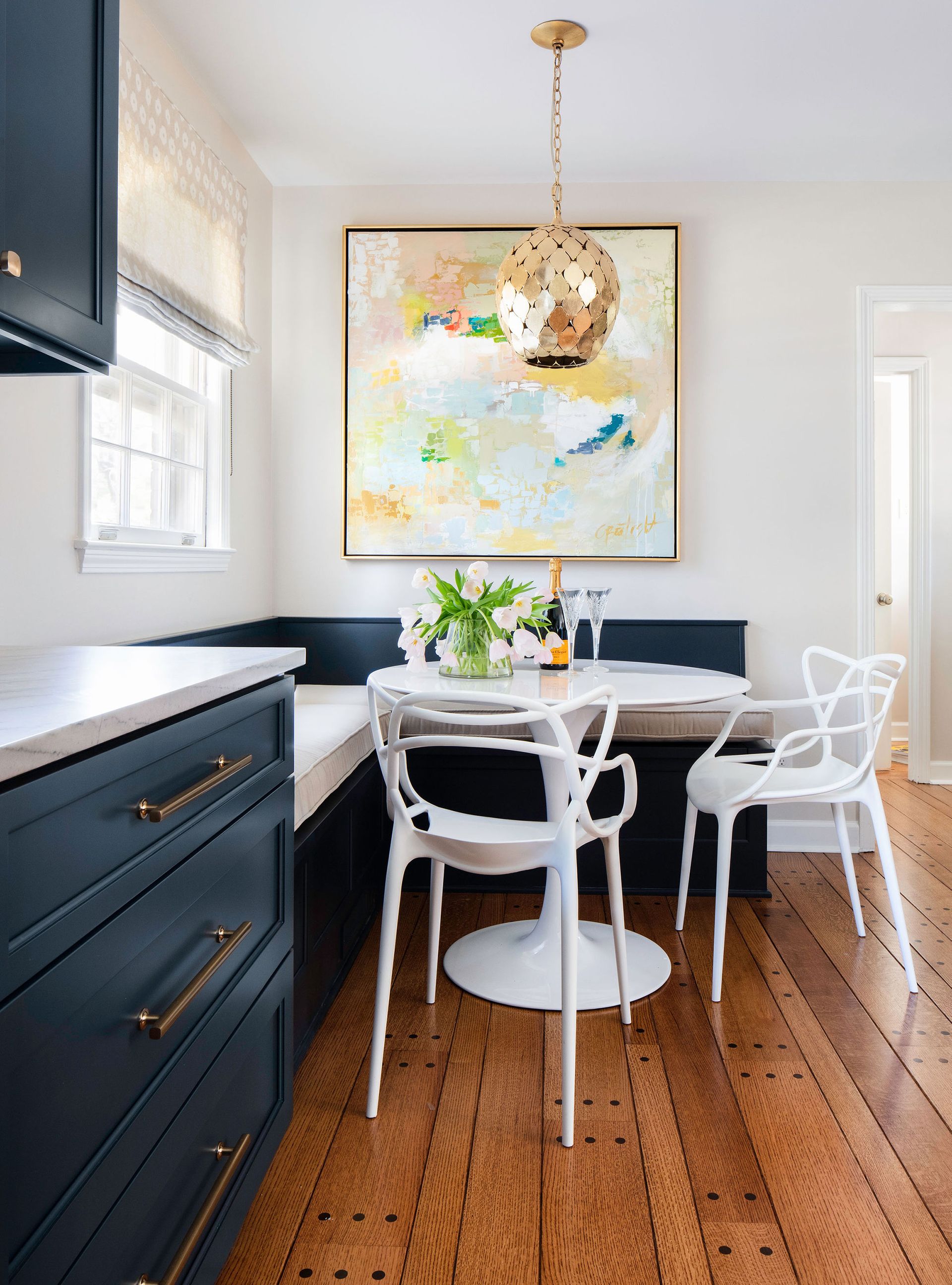 'Due to limited space within this galley style kitchen, we would have only been able to fit a table with four chairs,' adds interior designer Lindsey Black. 'By creating a built-in L-shaped banquette, we were able to fit four people on the banquette, in addition to the two side chairs. It also gave us precious extra storage space as the seat tops lift up for storage underneath.'
Lindsey Black founded LBI after designing her family's new construction home in East Memphis. Not only did that experience teach her the complex process and many challenges of custom home build projects, but it also revealed her extraordinary talent for managing that process efficiently and overcoming those challenges beautifully.
FAQs
How do you plan a galley kitchen layout?
A galley layout is the preferred kitchen for many professional chefs, as it is a safe and efficient design for cooking. Whatever size of space you have to work with, it is wise to think about a few aspects of your galley layout. First, assess your home's footprint and if you don't want to cook in an enclosed room (galley kitchen layouts are traditionally in a separate room) consider if you can knock two rooms into one to create a more open-plan ambiance.
Decide if you want a symmetrical or asymmetrical arrangement of cupboards and where you want to place the tall cabinetry. If possible, go for a wall length of at least 12 feet so the sink and cooktop can be placed away from each other – at least a foot apart for safety reasons but more than 3ft is preferable.
What is the best width for a galley kitchen?
To ensure efficiency and flow in your galley kitchen, aim for countertops that are 7-12ft long with a minimum of 3ft between the runs of parallel units. Kitchens used by a single person can get away with 3ft between opposing units but if the kitchen is being used by more than one cook aim for at least 4-5ft.
---
A lot has changed in the way in which we design – and use – our kitchens over the last decade or so, but there is something reassuring in how the narrow, galley kitchen has adapted to the new-found sense of space.
Sign up to the Homes & Gardens newsletter
Decor Ideas. Project Inspiration. Expert Advice. Delivered to your inbox.
Lara has worked in the ever-changing world of interiors and lifestyle journalism for many years. She cut her teeth in a busy newsroom of a kitchen and bathroom business title where she gained vast product knowledge and industry contacts that would prove invaluable. She now freelances for a variety of magazines, newspapers and online blogs and relishes the changing landscape of the interiors world