How home organizers and baristas organize their coffee mugs
Coffee experts share the mug-organizing methods they actually use at home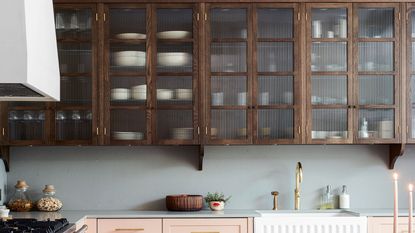 (Image credit: Future PLC)
Taking some time to organize coffee mugs – with some rearranging, and perhaps a new organizer or two – will mean they always look neat and are easy to reach.
A well-organized kitchen cabinet looks and functions so much better than one that's overflowing with mismatched cups, as well as being easy to clean. So, what are the best ways to do it?
Arranging by color and size is a good place to begin, but there are more space-saving solutions out there than you might think. Gone are the days of precariously balanced mugs squashed into the cabinet.
How to organize coffee mugs
We asked a former barista and home organizing experts for the space-saving tips and tricks they actually use in their own homes. Here are 7 clever ways to organize coffee mugs for seamless morning routines.
1. Keep them in a low drawer
Laura Honey, Homes & Gardens eCommerce editor and former barista, recommends relocating haphazard stacks of mugs to a low drawer for ease and practicality.
'Pre-caffeine, it can feel a bit risky reaching for triple-stacked mugs. It's almost inevitable that your favorite one will break. In my home, I keep all of my mugs in a low drawer,' she begins.
'I have a grip liner from Amazon at the bottom of the drawer so that the mugs don't slip when I open it. I'm lucky, because I tend to buy the same size and shape, so they tessellate neatly. I also keep them upside down, so that no dust or stale water is left in them. I'm biased, but I think it's the best option because you don't have to reach up high and you can see all your available space.'
If storing tall travel mugs, try bamboo drawer dividers, at Amazon, to stop them from falling over when you open the drawer.
As an appliance aficionado and lover of language, Laura is at home eCommerce editing. Whether she's cathartically cleaning, mass baking, or gardening outside, she's always thinking about what products would be useful and helpful.
2. Use a mug rack
However, it does feel like a shame not to display our coffee mug collections. Fix dead space by hanging a wall-mounted rack in the kitchen, creating a laid-back and functional aesthetic.
'Our mugs have such characters and stories behind them, so my next favorite option is a mug rack, also at Amazon,' says Laura Honey. 'It's an easy organizer, keeps your mugs safe, and large mugs won't throw off your entire stacking system. It's easy to reach for your favorite mugs and you're not limited on what you can store on each hook.'
For extensive collections, this six-tiered mug rack at Amazon will keep things organized and free up space in cabinets, on shelves, or any other kitchen storage spaces you use for mugs.
3. Create a coffee station
Professional home organizer Amy Berryhill says that if coffee is part of your morning ritual, it's worth making your storage space something that you love to see and use every day. Creating a small coffee station near your best coffee maker is one convenient option for coffee lovers, provided you have the space.
'Put coffee cups, travel mugs, and everything you need to make your coffee in this area,' Amy says. 'Lining up cups in the same direction (i.e. all handles pointing to the right) gives a clean and calm visual when you open the cabinet.'
Amy is a professional home organizer in the San Francisco Bay area and has organized hundreds of kitchens. She founded Spiffy Chicks Organizing in 2007, with an aim to help people who struggle with the stress and anxiety of untidy spaces.
4. Display and rotate favorites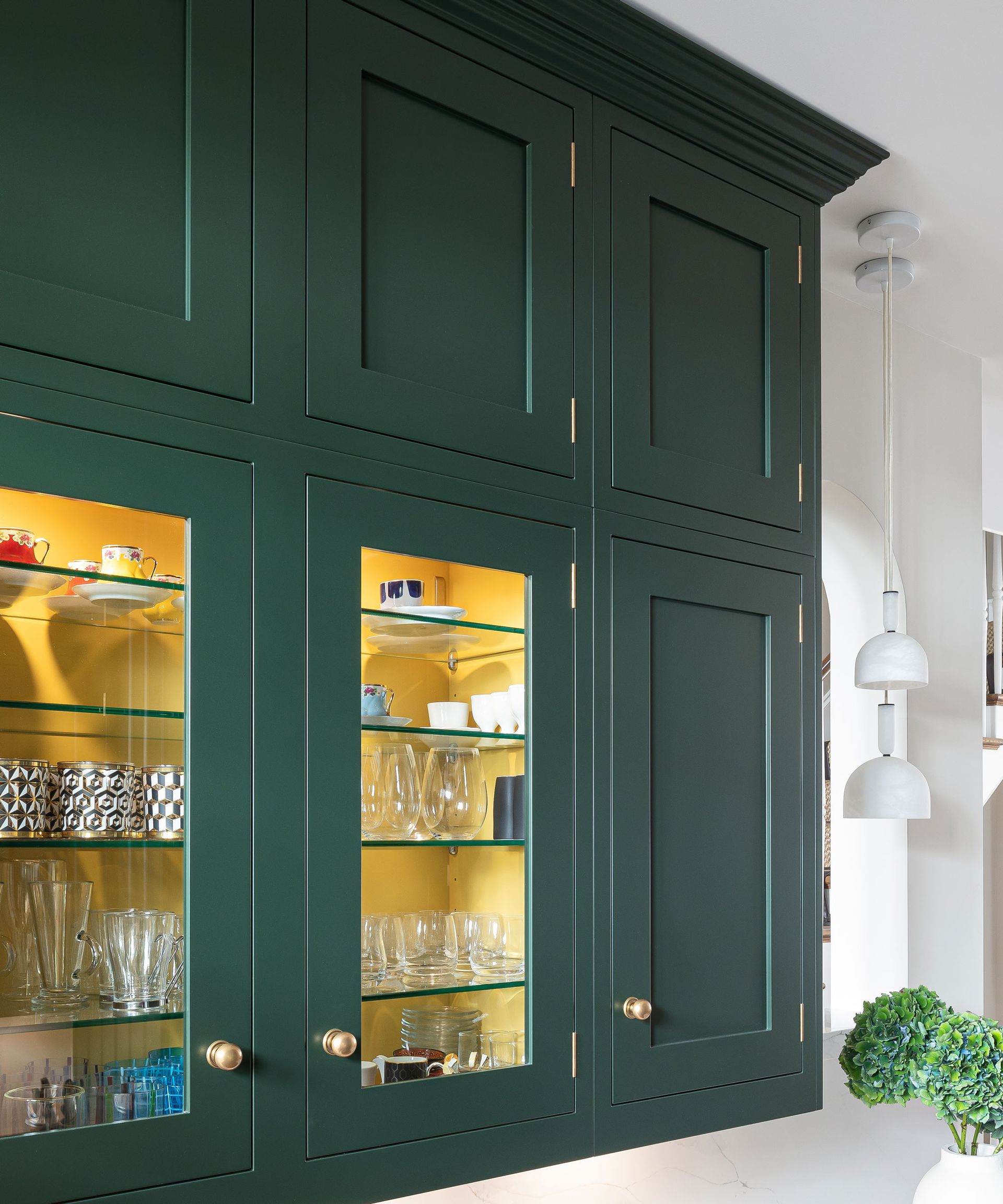 'A great way to organize your coffee mugs is to rotationally display your favorite ones and tuck the others away in a cupboard,' says home organizer Laura Price. 'Having too many out, especially in a smaller space, can make your kitchen feel cluttered and overcrowded.
So, she suggests you do an edit and choose just 4-8 mugs to display at any one time on an exposed shelf or in a glass cabinet. You can then decide which mugs you want out according to your style and the season.
Laura Price's goal is to help others experience the benefits of living an organized life after discovering that organized homes brought her peace when raising three children in a hectic home. Hence the birth of The Home Organisation, a dedicated team of professional organizers.
5. Try shelf risers
If you have lots of mugs and want to keep them that way, shelf risers could be the answer. Make the most of the height of your kitchen cabinets by using shelf risers, which will help you avoid having lots of empty space just above your mug collection. If you have deep cabinet shelves, just having one at the back can use the space more efficiently, without having to stack mugs directly on top of each other.
Interior designer Chantelle Hartman Malarkey agrees that risers are a good option, especially in small kitchens, because they allow you to store more mugs and give you the ability to see them all properly.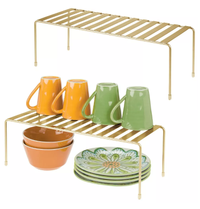 mDesign Metal Kitchen Pantry Countertop Storage Organizer Shelf | $23.49 for 2 at Target
Create two levels of storage in cabinets so coffee mugs are always easy to grab with rust-resistant shelf risers.
Chantelle Malarkey is an interior designer and photographer who inspires others to follow their dreams and transform every space into its most beautiful version.
6. Go retro with a mug tree
'I know it's a bit vintage, but I also love mug trees. They have all of the same benefits of a mug rack: easy access, careful storage, and they aren't an eyesore either,' continues Laura Honey. 'Mug trees are great because you can put them almost anywhere. You don't need a wall and they are easy to move around.'
7. Arrange on shelves with rails and barriers
Professional organizer Laura Price is a big advocate of adding extra kitchen shelving to make organizing coffee mugs easier.
'This is particularly useful for small kitchens where inside cabinet storage is needed for appliances and items you don't want to display,' she says. 'Using shelving that has a rail or barrier can also help you store your mugs safely without the concern of them breaking.'
What's the best way to put coffee mugs in a cupboard?
'The best way to store coffee mugs depends on the size and layout of the cupboard,' says Laura Price. 'While some cabinets may already be perfect for storing mugs, others might need some extra help. If there is a lot of space between shelves add shelf risers so you can maximize the amount of mugs you can store. Similarly, screwing hooks to the bottom of the shelves to hang your mugs can also eliminate any wasted space.'
---
By using kitchen organizers that are either wall-mounted or that go inside cabinets, you'll be able to keep kitchen counters clear to maximize food prep space and maintain some level of calm. And for those sentimental mugs, you can't part with? 'See if you can use that mug somewhere else in your home as a pencil cup, toothbrush cup, or even a bud vase,' says Homes & Gardens contributing expert Caroline Roberts.
Sign up to the Homes & Gardens newsletter
Decor Ideas. Project Inspiration. Expert Advice. Delivered to your inbox.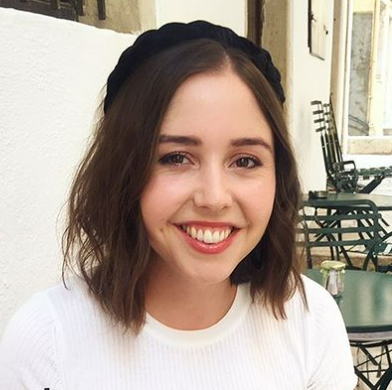 Millie Hurst is the Solved Section Editor at Homes & Gardens. She has six years of experience in digital journalism, having previously worked as Senior SEO Editor at News UK in London and New York. She then gained experience writing for women's magazines before joining Future PLC in January 2021. Millie has written for an array of homes brands including Livingetc and Real Homes and was formerly Senior Content Editor at Ideal Home before taking on the position of Section Editor with Homes & Gardens. She has written and edited countless features on home organization, decluttering and interior design and always hopes to inspire readers with new ways to enjoy their homes. She lives in Sheffield, South Yorkshire and loves to weave nature-inspired decor and nods to time spent in Italy into her own home.