10 tasks to do daily to keep kitchen counters clear – and clutter-free
Make decluttering a daily habit to ensure your counters stay streamlined and stylish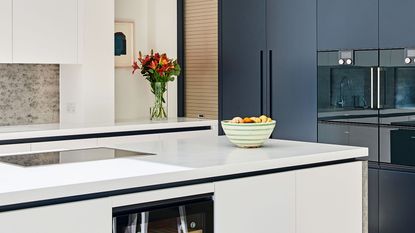 (Image credit: Future PLC / Jonathan Cooch)
Sign up to the Homes & Gardens newsletter
Decor Ideas. Project Inspiration. Expert Advice. Delivered to your inbox.
Thank you for signing up to Homes & Gardens. You will receive a verification email shortly.
There was a problem. Please refresh the page and try again.
Clearing surfaces can make a room feel neat, tidy, and well-organized – even if that's not quite the case all of the time! As one of the busiest rooms in the house, the kitchen tends to be a bit of a clutter magnet, so it's worth instilling a few daily habits to keep those counters clear – or as clear as possible, anyway.
On that note, we know that when it comes to organizing a kitchen, keeping counters completely clear is not always feasible. Whether you're organizing a small kitchen, or you just prefer open kitchen storage ideas, everyone's kitchen needs and preferences are different, and that's fine – assuming you keep counters neat, tidy, and clutter-free day-to-day, that is.
Luckily, we're here to help. From simple tidying tasks and decluttering tips to stylish storage suggestions, we've compiled a list of things you can do every day, to help keep counter clutter at bay.
Things to do daily to keep kitchen counters clear
When it comes to organizing kitchen countertops, minimalism is key. The less you can leave out the better. While there's a case to be made for some items to stay (think appliances, well-organized utensils, and orderly spices) the non-permanent 'clutter' that builds up during the day/week is certainly not one of them. Dealing with it daily will result in not just a clear countertop, but a clear mind, too.
'Cluttered countertops are often a trigger of anxiety and overwhelm because we see them so often – think about how many times you walk into your kitchen each day. They have the negative consequence of simply attracting more clutter, too. You may not think so, but keeping them as clear as possible really makes for a more positive mindset, and a tidier kitchen overall,' says professional organizer Katrina Hassan of Spark Joy London.
1. Give everything a home
Whether it's keys, post, loose change, or study books, start by assigning a proper place for miscellaneous everyday items, so that counters don't become a natural dumping ground. 'Consider somewhere that's easily accessible, but outside of the kitchen altogether, perhaps near the front door, for example', suggests Millie Hurst, section editor at Homes & Gardens.
Millie Hurst the section editor of Homes & Gardens, oversees the Solved section, which provides readers with practical advice for their homes. Millie has written about and tried out countless cleaning and DIY hacks in the six years since she became a journalist, and has worked in both London and New York. She is currently completing a diploma in interior design with the Interior Design Institute.
2. Put things away after use
It's amazing how quickly we can fall into the habit of leaving things out long after we've used them. To break it, try the 'one touch' tidying rule. The mantra is simple – don't put things down, put things away. And straight away, too. Yes, we know it sounds obvious, but you'll be amazed at what a difference it can make.
3. Gather items together
Whether it's a jug of utensils, a rack of spices, or a tea and coffee-making 'station', gathering groups of like-items together looks much neater than spreading them out across your counters and makes them more practical for use, too. The trick is to keep them that way – cast an eye every day to make sure items are where they're supposed to be.
'Position grouped items onto trays rather than directly onto the countertop. That way, everything can be lifted up in one go when you need to wipe the sides, or you can move the whole lot temporarily to free up counter space for cooking', advises professional organizer Amy Bloomer of Let Your Space Bloom.
4. Rinse dishes immediately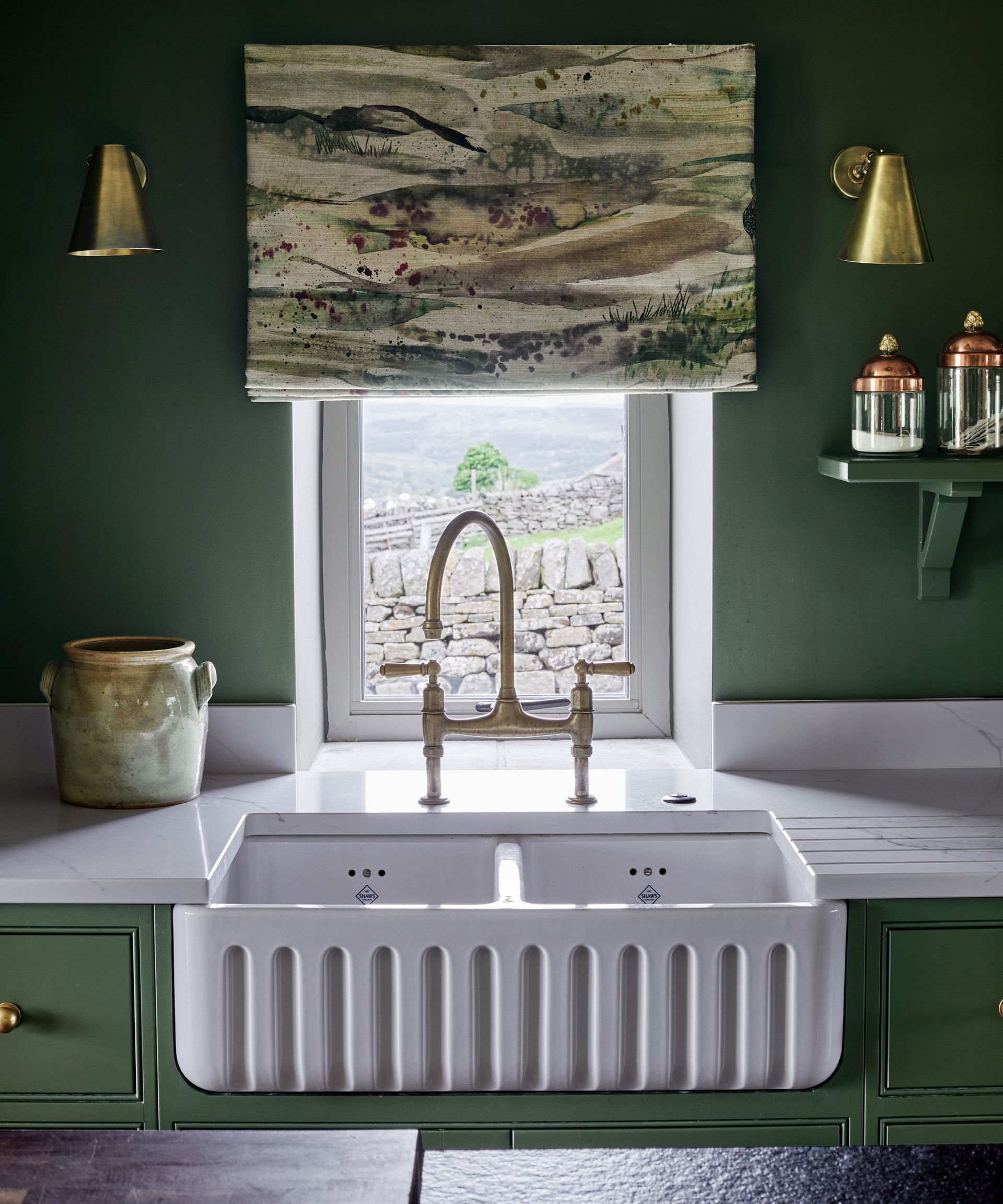 Doing dishes is no one's favorite thing to do, let's face it, but getting it done straight away is one of the best things you can do to keep counters clear. When leaving dirty dishes on the counter becomes acceptable, more will accumulate there over the course of the day – clutter breeds clutter, after all. 'Ask family members to take responsibility for their own mess so it doesn't get the chance to accumulate', recommends Amy Bloomer.
5. Instill the 'two-minute rule'
If procrastination is your downfall when it comes to counter clutter, consider instilling this simple decluttering rule – if a decluttering task takes less than two minutes, do it immediately. No excuses. Whether it's opening and sorting mail, putting away a food shop, loading the dishwasher, or tidying away appliances, calm and order are easily restored, and quickly, too.
6. Clear away appliances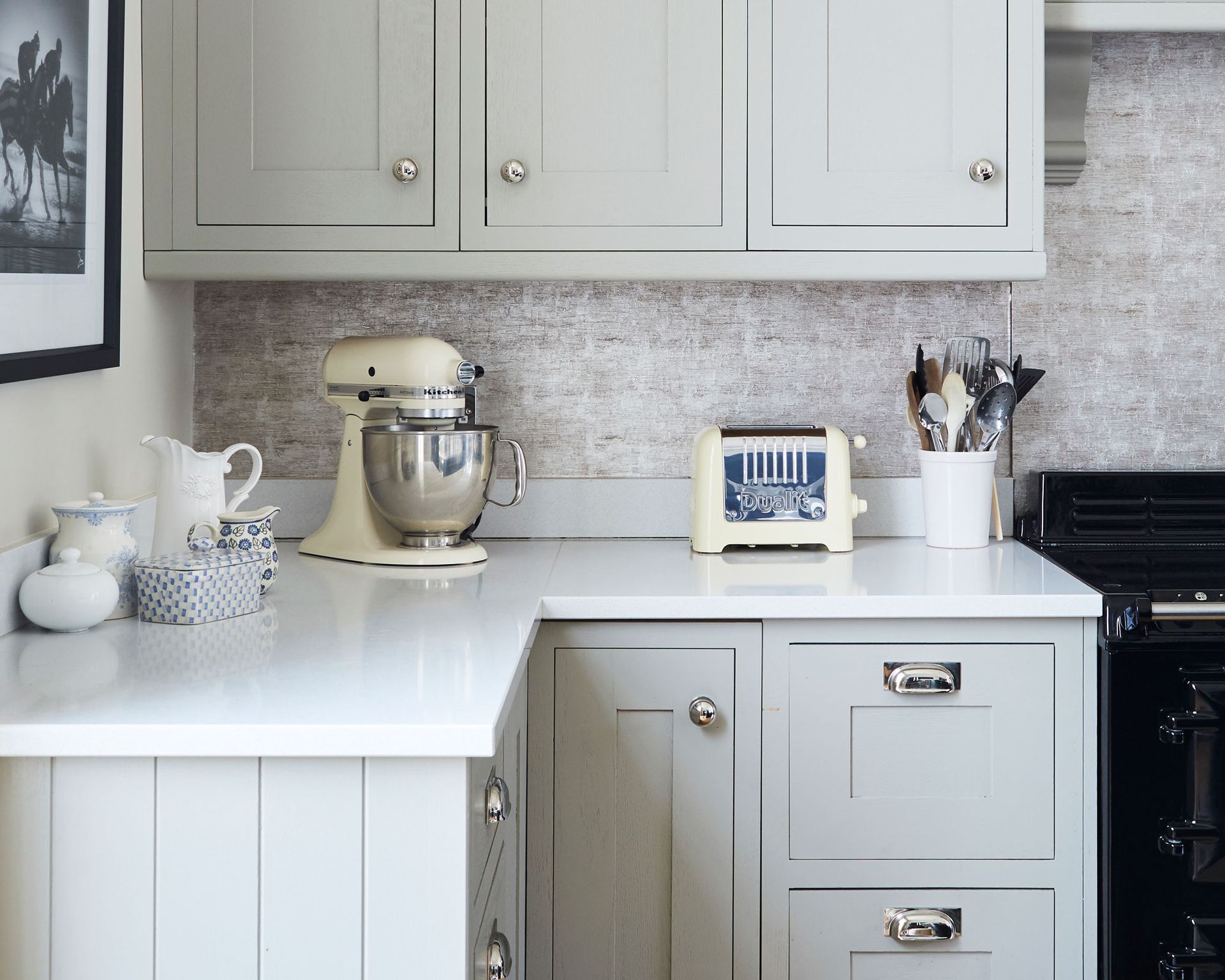 Too many freestanding appliances can make your kitchen feel messy and cluttered, so it's important to assess what you use every day and prioritize accordingly. 'Consider placing smaller items like toasters and blenders inside cabinets or larders so they're still easily accessible without being on show', says professional organizer Caroline Solomon.
7. Decant food into stylish containers
Whether you do a weekly shop or buy food daily, it's important to organize your pantry, refrigerator, and chest freezer so that items can fit neatly inside – ideally you don't want any food left on countertops. Of course, this isn't always feasible, particularly in small kitchens, but if you're selective about what you store and how you store it, you can still create a streamlined look.
'Food packaging out on show can look garish, in turn leading to visual overwhelm. To counter this, decant dry goods into Kilner or glass storage jars (or save aside any decent-sized jam jars from leftover foods). Using a chalk label to write on any best-before dates looks stylish, and keeps things well-organized, too', says interior stylist Joanna Thornhill, author of The New Mindful Home.
Airtight Food Storage Containers Set of 6
These clear containers come with a label maker and will keep cereals fresh.
Brilliance 4 Container Food Storage Set
These highly-rated containers from Rubbermaid are an extremely functional pick with airtight seals.
8. Prevent storage from over-spilling
Part of ensuring clutter-free counters is organizing kitchen drawers, cabinets and pantry shelves efficiently so every item has a designated place out of sight. Kitchen organizers can help with maximizing space and prevent them from becoming over-full', says professional organizer Michele Vig of Neat Little Nest.
While a strategic kitchen layout can help keep your counters clearer, you will need to stay on top of your kitchen storage ideas to ensure this remains the case. Invest in clever storage products the professionals can't live without, and check in daily to make sure items are where they're supposed to be, so every space remains utilized to best effect.
9. Designate a spot for paper admin
From bills and kid's school work to letters and forms, filing away paper admin is a time-consuming task, particularly if they require attention first. Rather than allowing unsightly piles of paperwork cluttering up your kitchen counters, set aside an empty box or basket somewhere out of sight (but easily accessible) where you can store them, taking care to discard junk mail immediately. You're far less likely to lose things that way, too. Go through it once a day to ensure you action things in a timely fashion.
10. Return items to their rightful place every night
Coming downstairs to clutter-free counters allows you to start each day afresh, with a clear and positive mindset.
'Make it a part of your routine to spend five minutes every evening, finding a home for any kitchen clutter that's built up throughout the day, children's artwork, post, diaries, keys, and so on', advises professional organizer Lucy Mansey, hailed as the 'Marie Kondo of Britain' @organisedbylucy.
Doing this daily means there's less to tidy away in general, and makes for a smoother morning routine, too. Take the opportunity to clean your kitchen, too, or at the very least give surfaces a quick wipe-down.
FAQs
How do I keep my kitchen countertop clutter-free?
Ensuring every item has a home is the key to avoiding clutter, so start by assessing what items tend to accumulate on your counters and think about other ways you could store them.
'Try using the dead space inside of closet doors and at the ends of cabinets to hang utensils and spice racks, even keys perhaps. You could place a pegboard on an open wall to contain mail and paper clutter, too. It's worth considering storage space elsewhere in the home; is there an under-used hall closet you could reconfigure with shelves to hold lesser-used appliances, for example?', suggests professional organizer Darla Demorrow of HeartWork Organizing.
What should be left out on kitchen counters?
Minimalism is key when it comes to kitchen counters – the less you have out the better. As a general rule, only keep out good-looking gadgets that you use daily, your coffee machine for example. The rest can be stored away. Consider finding somewhere outside of your kitchen storage ideas to keep lesser-used appliances, to free up space.
'If you're going for aesthetics, only put out one or two pretty things bigger than a basketball. Decorative items that size make a statement yet don't feel like clutter', adds Darla DeMorrow.
Sign up to the Homes & Gardens newsletter
Decor Ideas. Project Inspiration. Expert Advice. Delivered to your inbox.
For 10 years, Tara King worked as a Content Editor in the magazine industry, before leaving to become freelance, covering interior design, wellbeing, craft and homemaking. As well as writing for Ideal Home, Style at Home, Country Homes & Interiors, Tara's keen eye for styling combined with a passion for creating a happy – and functional – family home has led to a series of organization and cleaning features for H&G.