Best coffee grinder 2022: burr grinders for delicious, fresh coffee
Invest in the best coffee grinder to expand your home brew repertoire, with burr grounders to match any machine and make espresso, filter coffee, and cold brew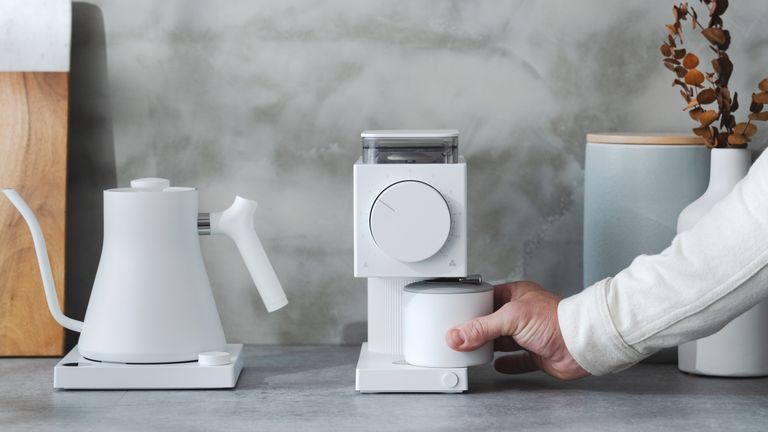 (Image credit: Fellow)
The best coffee grinder can add a whole new element to your morning espresso. Instead of relying on shop-bought grounds, which lose their freshness the minute you open the packet, a coffee grinder will ensure that your coffee is as fresh as can be, every day.
Investing in a coffee grinder will also allow you to experiment with a range of different coffee beans, because even the best coffee maker ultimately depends on the quality of the coffee it's working with. Plus, we happen to think the coffee grinders in this guide will look the part in any coffee station.
When picking the best coffee grinders for your home we took into account how well these machines prepared grounds of different textures. This is because you'll need coarser grounds for cold brews and filter coffee than you will for an espresso machine, which works best with very fine coffee grounds for a smooth and evenly extracted espresso.
Once you've picked the best coffee grinder for your home, pair it with the best milk frothers to add even more must-haves to your coffee routine. Perfect for making lattes in the morning, or turning a piping hot espresso into a cappuccino.
Best coffee grinder 2022
1. Baratza Virtuoso+ Conical Burr Coffee Grinder
Best coffee grinder overall
Specifications
Best for: Backed by Coffee Pros
Capacity: 8 oz.
Power: 180W
Dimensions: 4.7" x 6.3" x 13.8"
Reasons to buy
+
Digital Timer Display
+
Quiet
+
Repairable
+
Dose down to a tenth of a second
+
Accurate and consistent
+
LED back-lit grounds bin
Reasons to avoid
-
Not super fine for espresso experts
-
Limited availability
After coffee shop level perfection, well the Baratza Virtuoso+ is a specialty coffee grinder from Baratza is backed by the Specialty Coffee Association, and we could write a symphony about it. It's also beloved by coffee experts for its ability to dose ground coffee accurately and consistently, with 40 coffee settings suitable for a wide range of coffee-brewing methods.
Why we love it
The Virtuoso+ is particularly great at grinding with its commercial quality40 mm conical burr design. And we know it's due to last you for years. And while not designed for fine espresso machines (those grinders typically reach into the high hundreds, even thousands), we think you can get by. After all, the grinder can grind directly into a portafilter.
The Baratza Virtuoso+ has a 40-second digital timer that is adjustable to a tenth of a second with an LED-backlit display to easily select desired settings. It grinds at a speed of 2g/second and is extremely accurate. You can even keep an eye on your coffee grinds as it works with the LED-lit grounds bin to illuminate, which is really a neat touch.
Features
Baratza emphasizes the repairability of its devices (as opposed to dumping them should something malfunction) and has responsive customer service. Each grinder comes with a one-year warranty. In the event of overheating, as any electric can deal with, it has a thermal cutoff switch to prevent the motor from overheating due to excessive use.
2. OXO Brew Conical Burr Coffee Grinder
Best everyday coffee grinder
Specifications
Best for: basic coffee grinding
Capacity: 16oz.
Power: 175W
Dimensions: 7.4" x 12" x 16"
Reasons to buy
+
Simple operation
+
One-touch timer remembers settings
+
Quiet operation
+
Easy to clean
Reasons to avoid
-
Not fine enough for some espresso machines
-
No storage container to save unused grounds
OXO combines quality, design, and performance into its electric conical burr machine that costs around $100! It seems only too good to be true!
Why we love it
OXO's Conical Burr Grinder has 15 settings, plus micro settings in between the whole number sizes and easy-to-see indicators for grind level, It's easy to use, and you can easily differentiate the sizing between each step. The 30-second timer dial stays in place for continuous one-touch operation.
It grinds really quickly though, so in the beginning, we stuck with running the timer for about 15 seconds at a time. To use, you'll twist the bean hopper to your desired setting, and then turn the dial to how long you want the machine to grind. Start grinding by pressing the button in the center of the dial, which immediately starts dispensing to the small metal container.
The first few times running it, we couldn't gauge how much time I needed to select to minimize my coffee waste since you'll need to find another additional container to keep leftover ground sealed airtight.
Features
The amply-sized hopper is removable, which makes it easier to clean, and can fit three-quarters of a pound of beans. When whipping up some cold brew, we did end up grinding through the whole hopper, but it is airtight if you're only trying to grind a few tablespoons at a time, as opposed to almost half a pound.
3. Breville Smart Grinder Pro Coffee Bean Grinder
Best smart coffee grinder
Specifications
Best for: coffeehouse precision
Capacity: 18 oz
Power: 165W
Dimensions: 8.5" x 6" x 15.5"
Reasons to buy
+
Ultra-precise Dosing IQ allows you to adjust and program grind time in .2 second increments
+
60 grind settings
+
Large capacity
Reasons to avoid
-
Tall
-
Will require experimentation to find best grind size for you
The Breville Smart Grinder Pro offers up top quality and smart specs, making it essential for the discerning coffee drinker with its consistent grind with a wonderful coffee aroma.
Why we love it
The Breville Smart Grinder has a ton of settings, 60, that you can prepare any type of coffee, including coffee for percolators and even super-fine powder used in making Turkish coffee. We hope you're up for some experimentation to find the best setting for you.
You can also choose from presets for French press, filter, or espresso, or program your own cup size and shot volumes. The stainless steel conical burrs are designed to minimize grinding heat and protect the essential oils in the coffee bean for the best-tasting coffee.
Features
The removable hopper at the top for whole bean storage has a 16oz. capacity, so you don't have to refill too often. You'll also grind directly into a portafilter, sealable grinds container, gold-tone filter basket, or paper filter for maximum versatility.
4. Eureka Mignon Specialita Espresso Grinder
Best coffee grinder for espresso
Specifications
Best for: top-quality espresso
Capacity: 12 oz.
Power: 260 Watts
Dimensions: 5.6" x 5" x 13.8"
Reasons to buy
+
Extremely quiet
+
55 mm flatburrs
+
Weight-based dosing
+
Compact design
+
Touchscreen display
Reasons to avoid
-
Very expensive
-
The infinite step-less dial takes a lot of turns to go through settings
While almost all of the coffee grinders on our list can grind up coffee fine enough for espresso, if it's your beverage of choice and you brew copious amounts of it home, well, we're pretty positive you're after the best aka the Eureka Mignon Specialita Espresso Grinder.
Why we love it
It even sounds refined, and looks it too, with a high-end digital touch-screen display for setting the timer. An infinite stepless dial is also used to adjust grind size from espresso to French Press, though it can take several spins to get to the right setting.
And while it's surely the priciest coffee grinder on our list, it delivers commercial quality (re: the level of refinement you expect to see in your favorite coffee shops) that makes it well worth the cost.
Features
It runs close to whisper-quiet, which is not something you ever expect out of a grinder, thanks to a sound-insulated case. The addition of a wider chute keeps grounds from clumping.
When cleaning the burr grounds, adjusting the grind from below the motor mount, the Specialita preserves your grind setting between disassembling the motor.
5. Fellow Ode Brew Grinder
The best coffee grinder for craft coffee
Specifications
Best for: Pour Over, French Press, AeroPress and Cold Brew Coffee
Capacity: 80G
Power: 140W
Dimensions: 9.4″x 4.2″x 9.5″ / 239 mm x 105 mm x 241.5 mm
Reasons to buy
+
Sharp, modern and compact design
+
Quiet, undisruptive operation
+
Single-dose grinding/ auto shut off
+
Ratio aid to measure 20g, 40g, 60, or 80g measurements
+
64 mm Flat Burr grinds reduce heat generation and grind time, while offering consistently-sized coffee grounds
Reasons to avoid
-
Not fine enough for espresso
-
Smallish bean hopper only grinds up to 80 grams at a time
-
Need a screwdriver to access the burr grinder
The sleek (and compact) Fellow Ode Brew Coffee Maker is perhaps the most niche on our list. Its boxy design alone is enough for the modern aesthetic lover to add this straight to her home, but it's actually pretty impressive.
Why we love it
Fellow actively advocates it best for use with craft coffee methods such as French press, cold brew, pour-over coffee, and Aeropress, thus complementing the product line of Fellow's craft coffee products. And for these coffee types, it grinds consistently and very well. In fact, they go as far as actively stating that their grinder is not optimized for espresso grinding.
It's incredibly easy to use and set up. Once you select the desired grind size (the lid shows a chart with sizing recommendations) you'll fill the hopper, snap in the catch, which satisfyingly magnetically snaps securely into place to minimize spewing grounds, and press the small power button, which automatically knows to stop. A grinds knocker button helps 'knock' any extra grinds into the catch, for low grind retention with the machine. It's also worth noting how quiet the machine is, a low growl that will not disturb anyone in a room over.
We cranked the dial to 10 (out of 11) to grind up coffee for a cold brew coffee maker, which suggested about 110g of coffee, causing us to fill the bean hopper one and a half times. The indicator lines made measuring out that second batch easy, but we noticed how often I'll have to run continuous cycles if we're brewing for more than two cups at a time. The smaller hopper size is with the intention the user is single-dosing.
Features
It's recommended to use for less than 90 seconds at a time, and the grinder must rest for 30 minutes if you grind for more than six minutes, as the grinder is best for single-dosing as opposed to batch prepping for the week.
Since maintenance is key, this can either be viewed as an extra safety feature or a pain point, but the only way to access the burr grinder components is with the use of a Phillips-head screwdriver, which is not the most convenient for quickly removing any clogged grounds. A small brush is included to help with cleaning, which is especially useful since grounds due tend to cling to the top of the grinder and create a small mess.
6. Cuisinart Supreme Grind Automatic Burr Mill
The best value coffee grinder
Specifications
Best for: beginners looking for a simple, easy to use grinder
Capacity: 8oz.
Power: 140W
Dimensions: 6"L x 7.13"W x 10.75"H
Reasons to buy
+
18 grinding positions
+
One of the most affordable burr grinder options
+
No timing or measuring guesswork
Reasons to avoid
-
Minimum of four cups
-
Noisy operation
Casual coffee drinkers who like fresh beans, but don't see the need for bells and whistles, will enjoy the Cuisinart Supreme Grind Automatic Burr Mill.
Why we love it
It's one of the most affordable coffee grinders on our list and still offers a quality burr mill construction that can fit a half-pound of beans in the hopper.
It has 18 settings for super fine to coarse, though we think it's best for drip coffee methods and coarser. It has larger, easy-to-read markings, but doesn't utilize a numerical system. You'll select your setting by twisting the hopper, which lets out an audible ticking sound as you move among the selections.
Features
We love that it has a sliding indicator that lets you choose from grinding a pre-set amount between 4 and 12 cups of coffee, leaving no timing and measuring guesswork. Though, that means, you have to plan to grind at least 4 cups worth of coffee.
7. Smeg CGF01 Coffee Grinder
Best-looking coffee grinder
Specifications
Best for: Displaying on your contertop
Capacity: 350 G
Power: 150W
Dimensions: 38.3cm x 21.3cm x 14 cm
Reasons to buy
+
Range of colors
+
Retro design
+
30 grinding levels
If style and aesthetic is what you're after, Smeg's coffee grinder is made for staying on display. It isone of the best looking coffee grinders available, especially if you love retro and vintage design with color options spanning a soft blue to a punchy red.
Why we love it
It offers 30 grinding steps in 3 macro segments with fine for strong espressos, medium for drip coffee prep, and coarse, which works best on french press. It is also amply sized with a roomy 350g bean hopper.
Features
The hopper has a twist and lock system that seals in beans and keeps them safe, so you won't have to refresh with new whole beans each morning. The Tritan ground container can hold up to 150g at a time.
8. 1Zpresso Q2 Manual Coffee Grinder Mini
Best manual coffee grinder
Specifications
Best for: portability
Capacity: 20g
Dimensions: 5.51 x 1.97 x 1.97"
Reasons to buy
+
Easy to travel with
+
Disassembles for cleaning
+
Smaller than a soda can
+
Well made stainless steel burrs
Reasons to avoid
-
Small grinding capacity
-
Number dial is in reverse of typical grind logic
People choose manual grinders for all sorts of reasons, such as portability, reduced noise, the cost for better parts, and even the idea of getting up close and personal with your coffee process.
Why we love it
While a premium hand grinder, such as the 1Zpresso Q2 Manual Coffee Grinder can still cost similar to an entry-level electronic grinder, you'll see the difference in build parts, as there is a particular emphasis on the grinder's stainless steel burrs.
The 1Zpresso Q2 Manual Coffee Grinder can grind up to 20 grams at a time, making it ideal for single beverages. 1Zpresso does offer larger manual grinders (at a higher price point) for larger hopper sizes. It offers 30 click rotations that can grind coarse to fine. It's passable for espresso beverages, but this mini model is especially useful for Aeropress, French Press, and pour-over brewing.
Features
Users have found consistent grind results, but many noted that the numbers on the dial (1-10) seem to go in reverse order, with 10 being a fine grind, when we've normally seen it as a coarse one.
---
What is the best type of coffee grinder?
There are two types of coffee grinders that you'll typically see at home. Blade and Burr grinders.
Blade grinders utilize a rotating blade, that essentially, spins around to finely chop up the coffee beans. They are unequivocally cheaper and do not offer the precision, consistency that today's best burr coffee grinders can easily achieve. Unless you're on a tight budget, we don't typically recommend blade grinders for coffee... though they are also considered quite useful for chopping up spices, nuts, and the like.
Burr grinders use a steel mechanism that grinds coffee between a pair of abrasive surfaces. Burr grinders are further sub-divided by conical and flat burrs, with conical burrs being the most common among home brewers. Burr grinders can range in price from $50 for a low-end budget model to $1,000 for pro-level that can grind to a fine powder.
Conical burrs grinders have a conical base that spins against a larger circular outer ring with angled teeth in a vertical pattern. Meanwhile, flat burrs are made up of two rings that lie flat on each other horizontally and create the most consistent-sized grind. You'll find flat burns in the most sophisticated machines, as in the case of the Eureka and Fellow brands.
While most of the coffee grinders on our list are electric, some will seek out manual coffee grinders that are portable, and can also give you the most range of results. They can feature blade or burr designs, but since they require manual force to operate, they could grow tiresome if brewing for say, an espresso maker.
Tips for choosing the best coffee grinder
When choosing the best coffee grinder for you, consider these factors when choosing your next machine:
Hopper size
Most hoppers on our list can accommodate between 8 and 16 ounces of coffee beans. Meanwhile, a larger hopper is extremely convenient for big families, entertainers, or batch grinding. However, a new emerging trend, is single-dosing, with the intention of refilling your hopper for each brew for maximum freshness. Consider the method and how much you will grind at a time... drip coffee makers will need a larger hopper to grind for a 10-12 cup pot, while pour-over and espresso coffees require less coffee for a portion.
Grind settings
The grinders on our list go from 11 to 60 settings, and that's not counting each micro-setting, with each one offering an incremental difference. If you are partial to espresso or ristretto, make sure you pick a grinder with a fine enough grind setting, such as the Breville Smart Grinder or the Baratza Virtuoso Plus. French press and cold brew drinkers will need coarser grind options, while drip coffee simply requires a medium grind that pretty much every coffee grinder on our list should be able to master.
Special features
In addition to variable grind sizes, you may also notice special features on your coffee grinder like LED lights, LCD displays and touch screens, weight-based measuring, digital timers, setting recalls and the like, which all enhance (and can complicate in some instances) your coffee grinding experience.
You will, of course, need to buy a coffee canister to store your coffee beans properly. And if this will be going on your countertop, on display, then you'll want to make sure it's as pretty as it is practical.
Why is grind size important
Grind size can influence the quality of your entire brew. In short, the size of the grind affects brewing speed, which influences flavor extraction. Finer grounds extract flavor fasts in contact with water for a shorter time, while coarser grounds extract flavors slower and need to be in contact with water for longer. If the grounds are too coarse, but you're brewing with drip, or super-fast espresso methods, you'll be left with a weak, flavorless coffee.
| Preparation Style | Grind Size |
| --- | --- |
| Espresso/Turkish Coffee | Extra Fine |
| Moka Pot | Fine to Extra Fine |
| Drip Coffee Maker | Fine |
| Pour Over | Coarse to Medium-Fine |
| French Press | Coarse |
| Cold Brew | Coarse |
Jaclyn is an eCommerce editor at Future Home Interest, where she oversees sleep content including mattresses and bedding. She regularly scouts out the best of the best for buying guides to help you fill your home with only the best. She joined the team in January 2021. She has previously worked with Apartment Therapy, The Kitchn, The Spruce, The Spruce Eats, and MyDomaine. When Jaclyn's not working, she loves browsing real estate listings, unwinding with a chilled glass of Rosé, and entertaining her Cavapoo puppy, Reese.