Best coffee grinder 2022: burr grinders for brilliant coffee
Invest in the best coffee grinder to expand your home brew repertoire, with burr grounders to match any machine and make espresso, filter coffee, and cold brew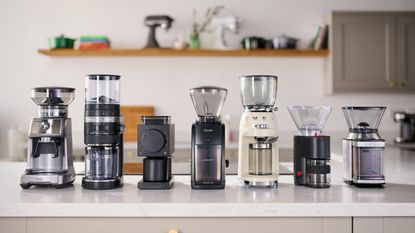 (Image credit: Future / Philip Sowels)
Finding the best coffee grinder was no easy task. We spent days comparing the results from top burr grinders from Smeg, Fellow, Breville, IZpresso, and other top brands to bring you our ultimate ranking.
While it is possible to pick up pre-ground coffee, true coffee lovers will instantly notice the difference when grinding their beans at home. Coffee starts to degrade 15 minutes after you put it through the grinder, so if you want to enjoy specialist coffee at its very best, this is the one investment that will bring our all the delicious flavors of every bean you try.
We tested these coffee makers alongside some of the best coffee makers on the market, including drip coffee makers and espresso machines.
Best coffee grinder: the top 8, ranked
1. Fellow Ode Coffee Grinder
The best coffee grinder overall
Specifications
Size: 4.57 x 14.61 x 8.78 inches
Steps: 31 steps, 11 settings
Guarantee: 1 year
Reasons to buy
+
Chic and sturdy build
+
Flat burrs create flavorful coffee
+
Works wonders on pour-over coffee
+
Very quiet and user-friendly
The Fellow Ode is the most expensive option in this guide, but in our taste-testing it came out on top in a big way. As the only grinder in this lineup with flat burrs, it's designed to give a brighter flavor, but won't always deliver a rich, full-bodied brew.
This weighty coffee grinder is impressively compact. It's designed to grind single servings at a time, so the hopper is on the small side. Grinding was whisper-quiet and pretty speedy, and with only a half gram retention we experienced minimal loss of our specialist beans. There is also a clearance trigger that will shift any excess grounds stuck inside the unit of the grinder, which is a really nice touch.
2. 1Zpresso JX-PRO Manual Coffee Grinder
The best manual grinder
Specifications
Size: 8.54 x 6.57 x 2.95 inches
Steps: over 200
Guarantee: 1 year
Reasons to buy
+
Compact and cordless
+
No heat produced in grinding
+
Very consistent results
As the only non-electric grinder in our panel testing, the 1Zpresso JX-PRO Manual Coffee Grinder does have the disadvantage of requiring a little arm strength to get it going, especially if you're making espresso-ready grounds. Because it grinds a lot slower than electrical alternatives, there is very little heat created in this grinding process, which means your coffee won't be degraded as it's processed.
It's a compact option, so if you lack counter space this hand-burr grinder will work well in your home. When we sifted our ground coffee we were struck by the consistency of this grind, with no major boulders and few fine pieces. You can also use it anywhere, whether that's in the office or on vacation. Our coffee had excellent long-lasting complexity, and worked particularly well as drip coffee.
3. KitchenAid Burr Coffee Grinder
Best for fuss-free grinding
Specifications
Size: 5 x 8.25 x 15 inches
Steps: 70
Guarantee: 1 year
Reasons to buy
+
User-friendly design
+
Excellent repeatability
+
Anti-static materials
+
Spring-loaded base
Not well-known among coffee enthusiasts, this KitchenAid Coffee Grinder was a really big surprise. It comes out on top for user experience, with micro-steps that are numbered for easy repeatability, and a user-friendly dial that will guide you when choosing the right setting depending on what coffee you're making.
We enjoyed the spring-loaded base which held the receptacle flat against the dispenser, resulting in absolutely no spillage. Static was also low, meaning we had no trouble working with our finished grounds. We found that this coffee echoed the notes we would expect from a flat burr grinder, and had an impressive grind consistency when we sifted it.
4. Breville Dose Control Pro Coffee Grinder
Best for espresso
Specifications
Size: 8 x 6 x 13.5 inches
Steps: 60
Guarantee: 2 years
Reasons to buy
+
Works well with fine grinds
+
Includes a holder for portafilters
+
Pre-set doses
+
Not too noisy
Reasons to avoid
-
No grounds container makes it messy
Breville is known for making brilliant espresso, but the Dose Control Pro also gave us distinct flavor in our pour-over testing. It comes with a portafilter holder, but no receptacle for other ground types which is a big shame as it resulted in quite a messy process.
The dial on the front has a timer for pre-set doses, and it had just over a half of a gram's retention which was impressive. In testing we defaulted for the middle setting and adjusted depending on how fine our grind was. This one was a lot finer than the other grinders we tested, suggesting it's set up to make espresso. If you want to make homemade espresso this one is speedy, quiet, and not too static.
5. Smeg Coffee Grinder
Best for style
Specifications
Size: 8 x 11 x 18 inches
Steps: 30
Guarantee: n/a
Reasons to buy
+
Stylish design
+
Decent consistency
+
Good noise level
+
Low retention
With the lovable retro design we expect from Smeg, we did wonder if this model puts style before substance. A few of the features have a distinctly plastic finish, and the grounds container does wobble slightly when in the base of the grinder.
When it came to our testing though, there is no denying that this grinder was a delight to use. We experienced no popcorning, no mess, and very little static. We had a couple of boulders, but overall the grind consistency was good. The taste? A well-rounded coffee that really brought out the fruity flavors of our bean.
6. Baratza Encore Coffee Grinder
Best for precise settings
Specifications
Size: 6.3 x 4.7 x 13.8 inches
Steps: 40
Guarantee: 1 year
Reasons to buy
+
Very low grind retention
+
Settings from 0 to 40
+
Low static levels
Reasons to avoid
-
Some popcorning
-
Lack of clarity about settings
We expected to be more impressed with the Baratza Encore, a grinder that's a well-known option for entry-level coffee enthusiasts. The settings go from 0 to 40, so there is no lack of precise options, but we did wish that there was more guidance on which way increased and decreased the grind size.
This grinder had a very low grind retention, only 0.3 grams, and very little static. It wasn't the quietest of the day though, and we had some popcorning which meant it took longer to grind single doses. The flavor was a little flat, but we got some brighter middle notes.
7. BODUM Bistro Premium Electric Grinder
Best coffee grinder under $100
Specifications
Size: 7.6 x 7.1 x 12.5 inches
Steps: 12
Guarantee: 2 year
Reasons to buy
+
Good size
+
Glass grounds container
+
Budget-friendly
Reasons to avoid
-
Over a gram retention
-
Quite noisy
The BODUM was quite noisy in our testing, but this neat little grinder performed very well for the price point. We found it best to err on the larger side of medium to get a good pour-over grind, because we had a lot of very fine grounds when we went for the true medium setting. This muddied the overall flavor profile, but the coffee was still very drinkable with a fresh taste and light consistency.
We enjoyed the neat dimensions in this grinder, which still came with a generous hopper for batch grinding. The grinder also included a glass receptacle which kept the process quite mess-free. When we weighed our grounds after grinding though, we had over a gram of retention.
8. Cuisinart Supreme Grind Automatic Burr Mill
Best for batch grinding
Specifications
Size: 10.75 x 7.13 x 6 inches
Steps: 18
Guarantee: 5 year
Reasons to buy
+
Hopper can hold enough beans for 32 cups
+
Mess-free container
+
Good guarantee
Reasons to avoid
-
High static levels
-
Inconsistent grind results
The Cuisinart is the least expensive of the grinders in our testing, so it did come in with a disadvantage. In the case of this burr mill though, we found that you do get what you pay for. The finish was not sturdy to touch, with a plastic feel that we didn't enjoy using. It's also a noisy grinder, with quite a lot of static.
We experienced some popcorning in this grinder, which is because we single-dosed our testing. It would be best suited to batch grinding. The container slips neatly into the unit which means you'll not experience much mess with this grinder. It does lack a lid though, so if you do batch grind, have an airtight container handy.
---
How we review coffee grinders