Best coffee grinder 2023: barista tested for perfect coffee
Invest in the best coffee grinder to expand your home brew repertoire when it comes to making espresso, filter coffee, cold brew and more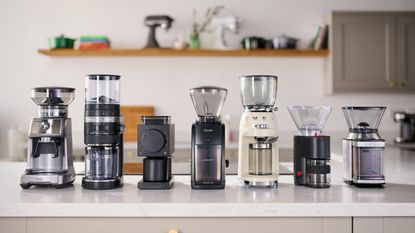 (Image credit: Future / Philip Sowels)
Best coffee grinders 2023: Jump Menu
Investing in top-quality coffee is just one step to making the perfect cup. It means nothing, however, if you don't grind the beans correctly. Aficionados know that the secret to an incredible cup of coffee always lies in choosing the right ground size for your brew style. And, that can be hard to achieve without having the best coffee grinder to suit.
This is where our team of experts including ex-baristas and home roasters comes in, to help choose the right product for you. We took household brands, such as Breville, Fellow, and Moccamaster to our test kitchen where we put every grinder through its paces.
After testing across a range of beans and types of coffee — we're talking the finest grounds for espresso and consistently coarse grounds for full-bodied French press — we rated and ranked each model. We tried everything from budget-friendly manual grinders to speedy automatic all-in-ones, too.
After bags and bags of beans, and hundreds of cups of coffee, we are sure to have found the perfect grinder for you. So, if you already have the best coffee maker on the market, and want to up your brew game, look no further.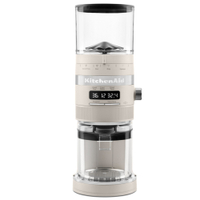 KitchenAid Burr Grinder| Was $179.99, now $139.99 at KitchenAid
Expertly designed and extremely easy to use, this more than lives up to KitchenAid's excellent reputation. Amazon has temporarily run out of stock, so this is the best price you'll find.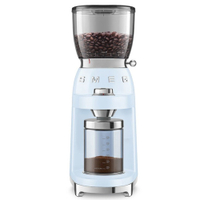 Smeg grinder| Was $415, now $329.95 at Wayfair
Pure style, Smeg's beautiful coffee grinder is perfect if you'll leave it on display. It struggles a little on coarse grinds, but if you mainly drink pour-over and espresso, you'll be fine.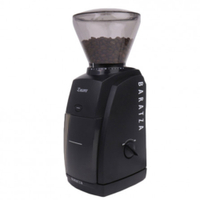 Baratza Encore Grinder| Was $169.95, now $119.95 at Whole Latte Love
This is brilliant if you want a range of really precise grinds. When we tested it, we were impressed with how little grind retention and static it suffered from, making it easy to clean up after.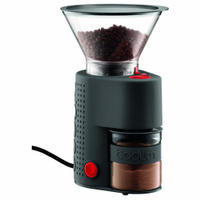 Bodum Bistro Burr Grinder| Was $69.95, now $39.99 at Bodum
$39.99 for a burr grinder is unbelievable value. This is a good basic grinder, but it has the most retention of all the models we tested and it's quite noisy. If you're willing to compromise, this is a steal.
The quick list
If you can't wait to get on the grind, here's a quick summary of our favorite products. We go into more depth and detail of our experiences further down.
Load the next 3 products ↴
Best for precision
The best for precision
This grinder has one of the lowest grind retentions of all the models we tested. With forty different grind settings and very little static, it's a great buy.
Best under $100
The best under $100
If this is your first grinder, or you're on a budget, this is one of the best buys you'll make. It's a good size and comes with a premium glass grounds container.
Best for budgets
9. Cuisinart Professional
The best for budgets
This is the least expensive grinder in our roundup, perfect if you're on a budget. You can batch grind for 32 cups of coffee at once, so it's perfect for efficiency.
The best coffee grinders we recommend in 2023
You can trust Homes & Gardens. Our expert reviewers spend hours testing and comparing the latest products, helping you choose the best for you. Find out more about how we test.
The best coffee grinder overall
Image 1 of 1
1. Fellow Ode Coffee Grinder
A petite powerhouse, with all the premium features
Specifications
Size: 4.57 x 14.61 x 8.78 inches
Capacity: 80 grams
Settings: 31
Warranty: 1 year