Best coffee grinder 2023: 9 burr-grinders for the freshest-tasting coffee
Invest in the best coffee grinder to expand your home brew repertoire when it comes to making espresso, filter coffee, and cold brew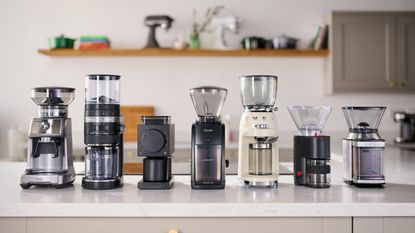 (Image credit: Future / Philip Sowels)
Determining the best coffee grinder was no easy task. We spent days comparing the results from top burr grinders from Smeg, Fellow, Breville, IZpresso, and other top brands to bring you our ultimate ranking.
While it is possible to pick up ground coffee, true coffee lovers will instantly notice the difference when grinding their beans at home. Coffee starts to degrade 15 minutes after you put it through the grinder, so if you want to enjoy specialist coffee at its very best, this is the one investment that will bring out all the delicious flavors of every bean you try.
We tested these coffee makers alongside some of the best coffee makers on the market, including drip coffee makers and espresso machines.
Best coffee grinder: the top 8, ranked
You can trust Homes & Gardens. Our expert reviewers spend hours testing and comparing the latest products, helping you choose the best for you. Find out more about how we test.
Best overall coffee grinder
1. Fellow Ode Coffee Grinder
The best coffee grinder, overall
Specifications
Size: 4.57 x 14.61 x 8.78 inches
Capacity: 80 grams
Settings: 31
Warranty: 1 year
Reasons to buy
+
Chic and sturdy build
+
Flat burrs create flavorful coffee
+
Works wonders on pour-over coffee
+
Very quiet and user-friendly
The Fellow Ode is the most expensive option in this guide, but in our taste-testing, it came out on top in a big way. As the only grinder in this lineup with flat burrs, it's designed to give a brighter flavor, but won't always deliver a rich, full-bodied brew.
This weighty coffee grinder is impressively compact. It's designed to grind single servings at a time, so the hopper is on the small side. Grinding was whisper-quiet and pretty speedy, and with only half-gram retention we experienced minimal loss of our specialist beans. There is also a clearance trigger that will shift any excess grounds stuck inside the unit of the grinder, which is a really nice touch.
Since our initial testing, Fellow has released its Gen 2, with increased grind capacity (100 grams) making it more useful for those of us who brew several cups at once, a new bin-loading design, new anti-static technology for less grind mess, and of course, upgrade burr grinders.

For all that the Fellow Ode can do, it hasn't yet perfected the espresso. If that's what you're looking for, you'll need to try an alternative model.
Best manual coffee grinder
2. 1Zpresso JX-PRO Manual Coffee Grinder
The best manual grinder
Specifications
Size: 8.54 x 6.57 x 2.95 inches
Settings: over 200
Capacity: 35g
Warranty: 1 year
Reasons to buy
+
Compact and cordless
+
No heat produced in grinding
+
Very consistent results
If you lack counter space this hand-burr grinder will work well in your home, it's a great compact option. When we sifted our ground coffee we were struck by the consistency of this grind, with no major boulders and few fine pieces. You can also use it anywhere, whether that's in the office or on vacation. Our coffee had excellent long-lasting complexity and worked particularly well for drip coffee.

As the only non-electric grinder in our panel testing, the 1Zpresso JX-PRO Manual Coffee Grinder does have the disadvantage of requiring a little arm strength to get it going, especially if you're making espresso-ready grounds. Although, this means that the grinding process is slower, producing less heat, so your coffee won't be degraded as it's processed.
Best for fuss-free grinding
3. KitchenAid Burr Coffee Grinder
Best for fuss-free grinding
Specifications
Size: 5 x 8.25 x 15 inches
Settings: 70
Warranty: 1 year
Reasons to buy
+
User-friendly design
+
Excellent repeatability
+
Anti-static materials
+
Spring-loaded base
+
Can grind directly into a portofilter
Not well-known among coffee enthusiasts, this KitchenAid Coffee Grinder was a really big surprise. It comes out on top for user experience, with micro-steps that are numbered for easy repeatability, and a user-friendly dial that will guide you when choosing the right setting depending on what coffee you're making.
We enjoyed the spring-loaded base which held the receptacle flat against the dispenser, resulting in absolutely no spillage. Static was also low, meaning we had no trouble working with our finished grounds. We found that this coffee echoed the notes we would expect from a flat burr grinder, and had an impressive grind consistency when we sifted it.

If you're not rich in countertop space, there are plenty of other options which are much more compact; the KitchenAid is big.
Best for espresso
4. Breville Dose Control Pro Coffee Grinder
Best for espresso
Specifications
Size: 8 x 6 x 13.5 inches
Settings: 60
Capacity: 12 oz.
Warranty: 2 years
Reasons to buy
+
Works well with fine grinds
+
Includes a holder for portafilters
+
Pre-set doses
+
Not too noisy
Reasons to avoid
-
No grounds container makes it messy
Breville is known for making brilliant espresso, but the Dose Control Pro also gave us distinct flavor in our pour-over testing.
The dial on the front has a timer for pre-set doses, and it had just over a half of a gram's retention which was impressive. In testing we defaulted for the middle setting and adjusted depending on how fine our grind was. This one was a lot finer than the other grinders we tested, suggesting it's set up to make espresso. If you want to make homemade espresso this one is speedy, quiet, and not too static.

It comes with a portafilter holder, but no receptacle for other ground types which is a big shame as it resulted in quite a messy process.
Best for style
5. Smeg Coffee Grinder
Best for style
Specifications
Size: 8 x 11 x 18 inches
Settings: 30
Capacity: 12 oz.
Warranty: n/a
Reasons to buy
+
Stylish design
+
Decent consistency
+
Good noise level
+
Low retention
Reasons to avoid
-
Only 30 steps
-
Not as good on coarse grinds
Smeg has both brains and beauty. The results of our tests only confirmed what we already thought: this grinder was a delight to use. We experienced no popcorning, no mess, and very little static. We had a couple of boulders, but overall the grind consistency was good. It was definitely better on finer grinds than coarse, but we were happy with the results. The taste? A well-rounded coffee that really brought out the fruity flavors of our bean.

With the lovable retro design we expect from Smeg, we did wonder if this model puts style before substance. A few of the features have a distinctly plastic finish, and the grounds container does wobble slightly when in the base of the grinder.
Best for consistency
6. Moccamaster KM5 Burr Grinder
Best for consistency
Specifications
Size: 5 x 8.25 x 12.75 inches
Settings: 9
Capacity: 22.9 oz
Weight: 10 lb 2 oz
Reasons to buy
+
Consistent grind size
+
Repairable for life
+
Quick and quiet
+
Low grind retention
Reasons to avoid
-
Expensive
-
Limited range
-
Not very specific
The Moccamaster is all about mindful grinding. From the packaging to the product itself, everything is sustainably made, and the grinder is repairable for life. It feels sturdy and premium, but won't take up lots of room on your countertop. This is expensive, but it's the kind of investment that will last for a lifetime.
Thanks to its ultra-premium flat burrs, the Moccamaster ground our coffee beans to really consistent textures. We tested the Moccamaster on a range of grind settings, one through nine, and were pleased with the different flavour profiles. We could tell the rich and smooth grind from the bold and more acidic coarse grind in our tests.

We would have liked more specific grind options, because, for a premium product, there's very little measuring or weighing opportunities: you have to self-grind up to specific lines, rather than having pre-sets.
Best for precision
7. Baratza Encore Coffee Grinder
Best for precision
Specifications
Size: 6.3 x 4.7 x 13.8 inches
Settings: 40
Capacity: 5 oz.
Warranty: 1 year
Reasons to buy
+
Very low grind retention
+
Settings from 0 to 40
+
Low static levels
Reasons to avoid
-
Some popcorning
-
Lack of clarity about settings
We expected to be more impressed with the Baratza Encore, a grinder that's a well-known option for entry-level coffee enthusiasts. The settings go from 0 to 40, so there is no lack of precise options, but we did wish that there was more guidance on which way increased and decreased the grind size.
We loved that this grinder had a very low grind retention, only 0.3 grams, and very little static. It wasn't the quietest of the day though, and we had some popcorning which meant it took longer to grind single doses. The flavor was a little flat, but we got some brighter middle notes. Our sample was supplied by Coffee Friend, in the UK, and it is widely available in the US.
Best coffee grinder under $100
8. BODUM Bistro Premium Electric Grinder
Best coffee grinder under $100
Specifications
Size: 7.6 x 7.1 x 12.5 inches
Settings: 12
Capacity: 7.75oz.
Warranty: 2 years
Reasons to buy
+
Good size
+
Glass grounds container
+
Budget-friendly
Reasons to avoid
-
Over a gram retention
-
Quite noisy
BODUM is the best option for a basic, but reliable grind. We found it best to err on the larger side of medium to get a good pour-over grind, because we had a lot of very fine grounds when we went for the true medium setting. This muddied the overall flavor profile, but the coffee was still very drinkable with a fresh taste and light consistency.
We enjoyed the neat dimensions in this grinder, which still came with a generous hopper for batch grinding. The grinder also included a glass receptacle which kept the process quite mess-free.

The BODUM was quite noisy in our testing, but this neat little grinder performed very well for the price point. When we weighed our grounds after grinding, we had over a gram of retention, which isn't ideal.
Best budget coffee grinder
9. Cuisinart Supreme Grind Automatic Burr Mill
Best budget coffee grinder
Specifications
Size: 10.75 x 7.13 x 6 inches
Settings: 18
Capacity: 8 oz.
Warranty: 5 years
Reasons to buy
+
Hopper can hold enough beans for 32 cups
+
Mess-free container
+
Good guarantee
Reasons to avoid
-
High static levels
-
Inconsistent grind results
The Cuisinart is the least expensive of the grinders in our testing, which is great if you're looking to save a little. The container slips neatly into the unit, so you'll not experience much mess when grinding. This thrives in batch grinds, rather than single-doses, because we experienced some popcorning in smaller quantities.

Lower cost options come with their alternatives. For example, in the case of this burr mill though, we found that you do get what you pay for. The finish was not sturdy to the touch, with a plastic feel that we didn't enjoy using. It's also a noisy grinder, with quite a lot of static.
---
How we review
How we review coffee grinders
We take coffee very, very seriously, so when deciding on the best coffee grinder we decided to compare all of the models we tested in a side-by-side test. There are so many factors that can go into making an amazing cup of joe, so we tried to control as many of these as possible in order to make sure that all of the grinders we tested were on a level footing. You can find out more about how we tested the best coffee grinders, and about how Homes & Gardens reviews.
In our guide, we were keen to feature a wide variety of grinders, but we did stick to burr grinders. This is because burr grinders will always be the best bet when it comes to grinding quality coffee, and some of the models in this guide will cost the same as a high-level blade grinder.
The price of the grinders in this guide ranges from around $60 to over $300, but we were sure to test them fairly and without bias. We tested every possible grind in every grinder, and carried out a blind taste test for each of the drinks we made with the resulting ground beans.
We found that a few of the grinders we expected to come out on top actually fell below some less-expected options. We considered the quality of the coffee, the user experience including noise levels and the feel of the product, and the mess and retention that came with each model.
Reviewed by
Millie Fender is Head of Reviews for Future Homes. Formerly our head of everything cooking-related, she feels happiest when she is in the kitchen and has had the opportunity to refine her palate by reviewing dozens of coffee makers.
Millie tested these coffee grinders side-by-side in our test kitchen, but she also used them for a period of time before our official testing day to familiarize herself with each machine and its setup, and consider ease of use. She loves a good cup of coffee but thinks that even the best brew is not worth a counter covered in coffee grounds.
Laura is our eCommerce editor. Before Homes & Gardens she studied English at Oxford University. Alongside her studies, she qualified as a barista and trained as a master perfumer. This makes her our certified expert for all things coffee, candles, and fragrance. Whilst lots of coffee flavor lies in the beans, Laura thinks that how you use the beans is equally important. She looks for coffee products which are high quality and designed with thoughtful finishes.
Reviewed by
A self-confessed coffee obsessive, when not behind a camera Philip can be found in his garage roasting on a 1.5kg Turkish Drum roaster, which was used to roast a Colombian Pink Bourbon for this grinder test. Sourced from Osito Coffee importers - this coffee was roasted as an "omni" roast suitable for both filter and espresso brewing.
Philip mostly drinks black coffee which he prepares with an aero press and a hand grinder from 1Zpresso - the JX pro. He also enjoys Mokka pot and Clever dripper. For weekends flat whites are on the menu courtesy of a Sage Dual Boiler and a Niche grinder. Philip also owns grinders from MaCap and Santos and previously Eureka, Mazzer and Anfim.
FAQs
How to choose a coffee grinder
A range of the equipment and coffee beans we used for our review process were provided by Coffee Friend and Barista & Co. We spoke to Aurimas Vainauskas, the CEO of Coffee Friend, and James Gray, Founder and Coffee Expert at Barista & Co, about how to choose the best coffee grinder for you.
What are the different types of coffee grinders?
Coffee Friend CEO Aurimas Vainauskas told us about the different types of coffee grinders on the market. 'Coffee grinders can be put into several different categories based on a few different features. These are the categories you're likely to encounter:
Manual coffee grinders vs electric coffee grinders
Manual coffee grinders are particularly compact, lightweight and mobile. They're as convenient to use at home as they are to take with you on a trip. Manual tools are perfect for producing small amounts of ground coffee for various coffee makers or ceramic filters. Not to mention that grinding your beans manually can turn into a beloved daily ritual—and that manual grinders are much cheaper than electric ones! Still, if you're a sworn fan of espresso, an electric coffee grinder is definitely your best bet. Manual grinders aren't really suited for grinding beans that finely. Using a manual grinding tool, you won't be able to grind beans straight into a portafilter either, so your coffee won't be as fresh as it could be. An electric grinder is a much better solution for those who tend to brew larger amounts of coffee too. It's suited perfectly for espresso makers and coffee machines, as well as various other brewing tools.
Blade grinders vs burr grinders
Even though blade grinders are still popular nowadays due to their compactness and price, they aren't really capable of grinding coffee properly. To obtain a consistent grind (and a consistent grind is crucial for a truly delicious, well-balanced brew), you'll need a burr grinder. There's no need to throw your old blade grinder out, though: use it to grind spices instead.
Grinders with flat burrs vs grinders with conical burrs
When it comes to burr grinders, they're divided into two further categories: there are those with flat burrs and those with conical burrs. We can't really say that one of them is better than the other though. What they do is they unveil different flavors: conical burrs are suited better for traditional espresso (strong and full-bodied), while flat burrs are ideal for the modern take on the classic drink, which is focused on ensuring purity of flavor.
Grinders with ceramic burrs vs grinders with steel burrs
There's lots of discussion as to which material is better when it comes to burrs, but, again, there's no right answer. Just like in the case of conical and flat burrs, what this comes down to is subtle differences in flavor. It's thought that ceramic burrs produce more coffee dust, which endows the brew with a fuller body and ends up "masking" separate flavors. Steel burrs, on the other hand, result in a more consistent grind and a "cleaner" taste. This is why some people believe that ceramic burrs are suited better for traditional espresso and coffee blends, while steel burrs are perfect for modern espresso, filter coffee and specialty coffee varieties.'
How do burr coffee grinders work?
Barista & Co told us 'a burr coffee grinder is used to achieve a consistent fresh grind and heighten the quality of the brewing experience.
There are two types of burr grinders: flat burr and conical.
Flat burr grinders operate by grinding coffee beans between two serrated flat rings. The serrated edges of the rings face each other and rotate in different directions to generate the motion necessary to grind.
Conical burr grinders work in a similar way but with cone-shaped burrs. Once the coffee bean is inserted into the top of the grinder, it falls into the downward position of the cone whilst ground against a stationary and moving burr.'
Is it better to buy a separate coffee grinder or a machine with a grinder included?
'In terms of ease, convenience, and cost, buying a machine with a grinder included is often the preferred option' said James Gray from Barista & Co.
'However, to maximize the quality and consistency of the grind, we do recommend buying a separate, standalone coffee grinder when possible. This will provide you with complete control over your coffee, enabling the grinder to fully compliment your style of brewing. It is important to do your research surrounding the types of grinders available.
A standalone grinder will keep the beans cool during grinding. If coffee beans get hot, they begin to lose flavor; this is common with built-in grinders located too close to the boiler.'
Aurimas Vainauskas from Coffee Friend had the same to say. 'Thermal stability is key to a delicious cup of coffee, and a grinder located next to the brew group is bound to disrupt it. There's a third argument here as well: if your in-built grinder breaks down, you'll probably need to get a new espresso machine, but if this happens to a grinder you've bought separately, replacing the grinder will be enough.'
How much should I spend on a coffee grinder?
'Coffee experts are right to call the purchase of a coffee grinder an important investment,' Coffee Friend told us. 'Some of them even say that having a high-quality grinder at home is just as important as finding the right brewing tool for you—if not more so! That's particularly true of espresso machines: lots of coffee lovers are more than ready to invest in an excellent espresso maker, but they forget to set some time aside for choosing a decent grinder. Grinders absolutely deserve the attention connoisseurs pay them. After all, if your coffee beans haven't been ground properly, even the finest brewing equipment won't turn them into a delicious brew!'
Why is grind size important
Grind size can influence the quality of your entire brew. In short, the size of the grind affects brewing speed, which influences flavor extraction. Finer grounds extract flavor fast in contact with water for a shorter time, while coarser grounds extract flavors slower and need to be in contact with water for longer. If the grounds are too coarse, but you're brewing with drip, or super-fast espresso methods, you'll be left with a weak, flavorless coffee.
Swipe to scroll horizontally
| Preparation Style | Grind Size |
| --- | --- |
| Espresso/Turkish Coffee | Extra Fine |
| Moka Pot | Fine to Extra Fine |
| Drip Coffee Maker | Fine |
| Pour Over | Coarse to Medium-Fine |
| French Press | Coarse |
| Cold Brew | Coarse |
Which coffee grinder is best for espresso?
Based on our tests, the Breville Dose Control Pro Coffee Grinder is best suited for making espresso, as we found it works speedily, and quietly, and doesn't create too much static. It also includes a holder for portafilters.
We also got on with the KitchenAid Burr Coffee Grinder, appreciating its user-friendly design, digital display, and overall great grind consistency.
What coffee grinder is best for French Press?
For complementing the best French press, the magic is found in a consistent and coarser grind. We thought the Fellow Ode Brew Grinder created perfect results for craft coffee methods such as French Press, cold brew, or pour-over. Meanwhile, at half the price, the Baratza Encore Coffee Grinder is a great entry-level design with precise settings and minimal static as well, but we had some popcorning which meant it took longer to grind single doses.
Can a coffee grinder grind spices and nuts?
Yes, a coffee grinder can grind spices and nuts, quickly and fine. In any case, you will want to make sure to thoroughly clean before and after to prevent coffee from mixing with spices or nuts and vice versa. We'd typically choose a blade grinder to grind nuts and spices, as opposed to a pricey burr grinder, which is harder and more time-consuming to clean.
Millie Fender is Head of Reviews on the Homes and Gardens Ecommerce team. She specializes in cooking appliances, such as the best kettles, and also reviews outdoor grills and pizza ovens. Millie loves to bake, so she will take any excuse to review stand mixers and other baking essentials. When she's not putting products through their paces in our dedicated testing kitchen, Millie's reviews are conducted at home, meaning she uses these products in her own day-to-day life.