Moccamaster KM5 Burr Grinder: consistent, mindful grinding
The Moccamaster KM5 Burr Grinder is the brand's first foray into coffee grinders. It's an expensive appliance, but it's quick, quiet and will last a lifetime.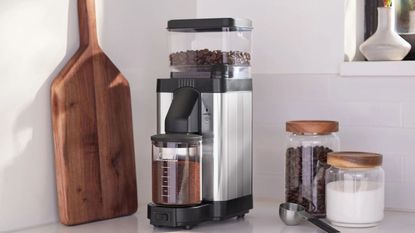 (Image credit: Moccamaster)
A gorgeous grinder that excels on some grinds, but is a little wasteful and lacking in others.
Reasons to buy
+

Consistent grind size

+

Repairable for life

+

Quick and quiet

+

Low grind retention
Reasons to avoid
-

Really expensive

-

Limited range

-

Have to hold switch when grinding

-

Wasteful
You can trust Homes & Gardens. Our expert reviewers spend hours testing and comparing the latest products, helping you choose the best for you. Find out more about how we test.
Sign up to the Homes & Gardens newsletter
Decor Ideas. Project Inspiration. Expert Advice. Delivered to your inbox.
Thank you for signing up to Homes & Gardens. You will receive a verification email shortly.
There was a problem. Please refresh the page and try again.
True to form, the Moccamaster KM5 Burr Grinder is everything the brand stands for. It's a premium product, made from top-quality materials, with lengthy guarantees. It's made to love and designed to last.
As a barista, I've tested my fair share of grinders across the price spectrum. From the minute I unboxed the Moccamaster, it felt premium. It was quiet for a grinder and really quick too.
This feels expensive because of the limited range of grind settings. However, the flat burrs deliver a really consistent, high-quality grind, making it a worthy investment. If you don't mind splurging a little, you won't be disappointed in this coffee grinder.
Specifications
Swipe to scroll horizontally
| | |
| --- | --- |
| Material | stainless steel and glass |
| Weight | 10.1 pounds |
| Dimensions | 8.3 x 5 x 12.75 inches |
| Capacity | 8.8 oz |
| Burrs | flat |
| Sound | 75-115 dBA |
Unboxing the Moccamaster KM5 Burr Grinder
It's not often that I get to enjoy unboxing, but this was a pleasure. Moccamaster packaged this already compact grinder in a small cardboard box. It's decorated with premium touches which all remind you this is a sustainable, handmade product from the Netherlands.
Once it was out of the recyclable packaging, I lifted the grinder up to find that it was surprisingly heavy. It's no surprise; this is made from mostly stainless steel and glass. On the countertop, it actually looked quite small. At 12 inches high, it would be an unobtrusive addition to any kitchen. To get the Moccamaster ready to use, I only needed to slot the glass grounds container into place and fill the hopper with beans. It really is that easy.
Who would it suit?
Aside from being repairable for life, this top-quality grinder comes with a top-of-the range price tag. It's somewhat justified: the materials are very premium and the flat burr grinders are the best option on the market. These technicalities are the kinds of aspects that you'll only appreciate if you're a real coffee enthusiast. If you're looking at buying your first machine, I'd opt for a more affordable alternative before working up to the Moccamaster.
Even though this is quite a small grinder, it has 9oz hopper capacity, which is enough for any household. It's also really quick at grinding. I had 60 grams of coffee ground in 24 seconds, quicker than their claim to do it in less than 30 minutes. This makes it well suited to big, busy households, but some of the features require the kinds of care and attention that a busy coffee drinker might not have.
What is it like to use?
In line with Moccamaster's reputation, this is straightforward to use. The grind settings range from 1 to 9. You'll need to hold the button down the whole time that you grind, but it's fast. We ground 60 grams of coffee in 24 seconds, but I also tested across the range of grind settings, from coarse to fine.
Coarse grind
These sound like they should be the easiest to achieve, but lots of grinders can produce over-coarse or inconsistent grounds. I was really pleased with these. You have to hold down a button the whole time that you're grinding, which is a bit frustrating if you'd like to be getting on with your coffee prep, but it's a price worth paying. The grounds container is made of glass, so I could judge my grounds and measure them against the line indicators. The grounds were all consistent and when I put them in my French press, the taste profile was perfect. The coffee was acidic, rich, and had signature French press bitterness. The thick, hazelnut crema was all the indication that I needed: this Moccamaster was off to a good start.
Medium grind
Moccamaster recommends that you start on 5, as a good mid-point for coffee. To change from grind setting number 9, I had to grind. This stops grounds and coffee beans from becoming trapped in the burrs, but, in reality wastes a lot of coffee. By the end of grinding on four different settings, I had wasted 30g of coffee in-between grind settings.
Fine grind
Moccamaster are the first to admit that the finest grind isn't the finest, but it's still really good. The even texture looked really impressive and tasted even better. My coffee was rich, smooth, and slightly sweet, if not a little watery. I used the markers on the glass grounds container to judge how much coffee I was grinding, but it tends to build a pyramid against the side closest to the user. This means you'll need to give it a little shake to get accurate measurements. For the price, it would be great to have some weighing scales for really accurate measurements.
When I looked into it, the grinder is certified by the European Coffee Brewing Center. This means that the uniformity and quality of the coffee grounds are guaranteed. Looking at all of these grounds, I was impressed. The texture of each setting was really different from one another.
Cleaning, Storage, and Maintanance
Grinders are generally pretty easy to store and maintain. This is no exception. The Moccamaster comes with a small brush, designed to clear out the grinder. This is normally straightforward: you take the hopper off and lift the grinder out. However, you need a screwdriver to take the hopper off on the Moccamaster. I think it's screwed on to reduce the noise. Moccamaster are quite successful; this is one of the quieter grinders that I've tested between 70 and 100 dBA. However, it's a pain when it comes to cleaning.
I ran the Moccamaster through and was pleased to see that there was very little grinds retention. After lifting out the grinder, I dusted it off with the brush and used a damp microfiber cloth to wipe the machine and hopper out. Once a week, I would recommend taking the hopper off for a more thorough clean. The glass grounds container and the rubber lid are both dishwasher safe. I cleaned them in warm soapy water and they came out sparkling.
The grinder is small enough to sit on your countertops without taking up much room. However, if you want to store it away, you could. It's a little heavy and the cord is quite thick, with nowhere to coil it, but you could use a cord organiser like this at Amazon if you want to be extra tidy.
How does it rate online?
There aren't many professional reviews online, nor are there customer reviews. However, from what I found, Moccamaster has a very satisfied customer base. Lots of people commented on the price, saying that it was expensive, but no one thought that they had overpaid.
Lots of customers admired the anti-static, or, at least, reduced static properties of the glass grounds container. As I found, many called for scales and more precise measuring techniques. A number of people also found it frustrating that they had to manually hold the button whilst the machine ground, but there was little else on which customers could fault the Moccamaster.
How does it compare to similar models?
I tested this alongside the Smeg grinder, which is a similar price to the Moccamaster. The Smeg grinder had more of a range of settings and was better at the extremes: the fine grind was really powdery and the coarse grind was well-textured. However, the Moccamaster was much more consistent with its grinds. This is the difference between flat burr grinders, on the Moccamaster, and conical burr grinders, on the Smeg.
The Moccamaster was much simpler, sleek and small. If you want your grinder to be subtle and durable, the Moccamaster is a better option. However, having to grind between settings results in a lot of coffee waste. If you're looking for a statement grinder, which is easy to clean and very hands-off, the Smeg is a better choice.
Should you buy it?
If you can taste your medium from your medium-coarse grinds, you'll want to invest in the Moccamaster. It's extremely consistent and very good on technicalities. Moreover, it's the kind of grinder that you love for life: once you buy this, you won't need another grinder again. If you're looking for a really fine or really coarse grind, this might not be the grinder for you. Also, when you take a step back from it all, this is really expensive. If you're looking for value, definitely look elsewhere. If you're looking for quality, you can get grinding.
How we test
Before we review or recommend any product, we've tested it in-person as if it's an everyday product. We have a specialized process for how we test every appliance. I'm trained as a barista. This means that I've been through a number of processes to become an expert on all things coffee.
Before testing, we carefully research the claims that a brand makes about their product, so we know what we are looking for. We will also look at and test competitors, so we can place every product that we test on the market.
I took this Moccamaster grinder and tested it alongside other market-leading grinders. I used it in an everyday kitchen and made sure to test every function. At every stage of the process, from unboxing to cleaning up, I made thorough notes and observations, taste testing coffee from every grind it can produce.
Sign up to the Homes & Gardens newsletter
Decor Ideas. Project Inspiration. Expert Advice. Delivered to your inbox.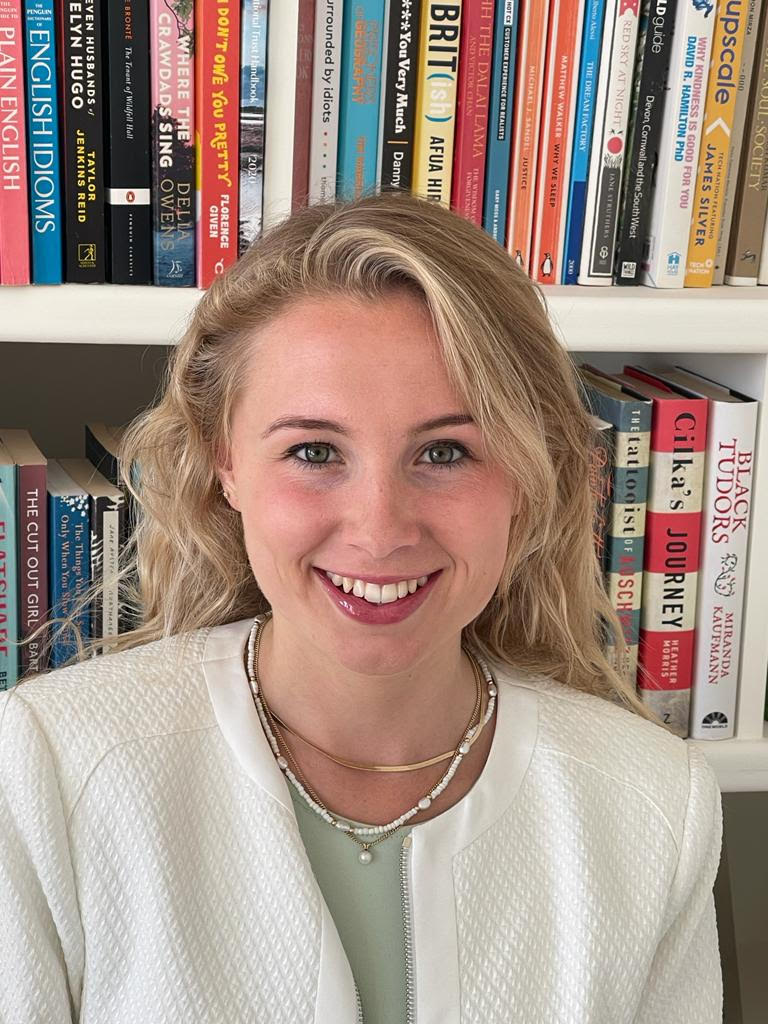 Laura is our eCommerce editor. Before Homes & Gardens she studied English at Oxford University. Alongside her studies, she qualified as a barista and trained as a master perfumer. This makes her our certified expert for all things coffee, candles, and fragrance. She has passed our five-step tests to become a certified Customer Advisor, making her our resident expert. Laura has worked for luxury retail brands, reinforcing the importance of quality and style over quantity and fads. She looks for products which have been designed with thoughtful finishes.