How we test coffee makers
How we test coffee makers is a skill. So how do we know what makes a good cup of Joe?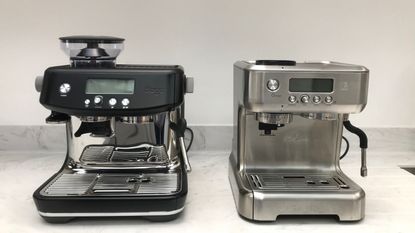 (Image credit: Future)
How we test coffee makers
Some people think making coffee is a science. Some say it's an art form. As such, there's lots of technical, confusing language that can make buying the best coffee machine as hard as it is to say 'no' to a morning cup. But it doesn't have to be this way, and there are plenty of coffee makers out there that make the process simple and fast.
As coffee connoisseurs and expert testers, we've taken it upon ourselves to test every coffee maker that might appeal to you. We take the market-leading, most talked about appliances and test them on a range of coffee tasks. We start with a simple espresso and work up to more complicated, personal tastes, so you know how far your machine will go.
Our tests are standardised across each coffee maker, so that we can compare all of the products against each other without bias. If we think a machine is good enough, it'll go onto our best coffee maker, best espresso machine, best French press, or best pour over list.
How we choose coffee makers to test
Image 1 of 2
This is where it all begins. We take coffee machines to our specialist kitchen and test the best-on-the-market claims. We like to call in coffee machines for a range of lifestyles, because no two coffee drinkers are the same. We start with basic, compact, affordable options and range up to larger, luxurious coffee machines. We are always looking for new products, innovative features, and useful updates to classic models. We test all the household names, but if a new company comes onto the market, ready to stand up to big brands, we are happy to give them a try. We also test in our homes, which lets us see how these coffee makers stand up in the real world as well as in ideal conditions in our kitchen.
We pride ourselves on our editorial independence. We judge coffee machines purely on their performance and would never accept money to promote a bad coffee machine as the next-best brand. If we love a product, you'll know about it and you'll also know that it's genuine.
In the test kitchen
Image 1 of 3
The expert start in our dedicated kitchen, or right in our homes. The test kitchen is a great place to line up coffee makers for head-to-head battles and standardised testing, and testing at home lets us see how how these machines work in the real world, not just under perfect conditions.
Our team of expert appliance testers are coffee connoisseurs. In my case, I'm even a trained barista. We have experience covering dozens of coffee makers, dedicating time, effort, and lots of caffeine to putting every coffee machine through its paces.
All the appliances start at the same point. We challenge them to make the perfect espresso, a simple Americano, and a creamy cappuccino. If they have extra features and claims, we make thorough notes to ensure that all bases are covered by our test team. The average drinker can taste good or bad coffee, but we know that a really good coffee is subjective. We will assess the qualitative taste and smell of coffee produced by a coffee maker, but we look for qualitative measures too. We test the temperature, time, and amount of coffee made by each machine, so that we minimise how much our personal preference will affect a coffee machine's ranking.
How we test espressos
Image 1 of 4
This is the heart and soul of a coffee, so it's a good place to start. Most coffee makers should be able to make a good espresso. If a manufacturer recommends a specific type of coffee or pod, we will use them.
In Italian, espresso is linked to an idea of speed. It should be made quickly and drunk quickly, before the crema has time to disappear. With this in mind, we want our espresso to be between 149 and 160 degrees Fahrenheit. If it's too warm, it will burn our mouth. If it's too cold, we won't get the aromatic oils from the coffee beans.
Appearance wise, we want to see a rich crema that's hazelnut-colored. It should be thick and almost oily. The crema comes from pushing hot water at a high pressure, through the coffee grounds. The process produces smooth bubbles of coffee bean oils, which are the crema. If this is on your espresso, it indicates that your coffee is good quality and that the machine is properly brewing your coffee.
How we test Americanos
Image 1 of 3
'Just a coffee-coffee', Americanos are very simple to make. They're traditional, basic, and another great indicator of quality; there's nothing to hide behind. Whether it's a French press, or fancy coffee machine, you should be able to get a good Americano.
A good Americano should have a crema on top and be a deep caramel color. The water added to your Americano should be around 200 degrees Fahrenheit, so that it doesn't burn your espresso, but doesn't cool it too much either.
How we test cappuccinos
Image 1 of 4
If a machine has milk-frothing capabilities, the cappuccino will test these the best. We want a cappuccino to be made of at least one third foam. The foam head needs to be thick, glossy and firm. That way, it will be smooth to drink. We want the coffee to be 65-85 degrees, again, for drinkability.
If the machine foams and integrates your milk into the coffee, we are looking for a seamless blend. We don't want plain milk and strong coffee; it should be more gradual. We make two of every coffee type to make sure that the machine is consistent.
How we test other coffee types and settings
Image 1 of 3
If a coffee maker has extra settings, we always test these. This might range from personalised coffee blends, to smart features, to self-cleaning methods. These features are often the deciding factor in which appliance you buy, so we want to make sure that they've been thoroughly tested.
How we test cleaning
Image 1 of 3
In our test kitchen, the machines will get some wear. We clean them as you would be expected to in your daily routine. This is a good opportunity to find the fiddly, messy, or awkward aspects of any machine. We'll find out whether the drip tray leaks, the filter needs a screwdriver to access, or whether it makes any alarming beeping sounds. We also check whether any aspects are dishwasher-safe too.
How we test value for money
We will look at the cost, warranty and performance of the coffee maker. If the coffee maker performs fantastically and has a lower price point, it's perfect. If we feel it's over-priced, we will note this and take it into account when ranking the best coffee machines. If the machine feels cheap, or doesn't perform well, we will also take note so that you don't end up disappointed with the final product.
How we give our verdict
At this point, our espresso experts will have had a lot of coffee. As a result, they have a lot of first-hand experience, plenty to say, and maybe some coffee jitters. After adding up the scores, we can place this appliance in its appropriate buying guide, or leave it out if it hasn't made the grade. They'll advise who this would suit, who it wouldn't, and suggest other appliances that you might consider instead. All of this is based on our personal experience and expertise. If you're unsure on the coffee maker, then our buying guides will help you hone in on the best of the best.
Our coffee expert
To become a Customer Advisor, our experts have to go through a thorough process. These are our proven experts who have hands-on, long-term experience of industry-leading products. They can compare between market leading brands and have an intricate knowledge of the field. Our e-Commerce editor, Laura Honey, is our coffee Customer Advisor.
She has been through the five step process, which is as follows:
Home user: We own a market-leading option, and use it in our home or garden on a regular basis. This means we see how the top products hold up over time, and compare new releases to our top choice.
Industry expert: We know the market leaders, and stay up to date on their latest releases to make sure we're always in the know.
Behind the scenes: We've been to a factory or showroom to see how products are made, and experienced the behind-the-scenes of how new products are tested and developed.
Technical know-how: It's one thing to test a product, but the key to being a customer advisor is knowing how it works. We understand the inner workings of a product and can to explain exactly what makes it so great (or not-so-great).
Reader awareness: We answer to our readers. Ask us questions, request new product releases, or just let us know what your favorite products are! We want to understand how you shop so we can help.
Laura is our eCommerce editor. Before Homes & Gardens she studied English at Oxford University. Alongside her studies, she qualified as a barista and trained as a master perfumer. This makes her our certified expert for all things coffee, candles, and fragrance. She has passed our five-step tests to become a certified Customer Advisor, making her our resident expert. Laura has worked for luxury retail brands, reinforcing the importance of quality and style over quantity and fads. She looks for products which have been designed with thoughtful finishes.
Sign up to the Homes & Gardens newsletter
Decor Ideas. Project Inspiration. Expert Advice. Delivered to your inbox.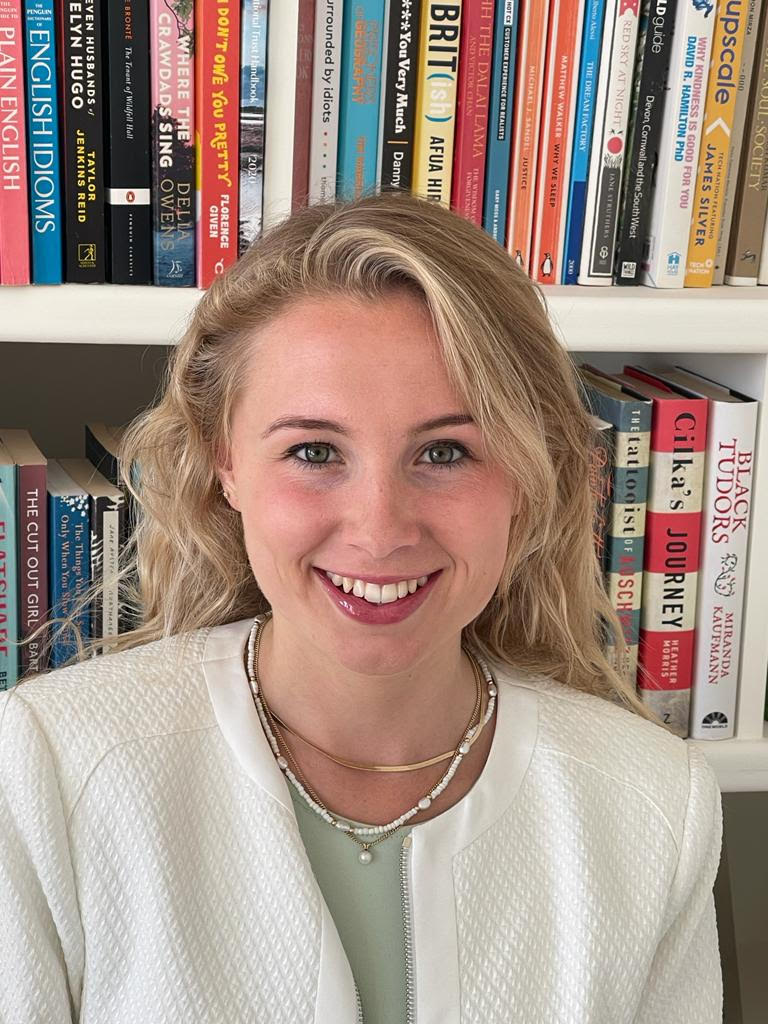 Laura is our eCommerce editor. As a fully qualified barista, she's our expert in all things coffee and has tested over thirty of the best coffee makers on the market. She has also interviewed Q-Graders and world-leading experts in the coffee industry, so has an intimate knowledge of all things coffee. Before joining Homes & Gardens, she studied English at Oxford University. Whilst studying, she trained as a master perfumer and worked in the luxury fragrance industry for five years. Her collection of home fragrance is extensive and she's met and interviewed five of the world's finest perfumers (also known as 'noses'). As a result of this expansive fragrance knowledge, she always puts quality and style over quantity and fads. Laura looks for products which have been designed simply and with thoughtful finishes.