Best pour-over coffee maker 2022: our top 6 for classic coffee
Make your morning drink into a daily ritual with the best pour-over coffee maker from Chemex, Kalita, Hario, Bodum, and more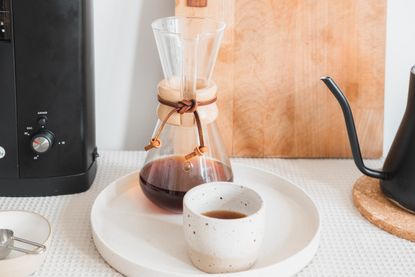 (Image credit: Unsplash/ Shaun Donnelly)
It may just be the simplest way to make homemade coffee, but the best pour-over coffee maker is a classic for a reason. Much-loved by baristas and home coffee enthusiasts alike, the humble pour-over is one of the best ways to extract every last drop of flavor from your freshly-ground beans. They also take up a lot less space than the best coffee makers can can be used from just about anywhere. All you need is hot water and some delicious fresh-ground coffee.
Using the best pour-over coffee maker will allow you to customize the strength and flavor of your coffee, because everything is completely under your control. You can adjust the amount of coffee you use, the filters, the heat of your water, and how long you leave the grounds to bloom and develop in flavor.
What's more, the best pour-over coffee maker is ideal for single servings of coffee to get your day started before you head out. Unlike the best drip coffee maker, which is designed to make a batch of coffee at a time, this option is perfect for those who live alone or who would struggle to get through a carafe of coffee every morning.
The best pour-over coffee makers
You can trust Homes & Gardens. Our expert reviewers spend hours testing and comparing the latest products, helping you choose the best for you. Find out more about how we test.
1. Chemex Eight Cup Classic Pour-Over Glass Coffee Maker
The best pour-over coffee maker for a crowd
Specifications
Size: 40 oz.
Material: Borosilicate glass
Height: 9"
Dishwasher safe: Yes
Reasons to buy
+
Creates ultra smooth coffee
+
Easy to use and clean
+
Carafe can be refrigerated and reheated without altering flavor of coffee
Reasons to avoid
-
Must use Chemex filters, which aren't readily available at retail stores
A quick search for this Chemex pour-over will result in thousands of five star reviews praising its coffee-making ability. It's by far the most popular brand for old-school brewing, and we agree it's pretty great. If you like a large cup of coffee as opposed to smaller servings, you will enjoy that the Chemex makes by far the largest cup at once of all our top picks.
Why we love it
Obviously a good cup of coffee is the goal, but we can't help but obsess over the design of this Chemex pour-over set. It's so pretty, and thoughtfully designed.
Rather than reheating the same cup of coffee five times, this entire carafe can be easily covered and placed in the fridge for a refreshing iced coffee.
Chemex uses non-porous Borosilicate glass, claiming that this will not retain odors or chemicals from your coffee, which is good news for those who want a pour-over coffee maker that will last years.
Good to know
Chemex manufactures their own filters in addition to coffee makers, and most stores don't carry stock. However, they can be restocked online in bulk, so you won't have to top up very frequently.
2. Kalita Pour-Over Wave
The best pour-over coffee maker for single servings
Specifications
Size: 16-25 oz
Material: Stainless steel
Height: 4.8"
Dishwasher safe: Yes, unless your model is plastic
Reasons to buy
+
Trendy design
+
Easy to use
+
Can use any filter
Reasons to avoid
-
Plastic version is not recommended for dishwasher
The Kalita Wave is a chic, trusted pour-over coffee maker that's been popular since the early 2000's. The design hasn't changed much since, because it works (and it works well). With three small holes in the bottom, some may say it brews slightly slower, but noticeably more evenly. We don't know about you, but we'd much rather a balanced cup than a speedy but bitter drink.
Why we love it
The beautiful aesthetic alone of the Kalita Wave makes it a winner in our books. With a flat bottom, pour-over coffee drinkers agree this feature produces a rich, aromatic cup every time.
We like the three holes, as opposed to models which just feature one, because the coffee grounds are saturated more evenly. Fans of the wave recommend pouring in a circular motion, as this prevents over-extraction and bitterness.
Good to know
Plastic models can absorb the odor and chemicals from dishwasher pods and detergent, so Kalita recommends against it. Filters are not included, and although Kalita manufactures their own paper products, most filters on the market work just fine. We recommend opting for stainless steel to get the most out of your coffee maker.
3. Hario V60
The best pour-over coffee maker for consistency
Specifications
Size: 10 oz.
Material: Ceramic, Glass or Plastic
Height: 4.7"
Dishwasher safe: Yes
Reasons to buy
+
Cone shape lets user layer coffee grounds
+
Ceramic is known to retain heat
+
One drip hole allows user to customize coffee flavor by pouring water quickly or slowly
Reasons to avoid
-
Max yield of 10 ounces
-
Ceramic can be fragile
We love the Hario V60. It's a no-frills, straightforward coffee maker that delivers consistently great coffee. We have even taken this pour-over camping, because even in the woods– we still love coffee.
Why we love it
We love being able to adjust the flavor profile of coffee. Some days, a strong cup is needed for unwanted wakeups– and the Hario V60 pour-over never fails. The Hario filters are equally amazing, and leave no funky residue or taste behind. Also super convenient is the included measuring spoon.
Good to know
Ceramic may not scratch easily, but it will shatter the second it hits something too forcefully. Like several other pour-over makers, the Hario V60 uses proprietary filters. Sure, it can be an inconvenience hunting down the filters, but they are worth the wait and money.
4. OXO Pour-Over Coffee Maker
Best bang for your buck budget-friendly pour-over coffee maker
Specifications
Size: 12 oz.
Material: Plastic
Height: 5.5"
Dishwasher safe: Yes
Reasons to buy
+
Plastic won't shatter
+
Simple design
+
Affordable
Reasons to avoid
-
Takes 5-10 minutes to brew
-
Not aesthetically pleasing
-
Premade holes give you no control over water flow
Look, this OXO pour-over coffee maker is a diamond in the rough. It isn't the most beautiful coffee maker I've ever seen, but it does the job. You've probably seen this brand on shelves at your local stores, and we can confirm they make solid kitchen staples because everything we've used from their line has been reliable.
Why we love it
The straightforward design of this pour-over coffee pot is a nice change from futuristic coffee makers. If you have kids, it's likely that glass is something you're nervous to use around the house. For this reason, the OXO is a great choice for anyone with curious kids or pets around.
Good to know
No need to worry about sketchy plastic, OXO uses only BPA-free material. Filters are a standard size, so they're readily available at any major grocery chain, too.
It is worth mentioning, a "cup" of coffee in pour-over terms is appx. 6oz, is not the amount you'll be used to getting in your local coffee chain. If, however, you drink coffee for the taste (not caffeine), disregard this concern.
5. Fellow Stagg [XF] pour-over coffee maker set
Best looking pour-over coffee maker on the market
Specifications
Size: 20 oz.
Material: Borosilicate glass
Height: 9"
Dishwasher safe: Yes
Reasons to buy
+
Hand blown and beautiful
+
Double wall
+
Vacuum seal
+
Built-in ratio aid
Reasons to avoid
-
More expensive than other options
-
Paper filters are pricey
If you wanted iced coffee, you'd probably use an espresso machine and add some ice cubes. Thankfully, the Stagg pour-over coffee maker was created to keep coffee hot, and it does a great job. Very thoughtfully designed with the user in mind, Fellow added quite a few touches to make the brewing experience simple and enjoyable.
Why we love it
Fellow Stagg gets our vote for best looking of the bunch. There are also a few features that stand out amongst the competition– namely the ratio aid (see picture below). You'll notice there are three small dots on the carafe, added to help you make the perfect brew.
For one cup of coffee, you should use 20g of ground beans and add water to the first dot. For two cups, 40g of grounds is the perfect amount, with water added until it reaches the second dot. The double wall makes a big difference in heat retention, which makes it a winner in our book.
Good to know
This model comes with 30 filters, which is a nice touch. With that
being said, as soon as you run out, you'll have to hop on their website for more. 45 filters runs about $8, plus shipping. We don't recommend using the filters more than once as they break down quite easily. Because the spout is slightly thicker and rounder than others, occasionally it allows for some dripping. If you've got white countertops, be sure to wipe up any spills pronto.
6. Bodum pour-over coffee maker
The only pour-over option with a built-in filter
Specifications
Size: 17 oz.
Material: Borosilicate glass
Height: "
Dishwasher safe: No
Reasons to buy
+
Permanent filter
+
Budget-friendly
+
Environmentally-friendly (no paper products)
Reasons to avoid
-
Water moves quickly through the filter, affecting taste
Costing less than any other coffee maker on the shelf, this Bodum is a pint-sized miracle maker that we've used for years without fail. It delivers a delicious coffee with very little effort, and we never have to worry about running out of filters. Measurements are easy to remember, too! One teaspoon is the perfect amount for one cup of coffee. Don't forget, though, a cup of pour-over is only 4-5 ounces.
Why we love it
Cutting down on waste and unnecessary single-use products is something we should all be getting behind. With a built-in stainless steel filter, you can kiss those paper filters goodbye. The carafe is also easily removed to pop in the dishwasher, which we love. Plus, we think it's a pretty choice for any kitchen.
Good to know
There is a learning curve to the Bodum, simply because the stainless-steel filter allows water to pass through more quickly than its paper counterpart. Pouring the water very slowly and evenly across the coffee grounds is the trick, yielding a rich cup of coffee full of flavor. Many people believe paper filters absorb the oils from the beans, affecting the profile of the coffee, so the Bodum will hopefully result in a more flavorful coffee, too.
How to make pour-over coffee
Perfecting a cup of pour-over isn't as complicated as you may think. Sure, it's a little slower than other coffee makers, but no other method offers as much customization to taste and strength. You know what they say, slow and steady wins the race.
To brew a cup of pour-over, here's what you'll need: coffee, filter, water, and your preferred pour-over maker. Next, follow the simple steps below:
Measure & grind your beans (fresh beans are the best!) Check out our best coffee grinders if you're after the best one.
Boil your water and add filter to coffee maker– some people recommend rinsing your filter first
Slowly and evenly pour hot water over the coffee grounds, taken from your stylish coffee canister, until they're saturated but not sopping
Once the coffee grounds appear fluffy, pour another even layer of water, creating what looks like a small puddle
If you'd like, a third (and even fourth) pour can be added to make a larger cup of coffee
Remove the filter before it's completely drained– if it seeps too long it can become bitter
Pour into your favorite mug or pop in the fridge (if using a glass carafe) and enjoy!
Tips for the best pour-over coffee
Pour-over coffee is a process. It takes longer than a K-cup, but like the best French-press, results in an unmatched cup of coffee. The flavor profiles are distinct and rich, and each cup is totally customizable. The good news is, once you get the hang of it, it becomes second nature.
With so many options, it can be hard to pick the perfect pour-over. We recommend looking at the features that matter most to you: how much coffee it yields, ease of use, dishwasher safety, and even aesthetics.
We've had a great time playing around with the strength and flavor profiles of my coffee, which can be affected by something as minor as a difference in temperature or speed at which the water is poured. Being so customizable, pour-over coffee is a great option for any and all coffee drinkers. Subtle undertones really stand out using this method, making exploring different beans even more fun.
Trust the process, and you'll be hooked. Don't forget to consider the following before brewing:
Brewing Temperature
Since we're all about convenience, we use one of the best electric kettles for our pour-over. A gooseneck is always the best choice, and the Fellow Stagg Gooseneck Kettle is our favorite because it allows the user to choose the temperature. Coffee experts recommend between 195-205 degrees Fahrenheit.
Beans
We can't emphasize enough how important coffee beans are to the brewing process. They're almost always the difference between a good and great cup of coffee. For one cup, between 20-30g of beans is ideal. Depending on your taste buds, you may find you prefer slightly less or more, but this is the fun of pour-over— it's super customizable!
Filter
Loyal pour-over drinkers swear by rinsing the filter with hot water before brewing. "Sealing" the filter, as many say, prevents any lingering tastes beyond coffee. Some of the models above require filters specific to the brand, but others can use generic ones.
Coffee "Bloom"
"Blooming" refers to when the carbon dioxide leaves the beans, reducing bitterness. The first pour-over is super important if you want a smooth cup of joe. When you begin to notice bubbles rising to the surface, this is your bloom. After 45 seconds or so, continue to your second pour.
Midwestern product tester and writer Courtney Irwin is a working mom of three who loves nothing more than a good deal. Equal parts entrepreneur and family-gal, she believes hard work deserves to be celebrated. Oftentimes in the form of a new gadget or sun-filled vacation! When she's not on the hunt for the next big trend, you can catch her in her kitchen, cooking and testing appliances.