Smeg coffee grinder review: for $300, are they out of their grind?
Smeg's lovable retro design could be mistaken for all style without any substance. It isn't. With over 30 settings, automatic controls, and excellent performance, it's close to burr-fect.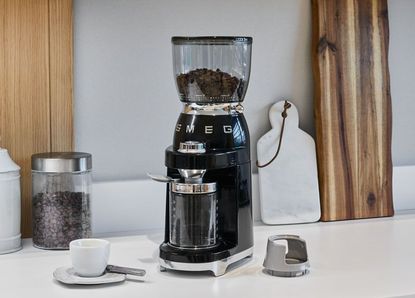 (Image credit: Smeg)
The Smeg was consistent across all grind sizes, with very little variability in texture. When we tested fine grinds, the results were exceptional. However, as I looked at coarser grinds, it was harder to tell the difference between settings.
Reasons to buy
+

Looks great

+

Easy storage

+

Really good for fine grinds

+

Quiet and quick

+

Pre-sets so that you don't over-grind
Reasons to avoid
-

Coarse setting isn't great
You can trust Homes & Gardens. Our expert reviewers spend hours testing and comparing the latest products, helping you choose the best for you. Find out more about how we test.
Sign up to the Homes & Gardens newsletter
Decor Ideas. Project Inspiration. Expert Advice. Delivered to your inbox.
Thank you for signing up to Homes & Gardens. You will receive a verification email shortly.
There was a problem. Please refresh the page and try again.
There's nothing wrong with store-bought coffee grounds. However, as soon as the bean has been ground, it'll begin to degrade. It'll be days, if not weeks and months, before the ground beans reach your brew. Freshly grinding the beans yourself means that you can enjoy your coffee at its most aromatic. If that isn't enough to persuade you, grinding your own coffee produces that coffee-shop smell that could turn even a tea drinker.
Smeg's coffee grinder has all the effortless elegance, quality, and premium touches that I would expect. It certainly looks good, but, for $300, you might wonder if there's value in spending three times as much as other grinders.
As a qualified barista, I've used a range of grinders. From smart, ultra-sensitive, high tech models to basic, manual grinders. Smeg's coffee grinder has thirty different grind settings and a handy resealable coffee grounds pot. It's quiet and stylish, but it's not for everyone.
Smeg Coffee Grinder Review
Smeg Coffee Grinder Specifications
Swipe to scroll horizontally
| | |
| --- | --- |
| Model name | CGF01BLUS |
| Dimensions | 9 ⅞ x 18 ⅛ x 6 inches |
| Weight | 7 lbs |
| Power | 150 watts |
| Body material | stainless steel |
| Settings | 6 |
| Bean container capacity | 12.3 oz |
| Ground container capacity | 4.6 oz |
| Cord length | 39 2/8 inches |
| Grind type | conical burrs |
Unboxing
Just holding the cardboard box, I can feel that this is a premium product. Sliding the cardboard packaging out, I was pleased to see that almost everything was recyclable. There were a few plastic bags to stop the polish chrome and stainless steel from scratching. I also noticed a couple of red bags containing a cleaning brush and the portafilter stand (useful if you have an espresso maker).
All I had to do to prepare the grinder was sit the coffee bean container on the top and the ground container underneath. This is fortunate, because the pictures are vague at best. If you carry on reading the instruction manual, there's more information, but it's also online too. There are pages that will advise you on grind settings.
Who will it suit?
This is a quick, automatic model with a range of presets. For that reason, it suits those who are busy in the mornings. All you'll need to do is press one button and the espresso machine will be good to go, making the perfect amount of grounds at the perfect texture.
With thirty different grind settings, you'll make the most out of this machine if you're serious about coffee, or if you live in a household with a range of coffee preferences. If you aren't fussed about variability, this is an expensive appliance. That being said, if you live in a big household, this is quite a quiet machine, so is useful for early morning coffees that won't wake the entire house.
What is it like to use?
As with the set-up, this couldn't get more simple. There is a dial on the front for you to select how many cups of coffee you would like to grind. This ranges from 1-12 and there is a manual setting, too. At the bottom of the coffee beans container is an adjustable dial which you can use to set your grind, ranging from fine to coarse. Once you've set these, press start and the machine will grind. If you've chosen manual, you'll need to press stop again. If you haven't, the machine will stop itself. I didn't notice any popcorning (where coffee beans bounce inside the beans container when grinding), so I was pleased that my beans were well stored. The automatic settings are really useful for a number of reasons. You can achieve a consistent grind, and you you won't grind more than you need. It also means you can do other things in the kitchen whilst it's working.
Fine grind
I wanted to get a sense of the extremes, so I ground my Union coffee beans on the finest setting. Within thirty seconds, my portion of two was neatly ground into the jar. There's an easy, airtight seal that I could have used to keep these fresh, but I wanted them instantly. I took the lid off and had a look at the grind. The average fine grind will have a sugar-like texture, but this was a finer, powdered sugar-like dust. This would be perfect for Turkish coffee or espresso machines.
I did a taste test in a French press. I poured two cups of hot water into the French press, let it steep for ten minutes and then plunged. The crema was a really deep hazelnut color, which is always a good sign. It looked really smooth too, so I was hopeful. The resulting coffee was a really smooth, rich cup.
Medium grind
I selected the grind setting 15, so I could taste the middle grind. Once again, the Smeg grinder churned out my grounds quietly and quickly. These were a fairly consistent texture, but I would say that they were closer to a medium-coarse grind. They were a little finer than sea salt, with a few larger boulders. They would be perfect for a Siphon coffee maker or pour over.
Again, I could see a really good, dark, velvety crema. This is a combination of the grind, beans, and water quality. It translated to a smooth, slightly more acidic and bitter coffee. It was still really nice and the coffee flavors had been extracted well.
Coarse grind
I selected setting 30, expecting a really coarse grind. Given how fine the fine grind was, I prepared myself for half beans to be dropped into the grounds container. However, when I looked at the texture, there was almost no difference between the coarse and medium grind. These would have been fine for a French press or cold brew coffee, but they didn't result in a flavor profile that was very different from the medium grind. Smeg's speciality is definitely fine grinds.
Portafilter
We didn't have a solid portafilter to hand. I used a small one in the portafilter holder that comes with the grinder. The coffee grounds went everywhere. This was my fault, because it wasn't a normal portafilter. However, without any sides or containers, it's best practice to hold your portafilter close to the grinder. There's a metal disk that sits underneath the portafilter holder, catching any stray grinds and giving a neat finish.
Cleaning
Cleaning was pretty painless thanks to the grounds pot. All my coffee grounds were kept sealed and shut in the container. This suffered from some static coffee grounds, but they were easy to brush off. The silicone top was useful for reducing this: I've experienced far more static from other grinders with plastic lids. The coffee bean container is well-sealed, so you won't need to empty it of beans, unless you drink coffee very slowly. In which case, it's good to store the beans in an airtight container in a cool, dark place.
To do a full clean, I emptied my coffee bean container and ran manual mode for grinding to get any excess coffee beans out and through the machine. The retention was really low, which I was pleased to see. Next, I emptied my coffee grounds container, which had some coffee grounds in from clearing the motor.
At the top of the grinder, the coffee beans container lifts off, giving you access to the motor. Smeg provides a small cleaning brush to get rid of any grinds. To clean deeper into the burrs and motor, I reached for the metal handle in the middle of the upper grinder. It took quite some force to twist this counter clockwise and lift it. The other times that I tried to do this, I didn't have any problem, so I think it was only stiff for the first time.
Once the motor was exposed, I used the brush (Smeg recommends using a hard bristle brush) to get any grinds out of the innermost part. It's a fiddly task, but is common for grinders. You can't get the motor wet, so it's worth taking your time.
I used warm soapy water to clean the bean and grounds containers and stainless steel plate. I then used a damp cloth to give the machine a wipe. After going over this with a microfiber cloth, the coffee machine was restored to its original shining glory.
Storage and Maintenance
This is a beautiful appliance. If you chose to store it away, note that it's bigger than some other grinders, but not so big that it's hard to store. It's relatively light, so you could put it in a range of cupboards at different heights. There's some handy hooks on the bottom so that your cord neatly tucks under the grinder, meaning there's no risk of tangling or damaging the cord in storage. It's the little touches like this that I really appreciate.
Depending on how often you use your grinder, it shouldn't need much maintenance. If you drink coffee daily, I would recommend a weekly clean of your coffee grinder - that should be all you need to do.
How does it rate online?
I struggled to find any constructive criticism about this grinder. Amazon reviews, which are notoriously scathing, gave the Smeg grinder 4.5 stars. This sentiment was reflected across other professional and user reviews.
I thought people might feel that it wasn't an exceptional value grinder, but they did. Lots of reviews mentioned the value, naming it the best grinder that they had ever used. Customers loved how quiet it was, the range of settings, and the anti-static pot. I didn't get complete anti-static results from my pot, but it was pretty good compared to others.
Even though there are lots of measuring capabilities on this grinder, a couple of reviewers called for weighing scales too. It's uncommon to have scales, but, for the price, it's a reasonable ask. Outside of the two year warranty, a few people noted that they had to shake their coffee beans down to get the grinder working, but these were few and far between.
How does it compare?
I tested this directly alongside the Moccamaster grinder and there wasn't much competition. I could leave the Smeg to grind independently, quickly, and consistently. The Moccamaster was pretty quiet, but I had to hold a button the whole time. I also wasted lots of beans by having to guess how much coffee grounds I would need, as opposed to Smeg's presets.
We ranked the Fellow Ode coffee grinder as our best overall. It has 31 settings and just as quiet as the Smeg. This seems like a good rival for the Smeg. If you are looking for a finer grind for espressos, the Smeg is much better: the Fellow Ode can't grind as finely. Smeg can also make up to 12 oz of coffee grinds, where the Fellow Ode can only handle 3.5 oz.
However, if you use a French press, or want medium to coarse grinds, the Fellow Ode is better. Rather than Smeg's conical burrs, the Fellow Ode's are flat. This does mean that the coffee grinds might be heated up a little more causing the coffee to degrade quicker, but it gives more consistent results generally.
Should you buy it?
The Smeg coffee grinder has lots of coffee connoisseurs convinced, me included. At $300, it's certainly an investment, but it's a very worthwhile one. The grinder is easy and effortless to use and it looks great on the countertop. However, if you're looking for coarse grinds or for a more budget-friendly option, we've already tested and reviewed the best coffee grinders for every coffee need.
How we test
Before we review or recommend any product to you, we've tested it in-person as if it's an everyday product. We have a specialized process for how we test every appliance. I'm trained as a barista and a qualified Customer Advisor for coffee. This means that I've been through a number of processes to become an expert on all things coffee.
Before testing, we carefully research the claims that a brand makes about their product, so we know what we are looking for. We will also look at and test competitors, so we can place every product that we test on the market.
I took this Smeg grinder and tested it alongside other market-leading grinders. I used it in an everyday kitchen and made sure to test every function. At every stage of the process, from unboxing to cleaning up, I made thorough notes and observations.
Sign up to the Homes & Gardens newsletter
Decor Ideas. Project Inspiration. Expert Advice. Delivered to your inbox.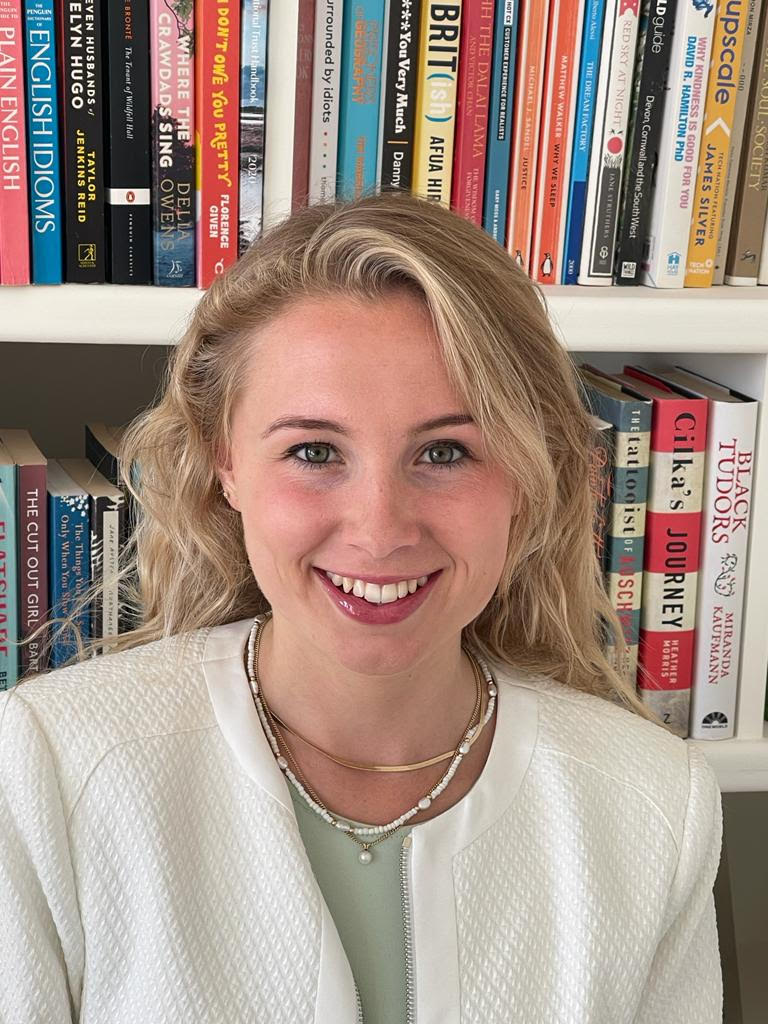 Laura is our eCommerce editor. Before Homes & Gardens she studied English at Oxford University. Alongside her studies, she qualified as a barista and trained as a master perfumer. This makes her our certified expert for all things coffee, candles, and fragrance. She has passed our five-step tests to become a certified Customer Advisor, making her our resident expert. Laura has worked for luxury retail brands, reinforcing the importance of quality and style over quantity and fads. She looks for products which have been designed with thoughtful finishes.