I'm a trained barista: here's why the French press is better than pour-over
French press or pour-over? Our expert insight into which method is best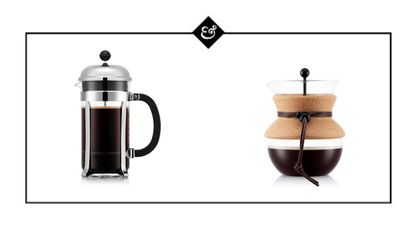 (Image credit: Bodum)
You've probably considered a French press or pour-over coffee maker if you like artisan coffees in the comfort of your own home. Authentic and timeless, they work with almost every kitchen style. Even better, they often cost less money, require less space, and don't require any single-use pods.
As well as a product tester, I'm trained as a barista, so I know the science behind artful coffee-making. I've flitted between a range of different coffee-brewing techniques but when it comes to my morning coffee, I find it hard to beat a French press.
Our team of experts have compiled guides to the best French press and the best pour-over coffee maker. Before you buy one, you'll want to know the difference between the two. That way, with our expert help, you'll be using the best appliance to make your best coffee yet.
Quick Menu
Head to head
For the sake of comparison, here's the top French press and pour-over coffee makers from our guides.
Size: 18 oz., 32 oz.
Material: Stainless Steel
Filter: Metal double Filter
Dishwasher Safe: Yes
RRP: $119.95- $149.95
For
Makes a killer cold brew
No risk of broken glass
Easy to use
Insulated design keeps coffee hot
Double filter minimizes graininess
Against
Tight seal makes it more difficult to pull plunger out
Pricier than alternatives
Chemex Pour Over Coffee Maker
Size: 40 oz.
Material: Borosilicate glass
Filter: Paper
Dishwasher safe: Yes
RRP: $44.15-$53.50
For
Creates ultra smooth coffee
Easy to use and clean
Carafe can be refrigerated and reheated without altering flavor of coffee
Against
Must use Chemex filters, which aren't readily available at retail stores
On paper, there's little to separate them except the design. Both make a decent amount of coffee and are dishwasher safe. However, the brewing process and flavor profile are very different.
The Process
WINNER: French Press
You can see above that there's little separating the two products. Both methods are straightforward and simple.
Immersion, using a French Press, takes up to fifteen minutes. You will need to spoon ground coffee into your glass carafe. Then, pour hot water (around 200°F) over the grounds. Keep the coffee grounds immersed in the water for around three to eight minutes before pushing the plunger down through the water, straining out the coffee grounds. Between straining and pouring, leave the coffee to settle, so that you don't end up with a gritty texture towards the end of your cup.
The pour-over method takes a similar amount of time to using a French press. It requires similar equipment, with the addition of a paper filter. Simply sit the filter in your carafe and place your coffee grounds inside the filter. Pour hot water over the grounds. As the water swirls through the coffee it infuses with all the flavors before filtering into the jug.
For both methods, pour a small amount of water over the grinds and leave this to foam and bloom for 30 seconds. This will help to form a solid base for the rest of the coffee to infuse into.
The Taste
WINNER: French press
Although it can be grainy towards the bottom of the carafe, the French press delivers on strong and rich coffee. It brings a deep flavor that pour-over simply cannot match. This is because the immersion method extracts oils from the coffee beans and carries them into your cup, but it can be more acidic.
If you perfer a lighter flavor, the pour-over method is a better option. The taste is lighter because the filter paper stops a lot of the oils from infusing with your brew. It's not nearly as rich and bold as the French press.
The Clean Up
WINNER: Pour-Over
Both of these are normally dishwasher safe. French presses might need a little attention around the fiddly plunger, but are generally straightforward. The key is not to leave your plunger in the coffee grinds for a long time. The longer you leave it, the more embedded the coffee granules become. Using warm, soapy water, rinse and clean all parts of the carafe and plunger.
The pour-over coffee maker is simple. Empty the paper filter into the bin or compost. Rinse out the jug and you're ready to start again.
Both of these easily fit into drawers and cupboards, so neatly store away in smaller kitchens too.
Cost
WINNER: it's a tie
These cost roughly the same price – much less than a bulky coffee machine. It'll depend on the model, but you could expect them to sit between $20 and $150.
It's worth noting that you'll have an ongoing cost with your pour-over coffee machine, because it requires single-use filter paper. However, the cost is much cheaper than an espresso machine. Neither of these methods require pods, or constant connection to water and electricity, which are all ongoing costs.
Best French press
Bodum Chambord French Press
Best French Press
Specifications
Size: 12 oz, 17oz, 34oz, 51oz
Material: stainless steel and glass
Filter: double filter
Dishwasher safe: yes
Reasons to buy
+
Contemporary design
+
Easy to use
+
Double filter minimizes graininess
Reasons to avoid
-
Glass is thin and doesn't retain heat well
Why you should buy it
Chic, sleek and classic
What we love
Even though the team judged it second in our roundup, this is my personal favorite. It is an affordable option which doesn't skimp on any of the details. The design looks great, but is compact enough to store away if you don't want it out on your surface all the time. Bodum built it with a double filter to minimize the chance of stray coffee grains finding their way into your cup. It's easy to use and dishwasher safe too.
Good to know
This came second in our roundup because it isn't as thorough at filtering and warming as the Espro. Bodum's thinner glass carafe isn't as insulating, but it is one of the reasons that I prefer Bodum's design. Glass makes it much easier to check on your coffee and judge when is the right time to take the plunge.
Best Pour-Over
Bodum Pour-Over Coffee Maker
Most sustainable pour-over
Specifications
Size: 17 oz.
Material: Borosililcate glass
Dishwasher safe: no
Height: 6.3 x 8.5 x 5.3 inches
Reasons to buy
+
Permanent filter
+
Budget friendly
+
Environmentally friendly (no paper products)
Reasons to avoid
-
Water moved quickly through the filter, affecting the taste
Why you should buy it
An elegant entry-point to pour-overs
What I love
This is an unusual example, because it uses a stainless steel filter rather than a paper one. From a sustainability and cost perspective, this is great. It puts this in a great position to directly compare to a French press. The Bodum is dishwasher safe (aside from the removable cuffs) and, I was pleased to find, very budget friendly. It can cater to larger groups of three to four, too.
Good to know
Although I love the built-in filter, it doesn't produce the same light and smooth taste that you would normally expect from a paper filter pour-over. Other users commented on the spout's shape making it easy for spillages. Although I didn't struggle with this, it's easy to see that others might, especially if you have mobility issues.
Our expert team hasn't finished our tests on pour-overs yet. However, I have personally used the Bodum Pour-Over Coffee Maker, which is number six on our roundup.
Which should I buy?
This is something for you to decide. It really comes down to flavor; if you prefer bold and rich coffee, go for a French press. If you are new to coffee or used to filter coffee, start with a pour-over coffee maker.
FAQs
Should I buy a French press or pour-over coffee maker?
These are both great coffee makers for those who are short on space. They can store away easily and are much more subtle on the countertop. They don't make the noise that an espresso machine might and are more portable, because you don't need to plug your coffee maker into electricity and water.
Do I need coffee pods for a French press or pour-over?
No. This is one of the bonuses of these coffee makers. You won't ever use or need to buy coffee pods.
What is the difference in taste between French press and pour-over coffee?
The French press gives a stronger, richer flavor. The pour-over will taste lighter and more like standard filter coffee.
Do I need to grind my coffee differently for a French press and pour-over coffee?
Both French press and our-over need a medium grind. You can buy ground coffee in the grocery store, or you can buy coffee grinders to do it yourself. The best coffee grinder is the Fellow Ode Grinder, which makes perfect ground coffee for pour-over.
What should I consider when making coffee?
Simplicity is key when it comes to coffee. There's only two things to consider - brewing temperature and beans. Execute them well, and you can't go wrong.
Brewing temperature
It's great if you can use water between 195 and 205 degrees Fahrenheit. This is especially easy with some of a good electric kettle, which are temperature sensitive.
Beans
These are unsurprisingly essential when it comes to coffee. Aim for one heaped tablespoon of coffee per cup (0.38 ounces for a 6-ounce cup of coffee). You can adjust quantities dependent on taste. Read on to our next question for more information about coffee beans.
How do I choose my coffee beans?
Searching for the best bean isn't too tricky when you know what to look for. I would recommend accounting for the following:
Cost
Like wine, there's no point buying really budget beans, because you compromise on quality and fair trade. Look for coffee beans that cost around $9 to $15 per pound and you can't go wrong. If you want to spend a little more, you can, but it may not always guarantee a better coffee.
Strength
Sometimes these are put onto a number scale which denotes how darkly roasted a coffee is. The stronger the coffee, the darker the roast and more rich, and bitter the taste. A coffee might also taste stronger if it has a higher caffeine content too.
Notes
Tasting notes are typically broken down into acidity, bitterness, and sweetness. These will manifest themselves as specific flavor profiles, such as chocolatey, earthy, fruity, or floral.
Region
Columbia is well known for their coffee production, but you might also see beans from Ethiopia, Kenya, Guatemala, Costa Rica, the Arabian Peninsula, and Jamaica. Make sure that they are fair trade .
My favourite
Tradeis a good place to browse for coffee. I buy my coffee from Union, but that's a personal choice. It's the supplier I used when I trained and I really like their commitment to sustainability.
Our experts
Midwestern product tester and writer Courtney Irwin is a working mom of three who loves nothing more than a good deal. Courtney has tested numerous coffee appliances for us, so is an expert for coffee comparisons.
Sign up to the Homes & Gardens newsletter
Decor Ideas. Project Inspiration. Expert Advice. Delivered to your inbox.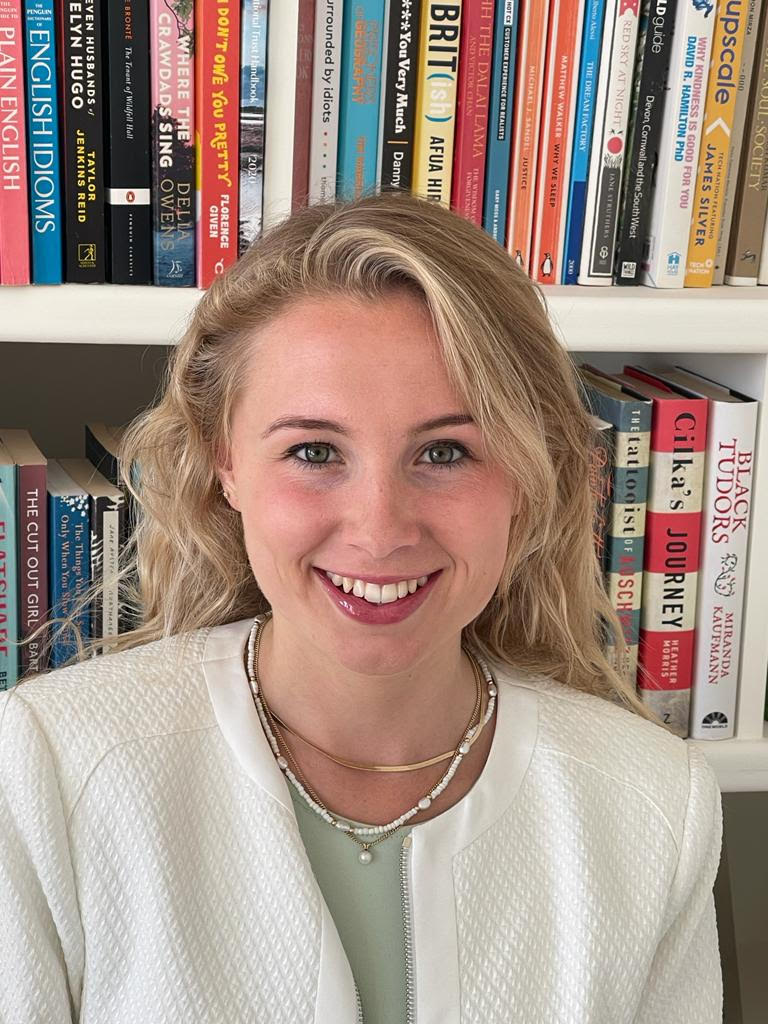 Laura is our eCommerce editor. As a fully qualified barista, she's our expert in all things coffee and has tested over thirty of the best coffee makers on the market. She has also interviewed Q-Graders and world-leading experts in the coffee industry, so has an intimate knowledge of all things coffee. Before joining Homes & Gardens, she studied English at Oxford University. Whilst studying, she trained as a master perfumer and worked in the luxury fragrance industry for five years. Her collection of home fragrance is extensive and she's met and interviewed five of the world's finest perfumers (also known as 'noses'). As a result of this expansive fragrance knowledge, she always puts quality and style over quantity and fads. Laura looks for products which have been designed simply and with thoughtful finishes.
With contributions from