Technivorm Moccamaster KBGV Select review
The Technivorm Moccamaster is iconic for both its design and ability to make stellar coffee. See how the Moccamaster KBGV Select fares in our review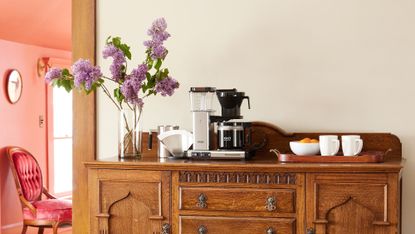 (Image credit: Technivorm)
The Moccamaster KBGV Select brings together the very best in aesthetics and performance for a coffee experience that is truly unparalleled. This particular Moccamaster design is unique in its ability to let the user optimize brew by selecting a 4-6 cup or full carafe brew setting.
Reasons to buy
+

Handmade

+

Maximizes potential for half and full carafes

+

Available in tons of colors

+

Easy to clean

+

Extremely quiet

+

Long warranty and replacement parts readily available
Reasons to avoid
-

Set up and installing takes a little getting used to

-

Some plastic parts feel kind of flimsy considering this is a $350 machine
You can trust Homes & Gardens. Our expert reviewers spend hours testing and comparing the latest products, helping you choose the best for you. Find out more about how we test.
If you're after the very best in drip coffee, only the best will do. In fact, the Technivorm Moccamaster most closely resembles the art of pour-over coffee. And yes, it is one of the best coffee makers you can own.
For such an indulgent machine, it's remarkably simple. But perhaps that is what is so appealing about this luxury coffee maker, it forgoes any distracting bells and whistles for quality materials, a perfected coffee brewing process, and a striking design.
So, what makes the Moccamaster so iconic? Besides setting industry standards for the perfect cup of coffee, ( it's one of a handful of machines that meet the Specialty Coffee Association's rigorous standards for the Golden Cup), the no-frills machine is handmade in the Netherlands with care, prioritizes sustainable parts, and looks good doing it. It's available in a true rainbow of colors as well as your classic stainless steel, black, and white. It's as much art for your kitchen, as it is a functional machine that holds up against the best drip coffee makers on the market.
Read on about our experience with the latest iteration of the machine, the Technivorm Moccasmaster KBGV Select, and whether it's worth investing in for your morning coffee experience.
Moccamaster KBGV Select: Specs
Dimensions: 12 3/4"W x 6 1/2"D x 14"H
Power: 1475W
Weight: 6 lb./3.2 kg
Water tank capacity: 40 oz. / 10-cups / 1.5 L
Brew time: 4-6 minutes
Auto off: After 100 minutes
Water filter: No
Programmable: No
Warranty: 5 years
Jaclyn has previously worked with sites like Apartment Therapy, The Kitchn, The Spruce, The Spruce Eats, and MyDomaine, but got her start in the world of home at the trade mag Home Furnishings News, which fueled her excitement for innovation in the home category and seeing the newest launches. She tested the Moccamaster KBGV in her Atlanta home for a number of weeks.
Setting up the Technivorm Moccamaster KBGV Select
The Moccamaster comes wrapped in recycled cardboard, and the only plastic used was around the glass carafe. For brewing, the instructions are very thorough. However, for set up, I had to leave it to intuition as to how to assemble the metal showerhead and brew basket.
I was struck by how weighty the Technivorm Moccamaster KBGV Select was, with a solid metal base that won't shift easily on a kitchen counter. I also liked how sturdy it was, but noted that some of the removable features such as the filter holder and the water container felt quite flimsy.
The included directions include a guide on how many scoops of ground coffee to use to meet the perfect ratio. For instance, 2 tbsp of ground coffee for every 6 oz. of water means you'll use seven-level scoops for a full 10-cup pot. It comes with a 2 tbsp. scoop, but it felt a little flimsy, and we're not sure about longevity. It also suggests using medium to medium-coarse grind for best results.
Once you fill the water reservoir using the glass carafe, slide the carafe onto the hot plate. The metal outlet arm attaches to the center of the water tank, and does not have to be taken off each time. It does get very hot when brewing, so consider this a warning not to touch it.
In the removable brew basket, add your filter and coffee grinds before sliding directly underneath the metal arm. I found that actually easiest to go through this entire process of assembling your coffee maker each morning if the carafe is already in place before the brew basket. At first, I thought I wasn't going to enjoy the modality of each part. But, it turned out to be an advantage, for filling up with grounds and easily taking transporting to the trash.
Another interesting design feature is the practically incognito drip stop. There is a small lever below the brew basket. When the glass serving carafe is sitting on the hot plate, coffee will flow freely. The moment you remove the carafe, say mid-brew cycle, it will pause the coffee flow.
How the Moccamaster KBGV Select works
The Technivorm Moccamaster design has not changed much since its debut in the late 1960s. In fact, today's models stylistically maintain the same look as the KB 741, which debuted in the early 1970s and still available to purchase. However, the KBGV Select has added the convenient option to let you optimize or "Select" your brew depending on whether you're brewing the full 10 cups or half a pot.
The switch adjusts both the flow of the water through the brew basket and the hotplate temperature, for the perfect extraction and holding temp at either amount. This feature proved to be very useful for the days when just two were drinking coffee as opposed to three.
As timing and temperature are two very important features of coffee brewing, the Moccamaster uses a copper boiling element that almost immediately is able to heat up coffee to an ideal 196°F - 205°F, and automatically shuts off when the water reservoir is empty.
From there, the boiling water is funneled up the glass tube, where it flows into the metal outlet arm with nine rainwater-style holes and pulses over the brew basket to bloom the coffee grounds. The cone-shaped brew basket steeps the coffee grounds to extract the coffee's full flavor, further demonstrating how the Moccamaster almost mimics the complex notes of pour-over brewing.
Testing the Technivorm Moccamaster KBGV Select
I recorded that a full 10-cup cycle took just shy of 6 minutes (5 minutes 38, to be exact) to brew, and a four-cup dose was done in just 2 minutes. Perfect for topping up your cup between meetings.
As for the temperature claims, I found that they held true. I couldn't get into the ceramic carafe to take the temperature of our coffee as it brewed, but after the full cycle had run its course (and temperatures had inevitably fallen slightly) we measured a temperature of around 176°F.
After leaving on for half an hour on the hotplate, the coffee came out at 159.8°F, which I found to be perfect for drinking.
The coffee was fresh and a bit fruity, like a great tea. The sensitvity of the specialty grounds really came through with a complex tasting profile, so if you're someone who enjoys buying small-batch coffee from local roasters, you won't lose any of that great flavor when brewing in the Moccamaster.
Features worth noting
Select Brew Size
Should you decide to only brew a half carafe, either 2 to 6 cups, selecting the half-carafe option slows the brew cycle, while the full-carafe switch brews at its normal speed. There, you get the best coffee whether you're brewing 5 cups or 10. This is a new feature on the KBGB Select whereas earlier models had a switch to choose between a high/low hot plate setting.
Copper heating element
One of the key design elements that set Moccamaster apart from others: its unique copper boiling element. It rapidly heats water to control brewing temperature between 196°F - 205°F which is important for coffee soluble extraction, then automatically switches off when the water reservoir is empty. Overheated water will burn the coffee, while water that is too cold, will create a sour coffee. too sour achieved with copper brewing element
The copper heating element is also separate from the hot plate element, which holds the temperature within the range of 175°F - 185°F depending on how much you brew. The brewer's power switch and hotplate automatically shut off after 100 minutes.
5-Year Warranty and Lifetime Repairs
If you're going to spend hundreds on a coffee maker, you expect it to last. Technivorm stands behind its product with a lengthy 5-year warranty. In comparison, most other small appliances from competitors carry a one, maybe a two-year warranty. Another nice feature, if a part does wear out, Moccamaster is able to send you just the part to repair (even if it's from a discontinued model), rather than having to deal with a perfectly good machine ending up in a landfill.
Cleaning and maintenance
Maintaining a cleaning schedule will keep your Moccamaster in top shape. The brew basket, lids, and carafe should all be washed by hand. The metal arm also needs to be wiped down every so often, as coffee residue does collect around the rainhead.
Moccamaster recommends descaling your brewer after every 100 cycles. This is easiest to keep track of if you buy Moccamaster's 100-count filters, but you can use any No. 4 filter, preferably oxygen whitened filter. They recommend Urnex and Durgol products, which I also received, with my machine. They advise against using vinegar, which might not effectively remove build-up or be difficult to rinse thoroughly.
How does the Moccamaster KBGV Select rate online?
On the Moccamaster website, the Moccamaster KBGV Select holds 4.8 out of 5 stars, with users commenting on its stunning design and the great coffee it delivers. One aptly called it her "Artistic Science Experiment," while others note how happy they are that they went ahead with their purchase. Critics acknowledged the superior coffee that their Moccamaster brewed but questioned the longevity of the plastic parts and glass carafe, some mentioning a screeching sound that came from sliding the carafe into place.
How does the Moccamaster KBGV Select compare to other SCA-approved coffee makers.
The Specialty Coffee Association's definition of the Golden Cup Standard means that a particular coffee machine meets the association's standards for water quality, coffee-to-water ratio, grind/particle size distribution with a temperature between 195 and 205 degrees, and a brewing time of fewer than 8 minutes. Just 30 coffee makers have made the SCA's list.
Most similar in its emphasis on coffee over settings, the OXO Brew 8-Cup limits coffee brewing to a simple switch. It also offers a one-cup option with an accessory filter that re-creates the pour-over experience for when you want a single portion.
We've also tested the Breville Precision Brewer, which offers various presets including iced coffee, cold brew, and MyBrew which enables you to adjust bloom time, flow rate, and brewing temp according to your preferences.
In the same price bracket, you'll also find the wifi-enabled Café Specialty Drip Coffee Maker with the ability to precisely adjust temperature and brew strength.
Moccamaster KBGV Select: final thoughts
For the million-dollar question, is the Moccamaster KBGV Select worth it? If you're looking for a coffee maker that will last you YEARS (and should anything need to be replaced, it can sustainably and easily be done), then yes, absolutely. It's a bit of an upfront investment, but whether you consider yourself a "coffee aficionado" or your friends and family would simply refer to you as a "coffee snob, the Moccamaster is for the person who wants to master their coffee experience.
The Moccamaster brings together the very best in aesthetics and performance for a coffee experience that is truly unparalleled. The handcrafted machine brews rich, velvet coffee, perfected by its unique copper heating unit, rain shower head that blooms grounds at the right rate, and a swift brewing time that meets the SCA's requirements for a "Golden Cup." I can proudly say, it brews some of the most distinctive, memorable coffee I've ever had at home, and perhaps even out and about at cafes.
Moccamaster KBGV Select: Where to buy
About this review and our reviewer
Jaclyn is the US eCommerce editor across the homes titles at Future, including Homes & Gardens, with one of her specialty areas being all things coffee. She spends her days tracking the latest buzzworthy releases and testing a variety of products to determine whether they are worth bringing into your home.
As with all our reviews the Moccamaster KBGV Select has been tested first-hand in our home, using it just as you would so you know exactly what you are buying. Technivorm invited us to review and gifted us this coffee maker, in which we spent over a month making daily coffees before forming our final opinions. We will also continue to use the product which gives us the opportunity to return to our reviews for updating, so you can keep up-to-date with how it's fared over a period of time.