Café Specialty Drip Coffee Maker review: an elegant workhorse
The Café Specialty Drip Coffee Maker looks like a work of art. But it's actually working hard to deliver an exceptional coffee experience. See why we love it.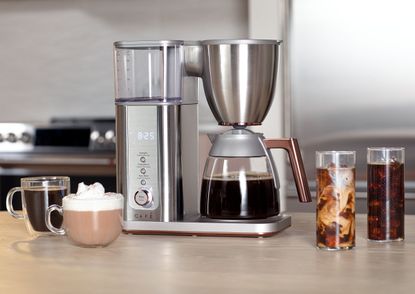 (Image credit: Café)
Effortlessly combining form and function, the Café Specialty Drip Coffee Maker is a stunningly beautiful stainless-steel appliance that includes a boatload of features to help customize the coffee-making experience. However, unlike many multi-featured coffee makers with a steep learning curve, this one is also easy to use.
Reasons to buy
+

Beautiful design

+

Temperature control feature

+

Brew strength control

+

Programmable

+

Wi-Fi enabled

+

Choice of thermal or glass carafe

+

Charcoal filter

+

Descaling feature

+

Cord storage

+

SCA Gold Cup Certified

+

3 color choices
Reasons to avoid
-

It's an expensive choice

-

If you don't like smart products, look elsewhere
Why you can trust Homes & Gardens Our expert reviewers spend hours testing and comparing products and services so you can choose the best for you. Find out more about how we test.
I love coffee makers and always jump at the chance to test them. Some are very utilitarian-looking, but work fine, while others are quite fancy, but produce less than stellar results. The Café Specialty Drip Coffee Maker has managed to combine the best of both worlds. It's aesthetically appealing (to the nth degree), while also functional, providing precise temperatures and a variety of brew strengths.
The Café Specialty Drip Coffee Maker is ideal for people who have discriminating taste. If you're looking for the best coffee maker that would look great on the kitchen countertop, and is also SCA Gold Cup Certified, this definitely fits the bill. It's also a good option for people who like choice, since there are 4 brew strengths and the temperature can be adjusted by 20 degrees. Finally, those who like to program the best drip coffee makers and control it via smartphone will also appreciate the coffee maker's features.
Café Specialty Drip Coffee Maker: Specs
Water tank capacity: 45 ounces/ ten 4.5-ounce cups
Dimensions: 14" H x 7.3" W x 12.5" D
Weight: 10 pounds
Filter Basket: cone shaped
Programmable: Yes
Warranty: 1-year warranty
Café Specialty Drip Coffee Maker: unboxing
There's a saying that presentation is everything. I was immediately impressed with the presentation of the Café Specialty Drip Coffee Maker. Unboxing it felt like opening a Christmas present. The coffee maker arrived in a traditional brown shipping box. However, upon opening that, the actual box for the coffee maker includes handles, making it a lot easier to transport.
After placing the box on my countertop, I encountered another surprise. Usually, unboxing the actual coffee maker is a gentle balance of trying to maneuver it out of an impossibly-tight box without dropping it. However, after breaking the seal on either side of this box, I was pleased to see that the front half of the Café Specialty Drip Coffee Maker gently folds downward, making it easy to remove the appliance.
The coffee maker itself is a stunningly-beautiful stainless steel (full disclosure: stainless steel is my favorite finish). However, if that's not your cup of tea, the coffee maker is also available in a black matte and a white matte – and all three coffee maker choices have the same rose gold trim.
In addition to the coffee maker, there's a measuring scoop, carbon filter, instructional booklet, and 10 coffee filters. I have the model with the thermal carafe, but it's also available with a glass carafe.
As it relates to countertop appliances in general, consumers tend to complain about the power cord. Either it's too short or it's too long, or it's on the wrong side of the appliance.
However, the Café Specialty Drip Coffee Maker solves that problem by designing a coffee maker with a cord that can be stored underneath. In addition, the coffee maker has both horizonal and vertical cord openings underneath, making it easy to position in any direction.
The Café Specialty Drip Coffee Maker includes a reusable titanium-plated metal filter with micro fine mesh. However, if you're like me, you hate cleaning them, so you can also use any #4 coffee filters instead.
There's a generous 10-cup water tank, so it's easy to pour water without spilling it. This is also where the charcoal filter goes. (The charcoal filter is white and oval-shaped, and is placed into the gray charcoal filter holder).
The charcoal filter unit is inserted into the bottom of the water tank (the recessed area in the middle). The charcoal filter is designed to remove impurities in the water that could affect the taste of the coffee. It's recommended that you replace the charcoal filter every 3 months.
Using the Café Specialty Drip Coffee Maker
In addition to the clock, the front panel contains the follow controls:
The large button at the bottom is the Brew/Select knob. This is where you set the clock, and select the strength, temperature and auto brew functions.
The top button is the Strength button, which allows you to select a light, medium, bold, or gold brew (and it also serves as the Descale button). Below that is the Temperature button, and the coffee maker's temperature can be adjusted between 185 and 205 degrees F. (You can also switch from Fahrenheit to Celsius.) Note that if the Gold Setting has been selected, the temperature can't be changed.)
The Auto Brew is used to program the coffee maker to start brewing at a pre-set time. It's also possible to pair the coffee maker with your smartphone and use the Smart HQ app for remote control and monitoring.
The brewing process is straightforward and uncomplicated. After filling the water tank with the desired amount of water and selecting the strength and temperature, I merely pushed the Brew/Select knob. Because this model has a thermal carafe, it keeps coffee hot for a long time – and the carafe is cool to the touch.
Cleaning
It's easy to clean the Café Specialty Drip Coffee Maker. The body can be cleaned with a soft cloth dampened with water, but you shouldn't use abrasive cloths and cleaners. The brew basket, mesh filter, and carafe can be rinsed under running water, or cleaned with warm soapy water and a softly bristled brush. However, they should not be washed in a dishwasher.
The coffee maker will flash a descaling alert (under the time display) when it's time to descale the coffee maker. (Descaling removes the mineral build-up caused by hard water. If the coffee maker is not descaled, it can affect the brewing temperature, brewing flow, and even the taste of the coffee).
Some companies prefer that you use their brand of descaling solution, but thankfully, the Café Specialty Drip Coffee Maker has no such stipulations. The company suggests pouring a 50/50 mixture of water and vinegar into the coffee maker, filled to the MAX line. Then run a brew cycle on the 10-cup setting. Afterwards, brew 3 cycles using clean water to flush the descaling solution out.
How does it compare?
I've tested dozens of coffee makers, including the Breville Precision Brewer, Wolf Gourmet, De'Longhi All-in-One Combination Coffee Maker, Ninja-Dual Brew, OXO 8 Cup, and Bonavita Connoisseur.
The Café Specialty Drip Coffee Maker is similar to the Breville in that it has a temperature control feature and several brewing modes – however, the latter has 6 modes instead of 4 and it also has 3 flow rates.

The Café Specialty Drip Coffee Maker has a slight edge over the OXO 8 Cup, which isn't programmable. Compared to the Ninja-Dual Brew, it doesn't have the ability to also brew espresso beverages, but does a better job of brewing coffee. However, the Café Specialty Drip Coffee Maker is miles ahead of the Bonativa Connoisseur, which is a very good, but very basic coffee maker that offers no customization features.
In terms of price, the Café Specialty Drip Coffee Maker costs over $100 more than some of the other coffee makers I've mentioned – but it is still a few hundred dollars less than the programmable Wolf Gourmet – which also has a removable water reservoir.
Should you buy the Café Specialty Drip Coffee Maker?
If you're looking for an inexpensive coffee maker to make a decent cup of coffee, this isn't the appliance for you. However, if you have discriminating taste, and prefer SCA Gold Cup Certified coffee makers, as well as the ability to customize your coffee to your specific taste, you're more likely to appreciate this coffee maker.
I loved all of these features, in addition to the option of controlling the coffee maker from my smartphone. And almost equally important, I appreciate design that merges form and function in one beautiful package.
About this review, and our reviewer
Terri drinks (decaf) coffee every day – and can drink it with or in place of breakfast, lunch, or dinner. She has tested dozens of coffee makers – and can always find time to test more.
All our reviews, as in the case of the Café Specialty Drip Coffee Maker, are based on the real-life experience of using these products at home. The products are given to us free of charge and we test them for as long as possible before sending them back to the brand unless we are able to keep them as we are with this coffee maker. This means that we can continue to use the product, which gives us the opportunity to return to our reviews for updating, so you can keep up-to-date with how it's fared over a period of time.
Terri Williams is a journalist with real estate, home improvement, and product review bylines at Architectural Digest, Real Simple, Realtor.com, Bob Vila, Yahoo, MSN, The San Francisco Chronicle, The Houston Chronicle, and Apartment Therapy. She also covers business topics, with bylines at USA Today, The Economist, US New & World Report, Verizon, and several other brands that you've probably heard of. Follow her adventures on Twitter.