Zwilling Enfinigy Drip Coffee Maker review
The Zwilling Enfinigy Drip Coffee Maker is a simple, streamlined coffee maker that looks great and makes a delicious coffee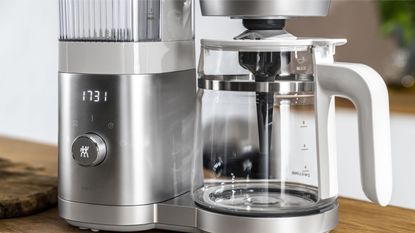 (Image credit: Zwilling)
This stylish drip coffee maker is easy to use and well-designed to make delicious coffee. Find our more in our Zwilling Enfinigy Drip Coffee Maker review
Reasons to buy
+

Programmable timer

+

Blooming function

+

Simple to use

+

Stylish design
Reasons to avoid
-

Hotplate only stays on for 30 minutes
You can trust Homes & Gardens. Our expert reviewers spend hours testing and comparing the latest products, helping you choose the best for you. Find out more about how we test.
With a long history that spans almost 300 years, Zwilling has plenty of expertise in making knives and kitchenware. But its foray into the kitchen appliances market is relatively new, the Enfinigy range was launched in 2020. The Enfinigy Drip Coffee Maker is part of that range, but as this is the brand's first and only coffee maker, I was keen to see how it would fare against the best coffee makers we've tested.
It's a basic coffee maker with very few settings, but what it lacks in functionality, it certainly makes up for in looks, with a sleek and streamlined appearance that's enticingly European in its style. It's available in a matte black or matte silver finish, both of which give it a high-end appearance. The range also includes a matching coffee grinder and a countertop milk frother available to purchase separately.
I set this coffee maker up in my own kitchen and used it in place of my usual machine to provide that much-needed daily caffeine hit for our house of two coffee-hungry adults. This enabled me to use all the settings and evaluate how it fits into day-to-day life.
Zwilling Enfinigy Drip Coffee Maker: specs
Dimensions: 13.7 x 12.8 x 6.02
Number of cups: 12
Materials: Stainless-steel boiler, plastic body, glass coffee pot
RRP: $270
Water tank capacity: 48oz/ 1.5 liter
Weight: 6lbs
Setting up the Zwilling Enfinigy Drip Coffee Maker
The Zwilling Enfinigy Coffee Maker comes in a compact box, neatly protected by recyclable cardboard inserts and thankfully there's minimal plastic. As I lifted it out of the box, I was surprised by how compact and lightweight it felt.
It doesn't take up much space on the counter and I must say, in comparison to so many other drip coffee makers, it looks great. That said, on closer inspection, I was surprised that some of the parts appeared to be a bit plasticky and more flimsy than I expected for a coffee maker in this price range.
There's not really any setup required, the coffee maker comes out of the box pretty much ready to go. But there were a few things I felt were missing. It would have been nice if Zwilling included some filter papers in the box to get you started. I didn't have any and my local grocery store was out, so I had to wait for an Amazon delivery before I could start using it. It doesn't come with a coffee scoop either, though this isn't essential.
First impressions
Once switched on, the backlit display shows a clock, which you'll need to set to the correct time if you want to use the timer, it's simple to adjust though. There are five symbols that illuminate around the central control dial, these are descaling, water hardness, blooming, timer, brewing/ cup selection. That's it, there are no other functions, which makes it very uncomplicated to get to grips with. But at the same time, it means you don't get many options to influence the final result.
Before you can get your first taste of a coffee, there are a couple of things to do. First up, the machine has to be filled up to the MAX mark and run through a brewing cycle with just water, this cleans all the components and removes any dust from the packaging and transportation process.
Next up you'll need to set the water hardness, a simple process that involves turning the dial to the applicable icon and selecting one of three water hardness options. The thing is, there's not a water hardness test strip included in the box, so this relies on you knowing the water hardness in your local area. And though many of us roughly know what type of water comes out of our faucets, if you've recently moved house you might not.
The glass carafe and the water tank have corresponding cup marks at 2, 4, 6, 8, 10, and 12 cup intervals. The carafe sits on a hotplate which stays hot for 30 minutes after brewing, but then switches off automatically and this can't be adjusted or extended.
There's a blooming function that can be switched on or off. Blooming allows for better flavor and aroma extraction by pre-infusing the coffee grounds with water to release carbon dioxide before brewing. If blooming is activated, you'll need to select the number of cups you're brewing too, which means the brewing process is optimized for the number of cups. I always used the coffee maker with blooming switched on, it's important if you're using freshly ground coffee. And although my coffee was out of a bag from the store, I still used the blooming function anyway, since it's designed to improve the taste.
What is the Zwilling Enfinigy Drip Coffee Maker like to use?
My overriding experience of using this coffee maker was one of ease and simplicity. The lack of adjustable settings means you're not standing in front of it at 6am scratching your head, trying to figure out what temperature you want to brew at or which strength to select.
I would, however, have liked a little more guidance in the manual. It doesn't tell you exactly which coffee filters you need and since they come in several sizes, this meant I had to guess. So you know, cone filters in size 4 work great. I also had to guess how much coffee to use, I went with what it said on the coffee pack, which is one dessert spoon per cup, then tweaked it to my preference. But it would have been nice to have some guidance from Zwilling, especially for people grinding their own beans.
After brewing, it doesn't beep to alert you that it's finished, but the cup symbol stays illuminated. Coffee comes out at roughly 185oF/ 85oC, though I did notice it was cooler when I only brewed the minimum amount. It's also quiet in use, averaging a gentle 55dB on my noise meter.
Making two cups
Two cups is the minimum amount this coffee maker can brew. The process is simple, fill the water tank to the two cup mark, add you filter paper and coffee. Turn the dial to the start brewing icon, if you activated blooming you'll need to select the two cup option here, then hit start.
Brewing took around 3 minutes from start to finish and the temperature of the coffee was a pleasant 162.5oF/72.5oC. The carafe was filled to just below the two-cup mark. This barely gave me enough to fill one average size mug, which is fine if you're topping it up with milk, but if you like it black your mug won't be full. In my experience though, it's pretty common for coffee maker cup markings not to translate into everyday mug sizes.
Making six cups
The process for making six cups is the same as two cups, but obviously the water tank is filled to the six cup line and you add the appropriate amount of ground coffee. I added four heaped dessert spoons.
It made enough for two decent size mugs of black coffee or if you're adding milk, it's enough for around three smaller mugs and the brewing took just five minutes from start to finish.
Making 12 cups of coffee
12 cups is the maximum amount it can brew in one go and the process is the same as above. It took around seven minutes to complete the brewing cycle, which is pretty speedy. I poured out two mugs and left the rest on the hotplate to see how it fared. It stayed hot for the first 30 minutes, since the hotplate is on during this time, but after an hour the temperature has dropped by 68oF/ 20oC to a much cooler 151oF/ 66oC.
Using the timer
Like all the other settings, using the delay timer was easy. Just select the timer function and adjust the time to the time you want it to start brewing. The timer symbol stays illuminated so you can see at a glance that it's set. Just don't forget to add your coffee and water too.
Does the Zwilling Enfinigy Drip Coffee maker make good coffee?
Obviously, as with any coffee machine, you'll get the best possible flavor by using freshly ground beans, but for most of us that's not a convenient weekday option. So to ensure it could still produce good coffee, even if you don't grind your own beans, I used store-bought ground coffee.
Considering I was using regular pre-ground coffee from the grocery store, the flavor was good. I chose an organic Columbian 100% arabica medium roast ground coffee, that's supposed to taste sweet, nutty, and aromatic. It was brewed with a deliciously nutty flavor and wasn't bitter or burnt and in my opinion this coffee maker makes it easy to produce a tasty and enjoyable cup of drip coffee.
Design
This coffee maker has been awarded the SCA's Golden Cup Standard, which is the Speciality Coffee Association's seal of approval that means this machine meets its standard and can produce a high-quality cup of coffee.
It's clear that Zwilling has put a lot of focus on the design, shape and style of this coffee maker and it certainly does look good on the counter. Inside, it features a corrosion resistant stainless-steel boiler, plus the wide stainless steel shower head allows for even coffee moistening during blooming.
The central dial and button, coupled with the backlit display means that when it's switched off it looks neat and streamlined. That said, in bright sunny rooms, the display struggles to be bright enough to be seen clearly.
It's effortlessly simple to use, but for some it might just be too simple. If you want to extend the time the hotplate is on for, or adjust coffee temperature or strength, you're out of luck.
I think it's slightly let down by the plasticky feel of the water tank lid and the way the carafe lid falls open as you pour out the last of the coffee. Furthermore, the glass carafe feels thin and I was constantly in fear of knocking it against something and cracking it.
How to clean the Zwilling Enfinigy Drip Coffee Maker
The good thing about using filter papers is that you can easily lift the coffee grounds out of the appliance and it makes cleaning mess-free. I then rinsed the filter funnel and carafe after each use and wiped the hotplate if any drips had fallen on to it. A quick wipe over the rest of the machine keeps it looking great, fortunately the matte finish doesn't mark easily.
The carafe lid and aroma hopper (which is part of the lid) can go in the dishwasher along with the filter funnel, but this certainly isn't necessary after every use. The glass carafe is not dishwasher safe though.
As with all coffee makers, you'll need to descale the appliance periodically. It'll alert you when it requires descaling, by illuminating the descale light. Once you've added water and descaler, the process is automatic, so you can walk away and leave it. Then it just requires another run through with water to rinse away any residues.
How does it compare?
This high-end European coffee maker is one of the best drip coffee makers I've seen looks-wise, but it's not as robust as many on the market. If, like me, you're prone to a bleary eyed and somewhat clumsy approach to your morning coffee routine, you might want to consider a machine with a solid stainless steel carafe.
With its glass carafe and limited 30-minute hotplate time, the Zwilling Enfingy isn't the best option if you want a carafe of hot coffee that'll last for hours. In this case, the equally simple and similarly priced OXO 8 Cup Coffee Maker with its thermal carafe might just be what you're looking for. It lacks the handy programmable timer though.
The beauty of this coffee maker is in its simplicity. But if you want a drip coffee maker with different brewing modes and adjustable settings, I'd recommend you look at the Breville Precision Brewer Thermal Coffee Maker.
This coffee maker requires single use paper filters and arguably it would be more eco-friendly to have included a reusable metal mesh filter. But this becomes less of a concern if you buy compostable filters and add them to your home compost with the coffee grounds.
One notable point is that replacement parts are not readily available. So if you break the carafe or filter funnel, that's the end of the machine (unless you can source a suitable alternative from another brand). Ideally I'd like to see replacement parts and accessories that are easily replaceable to prolong the life of the appliance and reduce the environmental impact.
Should you buy the Zwilling Enfinigy Drip Coffee Maker?
There's no denying that this is a pricey coffee maker, but for the money you'll get a good looking machine that's easy to use. And if you want something that looks great on the counter whilst also being able to produce delicious drip coffee, without having to memorize the instruction manual, then I'd say it's worth the money.
If you want lots of adjustable settings and brewing options however, this isn't the machine for you. Likewise, the quality of some of the parts lets it down and if you need a super robust coffee maker that can stand up to knocks and busy family life, you might be better looking at other options. Plus, the 30 minute limit on the hotplate might be a deal breaker for those who want a pot of coffee that stays hot all morning.
Having said all that, it'll look great in a contemporary, minimal kitchen and it's not an appliance you'll want to hide away after use.