Breville Precision Brewer Thermal Coffee Maker review
The Breville Precision Brewer Thermal Coffee Maker is slim in shape but big on taste. See what makes it stand out from the crowd in our review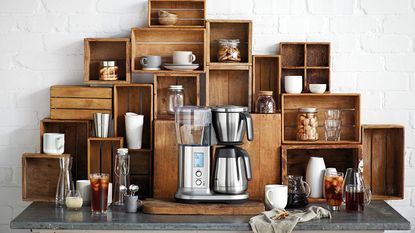 (Image credit: Breville)
If you're ready to elevate your coffee-making experience, the Breville Precision Brewer Thermal has enough bells and whistles to make you wonder why you didn't upgrade your coffee experience sooner. The coffee maker has six pre-set brewing modes, including Gold, Fast, and Cold Brew, and you can even customize and save your own settings. You can also control the temperature and flow rate. It's programmable, so you can set it to start brewing before you wake up. In addition, the thermal carafe keeps the coffee hot for a longer time.
Reasons to buy
+

Beautiful design and slim shape

+

6 preset brewing modes

+

2 filter baskets

+

Temperature control

+

3 flow rates

+

LCD screen

+

Stainless steel carafe
You can trust Homes & Gardens. Our expert reviewers spend hours testing and comparing the latest products, helping you choose the best for you. Find out more about how we test.
Although I've tested several dozen coffee makers, I was giddy with excitement at the thought of trying the Breville Precision Brewer Thermal Coffee Maker. Breville is well known for its quality coffee makers, and I wanted to see if this one lived up to its reputation among the best coffee makers. I was not disappointed – in fact, it's become one of my favorites. Here's why.
Who will the Breville Precision Brewer Thermal Coffee Maker suit?
The Breville Precision Brewer Thermal Coffee Maker is perfect for coffee aficionados who have discriminating taste and like to customize their cup of Joe to ensure that it's perfect. The six presets make it a good choice for people who like variety, and households with more than one coffee drinker. The coffee maker's small footprint makes it ideal for those without a lot of space, and the beautiful design appeals to people who believe aesthetics is as important as performance.
Breville Precision Brewer Thermal Coffee Maker: Specs
Water tank capacity: 60 ounces/12 cups
Dimensions: 12.4" x 6.7" x 15.7"
Weight: 3.15 pounds
Material: stainless steel
Filter Baskets: 2 (flat bottom and cone)
Brew modes: 6
Programmable: Yes
Warranty: 2-year limited product warranty
Breville Precision Brewer Thermal Coffee Maker: Unboxing/First Impressions
The coffee maker was packaged very well to ensure that it could withstand rough handling during the shipping and delivery process. Being encapsulated in thick, custom-shaped Styrofoam makes it practically impervious to dents, scratches, etc. Beneath the Styrofoam, the coffee maker and components are also wrapped in plastic for additional protection.
After unpacking the coffee maker, the first thing you'll notice is the sleek, stainless-steel design. Another thing you'll appreciate: it doesn't take up much space on your countertop. In addition to the coffee maker, the box's contents include the thermal carafe, brew basket, mesh basket filter, cone filter basket insert, 10 flat bottom basket paper filters, measuring scoop, water hardness test strip, and manual.
The two brew basket filters are an example of Breville's attention to details. The cone shaped filter basket insert (on the left) is better for brewing 2 to 8 cups of coffee. The flat bottom mesh basket (on the right) is better for brewing more than 8 cups of coffee. You also have the option of using paper filters instead of the mesh basket.
The water tank is large, so there's no need to worry about spilling water all over the place. The water indicator levels on the tank are in both ounces and cups, so you don't have to do any calculations. There are also MAX lines for a single cup, half a carafe, and a whole carafe.
The thermal carafe has a wide mouth so it's easy to clean.
Since water hardness can affect the quality of your brewed coffee, Breville includes a water hardness test strip. As with all coffee makers, you'll need to fill the water tank with cold water to flush it out before the first use. After you fill the tank, you can dip the test strip into the water, and then remove and wait one second to find out the hardness level. Then you can set the coffee maker's hardness level based on the test results. Setting the hardness level will determine how often you need to descale the coffee maker.
What is the Breville Precision Brewer Thermal Coffee Maker like to use?
The coffee maker has a start/cancel button, and an auto start button (for programming it to start at a specific time). All of the other functions are handled via the dial, and all of your choices are shown on the digital display panel.
You can also set the clock and adjust the volume using the dial.
The Breville is quite versatile and includes 6 brew modes:
Fast: when you want your coffee as soon as possible (under 7 minutes)
Gold Cup Standard: (this is the mode recommended by Breville since it has been certified by the Specialty Coffee Association)
Strong: for a more robust taste
Over ice: used to make stronger coffee to be used for pouring over ice
Cold Brew: uses full immersion method
My Brew: lets you customize each of the brew settings. These settings include:

Bloom time: (Breville recommends between 30 and 60 seconds)
Brewing temperature: (Breville recommends 197 to 204 degrees)
Flow rate: slow, medium and fast
The coffee maker is easy to use: pour in the desired amount of water, add coffee, select your settings, and press start. When the brewing cycle has finished, the coffee maker will beep 3 times (although you can change that setting if you don't want an audible notification). After the coffee has finished brewing, it will initiate the "time since brewed" feature on the clock.
I tend to use the Gold Cup Standard setting (why mess with perfection?). The Breville Precision Brewer makes a really good cup of coffee, without a lot of prep work or hassle.
Breville Precision Brewer Thermal Coffee Maker: Maintenance and Cleaning
Routine cleaning is quite simple. Both the coffee basket and mesh basket filter, as well as the carafe and carafe lid, can be rinsed with water in the sink. For a deeper cleaning, all of these items can be washed in warm soapy water with a soft bristle brush. The showerhead can be wiped down; however, for more intensive cleaning, the showerhead ring can be rotated clockwise to remove the showerhead.
The LCD will show a flashing DESCALE notice when it's time to descale the coffee maker. Pour a descaling solution (which can be purchased online) into the empty tank, and then put the basket and carafe in place as you normally would to make coffee. Press the SELECT button for 3 seconds to start descaling (the LCD will show "dSL" for 1 second and then start the countdown clock to let you know how much time is left before the descale cycle is over). Afterwards, brew 2 cycles of fresh water to remove any residue.
How does the Breville Precision Brewer Thermal Coffee Maker rate online?
Directly on Breville, the Thermal Brewer is rated a solid 4 stars, with many commenting how it brews excellent coffee and love its customization. Meanwhile, Amazon reviewers deem it worthy of a 4.5 thanks to it's intuitive settings, long last temperature and overall positive experience. Both sets of customers, however, noted that the machine likes to be cleaned, or descaled rather often. For me, I'm giving it full marks.
How does the Breville Precision Brewer Thermal Coffee Maker compare to other coffee makers?
Among premium coffee makers, I've tested a variety of coffee makers, including Wolf Gourmet, Bonativa Connoissuer, De'Longhi All-In-One, Braun Multiserve, Ninja-Dual Brew, OXO Brew, and Ratio Six.
The Breville Precision Brewer doesn't have the plastic components common in less expensive coffee makers – and also present in some higher-end brewers. Quality materials contribute to durability and Breville excels in this area. My model has a thermal carafe – and that's my preference so I won't have to worry about breaking the glass. In addition, a thermal carafe keeps the coffee hotter for longer. However, Breville also makes a model with a glass carafe. While glass vs thermal can come down to preference, most critiques of the Precision Brewer stem from the coating peeling on the hot plate, something you will not experience with its thermal counterpart.
Of note, the Breville Precision Brewer is one of a handful of coffee makers approved by the the Specialty Coffee Association for reaching the Golden Cup Standard, meetings the association's standards for water quality, coffee-to-water ratio, grind/particle size distribution with a temperature between 195 and 205 degrees, and a brewing time of fewer than 8 minutes. The brewer is often compared to the Technivorm Moccamaster, which is renowned for brewing bold, flavorful coffee with minimal fuss. Most similar, I find is the aforementioned 10-cup Braun MultiServe Coffee Machine, extremely comparable as well with its ability to choose from 7 cup sizes and over ice setting, among others. The Breville Precision Brewer, however, is one of the few in this class that can brew 12-cups with the customization to your precise specifications, proving that quantity and quality are not mutually exclusive.
Breville Precision Brewer Thermal Coffee Maker: Final Thoughts
The 6 preset and customization features make the coffee maker stand out – even at this price point. Not many coffee makers let you adjust the bloom time, temperature, and brew rate. I also like the 3 beeps to alert me that the coffee is ready.
Some people prefer to have a removable water tank so they can take it to the sink to fill with water or to clean. However, since the water tank has a wide mouth – and I use jugs of filtered water – I didn't consider that a problem.
Honestly, I can't think of anything I didn't like about the Breville Precision Brewer. It's not cheap, but the price reflects the materials, advanced technology, and customization features.
Breville Precision Brewer Thermal Coffee Maker: Where to buy
About This Review and Our Reviewer
Terri drinks (decaf) coffee every day – and can drink it with or in place of breakfast, lunch, or dinner. She has tested dozens of coffee makers – and can also find time to test more.
All our reviews, as in the case of the Breville Precision Brewer Thermal Coffee Maker, are based on the real-life experience of using these products at home. The products are given to us free of charge and we test them for as long as possible before sending them back to the brand unless we are able to keep them as we are with this coffee maker. This means that we can continue to use the product, which gives us the opportunity to return to our reviews for updating, so you can keep up-to-date with how it's fared over a period of time.
Sign up to the Homes & Gardens newsletter
Decor Ideas. Project Inspiration. Expert Advice. Delivered to your inbox.