OXO Brew 8-Cup Coffee Maker review: a reliable pot of coffee every time
It's not as fancy as the competition, but this workhorse gets the job done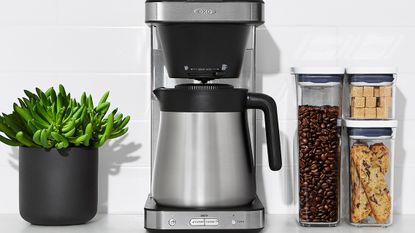 (Image credit: OXO)
Whether you're brewing coffee for one or a whole family, the OXO 8 Cup Coffee Maker is a solid choice for its ease of use and sleek design. It may not keep your coffee super warm over time and have all the bells and whistles like a coffee grinder or clock, but it gets the job done.
Reasons to buy
+

Includes small and large filter

+

Sleek design

+

Rainmaker showerhead

+

Podless to reduce waste
Reasons to avoid
-

Doesn't keep coffee warm for long periods of time

-

Doesn't include a coffee grinder

-

Water tank is not removable
You can trust Homes & Gardens. Our expert reviewers spend hours testing and comparing the latest products, helping you choose the best for you. Find out more about how we test.
Drip coffee is an undervalued stalwart of the coffee industry. While the big brands scrap over who can build the perfect espresso machine, drip coffee makers are rarely championed as cutting-edge technology.
However, they're just the thing for busy workers who don't have the time to obsess over the perfect shot of espresso. The OXO Brew 8-Cup Coffee Maker won't win any awards for innovation, but it doesn't need to.
When we put the the OXO Brew 8-Cup Coffee Maker to the test and found one of best coffee makers. It's simple, sure, but it's not trying to be complicated. If you want a drip coffee maker, this turns out reliable drip coffee every time. There's not much more you could ask for.
Aleenah Ansari is a freelance writer covering travel, wellness, and tech products, especially from BIPOC-owned businesses, and she also works as a product marketing manager at Microsoft. She tested this coffee maker in her home to see how it compares to the other appliances on the market.
OXO Brew 8-Cup Coffee Maker Product Specifications
Capacity: 64 fluid ounces (40 ounces in regular ounces, which I think is more intuitive to include)
Dimensions: 13.5 inches x 10.5 inches x 7 inches
Weight: 10.29 pounds
Materials: stainless steel, plastic
Filter Baskets: 2 (single serving and regular)
Settings: Single serving or carafe
Warranty: 2 year limited (requires receipt with purchase date)
Includes: base with rainmaker shower head, carafe, large coffee basket, single serving basket, 10 paper coffee filters
Setting up the OXO Brew 8-Cup Coffee Maker
The coffee maker arrives in a large box, wrapped in minimal protective cardboard packaging, which is environmentally friendly. It comes with a single-serving and regular coffee basket, and a coffee scoop. It included a manual, though I was determined to figure it out myself. This coffee maker has a rainmaker shower head, which ensures that water is evenly distributed over the coffee grounds. The metal finishes are modern and easy to wipe down if needed.
This coffee maker is primarily designed to be used with the large brew basket, though it also comes with a smaller filter and small brew basket, which holds two to four cups of coffee, for single-serve brewing. It also has a double-wall, vacuum-insulated thermal carafe with a brew-through, pour-through carafe lid, though you can swap in a mug if you're making a single cup of coffee. The design was modern and matches my other stainless steel appliances, so it's a welcome addition to my kitchen.
Using the OXO Brew 8-Cup Coffee Maker
This coffee maker was easy enough to use. However, the water tank isn't removable, so I usually used a large kettle (or my mug for a single serving) to pour in the water. This could be awkward if you struggle with mobility. Once you've added filtered water proportional to the amount of coffee you want to brew, choose whether you're brewing a mug or whole carafe and add your vessel under the spout. You have the option of brewing coffee for one using the smaller basket and mug, or brewing a bigger pot for multiple people and sticking to the regular carafe. Keep in mind that this coffee maker is designed to brew 8 cups, or 40 ounces, max.
From there, put a coffee filter into your filter basket of choice and add in your coffee grounds. Thankfully, one scoop of the included coffee scoopers corresponds to 1 cup of coffee, so it's easy to measure the right amount of coffee grounds. Snap the brew basket in place and slide the toggle to the single-serve cup icon or carafe icon, which activates the drip-free valve. When everything is set, press the power button and select either 2-4 cups or 5-8 cups depending on the quantity. While the coffee brews, keep the brew basket lid closed.
Taste test
Once the coffee has been brewed, you'll hear a single chime to let you know that it's ready to be served. The coffee was delicious and flavorful every time, and it helped that it was significantly less watery than the miniature coffee pot I've relied on. I also appreciated the minimalist and sleek design, which is why this is displayed proudly on my kitchen countertop at all times. The one downside is that the carafe doesn't keep the coffee hot for very long since it has a small hole at the top where stream escapes after brewing, so I recommend drinking it quickly or adding hot water to the water tank. There's also no auto start button, so you'll need to turn it on manually.
Cleaning and Maintenance
After use, you can rinse out the carafe with soap and let dry before using again. The brew baskets were dishwasher safe in the top rack. If the Clean button light on the coffee maker starts blinking, it will need to be descaled, which removes mineral buildup. To do this, fill the water tank with a descaling solution, which will need to be purchased separately. Then, switch to carafe mode and press the Clean button to run a clean cycle. Once the cycle is complete, the machine will chime and the Clean button light will turn off. Make sure that you refill the water tank and run a 5-8 cup water-only brew cycle, then discard all the water before using again.
How Does it Compare?
The OXO Brew 8-Cup Coffee maker gets the job done if you're looking for a reliable drip coffee maker. Plus, it's certified by the Specialty Coffee Association (SCA) and significantly cheaper than many coffee makers on the market. However, it doesn't include a coffee grinder, so you'll need to buy ground beans or get in another appliance for that. If you'd prefer to have more control over your brewing experience or have multiple coffee drinkers in your home, opt for the Breville Precision Brewer Thermal Coffee Maker since you'll probably make more use out of the presets. If you're interested in making a larger variety of drinks like lattes and cappuccinos, you should choose the Philips 3200 Series Fully Automatic Espresso Machine with LatteGo.
Is the OXO Brew 8-Cup Coffee Maker Worth It?
The OXO Brew 8-Cup Coffee Maker retails for $200, and it's worth it for anyone who brews coffee regularly, especially large portions for multiple people. It's sleek, reliable, and easy to use. The main con is that your coffee may not stay hot as long as other coffee makers, and it doesn't include some of the extra bells and whistles like a built-in clock or automatic mode if you wanted to brew your coffee at a certain time. However, it delivers a solid cup of coffee, which is what matters most.
Sign up to the Homes & Gardens newsletter
Decor Ideas. Project Inspiration. Expert Advice. Delivered to your inbox.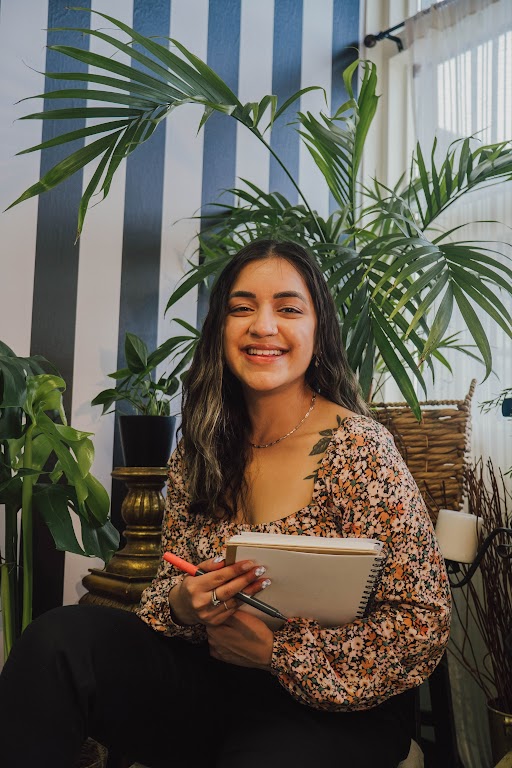 Aleenah Ansari is a freelance writer covering travel, wellness, and tech products, especially from BIPOC-owned businesses, and she also works as a product marketing manager at Microsoft. Her stories have focused on everything from what to pack for an Everest Base Camp trek to Live Tinted's product launches rooted in community feedback. She's an avid solo traveller, hiker, and mural enthusiast, often looking for her next adventure in Seattle and beyond.