Nespresso Vertuo Creatista: the best single-serve machine I've used
All stainless steel and style the Nespresso Vertuo Creatista is an incredible single-serve machine. It makes excellent single-serve coffee in minutes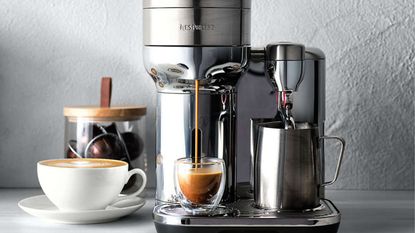 (Image credit: Amazon)
It might be expensive by the Nespresso Vertuo Creatista is an incredible single-serve machine. Not only does it look the part, it's easy to use, and makes an excellent coffee.
Reasons to buy
+

Looks professional

+

Easy to use

+

Makes good coffee

+

Excellent steam function
Reasons to avoid
-

Sometimes milk is too hot

-

Expensive

-

Wasteful rinse process

-

Large footprint
You can trust Homes & Gardens. Our expert reviewers spend hours testing and comparing the latest products, helping you choose the best for you. Find out more about how we test.
Sign up to the Homes & Gardens newsletter
Decor Ideas. Project Inspiration. Expert Advice. Delivered to your inbox.
Thank you for signing up to Homes & Gardens. You will receive a verification email shortly.
There was a problem. Please refresh the page and try again.
Ben and Jerry, Simon and Garfunkel, Homes & Gardens: there are a lot of iconic duos around. Nespresso and Sage are the newest and I think they're becoming one of my favorites too.
Single-serve coffee makers are brilliant for those who are always on the go: the pod goes in the machine and beautiful coffee comes out in a matter of minutes. Nespresso is responsible for some of the best single-serve coffee makers on the market. Combine their expertise with a touch of Sage's coffee geekery and you have a winning product. With all stainless steel and style, I think this is the best single-serve coffee machine on the market.
The Creatista is everything you would expect from these two coffee powerhouses. As the latest iteration of Nespresso's single-serve machines, it features its most premium touches. From a sensitive, automatic, self-cleaning steam wand, to slick operating and cleaning functions, this feels like coffee luxury.
I took this to our test kitchen where I made everything from espresso to cold brew. I have to give credit to this machine: it's incredible. The price tag is eye-watering, especially compared to other models, but if you like single-serve coffee and you want a high-spec machine, this is your bag.
Specificatons
Swipe to scroll horizontally
Specifications

| | |
| --- | --- |
| Dimesnions | 8.98 x 16.41 x 12.64 inches |
| Capacity | 2 liters |
| Material | Brushed stainless steel |
| Compatible pods | Vertuo |
Unboxing
Single-serve coffee machines have a reputation for being light and compact. This is the exception. In imitation of more substantial espresso machines, this takes up much more space on your countertop. However, in true Sage style, it looks the part. It would be at home on a barista's countertop with flashy systems and polished stainless steel.
When I first opened the box, there was lots of plastic around the machine. Once I had battled through the layers of plastic and peeled off the various stickers, my Creatista looked impressive and sparkly. If looks were everything, this would be a five-star machine.
The drip tray is magnetic, so easily slotted onto the base of the machine. Everything else was already assembled, so once I had filled the water reservoir, which annoyingly doesn't have a handle, the Creatista was ready to go.
Nespresso recommends rinsing the machine before use. However, you need to sacrifice a pod to rinse the machine, because it won't run without one. This feels a little wasteful, but it's worth it. You don't want any factory dirt or debris ending up in your cup of joe.
Who would it suit?
Confession time, I'm not normally a big fan of Nespresso machines, because the pods aren't re-usable. You can't even buy re-usable pods from Walmart, because your machine won't work with them. Not only is it bad for the environment, it's expensive too. However, I've bestowed a begrudging amount of praise on this machine since using it. It's fast, makes a good cup of coffee, and is incredibly easy to use. I've even recommended it to some friends.
It doesn't use fresh coffee, which isn't ideal, but the pods could give a surprisingly good flavor. If you're a busy person, who would normally grab a coffee from the machine at work, this is perfect for you. It might be expensive, but for working professionals, it's worth it. You won't have pre-infusion or precision brews, but you'll have a really good coffee in two minutes. If every commute started with a cup of coffee from the Creatista, I imagine the subway would be a better place.
What is it like to use?
Given how technical this looks, it's easy to use. The whole process is quiet, which is brilliant if you're the first one to leave the house in the morning. I didn't measure more than 64 dBA of noise, so it's only as loud as a normal conversation. Nespresso sent me a range of pods, from cold brew to their standard range. You'll have to buy these separately, but they're widely available and you can choose from a range of flavors from places like Walmart. I drank a concerning number of these coffees and was very impressed and very caffeinated by the end of my tests.
Espresso
Every good coffee starts with espresso, so I put my dedicated pod into the machine and closed the top. It took 40 seconds to dispense my espresso, which is longer than other machines, but I would put that down to 'warming up'. None of my coffee splashed up the back of the machine or out of my mug and it was 180 degrees Fahrenheit, hot enough to gulp down in one or enjoy in sips.
Nespresso coffees all have really good creams, which I would normally see as indicative of good coffee. However, the Nespresso machine can't extract a crema, so instead it spins the coffee to make a 'crema' top. It's an artificial crema, so don't be deceived by looks.
I wouldn't say that the coffee had a lot of depth, not like fresh coffee, but as coffee from a pod, it was good. My espresso was rich and a little sweet, just lacking artisanal notes.
Americano
Making an Americano is almost identical to an espresso. I just chose a different pod and the machine took exactly one minute to dispense me a good Americano. Again, it was the perfect temperature to drink and similarly delicious, if not a little flat. I don't think this machine will make you the best coffee of your life, but it will make a cup of joe that's good enough to get your out of bed in the morning.
Cappuccino
Ideally, you should always make your milk first and then brew your coffee, so to make a cappuccino, I started with the steam wand. The machine comes with a useful, stainless steel mug, which you can sit underneath the steam wand. The seat for your stainless steel mug is actually a scale that measures the weight of your milk. It uses the weight to calculate how long the machine should take to froth your milk. There are settings on top, which you can use to select how frothy and hot you want your milk to be.
The frothiest setting was about a 50/50 split of froth and milk; the middle setting was 30/70, and the lowest was 15/85 froth and milk. I'd recommend the middle for a cappuccino and the lowest for a latte. If you just want hot milk, you might have to warm it elsewhere.
I started with one cup of milk in my jug and the machine heated it to 165 degrees Fahrenheit, which is far too hot for milk. It should be 158 degrees maximum. I could see it getting too hot and, when I touched the side of my jug, it was boiling. Drinking that would burn your mouth. If you add more milk to the jug, even if it's only one more cup, the machine is much more gentle. With two cups of milk the machine still heated the milk to 155 degrees, which isn't ideal. However, by the time I was frothing three cups, it was fine.
The steamer can get a little froth-happy, but once you've mastered the controls, you can make some really glossy milk. By the end of the tests, I'd adjusted my milk frothing, so that it was perfect every time. Surprisingly, the steam wand worked better with oat milk. It never overheated, even though the foam was a little more aerated and less tight.
Once I added this milk to my coffee shot, it was well-balanced. The sweetness of the milk was a delicate contrast to the more acidic coffee that I had brewed. However, if you add milk that is too hot, you won't enjoy the same luxury.
At the end of the frothing, the best part of the steamer is that it self-cleans. You'll still need to wipe the nozzle, but it sprays water out of the end, so you'll never get sour milk clogging your wand.
Cold Brew
If you're a cold brew connoisseur, welcome to the fan club. I love a cold brew coffee, but I don't love a 24 hour brew time. Nespresso have dedicated cold brew pods, which range from watermelon cold brew across to classic cold brew. I tried both pods and was delighted with the results. The cold brews were smooth, sweet, and had almost no acidity to them.
The watermelon was not for me, but with some mint, ice, and sparkling water, I wouldn't blame you if it was your drink of choice this summer. The original cold brew pods were really good. In three minutes, I had a glass full of classic cold brew without any of the cumbersome prep. If there was a reason for me to buy this machine, it would be this.
Cleaning, Storage, and Maintenance
When you've finished with a pod, the machine automatically drops it into a pod bin. This has a capacity of eight pods, so you'll need to empty it quite often. The drip tray has a red marker, indicating when it's full. Again, after eight coffees, I needed to empty the drip tray. It's no surprise that the drip tray fills quickly because this is a relatively compact machine, which is always cleaning itself.
Whilst I love stainless steel, if you live in a hard water area, or tend to have grubby little hands in the kitchen, this professional marvel will look unkempt very easily. Always keep a microfiber cloth collection (like these from Walmart) nearby, ready to polish this machine back to perfection.
The Creatista can run maintenance cycles and will alert you when you need to intervene. You won't need to do much, aside from polishing and the odd rinse cycle, to keep this running smoothly.
How does it rate online?
This machine is really new to the market, so it doesn't have the thousands of reviews that many other single-serve coffee makers do. However, the reviews I found are all glowing.
Customers praise this for its appearance and intuitive functions. Even though it's expensive, lots of people say that they would buy it again. I found lots of customers who would never go back to cheaper models. It also feels like a high-quality coffee maker, so lots of people excitedly wrote about this being the last coffee maker they'll ever need to buy.
The people who weren't giving five-star reviews were those who prefer instant coffee to a $750 machine. It's bigger than other single-serve pod machines and a number of other reviewers noticed that it's high-maintenance to keep looking clean. These are all the criticisms I would expect for a bigger, more expensive machine, so there's nothing to worry about.
How does it compare?
Nespresso makes the best single-serve pod machines on the market, so if you don't want to spend $750, I would recommend looking at some of their cheaper models. The Vertuo Plus, which you can buy from QVC is a team favorite; a number of our expert testers have this model in their homes. At $180, it is a lot cheaper than the Creatista and is also much smaller. It doesn't have a milk frother, but you can buy the Aerroccino from Walmart and still save $500 compared to the Creatista.
If you want an integrated milk frother the Latissima One is a better option. It's $400, so cheaper than the Creatista, but it's also bigger. It's compatible with the original pods rather than the Vertuo ones, so easier to fill. The design of each is very different, The Latissima has a more simple, minimalist look than the technical Creatista. Different décor will suit different models.
Should you buy it?
I never thought I would like a Nespresso machine as much as I like this one. It's easy to use, it looks the part, and it can make a good cup of coffee. The milk frothing takes some adjustment, but once you've got it, you'll be making perfect coffees in a matter of minutes.
So, if you want a single-serve machine and you don't mind spending at the top end of the scale, you won't regret investing in the Creatista. However, if you aren't in the market for an $800 coffee maker, there are plenty of other options in our best coffee maker guide.
How We Test
Before we recommend a coffee maker to you, it has to pass a series of rigorous tests. Our team of coffee experts is always looking for the best coffee makers on the market. When we find one that's worth talking about, we call it in and take it to our test kitchen. Once there, our experts will make notes on everything. From unboxing and cleaning to espressos and Americanos. If a machine boasts special features, we'll test those too. You can find more details about how we test on our dedicated page.
Sign up to the Homes & Gardens newsletter
Decor Ideas. Project Inspiration. Expert Advice. Delivered to your inbox.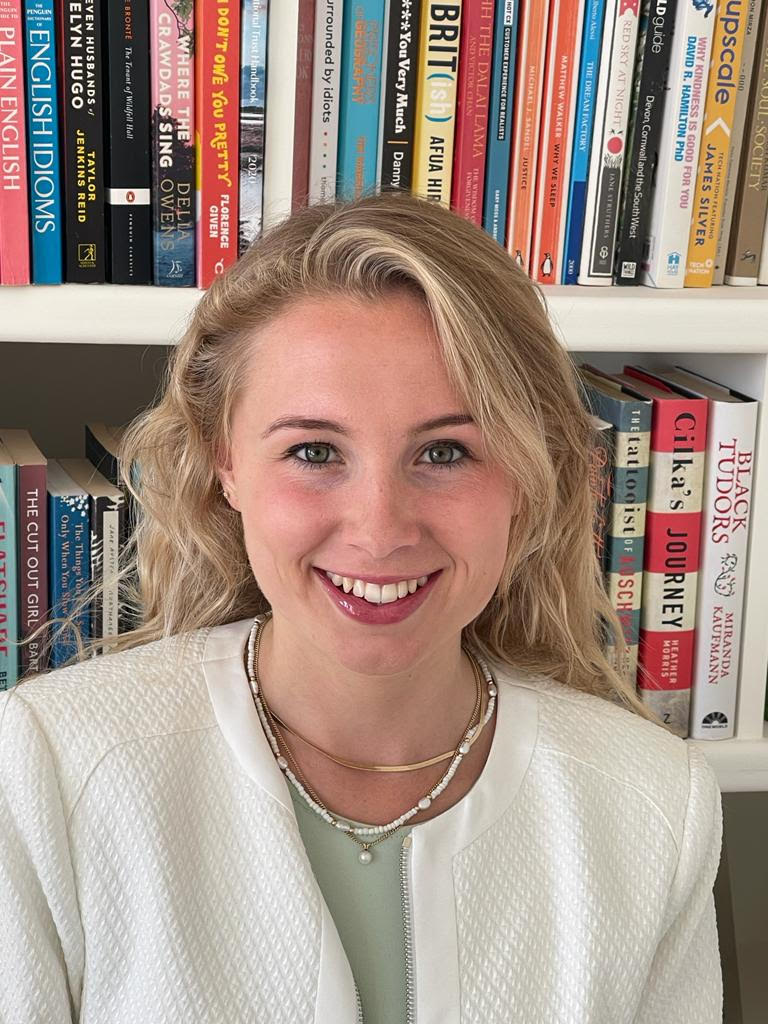 Laura is our eCommerce editor. Before Homes & Gardens she studied English at Oxford University. Alongside her studies, she qualified as a barista and trained as a master perfumer. This makes her our certified expert for all things coffee, candles, and fragrance. She has passed our five-step tests to become a certified Customer Advisor, making her our resident expert. Laura has worked for luxury retail brands, reinforcing the importance of quality and style over quantity and fads. She looks for products which have been designed with thoughtful finishes.