Jura ENA 8 review: a transformative coffee maker
Jura has raised the bar for quality coffee at home. Our Jura ENA 8 coffee maker review finds out if it's worth the investment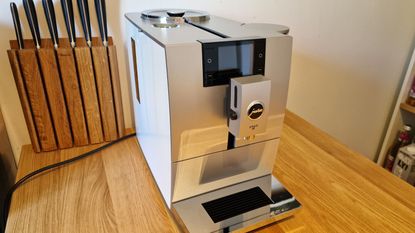 (Image credit: Future / Millie Fender)
Coffee-lovers will never go back once they've had espresso from the Jura ENA 8 coffee maker. While it could use a few functional extras to make life easier, there is no denying that this is a top quality coffee maker.
Reasons to buy
+

Quiet grinding

+

Fully adjustable settings

+

Sensitive to different water hardness

+

Works with grounds or beans

+

Removable water container
Reasons to avoid
-

Switches on from the back

-

Small bean container

-

Milk dispenser costs extra
You can trust Homes & Gardens. Our expert reviewers spend hours testing and comparing the latest products, helping you choose the best for you. Find out more about how we test.
Jura is known for making high-quality coffee machines that can cost well over $2000, but in this Jura ENA 8 review we ask if it's worth the investment. This bean-to-cup coffee maker takes all of the stress out of making espresso from home, and it even has the option of using a milk frother alongside the machine to create latte or cappuccino from your own kitchen. Most importantly though, we found that the Jura ENA 8 coffee maker is one of the very best coffee makers on the market for pure coffee quality.
If you are someone who cares a great deal about their coffee drinking experience, this machine will significantly improve your morning routine. As Small Appliances and Cookware Editor at Homes & Gardens, I have reviewed countless coffee makers over the years. I can honestly say that while there are machines on the market that offer more useful convenience features, I have yet to try a machine that brews grinds and brews espresso so sensitively, and that truly brings out the flavor profile of any bean you throw its way. Find out why I think this is one of the best espresso machines on the market in my full Jura ENA 8 review.
Jura ENA 8 review: specs
Model name: Jura ENA 8 15314
Water tank capacity: 34oz / 1.1 litre
Dimensions: W11" x H13.6" x L16.5"
Weight: 19lb / 9.4kg
Grinder: Multi-level AromaG3 grinder, with ground coffee chute
Grinder capacity: 125 grams
Variable settings: Strength and length controls
Power cord length: 3.6ft
Brew modes: Ristretto, Espresso, Coffee, Cappuccino, Espresso doppio, Macchiato, Latte macchiato, Flat white, Milk foam, Hot water
Warranty: 25 months
Setting up the Jura ENA 8
The Jura ENA 8 comes in a hefty box, but I was pleased to see that it's packaged as sustainably as I could hope for a premium coffee maker. There is an extensive control manual and plenty of extras such as a water filter and a coffee scoop for those who will want to add ground coffee to their machine.
The machine is easy to set up. Once connected to the power, the control panel walked me through the setup process. It comes with a strip of paper that you need to dip into your home tap water to gauge the water hardness in your area.
You then enter this into the machine, which helps it to deduce the level of cleaning you'll need to keep the coffee maker in top condition. This is not a feature I have seen in other coffee makers, and it's nice to see that Jura designs its machines to last long into the future.
The Jura ENA 8 does not come with a milk container, which is a shame given the machine's price. It is fully equipped to make milky drinks though, with an accessory set that includes a tube that you can insert into the side of the dispenser on the front of the coffee maker to froth your milk. In theory you could pop this tube into a glass of milk, but I would recommend using a milk container to complete the look of the coffee maker.
Jura did send me the glass milk container and the steel milk tube casing to get the full experience, which is great because I do really enjoy milky coffee. Setting this up was easy enough, and after the machine was flushed out I was ready to enjoy my coffee.
Making espresso
To make your coffee you need to press the power button, which sits at the far back of the coffee maker next to the coffee bean container. This does mean you need to reach, and I think it would have been better to place the power button in a more accessible place.
After switching on, the Jura ENA 8 heats itself and flushes its system fully, meaning you'll only get fresh coffee in your drink. It is definitely worth placing a cup underneath the dispenser for when the coffee maker flushes itself out, or you'll end up having to remove the underside of the machine (including the grounds container) on quite a regular basis to empty it.
There is a full-color control panel that you can use to scroll through your coffee options. You press the bottom right or left buttons to scroll along the options, and select your coffee using the top buttons. When choosing a shot of espresso you can choose to increase or decrease the strength and length of the shot, but it defaults to 40ml (or 1.4oz) unless you change this in the settings panel.
One of the design features that really makes the Jura ENA 8 really stand out is its light-up dispenser. When brewing espresso or black coffee, the machine illuminates the drink below it in an orange hue which emphases the crema. It's a luxurious experience, and this attention to design is reflected across the removable, circular water dispenser which slots seamlessly into the side of the machine, and the slightly forward-leaning curve of the front panel, which prevents it from looking too blocky.
I tried this machine with a number of different beans, and a mixture of specialty and store-bought varieties. I can confidently say that the Jura ENA 8 brings out the individual flavor of any coffee you put in it. My coffee never came out bitter or sour, and I could really enjoy the complexity of some of the more interesting coffee I get from various subscriptions.
While I do enjoy the occasional barista-style machine that allows you to grind and brew your own beans, there is no denying that removing the variables from the brewing process will allow your coffee to come out right every time. Especially if you opt for artisan, specialist coffee beans, it's worth choosing a machine like the Jura ENA 8 which will bring out the best of your brew in every shot.
Making milky drinks in the Jura ENA 8
The Jura ENA 8 does come with a tube that can be used to feed milk into the brewing unit on the front of the machine, but you'd need to place this into a rogue container of milk in order to use it, which is frankly not in keeping with the sophistication of the machine.
Jura sent me a milk dispenser to try with the ENA 8 which I was very grateful for. Its essentially a glass cup with a lid on top that houses a straw. You connect this metal straw to the tube through the top of the lid, and plug it into the side of the dispenser to make your milky drinks. You can then remove the milk dispenser and place it in the refrigerator when it's done.
For milky drinks, the light under the dispenser shines a cool white light on your milk as it brews. You can choose from Cappuccino, Macchiato, Latte macchiato, and Flat white when choosing your drinks, and all of these are dispensed differently. For a macchiato you'll get your foamed milk dispensed first and it will then be topped off with an espresso which sits directly under the milk foam, creating a distinctive latte macchiato finish.
Image 1 of 3
The Jura ENA 8 making a latte macchiato
My favorite drink to have in the Jura ENA 8 was a cappuccino, which has the perfect proportion of coffee to firm frothy milk. This comes out with a fine micro-foam that's consistent and long-lasting.
With the milk drinks though, I would've preferred it if the Jura had come up with a way to flush out the milk tube after each drink. This is a feature I've seen in the De'Longhi Dinamica Plus, where the milk system flushes itself out after each use. With the Jura I had to rinse the tube under water to remove lingering milk from the tube and prevent it from going sour.
Daily use
The Jura ENA 8 got a lot of use when I tested for a couple of months in my kitchen. In a household where where we get through six coffees a day easily, it's fair to say that we had to refill the 1.1 litre water tank on a regular basis. This was not so bad because it lifts easily away from the side of the machine, but the trickier task was topping up the bean hopper at the back of the machine.
Most of the coffee I buy comes in 250g bags, and the bean container in the Jura ENA 8 takes half of this - 125g. We refilled it every couple of days, which required reaching under a kitchen counter and aiming carefully to avoid spilling any beans. There is also a ground coffee chute closer to the front of the machine, with a paddle that opens it next to the chute. This is quite small and when I did make decaf coffee with it I found that it was hard not to spill any grounds around the outside of this area, which required wiping it up. It's not an issues if you don't plan on using ground coffee very often - and to be honest, why would you when the Jura ENA 8 grinds so well - but something to keep in mind for houses with caffeinated and decaf drinkers.
The Jura ENA 8 reminds you to refill the water tank, empty the grounds container and top up on beans where necessary. I did find that where I made a double espresso, the machine would stop after the first shot if it ran out of water or beans, and I'd have to re-program for a second shot as opposed to it automatically resuming when beans are added.
Another element is that the grounds container is quite small. It needed emptying as often as once per day (like I said, we drink a lot of coffee so this may not apply to everyone) and when you do empty it you need to pull away the entire front drip tray to reach it. The entirety of the drip tray is attached which means you need to pull away quite a large slab of plastic to empty and clean it.
Cleaning the Jura ENA 8
Every 300 uses, the Jura ENA 8 will remind you to clean it. There are a few different symbols that indicate that the water filter needs switching out, that the milk frothing system requires a deep-clean, and that the entire brewing unit needs cleaning.
Cleaning out the milk brewing unit is really easy to do, as the machine walks you through the entire process. You use shot of descaling pellets and place it inside a dedicated cleaning container into which you insert the milk tube. It pulls the water, with the dissolved pellets, through the machine and ejects the dirty water out of the coffee dispenser. You then rinse this out with clean water.
To clean the machine itself, you take a tablet and place it in the ground coffee chute. You then top up the water container and let the machine flush itself out, before emptying the drip tray and rinsing with clean water.
Descaling is easy enough too. You dissolve a descaling tablet before adding to the water container, and run a descaling program through the settings panel on the machine interface.
How does it compare?
The Jura ENA 8 is an expensive bean-to-cup espresso machine, and there's no denying that it won't be an option for every household. Alternatives like the Philips 3200 Series Fully Automatic Espresso Machine work in a similar way but at a lower cost.
That said, the Jura definitely made the best failsafe espresso I've tried from an automatic machine. There is next-to-no margin for human error, which will be perfect for coffee-lovers who don't fancy themselves a budding barista, or who don't like the mess that comes with home grinding and brewing in separate units.
Another comparable model is the Café Affetto Automatic Espresso Machine, which grinds and brews espresso but has a milk wand for hand-steaming. This is a good option if you prefer to work on your latte art, and it's a chic choice that comes in a range of kitchen-friendly colors. This is only backed by a one-year warranty though, which is lower than Jura's 25-month cover.
Should you buy the Jura ENA 8
The Jura ENA 8 won't be in the budget for every coffee-lover, but it's a machine that is built to last for years to come, and definitely the kind of investment you'll thank yourself for making if you enjoy fresh espresso and milky drinks every morning.
In testing I found that the grounds and water container, and the bean hopper were a little on the small side for the scale of coffee-drinking I'm used to, but thoughtful touches such as a removable water tank made this easy enough to power through on a daily basis.
What impressed me most was the sleek design, and the quality of the espresso I was able to make in this machine. Never sour, never bitter, always quietly ground and luxuriously poured into my mug. It's a ritual you'll get used to very quickly, and it's definitely raised the bar for me when it comes to drinking coffee on a daily basis.
About this review, and our reviewer
Millie Fender is the Small Appliances and Ecommerce Editor at Homes & Gardens. She is constantly reviewing new appliances both in her London apartment and in our dedicated testing kitchen, recommending only the very best to our readers.
In a former life Millie served up lattes and americanos to customers on a daily basis, so she knows a thing or two about how to make great coffee. She's also reviewed countless coffee makers over the years, meaning she can compare the Jura ENA 8 to other options on the market in this review. Jura kindly loaned millie the ENA 8 for the purposes of this review, and she was fortunate enough to use it for three months in her kitchen before returning it. This means she knows how well it slots into daily life, and has become familiar with ease of use and any annoyances you may encounter over time.
Sign up to the Homes & Gardens newsletter
Decor Ideas. Project Inspiration. Expert Advice. Delivered to your inbox.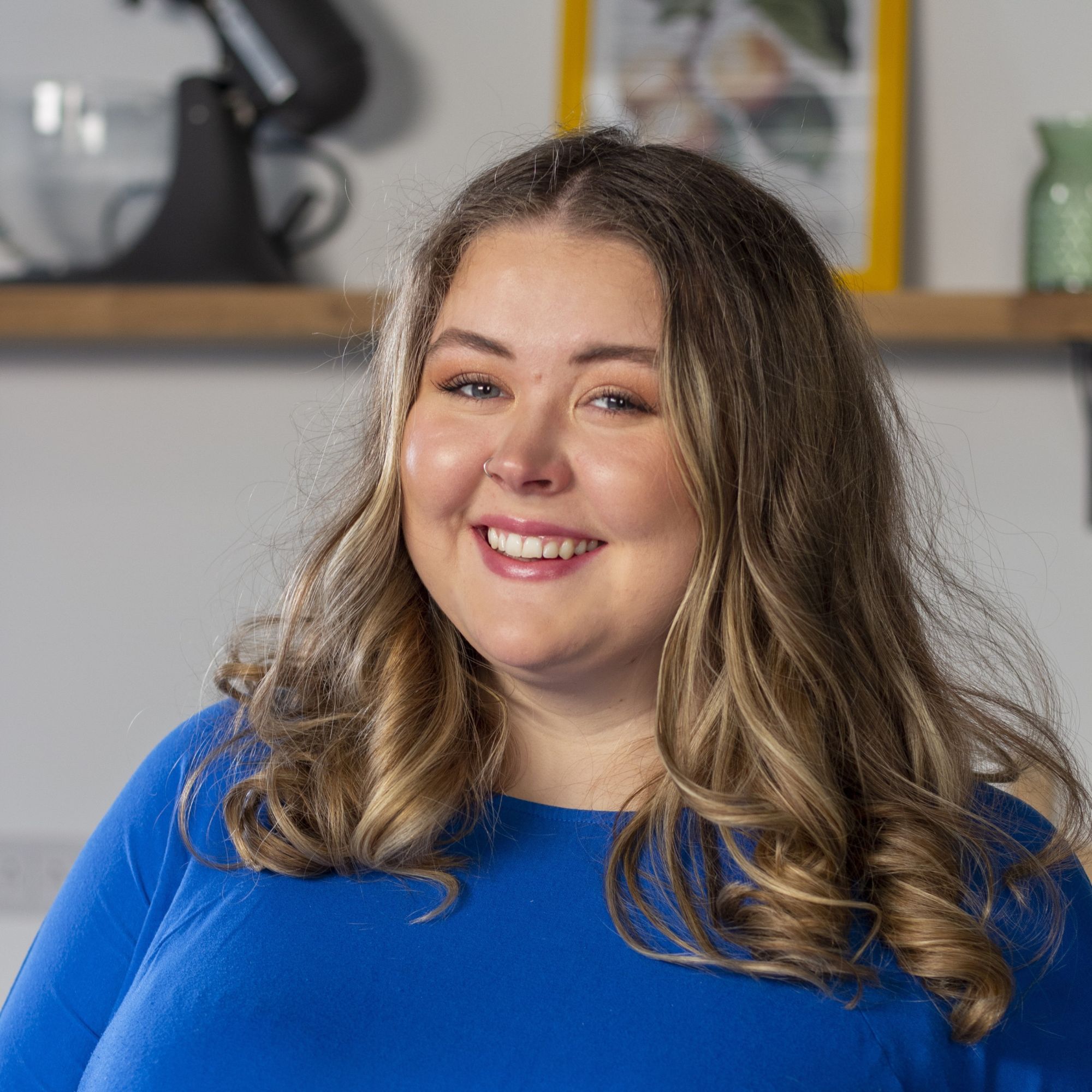 Millie Fender is Head of Reviews on the Homes and Gardens Ecommerce team. She specializes in cooking appliances, such as the best kettles, and also reviews outdoor grills and pizza ovens. Millie loves to bake, so she will take any excuse to review stand mixers and other baking essentials. When she's not putting products through their paces in our dedicated testing kitchen, Millie's reviews are conducted at home, meaning she uses these products in her own day-to-day life.