De'Longhi Eletta Explore – 50 perfect coffees at the touch of a button
The De'Longhi Eletta Explore offers over 50 different types of coffee, so there's something for everyone with this premium machine. I'm a barista and I love it.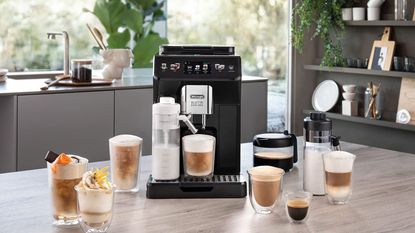 (Image credit: Future)
This is an incredibly competent bean to cup machine. You won't have to lift a finger to achieve coffee perfection, you'll just need to get saving.
Reasons to buy
+

Stylish

+

Intuitive to use

+

Makes cold coffee as well as hot

+

Relatively small footprint
Reasons to avoid
-

Expensive

-

Choices could be overwhelming for some
You can trust Homes & Gardens. Our expert reviewers spend hours testing and comparing the latest products, helping you choose the best for you. Find out more about how we test.
Sign up to the Homes & Gardens newsletter
Decor Ideas. Project Inspiration. Expert Advice. Delivered to your inbox.
Thank you for signing up to Homes & Gardens. You will receive a verification email shortly.
There was a problem. Please refresh the page and try again.
I'll get straight to it, the De'Longhi Eletta Explore is incredible. It's expensive, but really, truly incredible.
As a barista, so I'm much more comfortable with espresso machines where I can grind and tamp my coffee by hand. However, the Eletta Explore has me reconsidering.
This is undoubtedly one of the best coffee machines on the market. It has a smartphone quality touchscreen panel, it's incredibly easy to use and it can make 52 different coffees. With that many options, it almost gets excessive. Almost.
I took this to our test kitchen to put every feature to the test. I could talk about how much I love it it all day, but there are plenty of details you need to know. That's because the catch with this machine is that it will cost you $2000.
Specifications
Swipe to scroll horizontally
| | |
| --- | --- |
| Dimensions | 17.5 x 10.25 x 15.13 inches |
| Materials | Brushed stainless steel plastic |
| Weight | 4 lbs |
| Capacity | 61 fl oz |
| Brew type | extraction |
| Coffee types | 52 |
Unboxing
De'Longhi are getting really good at environmentally conscious packaging. This arrived in a massive, heavy box, so I was pleasantly surprised when I found that it was protected with cardboard and recyclable bags.
In true De'Longhi style, this arrived packed with extras. The machine comes with a stylish travel mug, hot milk frothing attachment, cool milk frothing attachment, and much, more more. It's everything you need to make good coffee. My one quibble here is that it's a lot to store - you'll need a drawer to keep these safely together, but each one is useful. Complaining that you get too many freebies isn't fair/
De'Longhi are also brilliant with the set up process. Once I plugged the machine in, the screen instructed me to fill the bean hopper and water reservoir before it rinsed itself and was ready to go. I believe anybody could do this. It's ridiculously easy.
Who would it suit?
The first discriminator for this coffee maker is the price. At close to $2000, you have to be ready to splurge. By way of rough price comparison, if you buy a coffee from Starbucks every day, you will make your money back on this in 400 days. You will be back in pocket after a year and a month but it's a huge upfront investment.
Next, this is a very hands off coffee machine. If you don't want to faff, but you want really good, quality coffee, you'll enjoy using this machine.
The people who will get the most out of this coffee machine will enjoy a range of hot and cold coffees. This has everything from a basic espresso to an iced espresso and cold brew option. You can be adventurous all year round and you'll want to be for the price.
What is it like to use?
I'm desperately searching for a critique of this machine so that I can sound a little less like an advertisement, but I can't. It was a joy to use.
Test 1: Espresso
I start all my tests with an espresso. This required me to simply press the espresso button and the machine ground my beans and pulled a shot. It was surprisingly quiet for a bean to cup machine. I logged only 64 dB of noise, which is exceptional. My shot was well extracted and beautifully aromatic. Some of the coffee splattered along the back, but only a little.
Test 2: Americano
Making an Americano followed a similar process. It was 190 Fahrenheit and slightly sweet. I tried adjusting the strength on the personalised settings and was pleasantly surprised by how distinctive the different notes were. This is proof that even if you are a meddling barista like me, you can make your mark.
Test 3: Cappuccino
There are hot and cold milk foamers to make any coffee you require. I tested it on both oat and dairy milk and it was impressive all round. My milk was silky smooth and velvety. I didn't have any unwanted air bubbles spoiling the texture, even when I frothed cold oat milk. This is why you have to pay the big bucks.
Cold brew and iced coffee
I couldn't resist making a cold brew. These normally require at least a 12 hour brew, but in under five minutes I had a perfect cold brew. It was slightly acidic, so not the best cold brew coffee maker, but as a fan of these drinks, I would willingly use this and safe myself the hassle.
Cleaning, Storage, and Maintenance
This is a machine designed to display. It's smart and sleek, but also big and heavy. You'll need to make room on your countertops for this.
The machine self washes when it thinks necessary and will warn you to place a cup underneath. I made ten coffees before I needed to clean out the grounds container, so it was a generally low maintenance machine.
It didn't drip, but I would recommend having a microfiber cloth to hand to clean any splashes or finger marks on the screen away.
How does it rate online?
This is, of course, incredibly popular online. People loved the hot and cold milk frothing functions and all found this easy to use. I found lots of comments about the cold brew function, which is clearly a big hit. Lots of customers also liked that their travel mugs can fit under the spout, which is a common problem with many other machines.
I loved the range of coffee options, but I'm a barista. Some people found the list to be overwhelming. It's a nice problem to have, but does highlight that for some people, simple is better. I saw a reviewer who found the grinder to be quite loud, but at 64 dBA, this was one of the quietest bean to cup machines that I've tested. Grinders will never be silent, but I think this is pretty good.
How does it compare?
If you're in the market for the Eletta Explore, you'll probably browse our guide to the best coffee makers , where the Philips 3200 Series takes top spot.
The Eletta Explore can make nearly 50 more types of coffee than the Philips and it can froth cold milk as well as hot. This makes the Eletta Explore much more versatile, so if you will always be trying different coffees, this is the one you'll need.
However, for the average coffee drinker, buying the Eletta Explore means that you'll pay $1,000 extra for features that you don't really need. The Eletta Explore is quieter and smarter and the adjustable settings means that you won't suffer from the small sizes that the Philips 3200 delivers, but you need to weigh up the costs. Both machines will make excellent quality coffee, so if you know you'll only want six different types, you can save money and space with the Philips 3200.
Should you buy it?
If you have the money to spend, I wouldn't question it. You should buy this coffee maker. It's a delight to use, feels extremely premium, and I started saving to buy one for myself as soon as I finished using it. However, if you just want simple, tasty coffee, there are plenty of other options on the market.
How We Test
Before we recommend a coffee maker, we take it to our test kitchen. Here, we use it to its full capabilities, so that we get a sense of who it would suit and how well it performs.
If an espresso machine has an integrated grinder, we test that first. Then, the marker of any good machine, we make an espresso. Once we have made those two, we make an Americano by adding hot water to an espresso and a cappuccino by adding frothy milk to an espresso. This means that we get to test the steam wand and hot water dispenser, if the machine has them.
We also unbox, clean, and store every machine. That way, we get a holistic experience with the machine. We base our feedback on a range of criteria: the coffee needs to taste good, the machine should be ergonomic and easy to use, and we love innovation.
Our team of experts are all well versed in appliances and testing. In particular, our barista, Laura, tested this coffee maker. She has used a range of espresso machines, from commercial and pricy, to compact and affordable, so is ready to deliver a good analysis of every appliance. You can find out more on our dedicated how we test coffee machines' page.
Sign up to the Homes & Gardens newsletter
Decor Ideas. Project Inspiration. Expert Advice. Delivered to your inbox.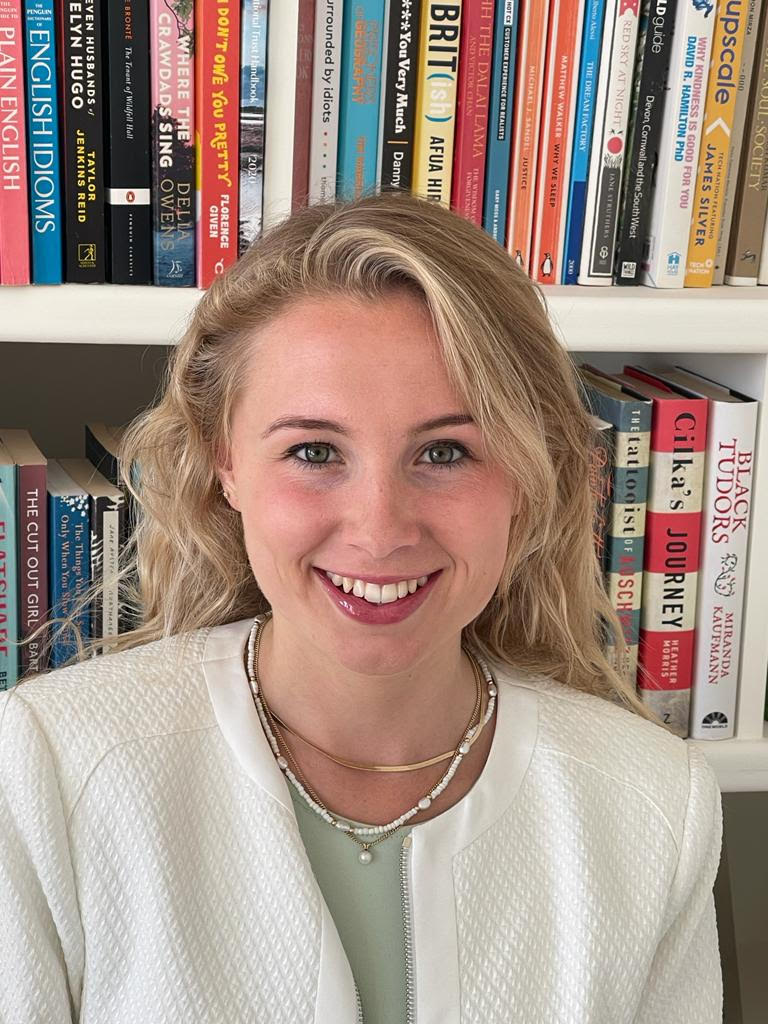 Laura is our eCommerce editor. Before Homes & Gardens she studied English at Oxford University. Alongside her studies, she qualified as a barista and trained as a master perfumer. This makes her our certified expert for all things coffee, candles, and fragrance. She has passed our five-step tests to become a certified Customer Advisor, making her our resident expert. Laura has worked for luxury retail brands, reinforcing the importance of quality and style over quantity and fads. She looks for products which have been designed with thoughtful finishes.