'Designers are saying gray is dead – I say long live gray-green': how to use the new gray
Timeless, elegant, calming – there is a lot to love about a serene gray green. Design experts show us how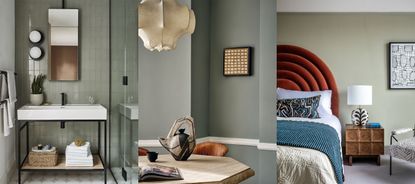 (Image credit: Kate Guinness Design | Francesca's Paints | Gunter & Co.)
Gray-green is having a moment. And no wonder: post-pandemic, cooler neutrals such as gray and white are being replaced by warmer, more inviting neutrals.
Recently, we asked what color is replacing gray? And while many of us are happy with the answer (beige), others of us love decorating with gray, and are finding it hard to move on.
Enter: gray-green, a warmer, muddier tone than traditional, cooler grays, and one that's the perfect middle ground. 'An amalgamation of gray, green and bluey brown, this shade has a moody, sophisticated feel and adds great depth to interiors. It is perfect for hallways and drawing rooms, and would work well as a background color for artwork,' says Francesca Wezel, founder of Francesca's Paints.
We asked design experts how to use it.
After years working as a colorist and manager of various Porter's Paints shops throughout Sydney, Francesca Wezel returned to London and founded Francesca's Paints in 1996, an artisan paint studio based in Battersea.
How to use gray-green at home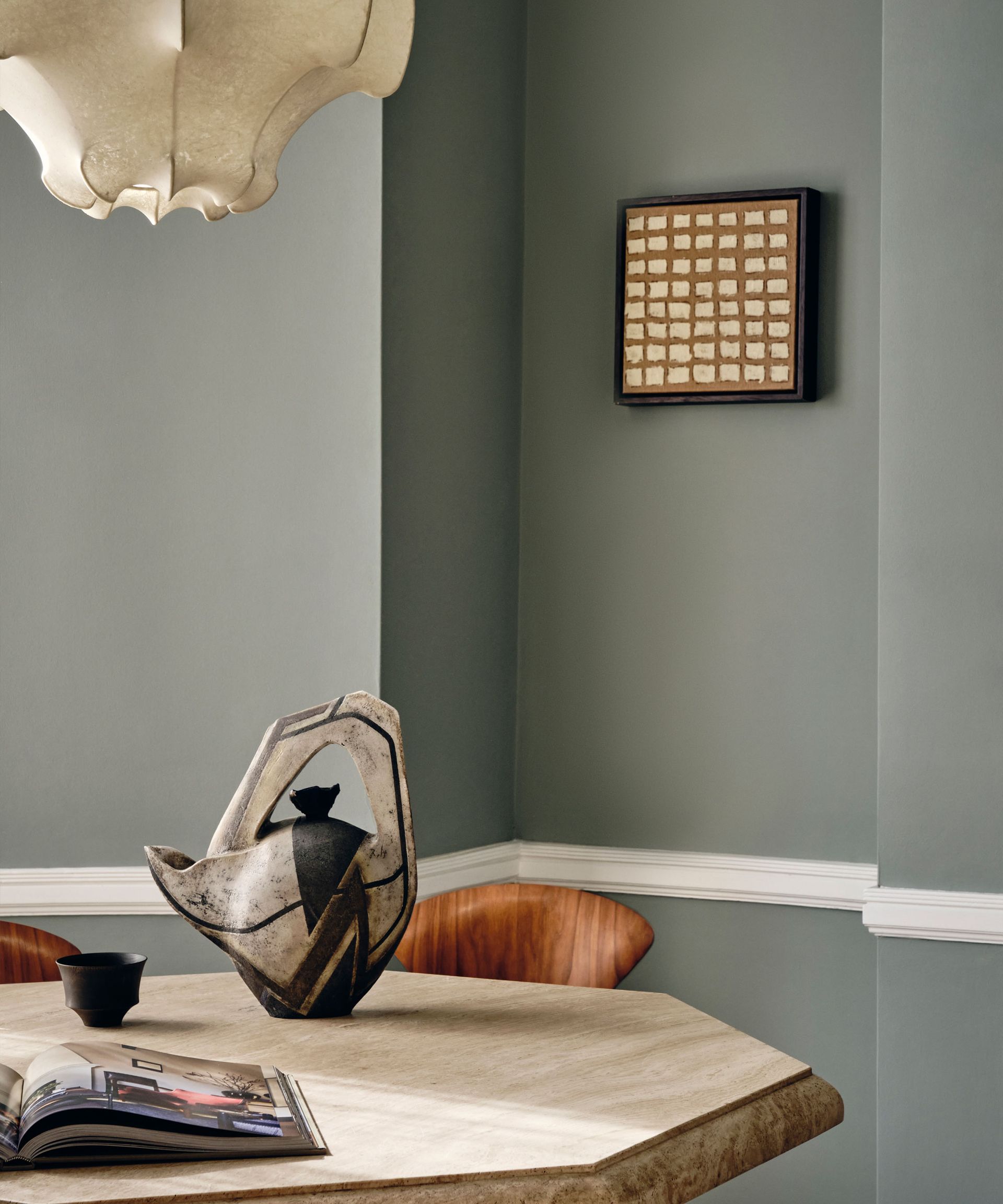 'Designers are saying gray is dead – I say long live gray-green,' says Lucy Searle, Editor in Chief, Homes & Gardens. 'Color trends come and go, but this warmer tone has real longevity, thanks to its neutral nature.
'Use it as a moody but inviting backdrop for natural materials, such as wood, as in the space above, or as a more sophisticated alternative to decorating with green. It's one of the most versatile room color ideas I've seen for a while.'
Lucy has written about interiors, property and gardens since 1990, working her way around the interiors departments of women's magazines before switching to interiors-only titles in the mid-nineties. Lucy has been at Homes & Gardens for nearly three years. She is a serial renovator and loves to use paint to reinvent her interiors.
1. Create a calming backdrop to colorful accessories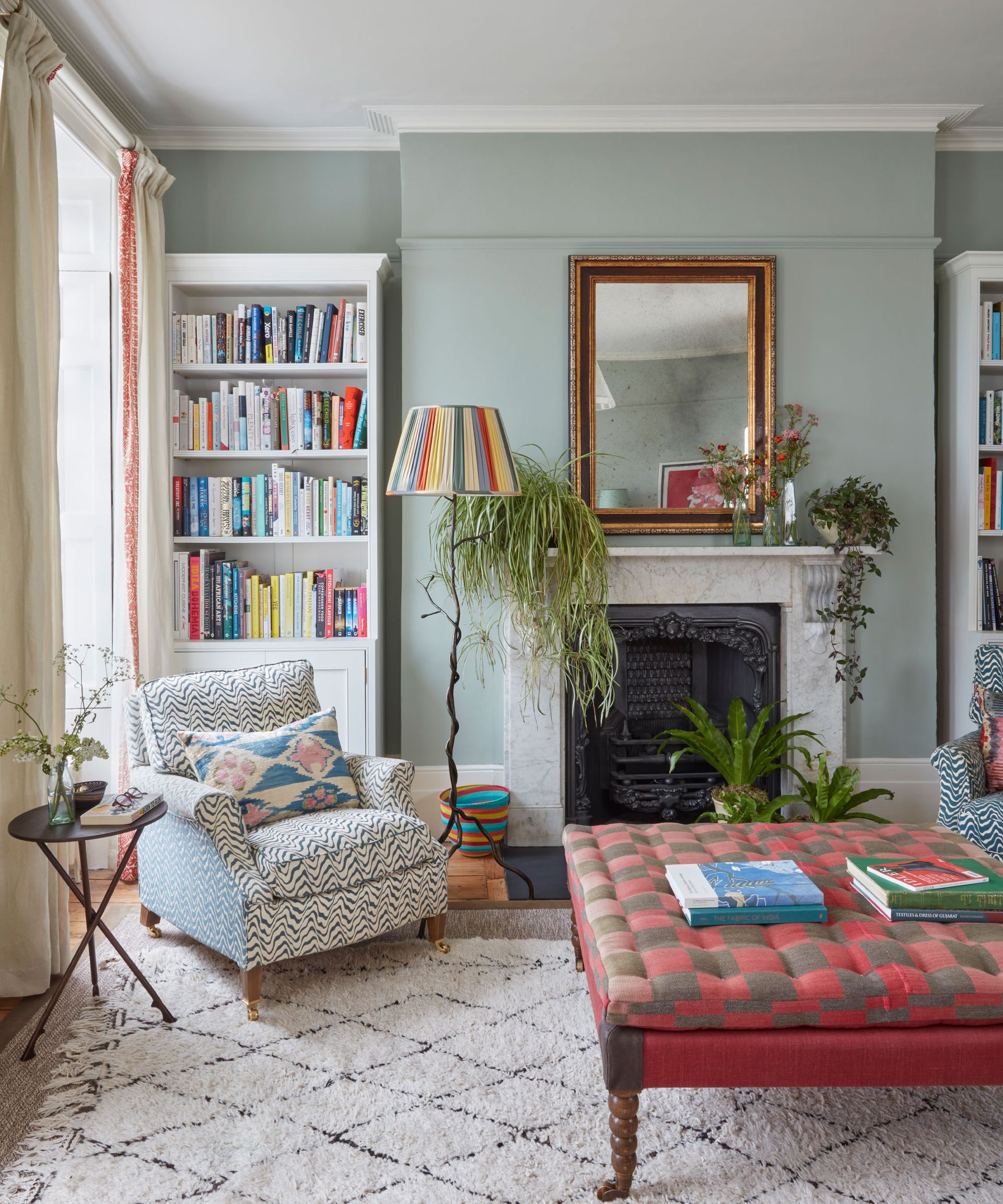 A beautiful example of green living room and gray living room ideas combined, the gray-green on the walls of this space provides the perfect, calming backdrop for the color and pattern used across the upholstery, accessories and lighting.
'We chose this color for the walls as we wanted to embrace a sense of calm in this first-floor drawing room overlooking the Thames. I also like that its gray-green hue gives the room a timeless, elegant feel,' says interior designer, Kate Guinness.
You can choose accent colors for gray to comfortably coordinate with gray-green.
Kate Guinness launched her design and decoration studio, based between West London and Wiltshire in the UK in 2016, and has extensive experience working on both residential and commercial projects.
2. Pair with black and white for a sophisticated look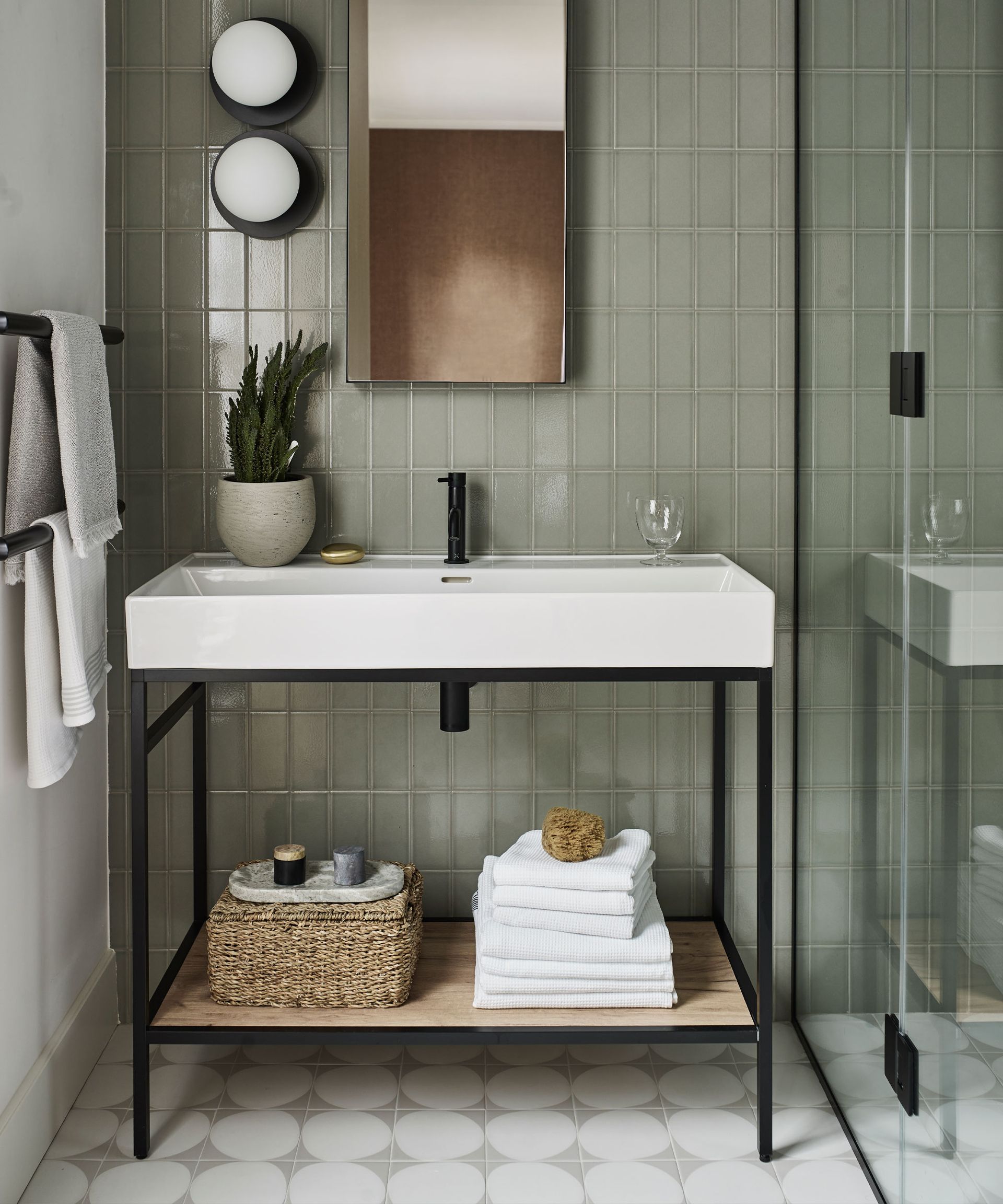 'Combining muted green with black and white decor works well. Muted green is one of those colors that very much needs to stand alone because it inevitably comes off worse when placed next to very strong hues, which will dull its subtlety,' says Irene Gunter, founder, Gunter & Co.
In this modern bathroom, the gray-green tiles establish a wonderfully relaxing feel, with the space highlighting an elegant, contemporary take on green bathroom ideas.
Irene Gunter founded London-based interior design firm, Gunter & Co, in 2014, with previous experience working at a whole host of London's top interior design studios, and has completed projects everywhere from the English countryside to the Côte d'Azur.
3. Integrate gray-green into a more traditional setting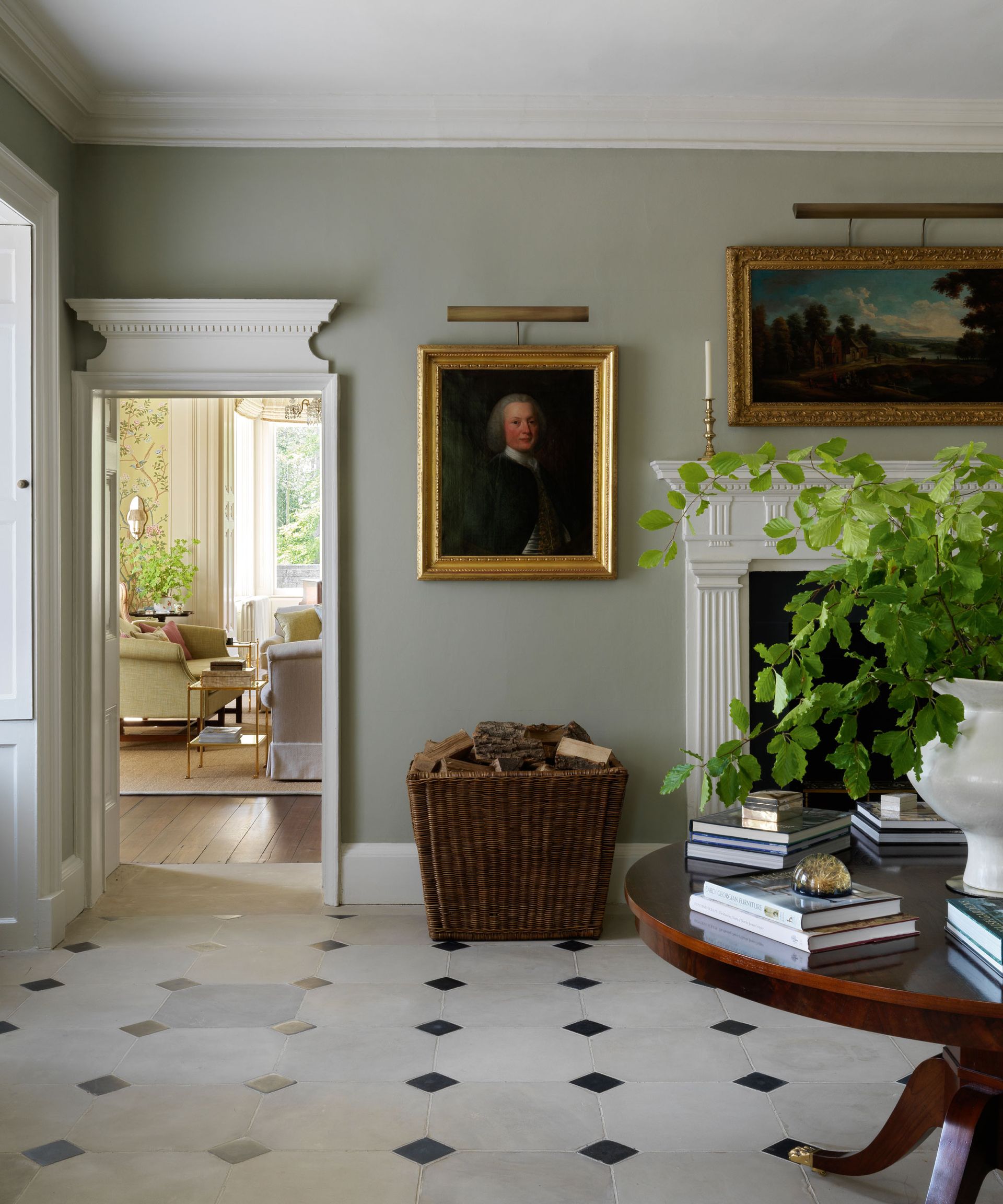 'We used Farrow & Ball's French Gray to paint the entrance hall of this 500-year-old home. The green undertones of this shade work well with the white door lintel, bringing a fresh and natural look to the space,' says Louise Wicksteed, design director at Sims Hilditch.
This use of gray-green beautifully complements the entryway; a great look to consider for more classic green hallway ideas, too. The color works with the wooden table and wicker basket to create an inviting, indoor-outdoor feel, perfect for an entrance space. The gray-green also provides a grounding and calming backdrop for the antique paintings, providing them with the focus and recognition they deserve.
Director at UK-based interior design firm, Sims Hilditch, Louise Wicksteed has been with the brand since 2019, and has extensive experience working as an interior designer for many design firms in the UK.
4. Unite gray-green with an eye-catching accent color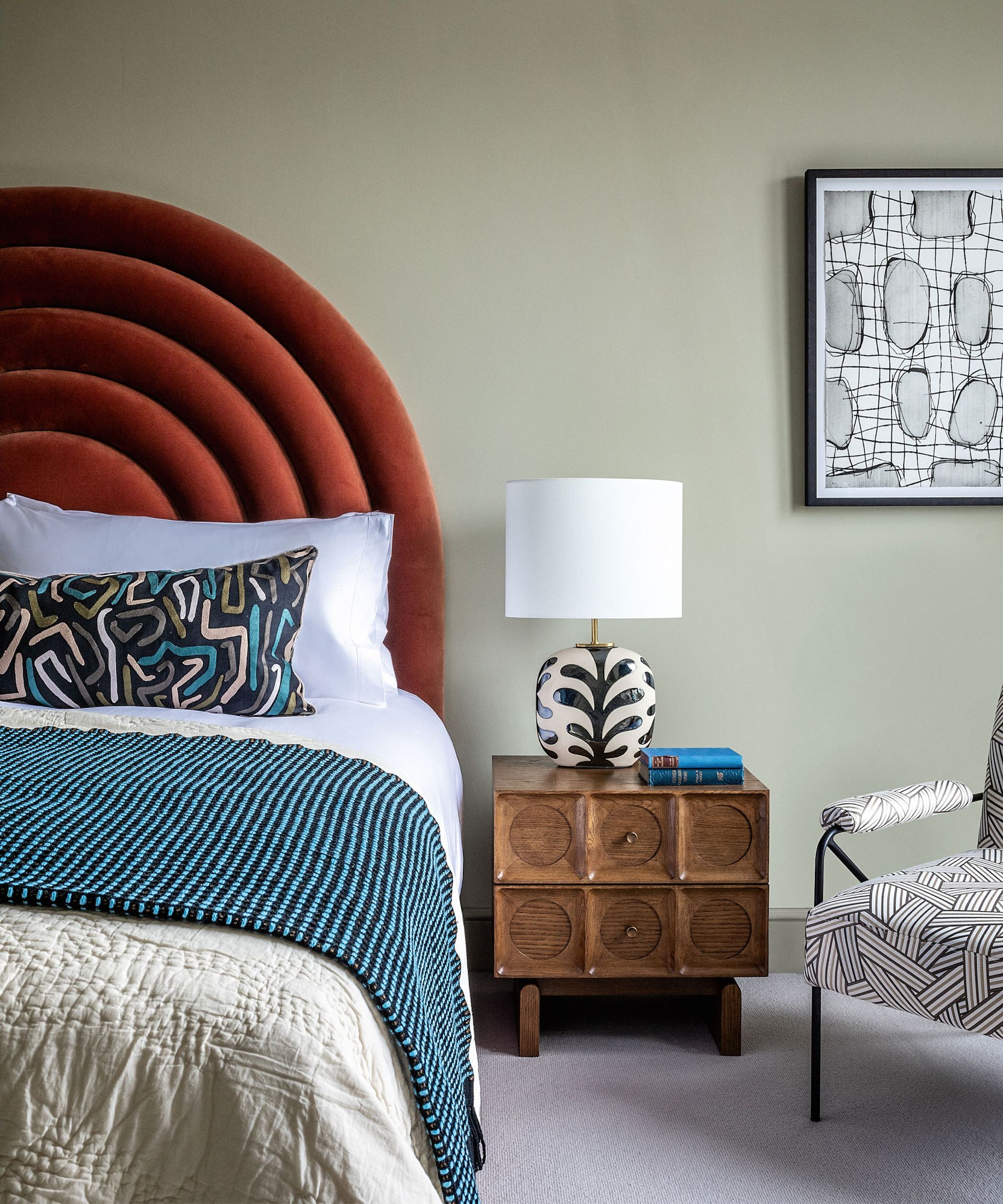 'As it has this mercurial quality, green-gray works well with an array of other colors. Here, we've paired it with rust velvet, putty pink and sapphire blue. It also works with caramel tones and chalky off-whites. It's a versatile base palette,' advises Richard Angel, co-founder and CEO, Angel O'Donnell.
This adaptable shade not only coordinates with other calming neutrals, it can establish a beautiful contrast with bold brights, helping to achieve a harmonious and eye-catching color pairing and sense of balance in a space – for further guidance on color pairings, you can explore how to use the color wheel for interior design in our dedicated feature.
Ruth Mottershead, creative director at Little Greene, also adds, 'Greens are often relatively neutral. They are neither too warm nor too cool – this makes them very versatile, they can be used in lots of different ways in different spaces regardless of the tone of light.'
We explore other colors that go with green in our dedicated feature.
Co-founder with Ed O'Donnell of London-based interior design studio, Angel O'Donnell, Richard has a wealth of experience in residential property and interior design – advising The Crown Estate and high-net-worth individuals in Britain, North America, Asia and the Middle East.
Ruth Mottershead is creative director of the family run paint and wallpaper businesses Little Greene and Paint & Paper Library, who specialize in creating luxurious paint and wallpaper that represent 300 years of decorative history.
FAQs
What is a grayish green color called
Gray green is often referred to as Xanadu, and is named after the philodendron xanadu plant, which has gray-ish green leaves.
What colors go with gray green?
The same colors that go with sage green go with gray green, since the two shades are (almost) synonymous. These include all neutrals, woody tones, other greens and grays, then warmer shades, such as pinks, reds and burnished spice tones.
---
A versatile neutral that can create a soothing and serene atmosphere in the home, gray-green is definitely taking the design world by storm.
The shade can coordinate with both calming neutrals and bright accents with ease, creating a versatile and timeless color scheme that can grow and adapt with an interior space for years to come.
Sign up to the Homes & Gardens newsletter
Decor Ideas. Project Inspiration. Expert Advice. Delivered to your inbox.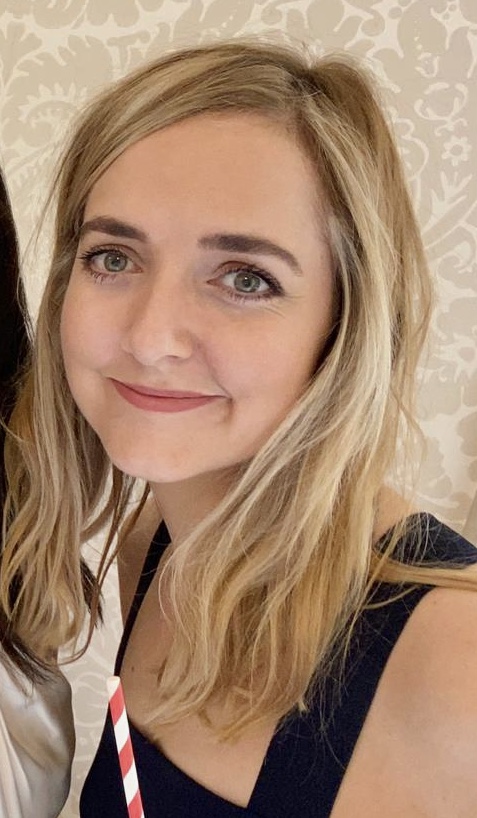 Jo Bailey has been Deputy Editor of Homes & Gardens since late 2021, overseeing all features for the print edition. Previously, she worked as the News & Shopping Editor across H&G and Livingetc - one of Future Plc's sister brands - this is where she learnt to discover the best news stories, latest trends and honed her understanding of Homes and Gardens' over 100-year-old brand.
Before joining Future Plc, she worked as an interior stylist for over ten years, specialising in commercial photo shoots for luxury clients such as; Design Centre Chelsea Harbour, The Romo Group, Christopher Farr Cloth and Heal's. She has worked closely with Homes & Gardens and Livingetc for over a decade, having styled and produced editorial shoots and events for both titles over the years.