Shark AI Ultra 2-in-1 Robot Vacuum and Mop review: High-quality and low-maintenance
The Shark AI Ultra 2-in-1 Robot Vacuum offers both vacuuming and mopping abilities, and it's surprisingly self-sufficient for a robot vacuum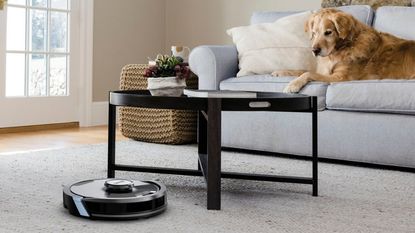 (Image credit: Shark)
With thorough mapping abilities, improved obstacle avoidance, and three suction levels, the Shark AI Ultra 2-in-1 Robot Vacuum and Mop leaves every corner of your home impressively clean. Even its mopping feature exceeded expectations, though this setting may require a little more assistance on your part.
Reasons to buy
+

Self-emptying dust bin

+

Highly customizable map

+

Multiple vacuum settings

+

Able to work around obstacles

+

Impressive mopping abilities
Reasons to avoid
-

Mopping isn't self-sufficient

-

App can be confusing
You can trust Homes & Gardens. Our expert reviewers spend hours testing and comparing the latest products, helping you choose the best for you. Find out more about how we test.
There's no shortage of robot vacuums available today, and that bar is continuously being raised in terms of technology and cleaning performance. If you're going to shell out several hundred dollars on an autonomous cleaning machine, most people want high-tech features like smart home mapping, obstacle detection, and self-emptying dustbins, and the Shark AI Ultra 2-in-1 Robot Vacuum with Auto Empty XL delivers all that – and more!
Sharks AI robot vacuum is decked out with all the features you could ask for, including an extra-large self-emptying dustbin, improved navigation, and even mopping abilities. Despite this impressive list of skills, the robot vacuum is reasonably priced, so we wanted to see if it's actually as good as it seems.
We put the Shark AI Ultra 2-in-1 Robot Vacuum and Mop to the test over the course of several weeks, seeing how well it could handle everyday dust and dirt, pet hair, and more. In the end, we were really impressed with the robot's performance and low maintenance requirements, which make it one of the best robot vacuums you can buy today.
About this review
About this review
Camryn Rabideau
Camryn Rabideau is a freelance writer and product reviewer who has been testing home goods, including cleaning tools, for several years. She tested the Shark AI Ultra Robot Vacuum from her small homestead in Rhode Island. As the owner of two dogs and a cat, she's always looking for the best products to help keep her home (at least somewhat) free of pet hair.
Shark AI Ultra 2-in-1 Robot Vacuum Product Specifications
Model: #RV2610WA
Dust capacity: 0.26 gal
Run time: 120 minutes
Vacuum Dimensions: 12.9 x 12.6 x 3.5 inches
Weight: 14.5 pounds
Filter: HEPA
Warranty: 1 year
RRP: $699
Who will the Shark AI Ultra 2-in-1 Robot Vacuum best suit?
If you're looking for a robot vacuum that needs minimal intervention, the Shark AI Ultra 2-in-1 is a great choice. Its extra-large self-emptying base can hold up to 60 days worth of debris, saving you from having to manually empty the dustbin after every run, and it has better obstacle detection than other vacuums, allowing it to avoid items like toys and clothing that might be on your floor. It rarely gets stuck or needs assistance while vacuuming, and overall, it's one of the more self-sufficient options among today's robot vacuums.
The Shark AI Ultra can also be used as a robotic mop, which makes it a worthwhile choice for those with a lot of hard floors in their home. Unlike other 2-in-1 units, which simply drag a wet mopping pad across the floor, the Shark actually scrubs with its reusable mop pad, and it includes a bottle of cleaning solution for a deeper clean.
Shark AI Ultra 2-in-1: Key features
Self-Emptying
Like many of today's best robot vacuums, the Shark AI Ultra comes with a self-emptying base. If the vacuum's onboard dustbin fills up during cleaning, it will navigate back to its base, empty out the debris, and then continue cleaning. It also self-empties after each clean cycle. The base can hold up to 60 days of dirt and debris, and it's equipped with a HEPA filter that captures 99.97% of dust and allergens as small as 0.3 microns.
Precision Mapping
The Shark AI Ultra uses 360° LiDAR vision to create a detailed map of your home. Before you can start using the vacuum, the Shark app prompts you to send the robot on a preliminary run, during which it maps its surroundings. Once the map is complete, you can label individual rooms and set up No-Go and high-traffic zones for future use.
Sonic Mopping
This 2-in-1 robot vacuum also features sonic mopping abilities. To mop and vacuum your floors at the same time, you can swap in the mopping attachment, which has a water tank built-in. The robot uses its mopping pad to scrub hard floors 100 times per minute, and for extra deep cleaning, there's an Ultra Mop setting in the app that offers better stain cleaning in targeted zones.
Improved Edge Cleaning
To help the Shark AI Ultra Vacuum clean around room edges and corners more efficiently, the robot is equipped with CleanEdge Technology, which uses blasts of air to loosen dirt and push it into the path of the vacuum.
Shark AI Ultra 2-in-1: Design
The Shark AI Ultra 2-in-1 Robot Vacuum has a similar design to other self-emptying models. The vacuum itself is a roughly 13.5-inch circle, and it has a raised area on the top where the LiDAR operates. The Shark doesn't have any onboard cameras, which may be appealing for those who are concerned about privacy in their home.
The robot's base is around 14 inches tall, and it has a port in the middle where it sucks debris out of the vacuum's onboard dustbin. The base is plain in appearance with a matte black finish, and it has a see-through panel that lets you monitor when it needs to be emptied. While other self-emptying vacuums capture dust and debris in a vacuum bag, the Shark actually has a bagless design, saving you from having to buy replacement bags.
As mentioned, the Shark AI Ultra also comes with a secondary attachment designed for mopping. Its dustbin cannot be emptied into the robot's base—it must be emptied manually—and it has a small flap that opens, allowing you to fill the tank with water and cleaning solution. The vacuum also comes with two reusable mopping pads that you can clean in the washing machine between cycles.
What is the Shark AI Ultra 2-in-1 like to use?
Image 1 of 5
Getting started
After unpacking the Shark AI Ultra, it only took me a few minutes to set up the base and get the vacuum in place to charge. The vacuum comes with a secondary dustbin for mopping, and I did have to find somewhere to store this extra component, as there's no place to mount it on the base.
The vacuum needed to charge for several hours before getting started. Once its battery was fully charged, the app prompted me to start a "mapping run," which took the robot around an hour. It didn't clean at all—instead, it simply drove around the second floor of my home, figuring out where walls and obstacles were located.
The app then instructed me to edit the map, label specific rooms, create no-go zones, and indicate the locations of carpets to avoid when mopping. It was tricky to accurately mark carpets on the map, but the nice thing is that there's a verification feature that has the robot drive around the edges you've marked. From there, you can adjust accordingly.
First runs
The first time I ran the Shark vacuum, I was worried it would drive down the stairs at the end of the hallway, but it avoided them without any issues, cleaning right up to the edge before turning around. It also did an impressive job crossing the higher-than-average thresholds in my house—something that other robot vacuums have struggled with.
The vacuum was able to clean the upstairs of my home, which is roughly 500 square feet, in around 1.5 hours on its regular setting. I did notice that sometimes it pushes lightweight obstacles around—both the bathroom floor mat and a guitar stand were displaced after it finished cleaning.
Overall, I was really impressed after the vacuum's first run. It managed to pick up lots of dog hair from the hallway and corners of my bedroom, and the sound level was low enough that it didn't disrupt me while I was watching TV downstairs.
Cleaning Performance

I continued to use the Shark AI Ultra Vacuum over the course of a few weeks, and in that time, I experimented with its various settings. It offers Regular, Eco, and Max suction modes, and I found that Max is ideal for cleaning carpets. It's definitely louder than the regular mode and tends to move little area rugs around a bit, but it's able to pick up virtually all the debris from the floor. During one test, I spread some uncooked rice over the carpet to see how the robot would fare, and I couldn't find a single grain left on the rug when it was finished!
Another way to get a deeper clean is to use the vacuum's Ultra mode, which is available for room or zone cleaning. On this setting, the vacuum increases its suction power and goes over the floor twice using a crosshatch pattern. I used this setting to clean up some potting soil, and the extra pass made sure that little dirt was left behind.
The Shark vacuum also did a great job picking up pet hair. There are often clumps of hair from my two Golden Retrievers in the corners of the bedroom and hallway, and the Shark did a surprisingly good job picking them up. It gets close along the edges of walls, and it's cool to watch it use the CleanEdge air bursts to blow debris out of corners.
I will say that the Shark app itself can be a little confusing. It took me several tries to figure out how to select just one room for cleaning, and the difference between things like "Zone Cleaning" and "Room Cleaning" or Max suction and Ultra mode isn't immediately clear. Overall, I think the app could use a little more finessing so it's more streamlined and easier to navigate.
Mopping Performance
When you want to mop with the Shark robot, you have to swap out the regular dustbin for the secondary mopping dustbin, which has a tank for water and cleaning solution. It was easy to fill up the tank, as there are marks on the side that make it easy to see how much water and soap to add. From there, I simply had to attach one of the reusable mopping pads, and it was ready to go.
Because my robot's dock was located fairly close to an area rug, I had to manually move the vacuum to the hallway before starting it – otherwise, it would have likely gotten water on the rug.
The robot does a surprisingly good job mopping, as the pad moves back and forth with a scrubbing action. There was a stain on the hardwoods from someone's snowy, salty winter boots, and the mop was able to completely scrub it off. It also did a good job getting along the edges of the walls and into corners.
However, this setting definitely requires more maintenance than regular vacuuming. While the robot is able to vacuum and mop at the same time, it can't self-empty the mopping dustbin, so you have to do it manually after each clean. The robot also had trouble returning to its dock after this cleaning cycle, likely because it didn't want to drive over the rug in my bedroom. I ended up having to put it back manually.
Obstacle detection
Many of the robot vacuums I've tested in the past, including the Neato D10 (link goes to our review), do a poor job avoiding everyday obstacles like power cords, dog toys, and stray socks—all of which are plentiful in my house. The Shark AI Ultra, however, had no problem working around unexpected obstacles, thanks to its 360° LiDAR vision, which uses lasers to detect and avoid unexpected objects.
The vacuum managed to avoid clothing, blankets, and toys that were left in its cleaning path, and the one time it did get tangled on a phone charging cable, it managed to extract itself without damaging the cord. In fact, the robot never once needed mid-cycle assistance throughout the whole testing process.
Maintenance
If you're just using the Shark AI Ultra 2-in-1 to vacuum, it's truly a hands-off process. I tested the vacuum for two weeks, and it never needed any assistance from me. When it's finished cleaning, it empties the onboard dust bin into the base, which can hold up to 60-days worth of dirt and dust. Plus, because it has superior obstacle detection, the robot is able to avoid objects that get left on the floor, so you don't have to worry about picking up before it cleans.
There's a clear panel on the front of the vacuum's base that lets you see when the debris bin is full, and to empty it, you push the button on top of the base to release the bin, which slides out to the right. From there, you can just hold it over a trash can and press the orange button to empty it.
Keep in mind that more maintenance is required during mopping mode. When equipped with its mopping attachment, the robot can't self-empty its dustbin, and it can't drive over rugs, which means you may need to move it around your house manually. You'll also need to empty out the water tank after each use to prevent mold from growing.
How does the Shark AI Ultra 2-in-1 compare to other robot vacuums?
The Shark AI Ultra 2-in-1 Robot Vacuum is sold in a number of configurations. I tried the model with Self Empty, but it's also available on its own without the base. If the mopping technology isn't something you think you'll use, they also offer the Shark AI Ultra in a smart vacuum format.
The Shark AI Ultra series appears to be the only Shark robot models being advertised directly on Shark, but other Shark robot models found at other mass market retailers include the Shark IQ, Shark EZ, and the Shark Ion. The Shark IQ is one of Shark's predecessors, and one of the original designs to feature the automatic dustbin but the technology, cleaning power, and navigation in the Shark AI Ultra are a big step up from this older design. The EZ series is another economical choice with the auto-empty feature that uses row-by-row cleaning but does not have smart mapping, while the ION is Shark's most basic model and does not utilize smart mapping.
Shark AI Ultra vs iRobot j7+
The Shark AI Ultra offers several similar features to the iRobot Roomba j7+ (link goes to our review), one of our top-rated robot vacuums. The j7+ also offers advanced obstacle detection—it's specifically programmed to avoid running over animal waste—but unlike the Shark, the Roomba actually sends you notifications when it identifies potential hazards. The Shark merely does its best to work around them. The j7+ also has a self-emptying base that can hold up to 60 days worth of debris.
One of the big differences between these two robot vacuums is that the Roomba doesn't have mopping abilities. This added feature makes the Shark stand out, especially since the Shark is the less expensive of the two models—the j7+ retails for around $800, while the Shark is $700. Both can also be found on sale at times throughout the year.
The other competition
Other popular vacuum and mop options include a variety of models from Roborock, which dedicates a large portion of its product line up to robotic models that both vacuum and mop. We quite like the S7 series, which also uses sonic mopping, but can differentiate between carpets and floors as well as lift the mopping pad to keep carpets dry. It can also re-dock if you're not home to empty out the water tank right away. The base S7 is comparably priced, but the addition of an automatic-empty container significantly brings the price into premium territory, but it's said to be able to hold up to 120 days on dirt.
The Ecovacs Deebot N7 (link goes to our review) also uses Lidar navigation and we like that we can monitor the robot's path in real-time, but the app doesn't feel super polished. It also doesn't have a self-empty option and only mops with water, but it is significantly more affordable, usually costing under $350.
We've also tried the Proscenic M8 (link goes to our review), which has decent cleaning performance when vacuuming, its mopping feature felt very basic and its obstacle detection needs improvement.
How does it rate online?
The Shark AI Ultra 2-in-1 Robot Vacuum and Mop currently has just over 200 reviews on Amazon with an average rating of 4.3 out of 5 stars. Many reviewers note that the vacuum navigates and avoids obstacles better than other robot vacuums, and there are lots of pet owners who use it to pick up hair around their homes.
However, several people do note that the vacuum's base fills up more quickly than advertised. Shark says that it can hold up to 60 days worth of debris, but users note they need to empty it every few weeks. Other common complaints include the less-than-intuitive app design and mediocre performance on thick carpeting.
Should you buy the Shark AI Ultra 2-in-1 Robot Vacuum?
If you're looking for a high-tech robot vacuum, the Shark AI Ultra 2-in-1 is definitely a worthwhile option. We loved that this vacuum is almost completely self-sufficient, emptying its own dustbin and rarely getting stuck on obstacles. It offers a wide range of cleaning settings, including multiple levels of suction and the ability to target different areas of your home, and as an added bonus, it can even be used as a mop to scrub stains off your hard floors.
The Shark AI Ultra 2-in-1 is on the more expensive side, retailing for around $700 at full price, but it's still less expensive than the comparable iRobot Roomba j7+ (link goes to our review), which offers a similar set of skills. Overall, we don't think you can go wrong with either model.
Shark AI Ultra 2-in-1: Where to buy
Sign up to the Homes & Gardens newsletter
Decor Ideas. Project Inspiration. Expert Advice. Delivered to your inbox.