Shark AI Ultra 2-in-1 Robot Vacuum and Mop review: High-quality and low-maintenance
The Shark AI Ultra 2-in-1 Robot Vacuum offers both vacuuming and mopping abilities, and it's surprisingly self-sufficient for a robot vacuum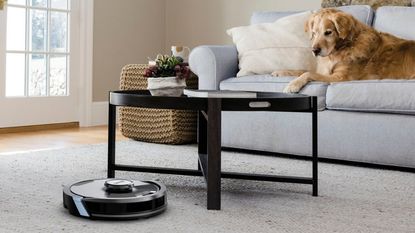 (Image credit: Shark)
With thorough mapping abilities, improved obstacle avoidance, and three suction levels, the Shark AI Ultra 2-in-1 Robot Vacuum and Mop leaves every corner of your home impressively clean. Even its mopping feature exceeded expectations, though this setting may require a little more assistance on your part.
Reasons to buy
+

Self-emptying dust bin

+

Highly customizable map

+

Multiple vacuum settings

+

Able to work around obstacles

+

Impressive mopping abilities
Reasons to avoid
-

Mopping isn't self-sufficient

-

App can be confusing
Why you can trust Homes & Gardens Our expert reviewers spend hours testing and comparing products and services so you can choose the best for you. Find out more about how we test.
There's no shortage of robot vacuums available today, and that bar is continuously being raised in terms of technology and cleaning performance. If you're going to shell out several hundred dollars on an autonomous cleaning machine, most people want high-tech features like smart home mapping, obstacle detection, and self-emptying dustbins, and the Shark AI Ultra 2-in-1 Robot Vacuum with Auto Empty XL delivers all that – and more!
Sharks AI robot vacuum is decked out with all the features you could ask for, including an extra-large self-emptying dustbin, improved navigation, and even mopping abilities. Despite this impressive list of skills, the robot vacuum is reasonably priced, so we wanted to see if it's actually as good as it seems.
We put the Shark AI Ultra 2-in-1 Robot Vacuum and Mop to the test over the course of several weeks, seeing how well it could handle everyday dust and dirt, pet hair, and more. In the end, we were really impressed with the robot's performance and low maintenance requirements, which make it one of the best robot vacuums you can buy today.
About this review
About this review
Camryn Rabideau
Camryn Rabideau is a freelance writer and product reviewer who has been testing home goods, including cleaning tools, for several years. She tested the Shark AI Ultra Robot Vacuum from her small homestead in Rhode Island. As the owner of two dogs and a cat, she's always looking for the best products to help keep her home (at least somewhat) free of pet hair.
Shark AI Ultra 2-in-1 Robot Vacuum Product Specifications
Model: #RV2610WA
Dust capacity: 0.26 gal
Run time: 120 minutes
Vacuum Dimensions: 12.9 x 12.6 x 3.5 inches
Weight: 14.5 pounds
Filter: HEPA
Warranty: 1 year
RRP: $699
Who will the Shark AI Ultra 2-in-1 Robot Vacuum best suit?
If you're looking for a robot vacuum that needs minimal intervention, the Shark AI Ultra 2-in-1 is a great choice. Its extra-large self-emptying base can hold up to 60 days worth of debris, saving you from having to manually empty the dustbin after every run, and it has better obstacle detection than other vacuums, allowing it to avoid items like toys and clothing that might be on your floor. It rarely gets stuck or needs assistance while vacuuming, and overall, it's one of the more self-sufficient options among today's robot vacuums.
The Shark AI Ultra can also be used as a robotic mop, which makes it a worthwhile choice for those with a lot of hard floors in their home. Unlike other 2-in-1 units, which simply drag a wet mopping pad across the floor, the Shark actually scrubs with its reusable mop pad, and it includes a bottle of cleaning solution for a deeper clean.
Shark AI Ultra 2-in-1: Key features
Self-Emptying
Like many of today's best robot vacuums, the Shark AI Ultra comes with a self-emptying base. If the vacuum's onboard dustbin fills up during cleaning, it will navigate back to its base, empty out the debris, and then continue cleaning. It also self-empties after each clean cycle. The base can hold up to 60 days of dirt and debris, and it's equipped with a HEPA filter that captures 99.97% of dust and allergens as small as 0.3 microns.
Precision Mapping
The Shark AI Ultra uses 360° LiDAR vision to create a detailed map of your home. Before you can start using the vacuum, the Shark app prompts you to send the robot on a preliminary run, during which it maps its surroundings. Once the map is complete, you can label individual rooms and set up No-Go and high-traffic zones for future use.
Sonic Mopping
This 2-in-1 robot vacuum also features sonic mopping abilities. To mop and vacuum your floors at the same time, you can swap in the mopping attachment, which has a water tank built-in. The robot uses its mopping pad to scrub hard floors 100 times per minute, and for extra deep cleaning, there's an Ultra Mop setting in the app that offers better stain cleaning in targeted zones.
Improved Edge Cleaning
To help the Shark AI Ultra Vacuum clean around room edges and corners more efficiently, the robot is equipped with CleanEdge Technology, which uses blasts of air to loosen dirt and push it into the path of the vacuum.
Shark AI Ultra 2-in-1: Design
The Shark AI Ultra 2-in-1 Robot Vacuum has a similar design to other self-emptying models. The vacuum itself is a roughly 13.5-inch circle, and it has a raised area on the top where the LiDAR operates. The Shark doesn't have any onboard cameras, which may be appealing for those who are concerned about privacy in their home.
The robot's base is around 14 inches tall, and it has a port in the middle where it sucks debris out of the vacuum's onboard dustbin. The base is plain in appearance with a matte black finish, and it has a see-through panel that lets you monitor when it needs to be emptied. While other self-emptying vacuums capture dust and debris in a vacuum bag, the Shark actually has a bagless design, saving you from having to buy replacement bags.
As mentioned, the Shark AI Ultra also comes with a secondary attachment designed for mopping. Its dustbin cannot be emptied into the robot's base—it must be emptied manually—and it has a small flap that opens, allowing you to fill the tank with water and cleaning solution. The vacuum also comes with two reusable mopping pads that you can clean in the washing machine between cycles.
What is the Shark AI Ultra 2-in-1 like to use?