Proscenic M8 robot vacuum review: a dual functioned smart vacuum that vacuums and mops
The Proscenic M8 robot vacuum streamlines your cleaning routine. See how it performs in our review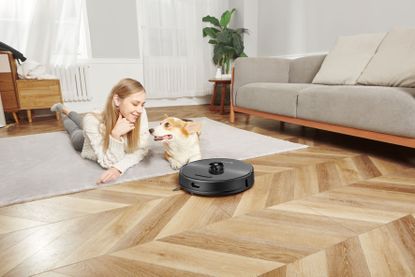 (Image credit: Proscenic)
This robot vacuum's features are highly customizable and allow users to easily switch between its vacuuming and mopping capabilities. The Proscenic M8 is an excellent partner to those wishing to maintain a clean and debris-free home.
Reasons to buy
+

Navigation technology and a variety of cleaning options

+

Customizable home mapping

+

Vacuums pet hair effectively
Reasons to avoid
-

Dust bin must be emptied often

-

The mopping feature won't replace an actual mop

-

Gets stuck on cables, wires, and small foreign objects too easily
You can trust Homes & Gardens. Our expert reviewers spend hours testing and comparing the latest products, helping you choose the best for you. Find out more about how we test.
Sign up to the Homes & Gardens newsletter
Decor Ideas. Project Inspiration. Expert Advice. Delivered to your inbox.
Thank you for signing up to Homes & Gardens. You will receive a verification email shortly.
There was a problem. Please refresh the page and try again.
Keeping up a clean home is an undertaking that requires contestant maintenance, something most of us dread and put off daily. What if there was a way to make this task less daunting? The Proscenic M8 can be your powerful ally and we are here to help you decide if it's the best robot vacuum for you.
Many robot vacuum companies offer products that vacuum your home but the Proscenic M8 is one of the few to offer a 2-in-1 robot that vacuums and mops. This feature, paired with a more sophisticated area mapping and navigation technology than older models, makes the Proscenic M8 stand out.
Read on to see what the Proscenic M8 has to offer and our thoughts on the product after thorough testing.
Proscenic M8: Specs
Maximum power: 3000 Pa
Dust capacity: 280ml dust bin
Water tank: 300ml
Run time: Up to 150 minutes
Charge time: 160 to 190 minutes
Vacuum Dimensions: about 14"x14"x4" inches / 350mm x 350mm x 98mm
Base Dimensions: 6.5"x 5.5" x 4" inches / 170mm x245mm x 100mm
Weight: 8lb /3.6kg
Filter: HEPA filter
Warranty: 1 year
Accessories: Remote control, charging dock, mop cloth holder, 2 mop cloths, 2 HEPA filters, a cleaning brush, and extra side brush
Who will the Proscenic M8 best suit?
The Proscenic M8 is best suited for busy individuals who don't have time to vacuum and mop their home as often as needed to maintain a happy and clean space. Pet owners will love the way this robot vacuum helps keep their space fur-free.
Image 1 of 2
Proscenic M8: Key features
The Proscenic M8 uses its highly sensitive laser ranging sensor and anti-collision sensors to expertly navigate your space, avoiding bumping into walls and falling down the stairs. The vacuum maps out the different spaces in your home and picks up most of the dirt in its path.
But this product is much more than just a robot that vacuums. Its extra features make it a highly customizable and dependable cleaning assistant.
It mops!
Not only is the Proscenic M8 a robot vacuum but it's a robot mop too. Setting up this capability is effortless as it only requires you to attach the mop pad to the mop attachments and then slip it into the dustbin locking it into place. The next step is to fill the tank in the dustbin with water. When it's in mopping mode, the robot vacuum will slowly release water onto the mop pad cleaning your floors as it moves along.
Unfortunately, the mopping feature is not powerful enough to replace traditional mopping sessions with a mop or Swiffer. But for maintaining your home it does a good enough job.
Smart home mapping
The first time you use the Proscenic M8 robot vacuum, it will use its laser navigation system to map out accessible spaces in your home to create a highly detailed map. The map will then appear on the app where you can divide your home into cleaning areas and rooms as you choose.
The app also offers users a wide variety of cleanings modes that include Auto (whole home), by room (kitchen, living room, bedroom), by area, and spot cleaning (a smaller movable rectangle for areas that need more attention).
Scheduling cleaning times
The Proscenic M8's accompanying app allows individuals to schedule cleaning times based on different areas and rooms of the home. Want to take care of the high foot trafficked hallways? You can schedule a weekly vacuuming on Fridays at noon if you wish. Is your cat kicking around its litter various times a day? You can pick the "area clean" option and have the robot vacuum focus on the area around the litter box at the same time every day.
Connection to Amazon's Alexa or Google Assistant
What's cooler than a smart robot vacuum that also mops and has highly customizable features? A robot vacuum that you can also activate with your voice.
Via the app, users can easily connect the Proscenic M8 to your voice activate virtual helper of choice. For users who prefer more hands-on control, the robot vacuum can also be controlled manually, via remote control and the app.
Proscenic M8: Design
What's in the box?
- Proscenic M8 vacuum
- Charging dock
- Remote control
- Mop cloth holder
- 2 mop cloths
- 2 HEPA filters
- Cleaning brush, and extra side brush
The Proscenic M8 is not as hands-free as I would have hoped. The manual states that the dustbin should be emptied weekly. Instead, I found that after two whole apartment cleaning sessions, the dustbin was so full the vacuum wasn't performing well enough.
Another issue that required me to spend more time maintaining the robot vacuum was hair. I'm not talking about my cat shedding her fur. The problem was my long hair wrapping itself around the side and rolling brushes rendering the vacuum less effective. I had to clean both brushes after every session, as opposed to the weekly cleaning the manual recommends.
Another issue is that the charging station needs half a meter (about 20 in.) of free space on each side and 1.2 meters (about 4 ft.) of free space in front. This allows the Proscenic M8 to smoothly back into its charging spot. Unfortunately, this setup may not work for individuals with less floor space in their homes.
What is the Proscenic like to use?
Getting started
Setting up the Proscenic M8 was an easy feat because of the clear instructions provided by the manufacturer. The first thing you need to do is to find a good spot for the robot vacuum to live and charge in. The charging station needs a significant amount of free space around it (0.5 meters on the sides and 1.2 meters in front) and must be placed against a wall. Once you find your spot, you place the robot vacuum at the station and wait for it to charge.
The next step is to set up the Proscenic M8 on the Proscenic app. The manual I got with the robot vacuum lists the company's older version of the app but once this one was downloaded, it prompted me to download the correct version. The product can only be used with a 2.4 GHz wireless frequency so if your home only has 5 GHz you won't be able to set up the vacuum.
First cleaning run
The M8's first cleaning journey allows it to create a map of your home it will use going forward. The robot vacuum did a good job at avoiding hitting the walls and was able to easily move over a bump on the hardwood floors. But after the first cleaning, I saw that the corner and spaces next to the walls still had a significant amount of dirt.
The Proscenic M8 side brush is shaped to enable the robot vacuum to sweep debris from hard-to-reach spots into its path. Unfortunately, the brush doesn't do a good enough job so additional sweeping or vacuuming is needed for those areas.
The first clean resulted in me having to empty the dust bin after its first use. The rest of the time I usually had to wait 2-3 times before emptying. The suction power is the best right after emptying the dust bin since a full dustbin prevents the vacuum from vacuuming the debris.
Mopping
The mop function is a helpful tool, but it doesn't replace a good old-fashioned mop or a Swiffer to really get the floors clean. Four different levels of water adjustment will release water onto the mop pad according to your preference.
I divided the map of my home on the app into four different zones of cleaning and then I labeled all the rooms to be able to direct the vacuum to only clean certain areas as needed. (For example, mopping the kitchen as opposed to the entire apartment).
I tested the Proscenic M8 on several types of debris such as kitty litter, sugar, and cereal flakes. It performed well on the first two but would always leave just a little bit behind. The robot vacuum cannot suction bigger objects such as cereal flakes and sometimes other objects (such as paper clips) get stuck on the brushes, making a horrible grinding noise.
To avoid issues with the robot vacuum getting stuck, it must have a clear path free of wires and cables. In a memorable incident, the Proscenic M8 encountered a forgotten old phone charger under my couch. It got so entangled I had to take apart the brushes and pull out the cord. Both parties were miraculously unharmed.
It goes to show how well equipped the robot vacuum is for these incidents. As soon as it detected an obstruction within, it shut down and sent a notification to my phone to alert me.
How does the Proscenic M8 compare to other robot vacuums?
The Proscenic M8 has many competitors including the iRobot Roomba's multiple models (such as the I Series) as well as Shark's series (such as the AI Robot and IQ Robot series). All these models offer similar features to the Proscenic M8 such as area mapping and cleaning schedules. Many robot vacuum models these days have Amazon Alexa and Google Assistant capabilities too.
Compared to the Proscenic M7 model, which we've also reviewed, there are a significant number of upgrades. For one, the water tank has increased in size from 110ml to 350ml, almost doubling in size. The suction power is higher in the M8 model, about 300 Pa more.
The Proscenic M8 is one of the few robot vacuum models that have 2-in-1 vacuum and mopping capabilities. Roomba robot vacuums can't mop and users need to buy its Braava Robot Mops separately if they want that option.
How does it rate online?
The Proscenic M8 has a 4.4 out of 5 stars rating on Amazon.
Most of the reviews are very positive but some issues stand out in multiple posts. Issues with Alexa not working and a buggy app frustrates customers as well as complaints about multi-level mapping not working.
Another issue that many reviews expressed was how the mopping feature is weak compared to real mopping.
Homes & Gardens verdict: should you buy the Proscenic M8?
The Proscenic M8 is a great robot vacuum that allows for highly customizable cleaning based on suction power, areas, and time. While the vacuuming features are excellent, its mopping features leave much to be desired. You should buy this robot vacuum if vacuuming your main area of interest but don't buy it just for the mopping capabilities.
Proscenic M8: Where to buy?
About this review – and our reviewers
Alexandra Pamias is a freelancer that writes about smart home devices for Homes & Gardens.
The Proscenic M8 was tested in a small 2-bedroom apartment with three people and a cat that sheds like nobody's business. The apartment has bulky furniture providing the robot vacuum with a challenging layout to map. The mopping feature was tested in the living room, hallway, and kitchen area. The device was tested over several weeks.
As with all our reviews the Proscenic M8 has been tested first-hand in our home, using it just as you would so you know exactly what you are buying. The products are given to us free of charge and we test them for as long as possible before sending them back to the brand unless we are able to keep them as we are with this robot vacuum. This means that we can continue to use the product which gives us the opportunity to return to our reviews for updating, so you can keep up-to-date with how it's fared over a period of time.
Sign up to the Homes & Gardens newsletter
Decor Ideas. Project Inspiration. Expert Advice. Delivered to your inbox.
Alexandra is a freelance writer and former journalist with a shopping addiction that rivals Carrie Bradshaw's. But while Carrie mainly deals in clothes, Alexandra battles with an obsession with how to efficiently keep a home clean and organized. Impossible to remove stains in the bathtub? Nothing a good product and a vigorous amount of elbow grease won't solve. Best way to organize a closet? She's tried out all the hacks.
In her downtime, Alexandra enjoys long walks in Central Park and watching competitive cooking competitions. But cuddling with her cat Dish brings her the most joy.