ECOVACS Deebot OZMO N7 Robot Vacuum and Mop Cleaner review: cleaning made hassle-free
Will the ECOVACS Deebot OZMO N7 Robot Vacuum and Mop Cleaner completely automate your floorcleaning routine?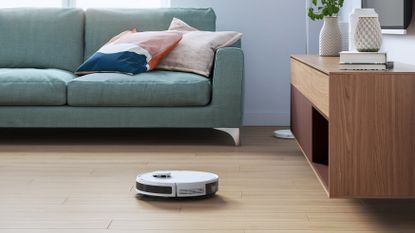 (Image credit: ECOVACS)
The N7 boasts superior vacuum suction and navigation with loads of smart features, but the mopping function did less to impress.
Reasons to buy
+

Fast smart home mapping, and shows where it cleans and where it is in the room

+

Cleans well

+

Identifies between carpets and hard floor surfaces

+

Option to mop with microfiber cloth or disposable cloth

+
+
Reasons to avoid
-

Only mop with water, so not the most thorough clean

-

Flip-up design to access dust-bin and power button feels flimsy

-

Only available via Amazon

-

Not compatible with ECOVACS autoempty
You can trust Homes & Gardens. Our expert reviewers spend hours testing and comparing the latest products, helping you choose the best for you. Find out more about how we test.
While every major vacuum brand seems to have introduced a robot vacuum over the last several years, the new frontier is definitely robot vacuums that also have mopping capabilities.
I've been following ECOVACS for a while. They've been at the forefront of robotic vacuum and mop combo models with the majority of their line up having these dual features. However, it is my first time getting to actually put one to the test, with the ECOVACS DEEBOT OZMO N7 Robot Vacuum and Mop Cleaner arriving at my door. Immediately, I noticed just how advanced its smart home mapping system is, thanks to Lidar navigation.
I operated the ECOVACS DEEBOT OZMO N7 Robot Vacuum and Mop Cleaner across the busiest parts of my home in my coming review. I noted how it handled separate floorplans, how it handled dust and debris, and if the mopping feature could replace actual mopping.
Typically having a preference for robot vacuums with self-emptying bases, I was relieved that I could get through an entire run, sometimes even two without having to empty the 420ml dust bin. Now, when tasked across my upstairs that consists of solely carpet, the bin surely filled twice as fast, but since I already had to carry it down back to the dock, it didn't bother me.
My coming review outlines the ECOVACS Deebot OZMO N7's standout features, user experience, and how it compares to the best robot vacuums on the market. Read on for the full report.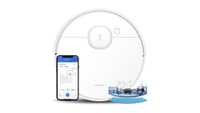 ECOVACS DEEBOT OZMO N7 Robot Vacuum and Mop Cleaner: Specs
Dust capacity: 420ml
Water tank: 240ml
Max suction: 2300 Pa
Run time: 110 minutes
Charge time: 4 hours
Max noise: 65dBA
Filter: HEPA filter
Vacuum dimensions: 350mm x 350mm x 93mm
Warranty: 1 year
RRP: $499.99
Who will the ecovacs DEEBOT OZMO N7 Robot Vacuum and Mop Cleaner best suit?
Whether is your first robot vacuum experience, or an upgrade, we think you'll get on with Deebot's cleaning and mopping abilities, especially since it knows to automatically avoid rugs and carpets when the mopping plate is in place.
It knocks out two chores in one, and you barely have to lift a finger. Clean-up is pretty fast too, especially when using the disposable mop pads.
For Type A who may be unsure about relinquishing control to a robot, you'll have peace of mind being able to track and see exactly where the robot cleaned. The cleaning history log also shows how long it took to clean, and how much square footage.
ecovacs DEEBOT OZMO N7 Robot Vacuum and Mop Cleaner: Key features
What's in the box?
- DEEBOT N7 Robot
- Charging Dock
- Washable Mopping Pad
- 5 Disposable Mopping Pads
- 2 Side Brushes
- High-Efficiency Air Filter
- Instruction Manual
Smart mapping technology with LIDAR Navigation
The N7 uses some of the most sophisticated mappings we've seen, thanks to ECOVACS' Smart Navi 3.0, a laser-based LiDAR Navigation, which immediately starts building a workable map in real-time. It even designates where the dock and the robot are within the space and differentiates between carpeted and hard floor surfaces. Once a map is created and saved, the N7 plans out efficient cleaning paths for fewer repeated or missed spots, and estimates exactly how long it will to clean said space. It maps in neat rows.
You can also create multiple floor maps across different levels in your home.
It talks to you
Really taking on the meaning of smart, the vacuum speaks out when it's charging, starting a clean or returning to the dock to announce it's finished. It also starts talking if it senses it's upside down or stuck.
Ecovacs App
Within the app, is where you will find the most control and customization. In order to access most controls, you'll have to tap the button that says 'Enter Smart Cleaning', which essentially prompts you if you want to Auto Clean, Custom Clean, and Here, you can label, control & schedule which rooms are cleaned and when, as well as make multiple maps for easier cleaning on each level of your home. Creating a virtual boundary (where the unit never goes) or a no-mop zone is as simple as dragging a box over the area you're looking to avoid.
To access most features, you will want to keep the robot in advanced mode to clean by area, set up virtual boundaries, or enable multiple floor maps. You can also adjust vacuum power to Quiet, Standard, Max or Max+ and water flow level. Three dots on the top right corner is where you can find all of these features.
The cleaning log showcases where and what spaces have been cleaned as well as how much.
OZMO Mopping
When you wish to give your floors more than a deep sweep, fill up the 240ml water tank and clip in the mopping plate, with the choice to use a reusable microfiber cloth or disposable ones. It can cover spaces up to 2,000 square feet.
Ecovac's OZMO mopping system uses a precision micro-water pump to avoid leaks and over-wetting floors, with four levels of water flow to choose from. It also automatically detects carpet and keeps away from it. It's mentioned to only use water and to not add any cleaning solution, which could damage the system.
ecovacs DEEBOT OZMO N7 Robot Vacuum and Mop Cleaner: Design
Image 1 of 2
Available in a matte white or black design, the exterior is extremely simple and low profile save for a slightly off-centered hump, that houses the laser distance sensor, a button for auto mode. The sides have a sleek black anti-collision bumper around the rim.
The lid ever so discreetly swings up to access the power and reset switch and wifi indicator. This is also where you will pop out the 420ml dust bin, and find a convenient storage slot for a multi-function cleaning tool, which is useful for pulling hair out of the brushbar. If you didn't read the manual, it's unlikely you would notice how to access these parts. It felt unusual for the dust bin to be accessed from the top, but it was also convenient to not have to lift up the vacuum or turn it upside down.
The charging base is also so discreet, it almost disappears once the robot is connected.
The bottom of the robot features two side brushes for drawing in the outlying dirt and the main brush bar for sucking it into the dustbin. A universal wheel on castors sits at the front, and two larger driving wheels anchor the main brush bars. At the rear, is the water reservoir that clips in and out, as well as the space to insert the cleaning cloth plate. Six anti-drop sensors surround the edges of the robot.
What is the ecovacs DEEBOT OZMO N7 Robot Vacuum and Mop Cleaner like to use?
Getting started
Before I get started with putting these robot vacuums to work, I read through the attached manual and familiarize myself with all the parts. After I had plugged in my vacuum onto the base and it started to charge, I downloaded the ECOVACS app where I went through the steps to connect the vacuum to wifi and name it. I wanted to run a cycle, but the vacuum needs a full charge first.
First use
Immediately, the vacuum starts to map the space. While I was in the room, helping it along as they say, it was really fascinating to be able to tell where it was in the room, which was useful if I wanted to monitor it while out and about, and that it denotes if its over carpet or hard floor and shows its cleaning path. Things were going well, until it slid under the media console, and the vacuum became tangled in the many cords and caught in the driving wheels. This was pretty messy, but I was able to put a no-go zone area around the console, which solved the problem for ensuing runs.
Around my dining set, whereas some vacuums seemed to not try to get in depth around the chairs tucked under the table, the ECOVACS took its time, and deftly spun around the chair legs and spent a notable amount of time getting the area clear of any crumbs that had fallen under the table. It vacuumed my entire space in a little over an hour, however about halfway through, it had to return to the dock for a recharge so the claim that vacuum can run for nearly two hours is a stretch... I got about 45 minutes in before the vacuum wanted to re-fuel.
Cleaning
After running repeated cycles, the vacuum continues to clean in neat rows, really quite swiftly and even gracefully. On carpet, there is an immediate discernible difference, making flat carpet look refreshed and plush again. The vacuum also leaves faint imprints in the carpet where it has pivoted. It didn't seem to have any problems picking up larger pieces of debris either.
Mopping
Yes, it mops and knows to avoid carpets. I didn't have any issues with the mopping... I just didn't love this extra feature for a few reasons: it only used water so I didn't really feel like the floors were actually getting clean-clean, just putting some elbow grease on getting up any tracked in mud or food spills. Maybe I'm used to other smart mops that have a dirty water reservoir for the water to suction into, but this had no such thing... so, is some water simply being wiped across my floor and dried with the mopping pad?
The moment the mopping pad is clicked on, the robot automatically turns to mopping mode. It was noteworthy, that I found the clean up pretty quick and easy, just needed to make sure the reservoir is emptied. Finally, once it's finished mopping, the machine constantly reminds you to remove the mopping pad, so unlike vacuuming, you will need to be nearby as soon as the cleaning is finished to clean up the robot. The microfiber cloth seemed to come out more damp than the disposable one; however the disposable cloth showed where the mop was able to have the most floor contact for cleaning. Walking barefoot across my wood floors to get a feel, they do feel distinctly cleaner (and completely crumb free), and my kitchen was clean within about 20 minutes.
Maintenance
The ECOVACS did well with the pethair, but my long hair definitely wrapped around the brushbar. The included multi-function cleaning tool has a blade on one edge that made it easy to cut out the hair from the brushbar. The other side has a little brush for ridding fine grains of dust.
Depending on how often you run your vacuum, daily versus weekly, the recommended cleaning cycle is to clean the brush bar, filters and various sensors weekly. When using the mopping feature, you'll want to drain the reservoir and either dispose of the single-use pad, or rinse the microfiber brush.
The HEPA filter and sponge filter snaps out of the dust bin and should be rinsed with water. It's seemed to get visibly dirty a lot faster than other robot vacuum's I have tried in the past.
How does the ecovacs DEEBOT OZMO N7 Robot Vacuum and Mop Cleaner compare to other robot vacuums?
Thinking to the multiple vacuums I've tested from iRobot and Shark, the ECOVACS had some of the fastest mapping thanks to its excellent LIDAR navigation.
However, the ECOVACS is best compared to robot vacuums that can also mop.
The premium Roborock S6 MAXV has a unique obstacle detection software, called Reactive AI, which utilizes on-board cameras and obstacle avoidance technology to estimate the size and location of every obstacle, and designed to avoid pet-waste. It's compatible with its own auto-empty station, which is sold separately, and availability is volatile.
We've also tried the Yeedi Vac-Station, which comes with its own convenient clean base and has a rated suction power up to 3000 Pa, though our tester struggled with the mapping compoent. Between the 2400 Pa and the 3000 Pa, it's also unlikely you'll notice a difference, since the vacuums automatically adjust to a suitable suction level.
Finally, the slightly less expensive Proscenic M8 boasts the same 3000 Pa suction power as the Yeedi, but it has a smaller dust bin than the ECOVACS, meaning you will have to empty the dust bin more frequently.
How does it rate online?
The ecovacs DEEBOT OZMO N7 Robot Vacuum and Mop Cleaner is available exclusively at Amazon where it holds a 4.3 out of 5 rating across nearly 1,000 reviews. However, the reviews seem to also encompass other ECOVACS models. When filtered by the specific item, there were only about 100 ratings. Those who rated it favorably said it does excellently around pet hair, ran quietly, vacuums very well, and that the navigation is very accurate. Those who reviewed it critically noted unfavorable customer support with the seller, and that the battery life and mopping functions were so-so.
Homes & Gardens verdict: should you buy the ecovacs DEEBOT OZMO N7 Robot Vacuum and Mop Cleaner?
This little robot vacuum really impressed me! Will it have me abandoning my trusty mop for good? Unlikely, but for routine cleaning, it gets the job done, and at a reasonable price point. I would still recommend the N7 with mopping over the slightly cheaper Deebot N79W, the only ECOVACS in the range presently without mopping, but it lacks the intelligent mapping. However, if you're looking for an upgrade, the N8 is compatible with the ECOVACS Clean Base (no more manual emptying) and offers more precise mapping and better obstacle detection, but is also more expensive.
I didn't feel like I needed to assist the device, and while it wasn't overly gentle, it was more thorough in getting in places my Roomba didn't try so hard with, such as under the table and around chair legs. It's also the only robot vacuum I've tried that hasn't tried to climb up on our tulip-style base furniture, of which there are roughly two tables and a chair and an ottoman with that style in my home.
ecovacs DEEBOT OZMO N7 Robot Vacuum and Mop Cleaner: Where to buy?
About this review – and our reviewer
Jaclyn is the US eCommerce editor across the homes titles at Future, including Homes & Gardens, where she specializes in a variety of topics ranging from vacuums to mattresses. She spends her days tracking the latest buzzworthy releases and testing a variety of products to determine whether they are worth bringing into your home. All reviews are based on real-life experience of using these products at home.
The Ecovacs Deebot OZMO N7 was tested between the family room and kitchen with hardwood floors and area rugs. Covering an area of about 500 sq ft., it represented the largest area in the home that could be vacuumed on the same map. It was also tested along a carpeted upstairs hallway and two bedrooms, in which it could create a second map. A small non-shedding dog lives in the house but still manages to track in his fair share of dirt.
As with all our reviews the Ecovacs Deebot OZMO N7 has been tested first-hand in our home, using it just as you would so you know exactly what you are buying. The products are given to us free of charge and we test them for as long as possible before sending them back to the brand unless we are able to keep them as we are with this robot vacuum. This means that we can continue to use the product which gives us the opportunity to return to our reviews for updating, so you can keep up-to-date with how it's fared over a period of time.
Sign up to the Homes & Gardens newsletter
Decor Ideas. Project Inspiration. Expert Advice. Delivered to your inbox.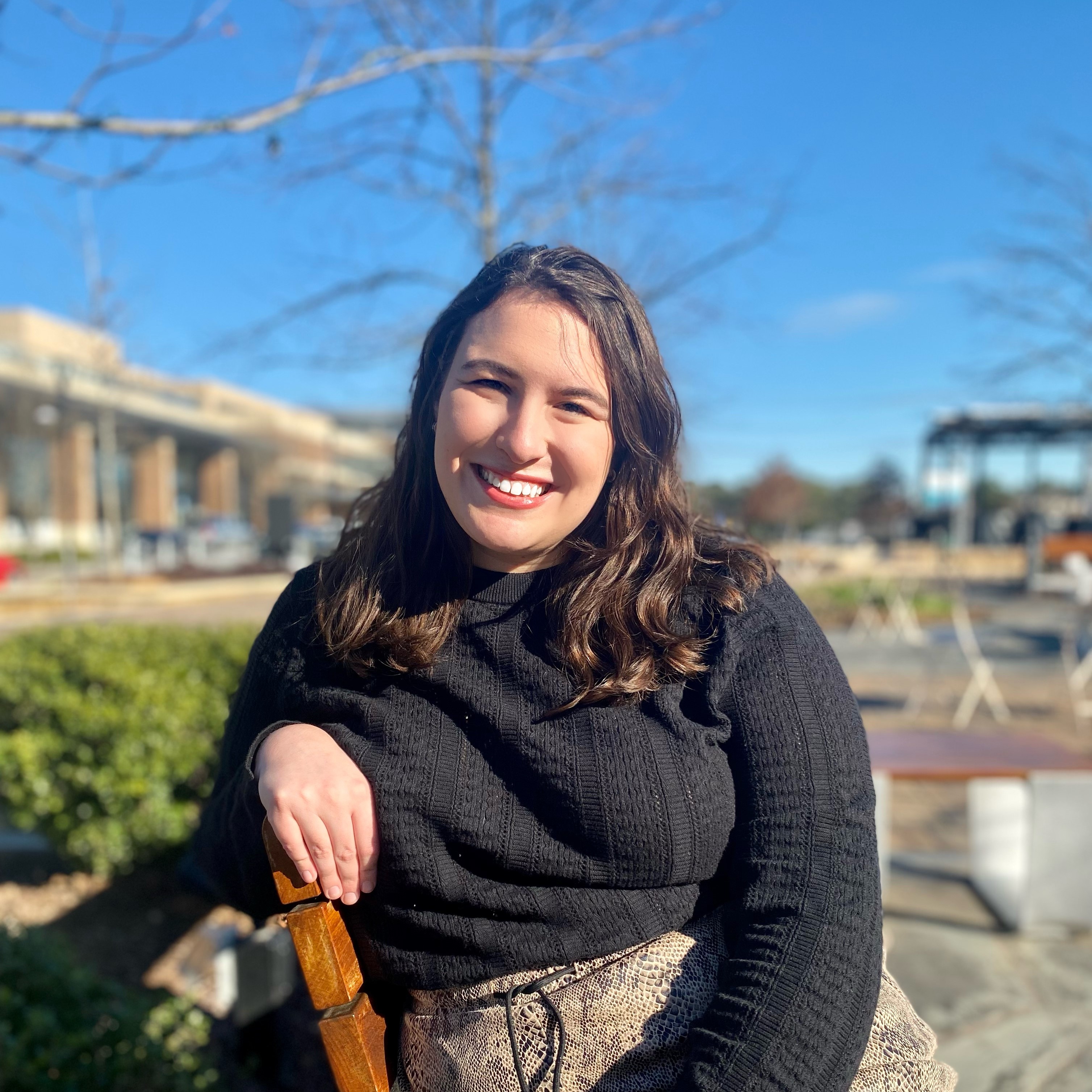 Jaclyn is H&G's eCommerce editor and oversees all things shopping. She's also a bonafide sleep expert, and previously managed all sleep content on Homes & Gardens and Real Homes– in fact, she has passed our five-step certification process to become a verified customer advisor on mattresses. She regularly scouts out the best of the best for buying guides to help you fill your home with only the best. She joined the team in January 2021. She has previously worked with Apartment Therapy, The Kitchn, The Spruce, The Spruce Eats, and MyDomaine. When Jaclyn's not working, she loves browsing real estate listings, unwinding with a chilled glass of Rosé, and entertaining her Cavapoo, Reese.