Samsung Bespoke Jet AI Vacuum review: is a $1k vacuum worth it?
The Samsung Bespoke Jet AI Vacuum is smarter and stronger than ever before. However, it costs nearly $1k. Our experts found out whether it's worth the splurge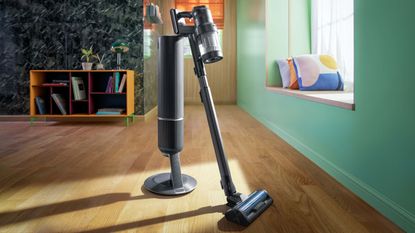 (Image credit: Samsung)
There's a lot to love about the svelte, satin vacuum. It's smart, lightweight, and has some serious suction power, especially for a cordless vacuum. However, it's one of the most expensive vacuums on the market, so you'll need to be ready to splurge.
Reasons to buy
+

Looks smart

+

Excellent suction power

+

Easy to charge and store

+

Self-emptying

+
Reasons to avoid
-

Expensive

-

Bin doesn't close

-

Have to change floorheads even with AI

-
You can trust Homes & Gardens. Our expert reviewers spend hours testing and comparing the latest products, helping you choose the best for you. Find out more about how we test.
Sign up to the Homes & Gardens newsletter
Decor Ideas. Project Inspiration. Expert Advice. Delivered to your inbox.
Thank you for signing up to Homes & Gardens. You will receive a verification email shortly.
There was a problem. Please refresh the page and try again.
There's been a lot of talk around Samsung's latest update to their Bespoke Jet Vacuum series. Updated with smart technology, power-saving sensors, and extra suction power, it could be the next best cordless vacuum on the market.
It's also the next most expensive. Some retailers are selling this for nearly $1,000. I was fortunate enough to preview this before it was launched and I remembered being impressed. It's lightweight and beautiful, but also really powerful, which is unusual for a cordless vacuum.
Once Samsung released this to the market, our team of experts took this to our test center, so that we could give the new updates a thorough test. We've already reviewed the older Bespoke Jet model (you can click through to see the review) and loved it, so had high expectations for the latest iteration.
I tested this with all the crumbs that I'm at war with in my house. From cereal shrapnel to flour and sugar debris, the Bespoke Jet AI tackled them all. Samsung have done it again. I love this vacuum, but what about the price tag?
Specifications
Swipe to scroll horizontally
| | |
| --- | --- |
| Dimensions | 44.9 x 9.8 x 8.9 inches |
| Weight | 6.3 pounds |
| Power | 730 watts |
| Dustbin capacity | 0.5 gallons |
| Bag or bagless | Bagged |
| Average run time | 100 minutes |
| FIlter type | 5 stage, cyclonic, HEPA |
Unboxing
Samsung's strapline for the Bespoke Jet AI, 'designed to be seen', applies to every aspect of this vacuum. It comes close to fully assembled, with the stand in three parts and a few loose floorheads and nozzles. Even though it's embedded in some very non-recyclable polystyrene, it looks beautiful.
This comes with three floorheads, covering hard floor, soft carpets, and pet hair. It'll also have an accessory cradle, so you don't have to throw your spare nozzles into a bag and hope for the best; they'll sit tidily beside your vacuum. Again, everything is designed to be seen.
Once I had put all of the parts together I stood back and looked at the vacuum in all its black satin sublimity. It's slim, smart, and would even look good in a small apartment. I opened up the stand to find that it was pre-bagged and when I checked the battery life on the vacuum, it came with some charge. I don't think this is standard, but it made it easy for me to start testing.
Who would it suit?
If you already own a Bespoke Jet, but find that you want longer battery life, better suction, and smoother automatic adjustments, this is the vacuum for you. It can stand in the corner, charge on its base, and empty itself. It's perfect if you like Dyson vacuums, but struggle with storing and emptying them.
The Bespoke Jet AI comes with all the features of a premium vacuum, but it also comes with the price tag for one too. You'll have to be ready to splurge nearly $1,000 on a vacuum which you have to have on show.
What was it like to use?
As the looks would suggest, this was a delight to use. Overall, I was surprised by how light the Bespoke Jet AI is. The older Bespoke Jets were light, but they didn't have as much power. This can produce 280 air watts of suction and it's still around the same weight as the older Bespoke Jets.
I found the whole vacuum nimble, agile, and easy to move around obstacles in our test center. The grip is easy to hold and given that you have a long battery life, I think you could vacuum for a long time before tiring.
Test 1: Flour and Sugar
Samsung hasn't held back in boasting about the 280 watts of suction power that they've fitted into the Bespoke Jet AI and I can see why. I sprinkled flour and sugar across linoleum, hard floors, and carpets. These are common spillages in my house, but they're also really good representations of small dust and dirt particles. I'd hardly taken a breath before the Bespoke Jet AI had sucked up all the flour and sugar, leaving all other vacuums in the dust.
I wanted to test out the 'jet' mode, which is the most powerful suction setting. I re-sprinkled the flour and sugar onto our hard floor surface and found that the floorhead was sucking up dust far out of the floorhead's trajectory. It did use up the battery much quicker, but if you have some tough mess, this will be your best friend. When you're looking to collect every particle, the useful LED lights on the front illuminated dirt under furniture and on our carpet really well.
On this test, the only times that the Bespoke Jet AI was less than perfect was twice. I used the hard floor head on all the surfaces, expecting the AI technology to simply adjust suction power and floorhead height for me. However, when I moved onto my carpet section the suction was too much and the vacuum became hard to move. Once I had manually changed the head to a softer brush, it was much better. To me, this defeats the point of having adjustable suction, because I still had to manually change the head. I could feel the vacuum adjusting when I moved from hard floors to linoleum, which was impressive, but for $1,000, I'd expect the smart technology to cover all floor types.
Also, when the bin was beginning to fill, I noticed a few spots of flour, especially when I dragged the vacuum backwards. After I had emptied the bin, it became less noticeable, but I would recommend emptying your Bespoke Jet AI well in advance of the dustbin reaching maximum capacity.
Test 2: Cereal
The bane of my cleaning existence is cereal. I don't know how it finds its way onto the floor, but in my house, it's a constant battle. I sprinkled a range of cereal types onto the floor to see how the Bespoke Jet AI could cope with bigger bits of debris. This only served to reinforce how impressive the suction power on this model is. When I dragged the vacuum backwards a few pieces were left behind, but that's a combination of awkward motion and bin fullness.
At this point, it was really useful to have the countdown screen on the vacuum. This will tell you how long you have left vacuuming. Even though I had been testing some of the most energy-draining features, the Bespoke Jet AI still had 20 minutes of life, so I knew I could make multiple passes over each section.
Samsung sends you a spare battery which they claim can run for up to 100 minutes. If you read the small print, this is based on using the vacuum without a brush head. I wouldn't expect to have the full 100 minutes, but you won't need to charge the batteries as often as other models.
Test 3: Hair
If you have pets or long hair, you'll want a vacuum that can handle long strands of hair. I covered each surface with lots of stands of hair. To be fair to this vacuum, it cleared all the strands from the floor. However, the bin wasn't as full as I thought it should be. When I turned the floorhead upside down, there was a reasonable amount of hair wound around the brush. This is easy to remove, but I'd recommend switching to the dedicated pet hair brush if you're covering particularly hairy areas of your house.
Cleaning
When all of our tests were over, I placed the vacuum in the stand. Immediately, the dustbin made a quiet spin. Samsung's older models were much louder than this, so I was pleasantly surprised at how quiet and efficient the Bespoke Jet AI is. The vacuum uses a HEPA filter and, because the station bags your dust up for you, it's a brilliant option if you have pets or allergies.
Unfortunately, I still had to close the bottom door of the vacuum canister once it had emptied. This was a task which I forgot to do more than once, so I had to vacuum around the stand a fair amount. This did mean that I made good use of the crevice tool, which is excellent, but I had the same problem with older iterations of the Bespoke Jet. I thought Samsung might fix it in this update, but it looks like I'll need to wait until next time.
Your vacuum will come with seven spare dust bags, so you won't need to buy any replacements for a while. When you do take the bag out of the docking station, it's easy to remove. You'll never forget to replace the bag, because the door won't close again until you've re-filled it. I don't remember this from the other models, so it's a clever update.
Storage and maintenance
Sitting sveltely in the corner of our test center, this vacuum has no issues with storage. Not only is it easy on the eye, the accessory cradle means that everything stores neatly away. The only attachment issues you'll face is how much you love using this vacuum.
This comes with two batteries. The stand will charge whichever one you have the in the vacuum and Samsung provides a separate charger for your spare battery, so you should never run out of charge. Aside from that, the smart screen will let you know if you need to carry out other maintenance, such as changing the bin bag or filters.
How does it rate online?
Unsurprisingly, this vacuum's reputation precedes it. I knew this would be a good vacuum before I tested it. Lots of reviewers complemented the power and battery life of the Bespoke Jet AI. In fact, most reviews that I read had put this at the top of their best vacuum cleaners list. I think the combination of appearance, suction power, and agility ticks a lot of boxes for most people. I found lots of customers were swapping their Dyson vacuums for a Samsung, which is the ultimate praise.
Most people raised issues with the label 'AI'. Samsung have had this claim certified by a third-party independent safety science organization called UL Solutions. However, the AI mode, which claims to switch power across different floors, is quite basic. A few reviewers, found that when they changed the floorheads and power manually, they were effectively doing the job that Samsung's AI was supposed to take care of. Adding 'AI' to a name is an easy way to bump the price of a product up, so I found some cynical reviewers questioning whether the vacuum warrants the price tag.
How does it compare?
Given that almost everyone says Dyson in the same breath as the Bespoke Jet AI, it's the most obvious comparison to make. Our favorite Dyson model is the V15, which is also cordless. It will automatically adjust suction power to different floor types and it uses an LED light to help you spot extra dust, dirt, and debris. In many ways, it's the same as the Samsung.
However, Samsung has included a few features which justify a higher price tag. When using the V15, you need to constantly hold the trigger, manually empty the dustbin, and charge it more often. When you're finished, the V15 doesn't have a dedicated place to charge, store, and empty, like the Samsung does. These are all small, but premium features. If you have the extra money to spend, it's worth the splurge.
If you're looking at the older Bespoke Jet (you can click through to our review), which features in our best vacuums for pet hair guide, you might be wondering whether this upgrade is worth it. The newer, AI model claims to have better suction, 40 more minutes run time per battery, and an automatically adjustable floorhead. Personally, I thought the suction on the older model was more than adequate and the same applied for the run time. Sixty minutes is a long time to vacuum. The old model comes with two batteries, so you could vacuum for two hours, by which point you would need a break anyway. As for the AI technology, I'll still reserve judgement. To save more than $200, I'd stick with the older model.
Should you buy it?
I'll say it again, this is a beautiful vacuum. I'll say it another five times if I have to. If this review was based purely on looks, this is a winning model. The self-emptying bin system is also really useful, especially if you own pets or have allergies.
It's a powerful cordless model that sits miles ahead of lots of other vacuums on the market. If you're looking for pure vacuuming luxury, you should buy this vacuum. However, if you're a little more savvy, I think the price increase for the AI feature is disproportionate to the performance. I'd opt for the older Samsung version or buy this in the sales and save myself the $200.
How We Test
Our expert team test the best vacuums on the market. We look for the latest and greatest models on the market and we take them to our test center where we put them through their paces.
We test them on vacuuming up flour, sugar, cereal, and hair, so that you know how they'll perform on a range of dust and debris. We also lay down different types of flooring, hard and soft, so that you know how it will work on different terrains. We also make notes on the extra processes, such as setting up the vacuum, unboxing, and storing it, so that you'll have no nasty surprises after you buy one. You can find more details about how we test vacuums on our dedicated page.
Sign up to the Homes & Gardens newsletter
Decor Ideas. Project Inspiration. Expert Advice. Delivered to your inbox.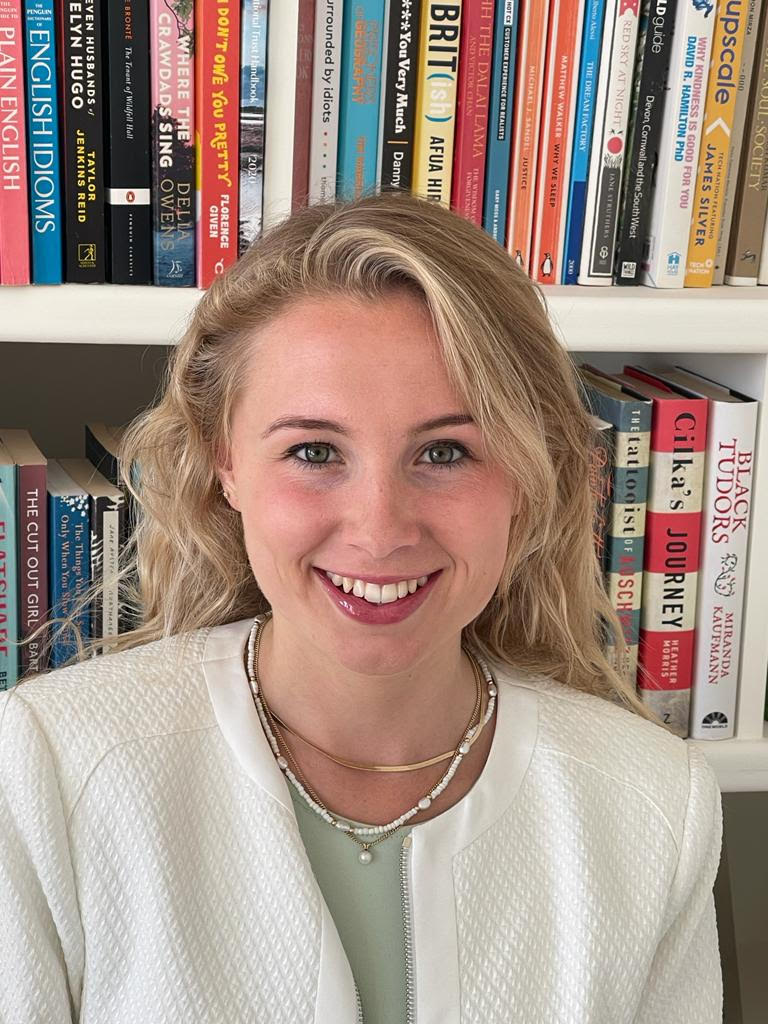 Laura is our eCommerce editor. Before Homes & Gardens she studied English at Oxford University. Alongside her studies, she qualified as a barista and trained as a master perfumer. This makes her our certified expert for all things coffee, candles, and fragrance. She has passed our five-step tests to become a certified Customer Advisor, making her our resident expert. Laura has worked for luxury retail brands, reinforcing the importance of quality and style over quantity and fads. She looks for products which have been designed with thoughtful finishes.