Zwilling Enfinigy Countertop Power Blender review
In this Zwilling Enfinigy Countertop Power Blender review we made smoothies and soup to see if this powerful blender deserves a spot in your kitchen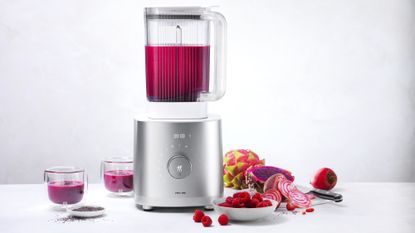 (Image credit: Zwilling)
The Zwilling Enfinigy Countertop Power Blender is a brilliant blender that's designed to cater to the whole family. With modes for blended desserts to self-cleaning, and even a vacuum-sealable pitcher, there's not much it can't do.
Reasons to buy
+

Self-clean is very effective

+

Makes perfect smoothies in seconds

+

Vacuum sealable pitcher

+

Comes in two sleek colors

+

Stylish tritan jar

+

Excellent safety features

+

Good controls and range of features
Reasons to avoid
-

It's dishwasher-safe, but we recommend hand cleaning

-

An expensive blender with only one jug
You can trust Homes & Gardens. Our expert reviewers spend hours testing and comparing the latest products, helping you choose the best for you. Find out more about how we test.
The Zwilling Enfinigy Countertop Power Blender combines German engineering with a gorgeous, sleek design. It looks beautiful on any kitchen counter, and the powerful 1,400 watt motor can make instantly creamy smoothies from scratch.
We put the Enfinigy blender to the test in this review to see if it compares to the best blenders on the market. Unlike rivals from NutriBullet and Ninja, the Enfinigy has one multi-serve pitcher with a 64-ounce capacity. That makes it perfect for cooking up soup and making large servings of smoothies, but it's less ideal for making dips and mayonnaise.
Along with the smart control panel and easy-lift jug design, I was really impressed with the sheer blending power of this machine. Zwilling is known for its high quality knives, and it's clear that the blade in the Zwilling Enfinigy Countertop Power Blender has the same high quality. Find out how it handled smoothies and soup in our Zwilling Enfinigy Countertop Power Blender review.
Zwilling Enfinigy Countertop Power Blender specifications
Colors: black and silver
Type: multi-serve blender
Weight: 12.9 pounds
Speed settings: six
Modes: 5
Material: tritan pitcher, stainless steel blades
Dimensions: 12 x 9.25 x 20.5 inches
Motor: 1,400 watts
Shopping in the UK? You can buy the Zwilling Enfinigy Power Blender direct from the Zwilling site, £349.
Zwilling Enfinigy Blender design
Included with the Zwilling Enfinigy Countertop Power Blender is a tritan jug, a tamper, and a smart blending base. It's easy to get started because the blender jug simply sits on top of the base instead of needing to be screwed in.
The tritan jug is lightweight and very durable. The base automatically detects when the pitcher is in place, and the controls illuminate. You can twist the dial to the left to choose from five presets: smoothie, cocktail, iced desserts, ice, and self-clean. Then, simply press the dial to start the preset mode.
If you twist the dial to the right, it will take you through six levels of power, starting at the lowest level. The timer will start to count up the amount of time you've been blending for, and even the lowest setting is quite powerful.
There are some excellent safety features included with the Zwilling Enfinigy Countertop Power Blender. The lid needs to be pressed onto the blender before you can start blending. If you do want to add ingredients mid-blend or use the tamper, you can just take out the insert from the lid of the blender.
You can also put a vacuum suction insert into the top of the blending lid, meaning you can use the Zwilling Fresh & Save Vacuum Pump to vacuum-seal leftover soup or smoothies to keep them fresh for longer and prevent any discoloration.
Making smoothies
Even the best portable blenders can make a smoothie out of soft fruits, so I wanted to give the Zwilling Enfinigy Countertop Power Blender a challenge when testing it.
I added frozen banana, blueberries and raspberries to my blending pitcher and topped it up with some nut milk. Many blenders struggle to handle frozen ingredients, especially when in smaller quantities, so I was interested to see how the Zwilling Enfinigy Countertop Power Blender would handle them.
I used the smoothie setting to make my drink, and after some initial sputtering as the blender worked its way through the frozen fruit, it very quickly started to form a pink smoothie.
Making a thicker smoothie can be tricky in a multi-serve pitcher, because there is no bullet blending cup to direct the ingredients downwards and towards the blades. Despite the minimal amount of nut milk, the Zwilling Enfinigy Countertop Power Blender still did a good job of pulverizing the ingredients into a thick drink.
The resulting drink was impressively smooth, with no pieces of blueberry skin or raspberry seeds left un-blended. Because I used the Zwilling Enfinigy Countertop Power Blender for a few weeks when testing I also tried it out when making green smoothies, and it left no pieces of kale stem or spinach leaves intact.
It can be tricky for blenders to cut through green leaves, so I was very pleased with the lack of fibers and overall creamy consistency with the drinks I made in the Zwilling Enfinigy Countertop Power Blender.
Making soup in the Zwilling Enfinigy Countertop Power Blender
The Zwilling Enfinigy Countertop Power Blender claims to be heat-safe, and the tritan jug is durable, so I was confident that it could make a decent soup. I didn't add my hot soup mix when it was boiling, instead waiting for it to cool slightly before blending it.
Leeks are sometimes tricky to blend because they can be tough and stringy, especially with the outer layers, which bring a lot of the color to a leek and potato soup. I cooked them off first before adding my stock mix to the blender and securing the lid into place.
Presets aside, the manual blending mode can be adjusted by twisting the dial to the right to increase the speed. I didn't need to turn the setting up high to get a great blend, and the timer counts up to let you know how long your blender has been switched on for. This is great for following specific recipes or making dips.
There is no manual pulse mode with the Zwilling Enfinigy Countertop Power Blender, which is perhaps its main flaw. Sometimes with soups it's a good idea to pulse to make sure that all ingredients are integrated, but thankfully there was no issue with integration when blending in the Zwilling Enfinigy Countertop Power Blender. The soup was incredibly smooth, with no un-blended pieces of leek left.
What else can it do?
I tend to stick to the best food processor for making dips, but you could definitely give it a go in the Zwilling Enfinigy. My concern would be that the powerful blades might pulverize any nuts or ingredients you'd like to keep chunky into a finer consistency.
What the Zwilling Enfinigy can do is crush ice, and there's a whole setting dedicated to this. It would be perfect for making granita or a frozen margarita.
Cleaning the Zwilling Enfinigy
The Zwilling Enfinigy Countertop Power Blender has a self-clean mode, which pulses powerfully to reach all areas of the interior of the blender. One area it struggled to reach was the removable lid insert, which I found was best cleaned by hand.
Technically you can wash this blender jug in the dishwasher, but I wouldn't recommend it. Because the handle is hollow to allow the lid safety feature to work, putting it in the dishwasher could lead to a buildup of dirt or debris. Besides, the self-clean mode does most of the work for you, and takes only a few seconds.
Should you buy the Zwilling Enfinigy Countertop Power Blender?
The Zwilling Enfinigy Countertop Power Blender is one of the best I've tried. Everything from the smart display panel to the lift-away blender pitcher is designed to look stylish and make the user experience as easy as possible. The blending itself is excellent, and the winglet blade is fast and powerful.
Although it's dishwasher-safe, I wouldn't put the pitcher in the dishwasher. The self-cleaning mode is perfectly suitable for cleaning after making smoothies or soups, and if you want to prevent anything from sticking after the blending mode is done, just run the self-clean mode for a few seconds.
Retailing at at RRP of $400, this is one of the more premium blenders on the market. I do think it lives up to the high price though, and you can pair it with some of the best toasters on the market, too.
About this review, and the reviewer
Millie Fender is our Editor for all things small appliances at Homes & Gardens. She spends a lot of time testing everything from toasters to air fryers in her own apartment and recommending the very best ones to readers.
All our reviews are tested from home, and this Zwilling Enfinigy Countertop Power Blender review is no exception. Millie put it to the test for a number of days to make morning smoothies and soup for lunch.
Sign up to the Homes & Gardens newsletter
Decor Ideas. Project Inspiration. Expert Advice. Delivered to your inbox.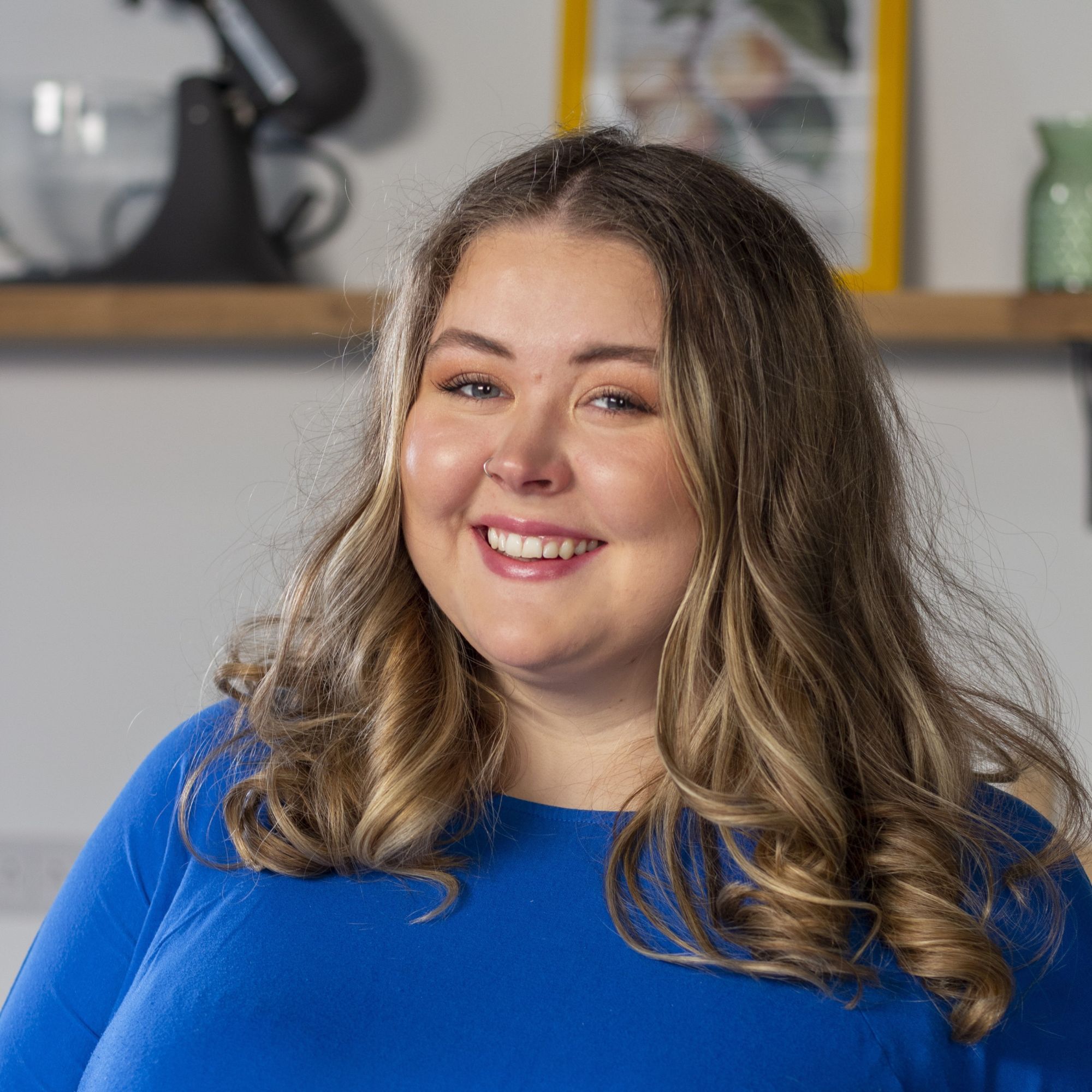 Millie Fender is Head of Reviews on the Homes and Gardens Ecommerce team. She specializes in cooking appliances, such as the best kettles, and also reviews outdoor grills and pizza ovens. Millie loves to bake, so she will take any excuse to review stand mixers and other baking essentials. When she's not putting products through their paces in our dedicated testing kitchen, Millie's reviews are conducted at home, meaning she uses these products in her own day-to-day life.