KitchenAid K150 blender review – for serious smoothie lovers
In this KitchenAid K150 review we put the brand's affordable flagship blender to the test with ice, soups, and smoothie bowls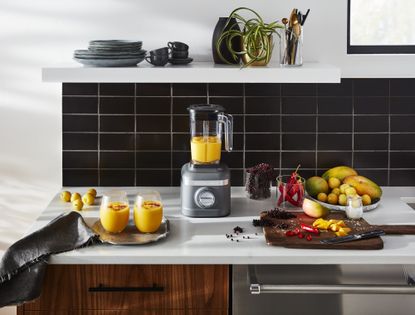 (Image credit: KitchenAid)
If you want KitchenAid's classic style on a budget, the KitchenAid K150 is the perfect blender for you. It has a range of attachments to expand its capabilities, and can work through the toughest ingredients to make smoothies and soups.
Reasons to buy
+

Easy to use

+

Lift-out design

+

Three power modes, plus pulse

+

Lightweight

+

Optional accessories
Reasons to avoid
-

The lid is a bit stiff

-

It does go through frozen ingredients, but it takes time
You can trust Homes & Gardens. Our expert reviewers spend hours testing and comparing the latest products, helping you choose the best for you. Find out more about how we test.
The KitchenAid K150 is an affordable blender that offers three presets, as well as a pulse setting. Unlike some blenders that need to be screwed onto the blender base, the KitchenAid K150 slots satisfyingly onto the block-shaped control unit.
Many of the best blenders increasingly offer a range of attachments and preset modes, and while it is possible to buy more tools for your K150, it's pretty pared back when you buy it up-front. There is one pitcher included, with a 48-oz jug that's easy to clean and can be used to blend soups and hot liquids. We did find that the lid gets a little jammed into place, so pulling it out of the pitcher isn't easy. However, we were really impressed by the value-for-money on offer with this blender.
KitchenAid K150: specifications
Colors: black, white, red, silver
Type: family-sized blender
Weight: 8 pounds
Programs: ice crush/pulse
Speed settings: 3
Material: plastic pitcher, stainless steel blades
Dimensions: 8.5 x 7.1 x 14.8 inches
Motor: 150 watts
KitchenAid K150 design
As the name suggests, the K150 has 150 watts of power. That's pretty low for a blender; comparable to the Magic Bullet Kitchen Express. The KitchenAid K400 blender (which is over twice the price of the KitchenAid K150) is far more powerful, with more modes and a larger jar.
This blender was designed for those who want to invest in a KitchenAid but can't stomach the idea of paying over $200. It's still got three speeds, which is better than some one-speed blenders (such as the NutriBullet range) but doesn't offer as many features as Ninja's AutoIQ presets.
Looks-wise, it's a winner. It looks just as high-end as the KitchenAid K400, with a range of colours and a sloping glossy base that's easy to clean and lightweight.
Using the KitchenAid K150
It couldn't be easier. Slot the pitcher onto the base, add your ingredients, push on the lid, and twist the dial.
The KitchenAid K150 has a slow start. When you twist the dial to start, it glides into power and works through ingredients in a classic vortex shape.
When you pulse, it's a case of twisting the dial back on itself and holding into place to pulse. The pulse is also designed to work as an ice crush mode.
Making smoothies in the KitchenAid K150
If you're a smoothie-lover, the KitchenAid K150 is a top pick. It handles soft fruit and veggies well, but I was surprised to find how well it worked through frozen fruits and even frozen pellets of spinach.
You can twist out the center of the lid to add more milk or juice as you blend, which helped to adjust the consistency of smoothies mid-use.
As for smoothie bowls, the KitchenAid K150 also impressed me. While it's hard to make smoothie bowls in family-sized blender (I find that it's easier in one of the best portable blenders thanks to the personal-sized cups) I found that the K150 simply needed time to work.
I added frozen strawberries, frozen spinach, ice, frozen blueberries, yoghurt and a slice of lemon to the blender to make my smoothie bowl, and started on the lowest setting. It definitely took some time to work through the frozen ingredients (I found that it was worth switching the blender off and giving the pitcher an occasional shake to make sure the blades were getting through all of my ingredients) but the result was a smooth and tasty bowl.
The consistency was also very impressive, and it was clear to see the way that the blades had pulled ingredients into their flow as they blended.
Making sauce
I had to search pretty thoroughly to see what the manual says about blending hot ingredients (in the Smeg Blender review I was disappointed to find that it's a no-go), but the KitchenAid K150 can handle hot ingredients. You just need to be careful not to burn yourself or overfill the pitcher.
I grilled some tomatoes and red peppers before adding them to the blender with cream, garlic, and basic. This blended up very smoothly, in no time whatsoever.
Because I found that the KitchenAid K150 is very capable of blending soft ingredients, it should have no trouble with soups. One thing I did find is that it doesn't pulverize tough items like kale stems easily. You need to leave it for a few minutes to achieve that smooth consistency.
Cleaning the KitchenAid K150
You can run a quick and easy cleaning cycle in the KitchenAid K150. It's just a case of adding some dish soap to the blender with warm water, filling it about halfway, and then pulsing to make sure the water reaches all areas of the blender.
I found that after running this cycle the work was nearly complete. It was just a case of rinsing out the blender, and going in with a microfiber cloth to reach those areas of the lid and around it that may have been missed.
Is the KitchenAid K150 dishwasher safe? The manual says you can place the attachments on the top rack of your dishwasher, but I found that it was a little fiddly to fit the jug into mine. While it is possible to clean the K150 attachments in the dishwasher, I would recommend doing it by hand as it is far easier.
What else?
You can pair the KitchenAid K150 with more attachments, available from the KitchenAid site. It is possible to buy the K150 with personal pitchers as well as the large pitcher, but this does cost extra.
Other optional attachments include the 1-liter Citrus Press, 500ml Personal Jar, and 200ml Small Batch Jar.
One of the reasons why KitchenAid ranks as the best stand mixer in our guide is because it comes in a stunning range of colors. You can pair the KitchenAid K150 with food processors, immersion blenders, juicers, and other handy KitchenAid appliances.
Should you buy the KitchenAid K150?
The KitchenAid K150 is $99.99 in the US, and it's £229 in the UK. Needless to say that's a large price difference, which is because the blender is made in the USA to keep it as affordable and high-quality as possible for American buyers.
If style is important to you and you work with a lot of soft ingredients and smoothies, I would definitely recommend the KitchenAid K150. While it's very capable of making smoothie bowls and crushing ice, the smaller motor means it takes a little longer, so it may be worth trying out the Ninja BN701 Professional Plus Blender or other more powerful blenders that we've tried hands-on.
About this review, and the reviewer
Millie Fender is our Editor for all things small appliances at Homes & Gardens She spends a lot of time testing everything from toasters to air fryers in her own apartment, and recommending the very best ones to readers.
All our reviews are tested from home, and the KitchenAid K150 review is no exception. Millie put it to the test for a number of days to make morning smoothies and soup for lunch, before sending it back to KitchenAid, who kindly lent it to her for the purposes of this review.
Sign up to the Homes & Gardens newsletter
Decor Ideas. Project Inspiration. Expert Advice. Delivered to your inbox.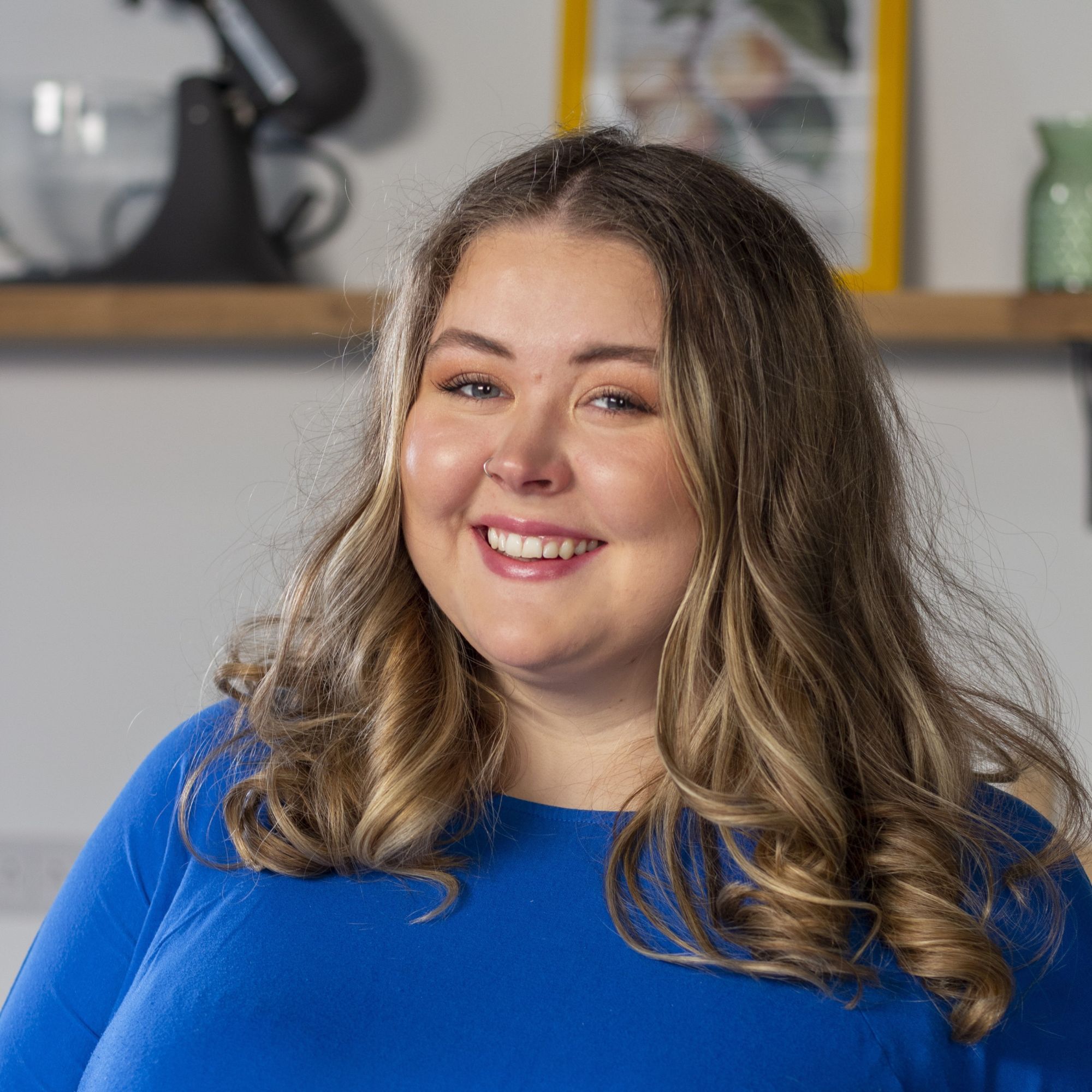 Millie Fender is Head of Reviews on the Homes and Gardens Ecommerce team. She specializes in cooking appliances, such as the best kettles, and also reviews outdoor grills and pizza ovens. Millie loves to bake, so she will take any excuse to review stand mixers and other baking essentials. When she's not putting products through their paces in our dedicated testing kitchen, Millie's reviews are conducted at home, meaning she uses these products in her own day-to-day life.