NutriBullet Blender Combo review
The NutriBullet Blender Combo comes with everything you need to blend large and personal drinks, but it lacks the preset modes you'll find on premium models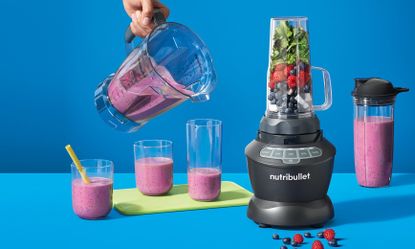 (Image credit: Nutribullet )
The NutriBullet Blender Combo is a good value blender that's perfect for smoothie lovers who also want the ability to blend large quantities too. I tried it out to see if it's equally as good at blending smoothies as it is crushing ice and creating lump-free soups.
Reasons to buy
+

Large 64oz pitcher

+

Simple to use

+

Lightweight pitcher

+

Suitable for both right- and left-handed cooks

+

Affordable

+

Pitcher can blend hot liquids

+

Dishwasher safe accessories
Reasons to avoid
-

Pitcher can stain

-

Extractor blade for cups isn't dishwasher safe

-

Can feel a bit top heavy when pitcher is full

-

Only three blending speeds and one auto program
Why you can trust Homes & Gardens Our expert reviewers spend hours testing and comparing products and services so you can choose the best for you. Find out more about how we test.
NutriBullet is one of the big blending brands that dominates the world of personal cup blenders. But even if you're a fan of smoothies and protein shakes, those small blenders just don't cut it when it comes to blending homemade soup, or anything else that you've made in a bigger batch, for that matter. This is where the NutriBullet Blender Combo comes in. It's got all the convenience of a full-size blender with a large 64oz pitcher, but you still get to enjoy creating your post workout shakes in one of the two to-go cups. It's an affordable 2-in-1 appliance that should cover all your liquidizing needs, but is it one of the best blenders on the market?
You'll notice from the power outlet in the images below that I tested it in the UK. It's exactly the same model as the US version, the only difference is that it's light gray instead of dark gray and the UK model comes with a third small blending cup.
NutriBullet does sell the full-size blender without the to-go cups, so it's worth considering that option if smoothies and protein shakes aren't your thing. However, I enjoyed having the best of both worlds in this blender. I could create large batches of smooth soup as well as enjoy protein smoothies in a handy cup, without having to give up space in my kitchen for two blending appliances.
NutriBullet Blender Combo: First Impressions
Power: 1200W
Material: BPA free plastic pitcher
Capacity: 64 oz pitcher, 32oz and 24 oz personal cups
Pre-sets: Extract
Weight: 7 lbs.
Size: 16.97 x 7.75 x 8.07 inches (h x w x d)
Included: 32oz and 24 oz personal cups with to-go lids and extractor blade, tamper
The base of the blender is compact, it doesn't take up much counter space at all, but add in the cups, lids and blade assembly and you've got quite a lot to store. Keep in mind though that it's still less than if you had a full-size blender as well as a separate personal blender.
The motor base is plastic, and it doesn't have the heavy, sturdy quality that you get from premium blender brands. The suction cup feet mean it should stay in place on the counter though. And with just six clearly labelled buttons, it really couldn't be simpler to operate. There's one auto program called Extract, three speed settings and a pulse button as well as an on/off switch.
The pitcher twists into position on the base, with the handle to either the left or the right depending on your preference. I like the big pouring spout and the lid isn't tough to attach, plus it's got a big, looped pull-handle that makes it easy to remove. Unfortunately though, there's no safety feature to stop you switching the blender on without the lid in place.
There's a vented lid cap which can be removed to use the tamper or to pour in additional ingredients during blending, and it doubles as a small measuring cup. The tamper itself doesn't feel as strong and sturdy as others I've used but it'll do the job.
The two personal blending cups are slightly different sizes, the smaller one has a handle, and I tested the to-go lids for leaking by holding them upside down and shaking them when full, fortunately not a drop was spilt, and they passed the test. The blade assembly twists easily onto the cups and clicks into position on the base for quick, easy smoothies and shakes.
You get a recipe book in the box, which is also available to download on the website and provides helpful hints and tips as well as a variety of recipes to get started.
Blending smoothies in the NutriBullet Blender Combo
I followed the recipe for the super blue smoothie in the recipe book. But I switched the blueberries and frozen banana for mixed frozen berries to make use of what I already had in the freezer. The other ingredients were spinach, milk, almond butter, cinnamon and protein powder and I added them to the cup in the order listed.
I blended it using the Extract program. On my first attempt, I packed the spinach too tightly into the bottom of the cup and it didn't drop down towards the blades until late in the cycle, so I repeated the smoothie later in the week and didn't pack the spinach in quite so firmly. This time, everything blended well and all the ingredients were thoroughly mixed. The finished smoothie did have some visible specks of berry skin and judging by the quantity of berries in there, I could tell that a lot of the seeds had been crushed up, but a few remained, so it had a slightly gritty texture.
For my second smoothie I blended raw shredded carrot and beetroot with ginger, grapes, orange juice, chia seeds, ground linseed and ice. Again, I used the Extract program and the chia seeds were completely pulverized, with no evidence of them in the texture of the drink. The raw carrot and beetroot gave the smoothie a fine pulpy texture, but everything else was fully liquidized and combined into a delicious drink with no lumps at all.
Crushing ice in the NutriBullet Blender Combo
In just seven presses of the pulse button, two handfuls of ice cubes were crushed to a fine snowy ice. I did notice one small chunk that got lodged in the crushed ice and so remained un-crushed but it was an impressive result nevertheless.
Blending soup in the NutriBullet Blender Combo
While the instructions strictly state that you shouldn't blend hot soup in the personal cups, the pitcher can be used to blend hot liquids. I made a spicy curried carrot and butternut squash soup, leaving the carrot and butternut pieces quite chunky so it would be a good test. I couldn't find any temperature restrictions in the instruction manual so poured my hot soup into the pitcher without letting it cool. I started the blender on low, then increased to the medium speed after a short time.
In just one minute the chunky vegetables had been fully blended into a smooth thick soup with no lumps or gritty bits. The vented lid cap allowed the steam to vent out of the lid during blending but maintained a tight seal, so no liquid leaked out, and the suction cup feet kept it secured to the kitchen counter. But having said that, it doesn't feel as sturdy as some of the heavier, more robust blenders I've reviewed.
My very yellow carrot soup had curry powder in it and after cleaning the pitcher I noticed a slight yellow staining to the plastic pitcher and also the area around the blades. This didn't really bother me, but if you like your appliances to stay looking pristine, it might be worth avoiding strongly colored spices like turmeric.
Blending a frozen dessert
I followed the recipe for a simple healthy N'ice cream that's on the NutriBullet website. It's just four bananas sliced and frozen, blended with almond milk and some vanilla.
I blended it on high speed in the main pitcher and I had to continually mix and push the ingredients towards the blade using the tamper. However, at the end I had a deliciously creamy and smooth healthy frozen dessert with a perfect ready-to-eat texture in just one minute. It was very satisfying and the hard frozen banana was no match for the sharp blades of the pitcher.
Cleaning
The pitcher, cups and lids are all dishwasher safe, so cleaning is easy. But frustratingly the base of the pitcher doesn't have any holes to let water drain away so it fills up during the dishwasher cycle. The extractor blade that's used with the cups can't go in the dishwasher, but it just requires a rinse under the faucet to remove most smoothie residues.
Some blenders come with auto clean programs and despite not having this setting, the user guide advises you on how to clean both the pitcher and the cups by filling them with water and dishwashing liquid and blending the residues away.
Should you buy the NutriBullet Blender Combo?
If you're looking for an affordable blender with a large pitcher that also doubles as a personal blender, you could do worse than the NutriBullet Blender Combo. I was pleased with most of my creations using this blender and I like that it can blend hot liquids too. It's great to have the option to blend large quantities in the pitcher as well as make my post-workout protein shakes in the cups.
It doesn't feel or look like a premium blender, and it's not packed with auto programs or numerous blending speeds, but it does the job, and it's easy to use. Plus, all the accessories are available to purchase on the NutriBullet website so you can get extra cups or replace worn-out blades as needed.
About the reviewer
Helen McCue is a freelance contributor who trained as a Home Economist. After starting her career in the food industry, she moved into home appliance reviews, utilizing her cooking skills and experience to put all kinds of products to the test, and over the years has reviewed hundreds of home and kitchen appliances for a variety of publications.
Having completely renovated her current house, Helen reviews kitchen appliances from her open plan kitchen at home in a beautiful Berkshire village. When she's not working, Helen can be found enjoying the local countryside or dreaming about her next house renovation project.