Best KitchenAid stand mixer 2023: A comparison of the iconic mixer lineup
Which KitchenAid stand mixer should you choose? We compare the various models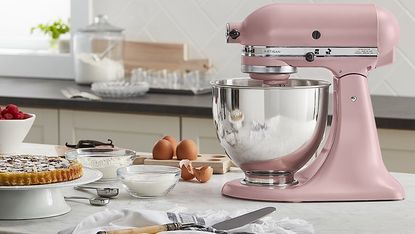 (Image credit: KitchenAid)
Most bakers will have, at some point, browsed KitchenAid stand mixers. Found in the kitchens of top chefs, celebrities, and royals, they are incredibly high quality, brilliantly functional, and gorgeous looking.
KitchenAid offers several models with subtle and incremental differences that vary across size, power, and price. Here, I'm going to break those down so you can make the best choice for your needs.
Among the best stand mixers, we rank the iconic KitchenAid Artisan as our top pick. Despite being the brand's mid-range offer, it will suit everyone from amateurs to the advanced; and it comes in vast range of color options.
Our second choice is the KitchenAid Professional, which swaps the tilt-head style for a bowl lift design and packs extra power for extended mixing. We've also trialed smaller stand and hand mixers in the range, all of which make the cut.
Best KitchenAid stand mixers 2023
You can trust Homes & Gardens. Our expert reviewers spend hours testing and comparing the latest products, helping you choose the best for you. Find out more about how we test.
Best KitchenAid stand mixer
Specifications
Power: 325W
Capacity: 5 qt.
Style: Tilt-head
Height: 14"
Colors: 40
Attachments: dough hook, flat beater, wire whisk
RRP: $449.99
Reasons to buy
+
Comes in an huge range of colors
+
Excels at all of many kitchen tasks
+
Buy more attachments to expand its capabilities
+
59 touch points
Reasons to avoid
-
Not the largest capacity
Why you should buy it: It's the classic KitchenAid that should suit most, and it comes in an endless array of colors
Why we love it
It's a real workhorse. With 10-speed settings, it powered through cake batter, bread dough, and whipped cream with perfect results. The handy tilt-head makes it a joy to use, and it was easy for me to add ingredients and switch out attachments.
These attachments include a wire whisk for beating eggs, a flat beater for integrating cake batter, and a hook to work your bread dough. I was particularly impressed by the flat beater, which creamed sugar and butter with minimal intervention before adding in eggs and flour to make easy loaf cakes. The dough hook needed a little supervision for larger loaves, but it's perfectly suitable for brioche or sourdough.
Good to know
If you want the best, the KitchenAid Artisan is the top option among 5qt. models, but if you're cooking larger batches at once, you may want to try a bigger option like the Professional. Our tester Millie was able to mix two chocolate sponge cakes for a recipe but only one loaf of bread at a time. For perspective, the 5-qt. bowl equates to about 9 dozen cookies.
Depending on where you purchase, some models come with a pouring shield, so check what's included when making your purchase, if that's important to you.
Our KitchenAid Artisan Stand Mixer review has more details
2. Kitchenaid Professional 5™ Plus Series 5 Quart Bowl-Lift Stand Mixer
Best KitchenAid Stand Mixer with a Bowl-Lift Design
Specifications
Power: 525W
Capacity: 5 Qt.
Style: Bowl Lift
Height: 16"
Colors: 7
Attachments: 5 Quart Stainless Steel Bowl with handle, Coated Flat Beater, Powerknead™ Spiral Dough Hook) 6-Wire Whip
RRP: $449.99
Reasons to buy
+
Bowl-lift design adds more stability
+
Powerful design
+
Comes in plenty of colors
+
For the experienced home chef
+
67 touch points
Reasons to avoid
-
Lever for bowl lift takes getting used to
-
Heavy
Why you should buy it: For a little extra oomph in power, plus, a Bowl Lift Design provides additional stability, making it ideal for heavier mixtures.
Why we love it
Like the Artisan above, the Professional 5™ Plus Series is equally a baking workhorse with its 10-mixture speeds, 5-qt capacity, and various attachments. Though, it does get an upgraded dough hook, the Powerknead™ Spiral Dough Hook, making it better for making bread. The introduction of the bowl-lift design creates more stability. Simply use the lever the raise it into place, and the bowl is attached at three lock points to keep all parts of the machine stable.
Good to know
The Professional and Artisan Series have identical price points, so in general, the decision can come down to whether you prefer a tilt-head or a bowl-lift style, and of course color. However, during sales, we often see better promotions on the Professional over the Artisan. For instance, during this holiday season, the Professional came with a nifty $200 discount, while the Artisan only offered $100 off.
Bowl-Lift designs are typically heavier than the tilt-head, so you will likely want to keep that in mind should you plan to transport it or move it when not in use.
We've also gone into detail about the similarities and differences between KitchenAid Artisan vs Professional, the two most popular models, while KitchenAid offers a helpful comparison guide as well across all of its mixers.
Most powerful KitchenAid Stand Mixer
Specifications
Power: 969W
Capacity: 7Qt.
Style: Bowl Lift
Height: 16"
Colors: 5
Attachments: Dough hook, whisk, splash guard, flat beater
RRP: $679.99
Reasons to buy
+
Available in 5 qt. or 7 qt. sizes
+
Capable of mixing large volumes
+
Powerful kneading
+
Dishwasher-safe attachments
+
Sturdy to use
Reasons to avoid
-
Switching out attachments can be tricky
-
Lever for bowl lift takes getting used to
-
Pricey

Who should buy it? KitchenAid's most powerful design with 969W, it offers commercial power with retro style.
Why we love it:
It's KitchenAid's most premium and powerful offering, and the smoothest of mixing experiences, From our tester Millie: 'there was no juddering or moving on the countertop, which is great for safety, especially if you're cooking with kids. It also had far less trouble with ingredients sticking to the side of the bowl than other stand mixers in our lineup, thanks to a broad wire whisk and efficient planetary motion.
Good to know:
It's KitchenAid's most expensive offering, and definitely more geared toward professional bakers who will be cooking up large batches frequently or thicker mixtures that require the extra power.
Our KitchenAid Proline review has more details
Best compact KitchenAid stand mixer
Specifications
Power: 250W
Capacity: 3.5qt.
Height: 12.3"
Colors: 10
Attachments: 3.5 Quart Stainless Steel Bowl, Flex Edge Beater, Coated Dough Hook, 6-Wire Whip
RRP: $379.99
Reasons to buy
+
25% smaller than the original Artisan
+
Works with other KitchenAid attachments
+
Perfectly designed for smaller spaces
+
Excelled in our tests
+
Soft Start
Reasons to avoid
-
Limited motor strength
-
Similar RRP to a full-sized model
-
Not compatible with the ice cream maker attachment
Who should buy it? Those who are looking for a more compact design, whether short on space or prefer to make smaller recipes.
Why we love it
Good things come in small packages. The KitchenAid Artisan Mini is both smaller and lighter, but it can still power through cake batter, bread dough, and more, and move it around the kitchen from cabinet to counter with ease. For reference, it clocks in at 18lbs down from 26lbs and has a 3.5 qt. capacity as opposed to the typical 5 qt. Everything is on a smaller scale, making it easy to store or put in the dishwasher. It also has a nice soft-start feature that gradually introduces speed and power as opposed to starting mixing at full force. Our tester Molly found that the smaller motor kept up with the bigger appliances she's tried and had the added bonus of being quieter.
Good to know
The 3.5 qt. size can make up to 5 dozen cookies at once. It's the only KitchenAid Stand Mixer that doesn't have a handle on the side. The MSRP isn't that much different than the full-size Artisan, so unless you're purposefully looking for something small and compact, we would opt for the Artisan.
Also of note, due to its size, the Artisan Mini works with all of the KitchenAid attachments, except the ice cream maker attachment.
Our KitchenAid Artisan Mini review has more details
5. KitchenAid Classic Series 4.5 Quart Tilt-Head Stand Mixer
Most affordable KitchenAid Stand Mixer
Specifications
Power: 275 W
Capacity: 4.5qt.
Height: 14"
Type: Tilt-head
Colors: 2
Attachments: 4.5 Quart Stainless Steel Bowl, Coated Edge Beater, Coated Dough Hook, 6-Wire Whip
RRP: $329.99
Reasons to buy
+
Most Affordable option
+
Good performance
Reasons to avoid
-
Only two color options
-
Brushed Stainless Steel bowl with no handle
Who should buy it? If you're not set on a specific color, the KitchenAid Classic gives you the basic KitchenAid experience at an entry-level price.
Why we love it
It's not the cheapest stand mixer out there, but it is the most affordable KitchenAid option for those casual bakers who want a KitchenAid at its entry-level price point. It's decidedly basic, but it has everything you need for most baking endeavors including a Coated Flat Beater, Coated Dough Hook, 6-Wire Whip with a 275-watt motor, and 4.5 qt. bowl. If you're not picky about colors or wanted black or white anyways it has the same retro design as the Artisan but is slightly smaller in capacity and motor.
Good to know
The 4.5 Qt. size also has a brushed stainless steel bowl and no handle, unlike the Artisan. The Classic Plus option you may see is a silver color, but other than that, there are no differences.
Best cordless KitchenAid hand mixer
Specifications
Weight: 2.1lbs
Speeds: 7
Power: 12V
Attachments: Beater
RRP: $99.99
Reasons to buy
+
Cordless
+
Charges in just two hours
+
A range of lovely colors available
Reasons to avoid
-
Only one attachment type
Who should buy it: Those in the market for a hand mixer with good looks, and great functionality and appreciate the outstanding power of a cordless
Why we love it
It's just excellent quality, our tester Molly reports. 'The cordless element makes things even more aesthetically pleasing. But don't fall into the trap if you know you're horrendous at charging things, as this mixer needs more attention than usual.' With seven power settings, it utilizes two sturdy beaters that are a crossover between a traditional balloon whisk and beater shapes instead of having parts for both to find storage to store. It still aced cookie dough and cake batter, despite extra attachments.
Good to know
It has about a 20-minute run time which is enough for most baking projects.
Our KitchenAid Cordless Hand Mixer review has more information.
Best KitchenAid hand mixer
Specifications
Weight: 3lbs
Speeds: 9
Power: 100W
Attachments: Pro beater, whisk, dough hook, blend rod
$: 109.99
Reasons to buy
+
Plenty of attachments
+
Lockable swivel cord
+
Wide range of speed settings
Why you should buy it: Nine-speed settings and great power; good looks, too.
Why we love it
With nine speeds with a slow start, a neat LED screen to clearly see the level, and a lockable swivel cord, if you're looking for something lightweight and easy to use, this traditional style really impressed us with its intuitive design. 'You get more for your money with the additional attachments, and the controls are a little smoother to use,' says our tester Molly.
Good to know
You will likely be able to find one of the best hand mixers for cheaper. Still, we stand behind the 9-speed as a solid choice, and particularly like that it has all the power and accessories that typically come with a stand mixer, like a wire whisk, dough hooks, blending rod, and a storage bag, you'll need your own mixing bowl.
Our full KitchenAid 9-Speed Hand Mixer review has more information.
Other KitchenAid Models
The KitchenAid Ultra Power Plus 4.5qt Tilt-Head Stand Mixer appears to be an exclusive model to Target and is considered a good option when on sale. Among the KitchenAid line up, it sits between the Classic and the Artisan, with the same 4.5 qt. bowl capacity of the Classic, but a few extra color options and a bump up in motor of 300 watts puts it closer to the Artisan.
The KitchenAid Professional 600 Series 6 Qt. is KitchenAid's six-quart option. It is geared toward professional bakers and has a bevy of color options to choose from. It falls between the Professional Series and the Pro Line.
How we test and review the best KitchenAid stand mixers
At Homes & Gardens, we believe that the only way we can truly inform you of which appliance is the best is if we have hands-on experience with them ourselves, which is why we've formulated a plan as to how we test different products. We went to lengths to test each of these mixers, some of them simultaneously, so we can establish which performed the best. We also used our testing facility in order to gauge the size, features, and maneuverability of these mixers.
When it comes to the tests themselves, we tried these mixers out on three different tasks in order to see the performance of different attachments, as well as the power of the mixers. The tests were made as quantifiable as possible, with recordings of time taken to adequately mix as well as decibel readings. We also gauged how easy it was to clean the stand mixers as part of this process.
Millie Fender is the Reviews Editor on the Homes and Gardens Ecommerce team. She specializes in cooking appliances, such as the best kettles, and also reviews outdoor grills and pizza ovens. Millie loves to bake, so she's always keen to review stand mixers and other baking essentials.
Molly was formerly an Ecommerce Writer for Homes & Gardens and now serves as Ecommerce Editor for Ideal Home. While she tests all sorts of appliances, stand mixers are her favorite to write about.
Which KitchenAid Stand Mixer is best for bread?
For users who plan to make heavy dough recipes, we suggest any of the bowl-lift designs like the KitchenAid Professional 5 Plus Series or the KitchenAid Pro Line Series. These designs provide more stability in their operation and have a higher power motor for getting through thick mixtures for extended periods of time.
Which Kitchenaid mixer is best for cake?
While each KitchenAid stand mixer is well-suited to make a cake, you'll want to consider how much cake you are making. In general, the KitchenAid Artisan is a great choice for most, with its reliable motor and ample 5 qt. size.
Are KitchenAid mixer bowls dishwasher safe
KitchenAid stainless steel mixer bowls are typically considered dishwasher safe, but we prefer to wash them by hand with soapy water and a soft sponge. Due to their size, they tend to take up a lot of space in the dishwasher.
Are KitchenAid mixer bowls microwave safe
The stainless steel designs are not microwave safe. Though, if your microwave is large enough, it could potentially fit the glass and ceramic mixing bowls, sold separately, though we do not advise placing your mixing bowls in the microwave.
Which KitchenAid attachments are dishwasher safe
To be on the safe side, we recommend washing by hand, though depending on your model, some parts are dishwasher-safe. On the Mini, Classic, Artisan, and Pro-Line, the dough hook and flat edge beater are considered dishwasher safe.
The wire whisk attachment should always be washed by hand.
Where to purchase KitchenAid stand mixers
Jaclyn is H&G's eCommerce editor and oversees all things shopping. She's also a bonafide sleep expert, and previously managed all sleep content on Homes & Gardens and Real Homes– in fact, she has passed our five-step certification process to become a verified customer advisor on mattresses. She regularly scouts out the best of the best for buying guides to help you fill your home with only the best. She joined the team in January 2021. She has previously worked with Apartment Therapy, The Kitchn, The Spruce, The Spruce Eats, and MyDomaine. When Jaclyn's not working, she loves browsing real estate listings, unwinding with a chilled glass of Rosé, and entertaining her Cavapoo, Reese.