KitchenAid Artisan 6 Quart Stand Mixer Review: Goldilocks style perfection
KitchenAid's new stand mixer is not too big, not too small, not to harsh, and not too soft: it's pure perfection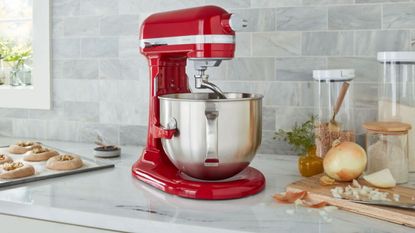 (Image credit: KitchenAid)
The 6 QUart capacity in KitchenAid's new Artisan Stand Mixer is perfect. The 1/2 speed emulates hand mixing like no other. If you haven't bought one yet, I would recommend that you do.
Reasons to buy
+

Stylish

+

Excellent quality

+

Great hand mixing speed

+

Easy to clean
Reasons to avoid
-

Expensive

-

Large footprint

-

Leaves some residue on sides
You can trust Homes & Gardens. Our expert reviewers spend hours testing and comparing the latest products, helping you choose the best for you. Find out more about how we test.
Sign up to the Homes & Gardens newsletter
Decor Ideas. Project Inspiration. Expert Advice. Delivered to your inbox.
Thank you for signing up to Homes & Gardens. You will receive a verification email shortly.
There was a problem. Please refresh the page and try again.
If you don't own a KitchenAid stand mixer, I guarantee you will have heard of them. This iconic American brand has been cleaning up in the stand mixer market for decades and with their latest 6 quart stand mixer, they've done it again.
When I saw this release, I had to do some research. KitchenAid has released mini stand mixers and professional models, so the 6 quart size doesn't sound revolutionary. After testing and researching, it turns out that it is one of the best stand mixers on the market.
Not only is there a new ½ speed setting which mimics hand folding, the bowl is the perfect size for your average family baking quantities. KitchenAid's minor downsize with this model can make a big difference to some smaller kitchens.
From how it whips, to how it kneads and folds, I've taken the Artisan 6 quart through our tests to find out whether it's as good as its reputation.
Specifications
Swipe to scroll horizontally
| | |
| --- | --- |
| Dimensions | 7.25 x 9 x 17 inches |
| Weight | 28 lbs |
| Capacity | 6 quart |
| Mixing speeds | 10 |
| Attachments | K beater, wire whip, dough hook, pouring shield |
Unboxing
As far as recyclable packing goes, this isn't great. It's not fully recyclable, in fact, the polystyrene makes me squirm, but it does a good job of keeping the KitchenAid shiny and smart.
The set-up process is simple. KitchenAid provides a whisk, K-beater and dough hook. The pouring shield has some useful grippy pads which sit nicely on the bowl. It all feels premium too, which I expected from KitchenAid.
Once all of this was on the out on the countertop and ready to go, I took a step back. This is smart. It's heavy so you'll need to keep it on display, but that's part of the KitchenAid package. KitchenAid's are made to be seen and not heard.
Who would it suit?
If you're deliberating between different stand mixers, this is a good one for the average baker. It doesn't have scales or huge capacity and it's not compact either. It's one of those Goldilocks products: not too big, not too small, not too complex, not too simple, just right.
KitchenAid stand mixers need to be displayed, so firstly, you need to have the space available on your countertops for it. It's also expensive, so you need to be ready to invest. These are the mixers that you'll have for a lifetime, so it's worth it.
What is it like to use?
At the risk of sounding like a broken record, this is another example of why KitchenAid dominates the stand mixing space. Not only does it look the part, but, when I began to test it, it performed extremely well too.
I tested the bowl lift model, even though I find the tilt head mixers easier to use. That's a controversial opinion in the KitchenAid space, but it's worth noting that there's a difference and everyone will have a preference.
Test 1: Bread Dough
With all the dry ingredients for multigrain, brown bread in the bowl, I poured the oil and warm water in to the bowl. I set the mixing speed to three and watched it knead. The dough hook struggled to pick up some of the dough from the bottom and didn't lift all the residue from the side of the bowl, making this slightly imperfect, but the texture of my bread dough salvaged any concerns.
In a few minutes, I lifted my dough out of the mixer and it was springy and elastic. I kneaded it by hand and it was perfect. If the proof is the baking, the loaf of bread that came out the oven is a testament to the KitchenAid. It was aerated and light, without any cracks or tight texture that would suggest it was overworked.
In fact, some of my co-workers smelt this bread baking and asked whether they could try some. There were only three of us in, but we finished the whole loaf. Sometimes actions speak louder than words.
Test 2: Cupcake Mixture
The next test for all our stand mixers is cupcake mix. There's a chance that your stand mixer will make a lumpy batter, especially if it mixes too quickly. I had to use a spatula to scrape some flour down into the mixture, because the K-beater had knocked it up the sides. Aside from this, it was faultless.
I added a handful of blueberries to test the half speed hand mixer and the K-beater didn't break the skins, neatly folding them into the batter: a true success. My cupcakes came out the oven, golden brown and with lovely peaks, proof that they had been mixed perfectly.
Test 3: Whipped Cream
The final attachment, the whisk, had high expectations to live up to. It didn't disappoint. I used the lower setting to start off and then increased the whipping speed. After four minutes I had beautiful white peaks in my cream. It didn't turn into butter, but not did it end up flat. The cream was light, but structured. The KitchenAid was no louder than 64 dBA either. That's about a normal conversation, so I was pleased that this could work quickly and quietly. Again, faultless performance.
Cleaning, Storage, and Maintenance
The clean up process is easy, because everything neatly unclips. I would recommend washing by hand to make sure that nothing becomes chipped, scratched, or bent out of place.
Once cleaned, you'll need to keep your KitchenAid on the countertop. At 28 lbs, it's a heavy piece of equipment to move around. You'll need to clear room on your countertop, because this is quite big too. However, it is really nice to look at, so I don't think you'll regret making the effort.
How does it rate online?
This is relatively new to the market, so it isn't as well reviewed as other models. Overall, people really like this stand mixer. As I found, they thought that it maintained the KitchenAid standards. It looks and performs exceptionally well.
I'm quite forceful with products and I'm familiar with KitchenAids, so I didn't second guess how hard I had to shove the bowl into place. However, reading customer reviews, I found lots of people urging users to be firm. It turns out, a number of people thought their bowls didn't fit. In fact, they just weren't familiar with the KitchenAid.
How does it compare?
I'm using this section to answer the question that was on my mind the whole time that I was testing this: why not just buy the Artisan mini or other models?
The 1/2 speed is a unique feature that will light-up your eyes if you're often required to fold or hand mix in baking. That half speed setting can be invaluable to some. The capacity, larger than the mini, but smaller than the professional is also perfect (like I said, it's the Goldilocks of stand mixers).
I recently tested the Kenwood stand mixer. Although I prefer the KitchenAid, the Kenwood had integrated weighing scales and a timer. This is a feature that the KitchenAid lacks and, for the price, I might expect it in the future. If you're serious about cooking, this is an essential helping hand.
Should you buy it?
If you make blueberry muffins, I would recommend this stand mixer. If you fold mixtures or need to do lots of hand mixing, again, this is excellent. There are lots of people who this would suit. However, that means that there are a few people who it would not. If you just want a basic, small mixer, I would choose the KitchenAid Mini Stand Mixer instead. If you're a professional, the KitchenAid Pro or Kenwood will better cater to your needs.
How We Test
Our team of experts takes every stand mixer that we review to our specialist test kitchen. Here, we have a series of standard tests that each stand mixer has to go through.
We make cakes to see how the mixer tackles batter; bread to see how it kneads; and whipped cream to see how well it can whip up some texture. We also make notes on the unboxing and cleaning process so that you don't have any nasty surprises when this stand mixer arrives at your door. If you'd like to find out more details, we have lots of information on our how we test page.
Sign up to the Homes & Gardens newsletter
Decor Ideas. Project Inspiration. Expert Advice. Delivered to your inbox.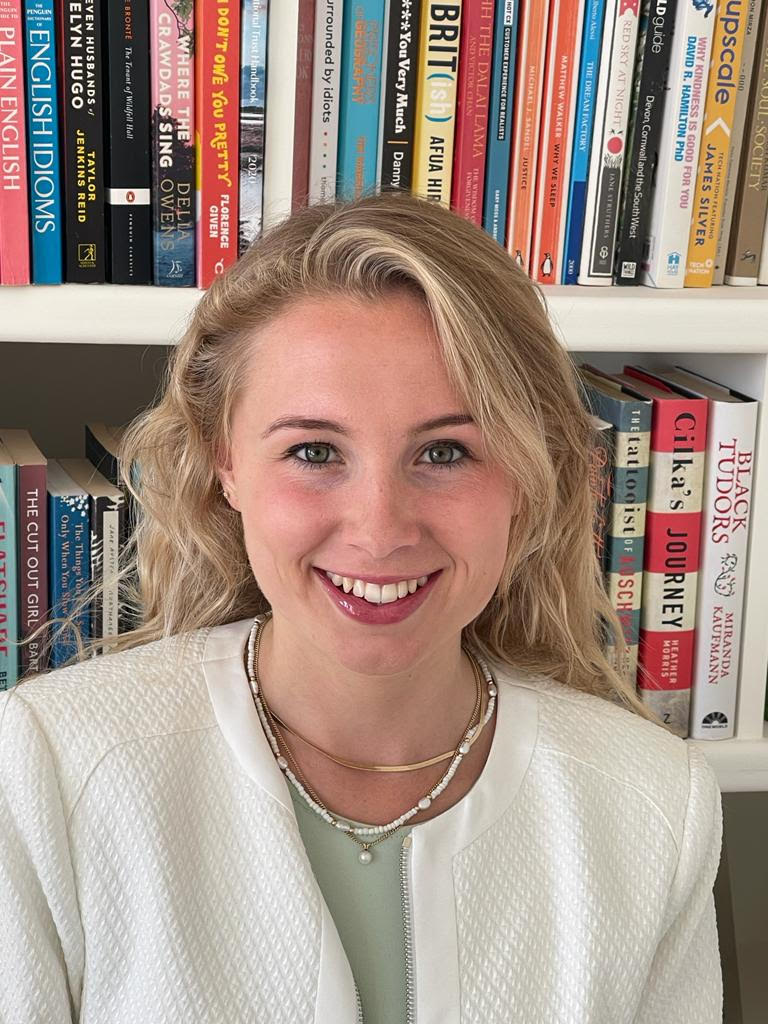 Laura is our eCommerce editor. Before Homes & Gardens she studied English at Oxford University. Alongside her studies, she qualified as a barista and trained as a master perfumer. This makes her our certified expert for all things coffee, candles, and fragrance. She has passed our five-step tests to become a certified Customer Advisor, making her our resident expert. Laura has worked for luxury retail brands, reinforcing the importance of quality and style over quantity and fads. She looks for products which have been designed with thoughtful finishes.