KitchenAid Artisan Stand Mixer review: a classic for a reason
The KitchenAid Artisan Stand Mixer is the world's most iconic stand mixer, but should it be your top pick? We put it to the test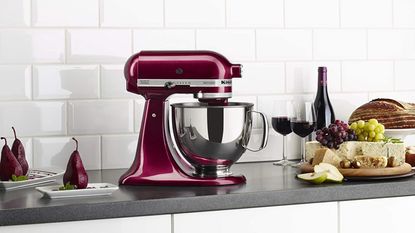 (Image credit: KitchenAid)
The KitchenAid Artisan Stand Mixer has a 5-quart capacity and comes in countless color options. In this KitchenAid Artisan Stand Mixer we put it to the test, making bread, cake, and whipped cream.
Reasons to buy
+

Sleek design

+

Easy to use and store

+

Great for small batches

+

Makes cakes in an instant

+

Three attachments

+

Optional attachments available online

+

Reasonably priced for a KitchenAid mixer
Reasons to avoid
-

It shakes a little when kneading dough

-

Some ingredients get stuck to the side
When thinking of a stand mixer, the image that comes to mind is probably of the KitchenAid Artisan Stand Mixer. Why? Well, it's the most iconic stand mixer on the market, and you'll find one in the kitchen of countless TV chefs, and even on the counters of the Great British Baking Show contestants.
Even in the homes of people who don't necessarily bake all that often, the KitchenAid Artisan Stand Mixer is often on display as a classic kitchen accessory. It comes in a range of colors, and has three attachments for kneading, beating, and whisking.
The KitchenAid Artisan Stand Mixer is widely believed to be the best stand mixer on the market, but is it? We put it to the test in this review to see how it handles cake ingredients, bread dough, and heavy whipping cream.
Specifications
Colors: countless
Type: tilt-head mixer
Capacity: 5 quarts
Weight: 25 pounds
Speed settings: 5
Material: stainless steel
Dimensions: 8.75" L x 14.3" W x 13.3" H
Motor: 325 watts
Attachments: dough hook, whisk, flat beater
KitchenAid Artisan Stand Mixer design
The KitchenAid Artisan Stand Mixer is smaller than some stand mixers such as the KitchenAid Pro Line Stand Mixer. However, it's still fairly heavy. If you plan on storing your mixer in a cabinet or cupboard, you may struggle to lift it in and out of storage. It's an attractive mixer though, so while it's tough to store out of sight, it's far from an eyesore on any kitchen counter.
When I write reviews I'm usually sent the product on a loan basis to make some of my staple recipes, before sending it back to the brand. In the case of the KitchenAid Artisan Stand Mixer though, I have a lot of experience making cakes, cookies, bread, biscuits, and other recipes. This is because it's actually my own stand mixer, which I've had and used for years.
The model I reviewed was a special anniversary version of the KitchenAid Artisan Stand Mixer. It has that 90-year mark on the side of the mixer, but under the hood, it's the exact same as the ones you can buy today.
The tilt-head design works with a locking dial that can be pulled to release the stand mixer head either up or down. It's very easy to use, but it's on the other side of the (seemingly) 10-speed dial.
While the KitchenAid Artisan Stand Mixer has a dial that goes up to 10, that does not mean there are 10 speed settings. There are actually 6 speeds in total: 1, 2, 4, 6, 8, and 10.
Included with the mixer there is a wire whisk, a flat beater, and a dough hook.
Making cake in the KitchenAid Artisan Stand Mixer
I made one of my favorite chocolate cake recipes when testing the KitchenAid Artisan Stand Mixer for this review. It requires you to mix together cocoa powder and hot water before adding the rest of your ingredients, and I found that the whisk was able to incorporate even small quantities of water and cocoa to make a thick and foamy paste.
I only needed to go up to speed setting 2 in order to get all the power I needed to make two large sponge cakes. The KitchenAid Artisan Stand Mixer was able to combine all of my ingredients in less than a minute, and I was left with a creamy cake batter consistency. I did have to go in with a spatula to make sure that all of my cocoa mix was mixed in completely, but it did a very good job of this before I went in with the spatula.
For the filling, I amped up the motor to speed 8 and added my carton of heavy cream. It wasn't the speediest whipped cream I've ever made but it did a very good job and I was able to monitor it and stop the cream from becoming too firm thanks to the pace.
Making bread in the KitchenAid Artisan Stand Mixer
To make bread in the KitchenAid Artisan Stand Mixer all you need to do is add your dry ingredients and then pour in the water gradually while you turn it onto a lower setting.
Typically it takes a minute or two to combine all of your wet and dry ingredients and begin to form a ball of dough. This will then begin to work around your dough hook and move around the mixing bowl.
With the KitchenAid Artisan Stand Mixer you're advised to knead dough on speed setting 2, because if you go much higher it will begin to struggle and even move on your kitchen counter. Luckily, I found the second speed setting more than adequate to knead my bread for ten minutes. While it has a smaller motor than some mixers such as the Cuisinart Precision Stand Mixer, it was still capable of kneading one loaf. Any more than that though, and the 325-watt motor would probably struggle.
The KitchenAid Artisan Stand Mixer dough hook is easy to clean thanks to the dishwasher-safe design, but I did find that it hooks the dough very well onto the base, and even works it up to the base of the attachment.
Luckily, it has a flat circular stopper at the top of the dough hook, which prevents the dough from going too far up the attachment when left unattended.
Cleaning the KitchenAid Artisan Stand Mixer
When I'm done with my KitchenAid Artisan Stand Mixer I just place the bowl into my dishwasher, along with the dough hook and flat beater. The whisk isn't dishwasher-safe though, so it needs to be rinsed after use and then washed by hand. This is a bit of a hassle, but it's very quick and easy to do.
Is the KitchenAid Artisan Stand Mixer worth the money?
The KitchenAid Artisan Stand Mixer is typically priced at $429.99, so it is by no means a cheap stand mixer. However, I think it's great value for the look and style of the machine, as well as how effectively it works.
If you do opt for the Artisan, there are countless color options available. That includes white, black, red, and silver, and more niche colors like lime green, pastel pink, and ink blue.
It's not too common to find the KitchenAid Artisan Stand Mixer on sale though, and I do think it is very comparable to the Cuisinart Precision in terms of how it performs. If you love to bake and don't care to much about matching your mixer with your blender or toaster, the Precision is also a good pick at $250.
Should you buy the KitchenAid Artisan Stand Mixer?
The KitchenAid Artisan Stand Mixer deserves its status as an iconic stand mixer. It's powerful enough to work through family-sized cake recipes, and can handle loaves of bread and cartons of heavy cream in minutes.
I also enjoy the color options and ability to leave the mixer to work hands-free while I add new ingredients or work on cleaning my counters. You can pair the KitchenAid Artisan Stand Mixer with a food processor attachment, mincing attachment, and even a pasta roller attachment.
More experienced bakers may enjoy a more powerful option such as the KitchenAid Pro Line, but hobby chefs who bake cakes on a somewhat regular basis will find that it's more than powerful enough for their day-to-day needs.
I recently tested the KitchenAid K150 blender, which is one of the best blenders I've reviewed. I like the idea that you can co-ordinate your stand mixer, blender, and even toaster by brand and color with the KitchenAid lineup, so if the look of your kitchen is a big concern for you, the Artisan is a great choice.
About this review, and our reviewer
Millie Fender is our Editor for all things small appliances at Homes & Gardens. She spends a lot of time testing everything from toasters to air fryers and recommending the very best ones to readers.
All our reviews are tested from home, and the KitchenAid Artisan Stand Mixer review is no exception. Bought with her own money, Millie has been using the KitchenAid Artisan Stand Mixer long before she joined the Homes & Gardens team and continues to enjoy it every birthday, Christmas, or lazy Saturday.
Millie Fender is Head of Reviews on the Homes and Gardens Ecommerce team. She specializes in cooking appliances, such as the best kettles, and also reviews outdoor grills and pizza ovens. Millie loves to bake, so she will take any excuse to review stand mixers and other baking essentials. When she's not putting products through their paces in our dedicated testing kitchen, Millie's reviews are conducted at home, meaning she uses these products in her own day-to-day life.