Cuisinart Precision Stand Mixer review: a capable mixer with a large capacity
Our small appliances editor put the Cuisinart Precision Stand Mixer to the test. Does it deserve a spot in your kitchen? Here's her full review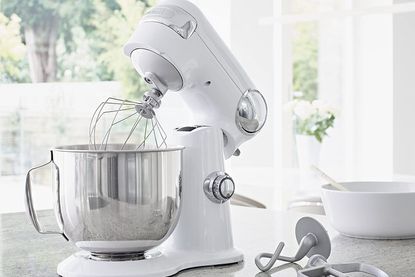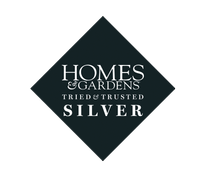 (Image credit: Cuisinart Precision Stand Mixer)
The Cuisinart Precision Stand Mixer is an immense value machine. It has a powerful motor that works through bread dough better than many more expensive machines, but it struggles to incorporate cake batter fully.
Reasons to buy
+

Dial with many speeds

+

Several color options

+

Large 5.5 quart bowl

+

The motor outpaces KitchenAid and other rivals

+

The bowl has a handle

+

Lifting the tilt-head is straightforward

+

A reasonably priced option
Reasons to avoid
-

Some of our ingredients got stuck to the side of the bowl
You can trust Homes & Gardens. Our expert reviewers spend hours testing and comparing the latest products, helping you choose the best for you. Find out more about how we test.
Presenting a real threat to the competition when it comes to power, capacity, and the amount of speed settings on offer, the Cuisinart Precision Stand Mixer offers some serious value for money without skipping out on the classic stand mixer look.
The Cuisinart Precision Stand Mixer is one of the most popular stand mixers on the market, so I put it to the test to see if it's worth the money. As small appliance editor at Homes and Gardens, this is far from my first stand mixer review, so keep reading to find out how the Cuisinart Precision Stand Mixer works when making cake, bread, and even whipping heavy cream.
Specifications
Colors: White, black, red, aqua
Type: tilt-head stand mixer
Capacity: 5.5 quarts
Weight: 17 pounds
Speed settings: 12
Material: die-cast metal body
Dimensions: 16.54 x 11.70 x 16.54 Inches
Motor: 500 watts
Attachments: Dough hook, whisk, splash guard, flat beater
Cuisinart Precision Stand Mixer design
The Cuisinart Precision Stand Mixer looks like many stand mixers on the market. It has a tilt-head design that operates with a paddle at the very back of the head itself, towards the base of the machine. Simply pulling this down unlocks the lid, and it's then free to lift or lower as you desire.
Another thing that sets the Cuisinart Precision Stand Mixer apart from other options on the market is its speed settings. These work on a dial, and there are 12 in total, which is an impressive amount when compared to the five or six you'll get with Smeg and KitchenAid.
Color options are lacking. There are black, white, red and aqua options available, but it would be nice to see a wider range available for any kitchen design. I got to test the black mixer, which as a weighty metal construction with a sleek and glossy finish. The bowl is wider and more flat than some stand mixers with a smaller capacity, and I also noticed that the attachments are larger in general. The whisk in particular has a magnificently bulbous shape and several wires for a thorough whisk.
My stand mixer came with a recipe book included, as well as a thorough manual that explained the best speed settings for different tasks. The bowl has a handle, which makes it easy to twist in and out of place, and empty the contents into cake tins and molds.
How the Cuisinart Precision Stand Mixer works
For a start, the dial is only available on one side of the Cuisinart Precision Stand Mixer, so you'll have to have it facing either to the left or straight towards you to access it. The attachments twist into place and are securely held in until you lift upwards and twist once more.
The dial is easy to twist, but if you know you want to head straight for a fast setting, it requires a good twist to get there. One of the best features of the Cuisinart Precision Stand Mixer is its slow-start function. This means that every time you change speed the mixer slows down and works up towards the chosen setting. This is excellent, because it prevents a big cloud of icing sugar or flour from exploding out of the mixer.
Making cake in the Cuisinart Precision Stand Mixer
I never test a stand mixer without making a cake. I follow the same recipe every time, so any differences in outcome are more easily attributed to faults and differences in mixers. The first step of my cake recipe required me to cream sugar and butter together until light and fluffy. I made a single-tier cake, so the ingredients were already a big dwarfed by the size of the generous 5.5-quart bowl.
This is the stage of the review where I give pretty much the only fault with the Cuisinart Precision Stand Mixer. Its attachments don't reach close enough to the bottom or sides of the bowl, which means I ended up with sugar and butter stuck to the sides, and barely any being creamed together. I thought that using a whisk might make this better, but I had the same option.
This is the point of testing where I would typically pick up the best hand mixer and give the sugar and butter a good blitz, but in the interest of fair testing I continually scraped the sugar and butter away from the side of the bowl and watched it mix for a few more seconds before returning to the side of the bowl.
I tried this same recipe but with double quantities and found that the mixer was much more effective, which is a testament to its hardiness. It is not designed for small batches, this is a kitchen workhorse that will create multi-tiered cakes far more easily than a small batch of cupcakes.
When I added the eggs, flour, and sugar to the bowl the Cuisinart Precision Stand Mixer did an excellent job of bringing everything together. I did have to go in with my spatula once more to pick up the ingredients that got stuck to the side, but with larger quantities it was a lot less high-maintenance.
Using the whisk with the Cuisinart Precision
What is fresh cake without a delicious whipped icing? The whisk did a great job of beating heavy cream on a higher setting, and I noted that the slow start did an especially good job of not spilling or splattering my cream as it started.
I also made a whipped white chocolate ganache in the Cuisinart Precision Stand Mixer. It's not my regular test, but a fun extra to celebrate my partner's birthday. The whisk also did a great job here, but I did have to go in with the spatula to integrate everything fully.
Making bread in the Cuisinart Precision Stand Mixer
Continuing my journey of delicious baked goods (don't worry, I tested the Cuisinart Precision Stand Mixer over the course of a month, so everything was eaten!) I turned my attention to the dough hook. Kneading has been the downfall of many stand mixers when I've tested them before. Some simply can't handle how much strength is needed, and others lose balance and move across my work surface.
The Cuisinart Precision Stand Mixer was very easy to use. I added all my ingredients to the bowl and watched as the dough hook integrated everything, which only took a couple of minutes, while I added water to gradually bind.
I left the dough to knead for ten minutes, keeping a watchful eye in case the mixer moved across the counter (while I've never had a mixer fall off, I've worried that it would happen if left unattended). The Cuisinart Precision Stand Mixer did an amazing job of mixing everything while barely moving from its original position. It was far more impressive than the KitchenAid Artisan in this regard.
If I were to recommend a stand mixer for making bread, it would be the Cuisinart Precision Stand Mixer. My dough was stretchy and smooth after ten minutes, and the machine itself was barely warm to touch.
The 500 watt motor doesn't really come into its own until you use it for heavier work like making bread, but it performs well in testing.
My bread rose very well. In fact, I would say it's some of the best bread I've ever made in a stand mixer.
Cleaning the Cuisinart Precision Stand Mixer
The dough hook and flat beater can go in the dishwasher, as can the splash guard and mixing bowl. Don't put the whisk in the dishwasher though, this is something you need to wash by hand. It's a bit of an annoyance because whisks are a pain to hand wash, but it won't take long.
Wipe the Cuisinart Precision Stand Mixer down with a wet cloth to remove any flour and other baking residues.
Is the Cuisinart Precision Stand Mixer worth the money?
In the US, the Cuisinart Precision Stand Mixer is typically available for around $250. It can be found on sale frequently though, so keep an eye out and you may find it at $200 or less. In the UK the Cuisinart Precision costs £270. No matter where you're buying, this is one of the cheaper big-name stand mixers. It is around half the price of a KitchenAid Artisan in the US, and in the UK it is around £100 cheaper.
So, for the price, is it worth it? I would say it is absolutely worth picking up the Cuisinart Precision Stand Mixer is you love to make bread. It makes the whole process completely hands-free, and does an excellent job of kneading bread. If you make more cakes and small batches of cookies, you may be irritated by the fact that there is no side scraper attachment to integrate all of your ingredients. Keep a spatula handy to get a good bake.
Homes & Gardens verdict: should you buy the Cuisinart Precision Stand Mixer?
If the lack of color options isn't a problem for you, you should definitely pick up the Cuisinart Precision Stand Mixer. It does a particularly good job of large volume bakes and recipes, and the slow start controls help to keep the kitchen clean when baking.
About this review – and our reviewer
Millie Fender is our Editor for all things small appliances at Future. She spends a lot of time testing everything from toasters to air fryers and recommending the very best ones to readers.
All our reviews are tested from home, and the Cuisinart Precision Stand Mixer review is no exception. Millie put it to the test for a month, making bread, cupcakes, and a very fancy birthday cake in it to bring you this review.
Millie Fender is Head of Reviews on the Homes and Gardens Ecommerce team. She specializes in cooking appliances, such as the best kettles, and also reviews outdoor grills and pizza ovens. Millie loves to bake, so she will take any excuse to review stand mixers and other baking essentials. When she's not putting products through their paces in our dedicated testing kitchen, Millie's reviews are conducted at home, meaning she uses these products in her own day-to-day life.