KitchenAid vs Cuisinart stand mixers: which should you buy?
KitchenAid vs Cuisinart stand mixers, which is right for you? We put them to the test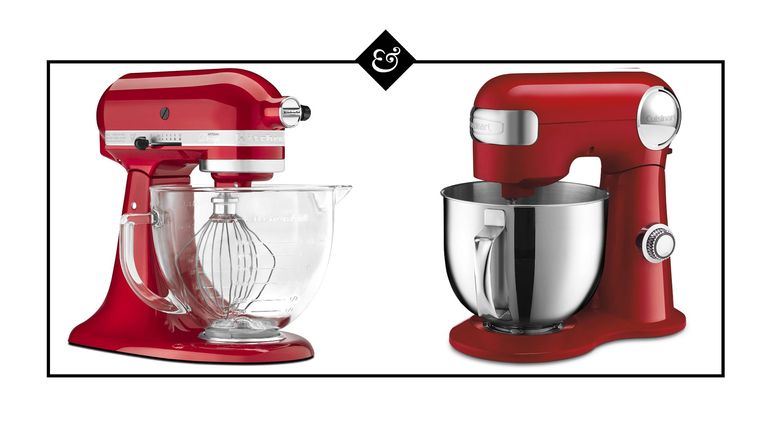 (Image credit: Future)
KitchenAid vs Cuisinart stand mixers: which is better, and which should you buy? While both stand mixers feature in our guide to the best stand mixers, there are some differences to consider before making your final decision. The specs are very similar, and both stand mixers are very popular with buyers, so making your choice can be tricky.
We've reviewed both the Cuisinart Precision and the KitchenAid Artisan stand mixer independently, so if you're trying to decide between the two, our reviews can help. Side-by-side these mixers may look similar, but there are important differences in price and capabilities, as well as that all-important performance test.
KitchenAid vs Cuisinart stand mixers: what is the difference?
KitchenAid has an immense range of stand mixers, so much so that the brand appears three times in our stand mixer buying guide. Cuisinart, by contrast, is best known for its Precision stand mixer. This is most directly comparable to the KitchenAid Artisan, which is also KitchenAid's most popular stand mixer. If you've ever seen a KitchenAid mixer on someone's Instagram or a cooking show, it was likely an Artisan.
When you look at the spec differences between the KitchenAid Artisan and Cuisinart Precision, the Cuisinart is – on paper – the front-runner. It has a more powerful motor, more speeds, a marginally larger capacity and the same attachments.
One other difference is that the bowl on the Cuisinart has a handle included, which is useful for pouring and scraping out cake batter and bread dough.
Price
The KitchenAid Artisan retails for $399.99, whereas the Cuisinart Precision is only $199.99. You can keep reading to find out which mixer performs better, but if budget is a big part of your evaluation, the Cuisinart is a better value pick.
Features
On paper, the Cuisinart is a better stand mixer. However, there are some perks to buying a KitchenAid too. The Cuisinart used to only have six colors: Onyx, Red, Bright Blue, Blue Mint, Chrome and White. Recently, Cuisinart added some gorgeous pastels including Blushing Coral, Agave Green and Arctic Blue. However, there's still no comparison between this range and the available colors for the KitchenAid Artisan.
I cannot even list every color you can buy the KitchenAid Artisan in, but the total number is in excess of 40. If you want to pick a stand mixer to suit a specific look in your kitchen, the KitchenAid will be the best choice for you.
Aesthetically, the KitchenAid also wins out for me. The Cuisinart is slightly curvier and bulkier, but the KitchenAid has a classic sloping design. It's all subjective, though.
Which is better at making cake?
The flat beater with the Cuisinart and the KitchenAid both work effectively at making cake, but I did find that the KitchenAid Artisan did a better job of creaming butter and sugar together without assistance. When I tested the Cuisinart, I had to go in with a spatula multiple times to scrape butter and sugar away from the sides of the bowl. You can see images – and more details – in my Cuisinart Precision stand mixer review.
If you make a lot of cake, the KitchenAid is better for this. Because the Cuisinart has a larger bowl it is also more wide, which means the flat beater doesn't touch all sides of the bowl when beating and whipping.
Which is better for bread?
I followed the same recipe when testing both the Artisan and Precision mixers. Hands down, the Cuisinart did a better job.
The KitchenAid's smaller motor had an effect here, because you have to work on the lower speeds in order to not damage the machine. The mixer moved around the counter when kneading, and I felt like I had to supervise to make sure it didn't move too much or even fall over. My KitchenAid Artisan review has more details.
By contrast, the Cuisinart did a very good job of working my bread dough. The motor was able to work at a higher speed, and I was able to make one of the best loaves of bread I've ever made when working with this machine.
Other things to consider
The KitchenAid dial goes up to ten, but if you click it along you'll find it only goes at six speeds. The Cuisinart has a dial, and there are 12 speeds to choose from. This dial also has a slow-start mode that prevents clouds of flour from exploding in your kitchen, which is a really nice touch.
Now, while you can remove the front panel from the Cuisinart to attach some add-ons, there are far fewer add-ons available with this mixer than the KitchenAid, which has everything from a food processor to a pasta maker attachment. There are five in total that you can buy for the Precision, but over 14 available for the Artisan.
Which should you buy?
This depends on your needs. For a start, if you have a specific kitchen design that you want to adhere to, the KitchenAid has a larger range of colors and styles, and even custom bowls that you can buy online.
Budget-wise, the Precision is cheaper than the Artisan by about 50%, and while I found that making cake was trickier, it did perform far better with bread. For the money, it's definitely better value.
If I was going to buy one stand mixer, I would buy the Cuisinart – unless there was a good deal that brought down the price of the KitchenAid Artisan considerably.
Millie Fender is the Small Appliance and Cooking Editor on the Homes and Gardens Ecommerce team. She specializes in cooking appliances and also reviews outdoor grills and pizza ovens. Millie loves to bake, so she will take any excuse to review stand mixers and other baking essentials. All of Millie's reviews are conducted at home, meaning she uses these products in her own kitchen, the way they're designed to be used. Millie is from Bath, England, and she grew up surrounded by classic Georgian architecture and interiors. She dreams of buying her own house and filling it with antiques, but for now, she lives in a sunny London flat with a very busy kitchen.