KitchenAid vs Cuisinart stand mixers: which mixer should you choose?
KitchenAid vs Cuisinart stand mixers - which is best? We put them to the test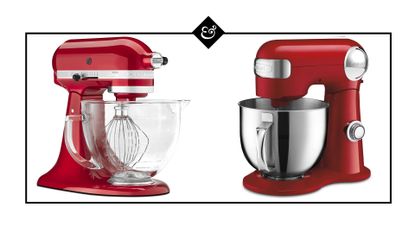 (Image credit: Future)
If you're shopping for a new stand mixer, the decision often comes down to KitchenAid vs Cuisinart. Famous for their range of brilliant mixers, KitchenAid mixers are built in the USA and come in a range of different colors and sizes. This means they're a more versatile choice for both large bakes and single-serve dishes.
With that said, others consider the much-loved Cuisinart Precision stand mixer to be an excellent alternative to the classic KitchenAid Artisan, with a larger mixing bowl and similar attachments for cooking anything from bread to cupcakes.
Many of us will be trying to decide which option is the best stand mixer for their kitchen, and it's a tough call, because the specs are very similar, and both stand mixers are very popular with buyers.
We've tested both the Cuisinart Precision and the KitchenAid Artisan stand mixer independently, so if you're trying to decide between the two, our reviews can help. Side-by-side these mixers may look similar, but there are important differences in price and capabilities, as well as that all-important performance test. In this piece we will explain the differences between the two mixers and help you decide which is right for you.
KitchenAid and Cuisinart Holiday deals
Why you can trust Homes & Gardens Our expert reviewers spend hours testing and comparing products and services so you can choose the best for you. Find out more about how we test.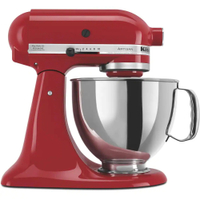 (opens in new tab)
KitchenAid Artisan Stand Mixer | was $449.99, now $349.99 at Bed Bath & Beyond (opens in new tab)
With a smooth and sleek design, the KitchenAid Stand Mixer's powerful motor can be used to knead, mix and whisk, adding a truly versatile tool to your kitchen. With a huge choice of colors, a smooth tilt-head design and easy access to the bowl, this robust appliance topped our tests of the best stand mixer.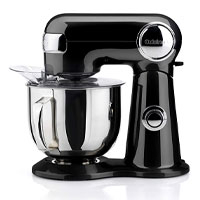 (opens in new tab)
Cuisinart Precision Stand Mixer | was $249.99, now $199.99 at Best Buy (opens in new tab)
Boasting high quality, power and performance, the Cuisinart Precision Stand Mixer comes with 12 speed settings and 3 attachments, allowing for you to mix cake batter, knead dough and much more. Available in multiple colors, the Cuisinart Precision Stand Mixer is a smart and stylish addition to your kitchen.
KitchenAid vs Cuisinart stand mixers: which should you buy?
KitchenAid Artisan Stand Mixer
Buy the KitchenAid Artisan if you're looking for the very best your money can buy; if the style and color of the machine are an important consideration; or if you tend to cook smaller servings of baked goods.
In our KitchenAid Artisan stand mixer review, we found that this mixer lives up to its reputation with the perfect capacity for most baking tasks and a reliable motor that won't overheat, no matter how much you use it.
For
Sleek design
Easy to use and store
Great for small batches
Makes cakes in an instant
Three attachments
Optional attachments available online
Against
It shakes a little when kneading dough
Some ingredients get stuck to the side
Cuisinart Precision Stand Mixer
Buy the Cuisinart Precision stand mixer if you want the best value option, or if you plan on cooking large servings of cake or cookies at a time.
The Cuisinart Precision stand mixer review also went very well, but we did find that the slightly larger capacity puts it at a disadvantage if you're cooking smaller servings. If you're making a single loaf of bread or a loaf cake, for example, the flat beater struggles to reach right to the bottom, which means the mixing can be less effective.
For
Dial with many speeds
Large 5.5 quart bowl
A powerful motor
The bowl has a handle
Lifting the tilt-head is straightforward
A reasonably priced option
Against
Some of our ingredients got stuck to the side of the bowl
Fewer color options