Hand mixer vs stand mixer: which should you buy?
Which is the better buy for you – a hand mixer or stand mixer? We compare them like for like so that you can see which is better suited to your cooking habits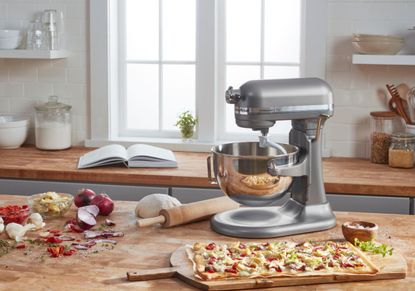 (Image credit: kitchenaid)
Wondering whether a hand mixer or stand mixer is a better buy for you? We are small appliance experts – and as Reviews Editor at Homes & Gardens, I spend much of my time testing both appliances, so am well-placed to tell you not only the differences, pros and cons, but also what will suit your cooking habits and kitchen.
In brief, my overview is this: while the best stand mixers allow you to tackle, hands-free, larger batches with longer mix times, and tend to have more attachments, making them more versatile, they can take up a lot of space, and there's a somewhat steep upfront cost, with some of the most affordable stand mixers still costing around $100. By contrast, the best hand mixers can cost as little as $30, and they take up a fraction of the storage space. However, there's a limit to what they can cope with, though if small batches are what you tend to make, and bread dough is off the list, that could be ideal.
In my own kitchen, I compared hand mixers and stand mixers by cooking duplicates of the exact same recipe in real-time to weigh up the pros and cons of each. I made two batches of brownies simultaneously, in order to compare how well they mix cake dough, cookies and brownie batter. While the stand mixer was an almost hands-free experience, we were impressed by how well the hand mixer held up in this hand mixer vs stand mixer battle.
Below, I bring you the results of both trials, adding in my experience of testing a ton of other stand and hand mixers. I also investigate the hand mixer vs stand mixer suitability for bread, cake and cookies. I explain the differences, and what each is typically good at versus the other, too. At the bottom of the page are both appliances, listed with today's best prices.
Hand mixer vs stand mixer: what's the difference?
Below, you will see that my mixing test resulted in pretty similar outcomes, but before we get into that, what are the other important factors consider when choosing between a stand mixer and a hand mixer? And what's the difference?
Size
Short on space? The obvious choice is a hand mixer. Most hand mixers come with attachments for whisking, folding, and kneading, as well as a case that contains everything neatly. They are also pretty lightweight when compared to stand mixers, which means you can store them in a cabinet or drawer when not in use.
Stand mixers are larger, by contrast, are pretty heavy and often tricky to store. Many like to display their stand mixer proudly on their kitchen counter, but it can be heavy and bulky to store out of sight.
Power
Hand mixers can be (nearly) as effective as stand mixers. When comparing the Oster HeatSoft Hand Mixer to the KitchenAid Pro Line Stand Mixer, I noticed that even the lowest setting on the hand mixer was very powerful and fast. The stand mixer can go up to 10 power settings, but the lowest setting is suitable for lightly folding in cake ingredients, so it has more range.
That said, if you're worried that a hand mixer won't be able to compete with a stand mixer in terms of power, there's nothing to worry about.
Effort
A stand mixer is easier to use: during testing, it allowed me to simply add ingredients while it mixed them all for me. With the hand mixer, I had to switch the mixer on and off while I added new ingredients. It wasn't too heavy, but if you have limited strength or mobility in your arms, it might be an issue.
Cleaning
It's easier to clean a hand mixer. You can place the attachments and bowl from the KitchenAid Pro Line Stand Mixer in the dishwasher, but that cannot be said for all stand mixers.
The Oster HeatSoft Hand Mixer has removable beaters which can go in the dishwasher, and I also placed the bowl I used in the dishwasher.
One element that will save with cleaning up is that you can place the bowl on the scales when you add more ingredients with a hand mixer, but with a stand mixer, you need to weigh them out into a separate bowl before adding to the mixer.
Hand mixer vs stand mixer: the baking process
Keen bakers will know the importance of the tools you use, so in this hand mixer vs stand mixer battle, I made sure to use some of the top appliances I've tried for baking.
As the Reviews Editor at Homes & Gardens, I've reviewed many stand mixers and hand mixers over the years. I was lucky enough to have the newly-reviewed KitchenAid Pro Line Stand Mixer (known in the UK as the KitchenAid Artisan 6.9L stand mixer) on-hand, as well as the Oster HeatSoft Hand Mixer (also known as Breville HeatSoft in the UK) for my hand mixer – both these links go off to our product reviews. Both appliances are about as good as it gets when it comes to baking, so I was really able to compare the two appliances evenly.
I made my tried and trusted brownie recipe for this experiment. I figured that it would be a good recipe to test with, as it requires lots of mixing to combine the sugar and butter, and then again when adding in the eggs to achieve a fluffy consistency, before beating in the melted chocolate and dry ingredients without removing too much air or overworking the mixture.
Hand mixer vs stand mixer for brownies
The biggest difference between the hand mixer and stand mixer emerged when I combined my melted butter and brown sugar. I wanted to mix until it formed a thick paste consistency, but while the stand mixer had no issue creating this, the hand mixer left me with more of a soupy consistency.
I suspect the reason for this was because the stand mixer's planetary motion was able to distribute the melted butter through the sugar, whereas no matter how much I seemed to mix it, the hand mixer couldn't fully stop the oil from rising to the top of the mixture.
Next up I whisked in two eggs to each mixture. I was able to crack them in and then simply switch on the stand mixer, before then turning to the hand mixer. This step is complete when there's a visible change in color, and I found that the stand mixer gave me a light and creamy consistency far sooner than the hand mixer.
The hand mixer created a lot of bubbles at the top of the mixture, but much like when I had tried to mix together the butter and sugar, it seemed to struggle when it came to adding air to the mixture. However, after a few minutes, it did catch up with the stand mixer in making a lightly aerated mixture. I was then able to mix in some melted dark chocolate, and the two brownie batters started to look very similar.
When adding in my dry ingredients, I found the hand mixer much more effective at integrating them than the stand mixer. This is because the flour and cocoa powder got stuck to the sides of the stand mixer bowl, whereas with the hand mixer I was able to move around the bowl to target any missed spots. With the stand mixer, I had to go in with a spatula to scoop around the outside of the bowl before mixing in everything that had stuck to the sides.
The two finished brownie mixtures looked very similar, but after 25 minutes in the oven, there were a few slight differences in taste and appearance.
For a start, the hand mixer batch was a little darker and had risen less than the stand mixer batch. This is probably because it had aerated the mixture less than the stand mixer. Neither batch was bad, in fact, the hand mixer batch was a little fudgier, but for recipes where you want a light and fluffy consistency, the hand mixer may struggle to match the planetary mixing motion of a stand mixer.
Hand mixer vs stand mixer for bread
Stand mixers are best for making bread because they can cope with larger batches, with dough, and allow you to be hands-free. Overall, you'll find the process easier and the results better.
Hand mixer vs stand mixer for cake
Occasional bakers can certainly use a hand mixer for making cakes, especially smaller cakes. But if you bake regularly or have a big crowd to feed, you'll be thankful for your stand mixer.
Hand mixer vs stand mixer for cookies
Whether a hand mixer or stand mixer is better for making cookies is really down to how big the batches are that you tend to make. As you'll see from our brownie test above, the results can be pretty similar if you make smaller batches. For larger batches, you'll want a stand mixer.
Can a hand mixer replace a stand mixer?
For occasional bakers, those of you who only make small batches at a time, and those who will never want to mix dough, then yes, a hand mixer can replace a stand mixer. However if you take your baking seriously or regularly cook large batches a stand mixer is ideal. The dream? Having both in one kitchen so that you can use one for small, quick cook ups, and one for more serious baking.
Which is best: stand mixer or hand mixer?
The answer to the question 'Is a stand mixer better than a hand mixer?' (or vice versa) is: it depends. If you bake small batches, have little space, a smaller budget and don't want to use a mixer to make bread, a hand mixer is your best buy. If, on the other hand, you cook regularly for a larger crowd and bread is on the list, a stand mixer is better.
As for our brownie test, while there were some differences in performance, I was surprised by how well the hand mixer performed in comparison to the stand mixer, especially when it is a fraction of the price. That said, it would not be able to knead dough and take on large batches, which the stand mixer would have no trouble with.
If you enjoy baking but are short on the space you'd need a hand mixer; if you have the space though, choosing a stand mixer will enable you to make large batches, virtually hands-free. I'm lucky enough to own a stand mixer, and while I use my hand mixer for small tasks, I would never replace the stand mixer from my kitchen counters. So, if you have the space and budget for both, that's what I would buy.
Sign up to the Homes & Gardens newsletter
Decor Ideas. Project Inspiration. Expert Advice. Delivered to your inbox.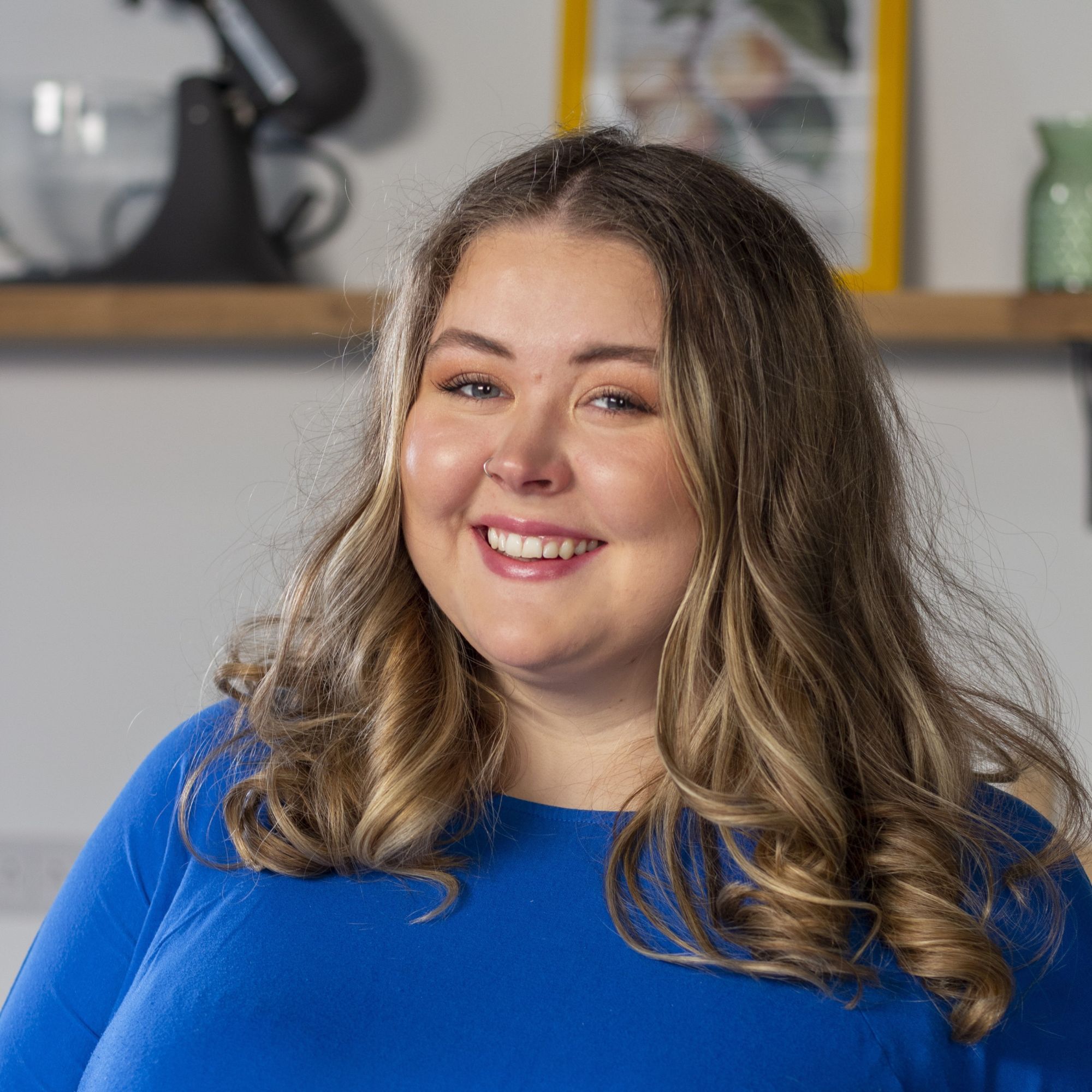 Millie Fender is Head of Reviews on the Homes and Gardens Ecommerce team. She specializes in cooking appliances, such as the best kettles, and also reviews outdoor grills and pizza ovens. Millie loves to bake, so she will take any excuse to review stand mixers and other baking essentials. When she's not putting products through their paces in our dedicated testing kitchen, Millie's reviews are conducted at home, meaning she uses these products in her own day-to-day life.