Ooni Karu 16 review: a pro pizza oven fit for beginners
If you're new to cooking pizzas (outdoors), our Ooni Karu 16 review breaks down all you need to know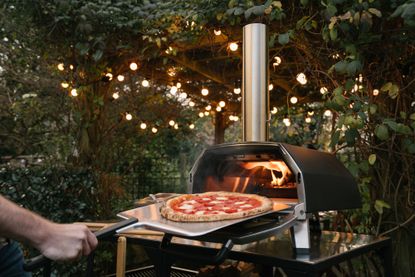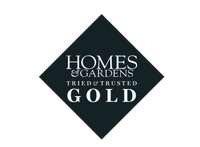 (Image credit: Ooni)
A smart, user-friendly pizza oven that delivers top-of-class function and performance
Reasons to buy
+

Digital thermometer takes guesswork out of getting to temperature

+

Easy to add fuel and builds heat quickly

+

Takes 16" pizzas

+

Glass door
Reasons to avoid
-

Too heavy to be portable
You can trust Homes & Gardens. Our expert reviewers spend hours testing and comparing the latest products, helping you choose the best for you. Find out more about how we test.
There are two ways to enjoy great pizza at home. One is to try every local pizzeria until you've found one worthy of your regular business, and exclusively order in from said pizzeria through eternity. The other is the Ooni Karu 16.
Both satisfy the pizza craving, in very different ways – but only one lets you hone your craft as a pizzaiolo (i.e. one who makes pizzas) until you've reached a level of pizza perfection you might never have experienced otherwise. I'll let you infer which is which. The more I use the Ooni Karu 16, and more importantly the more I eat the pizzas it creates (in a matter of seconds – the cooking, not the eating), the better it gets. But – full disclosure – don't expect an easy ride.
A relationship with the Karu 16 requires its owner to overcome self-doubt, read quite a lot of instructions, rebuild lost confidence and, above all, be totally engaged with the process. I'm still in the learning phase (having tried out the Karu half a dozen or so times), but I will say I've made strides that have given me confidence that perfection is on the near horizon. I've also tried a fair few competing pizza ovens and can tell you that the Karu is by far the smartest, most rewarding and best-equipped pizza oven of all.
Keep reading to hear more, then take a look at our list of best pizza ovens to compare the Ooni Karu 16 with other top-performing outdoor ovens for your backyard.
Ooni Karu 16 product spec:
Fuel type: wood or charcoal, or use gas with the Ooni Karu 16 gas burner (sold separately)
Pizza size: up to 16"
Oven temperature: up to 950°F (500°C)
Cooking surface: 16.7 x 16.7″ (42.42 x 42.42 cm)
Unboxed dimensions: 33 x 32 x 20″ (50 x 81.5 x 83.7 cm)
Unboxed weight: 62.6 lbs (28.4 kg)
Top tips for cooking the perfect pizza
The three things that no-one ever tells you about using a top pizza oven:
It takes time to master.
You won't get your pizzas right first time. Or the second time. There are lots of parts of the process that can go wrong – many not the fault of the pizza oven, per-se, but still a key thing to consider when you're shelling out a serious amount of money to become your own pizza chef.
Firstly, you'll need to hone your dough recipe, because that will be the thing that makes the pizza bad, good or amazing. Secondly, there isn't a home pizza maker in the world who hasn't suffered from peel-stick. Get your plan (and plenty of semolina) in place before you get the temperature up. The more you do this, the easier it will get – like with any cooking experience.
Timing is everything.
The odd thing about cooking on a pizza oven is that it messes with your usual approach to cooking. Regular cooking is usually rich in prep, followed immediately by cooking the food so that everything slowly comes together at the end.
Using a pizza oven is mad in this regard. You'll prepare the dough a few hours before you want to eat, then do something else. And then almost all of the actual 'cooking' time is actually getting the pizza oven up to temperature – before the actual cooking, which typically takes no more than a minute or two. And then you're into the quick, intense production line of pizza cooking. This last bit – there's no doubt – can be quite stressful. You realize that you've been making the pizza for half an hour, and actually cooking for about five minute.
Temperature is (also) everything.
The success of a good pizza cook lies entirely in both the temperature of the type of flame. If you can't control the temperature then you can't make a good pizza. And this, ultimately, is why the Ooni Karu 16 is the best pizza oven I've ever tried.
There are two main reasons the Karu succeeds here. Firstly, the Karu 16 is easy to fill – the wooden fuel hatch has a removable cover and you can easily fill the grate with wood as you need – it takes five seconds (the Karu also comes with an optional gas burner). But secondly, and best of all, it comes with a digital thermometer display on the front of the oven, which takes all the guesswork – and stress – out of the whole process.
When you know you've got to get the oven to 750˚F, all you have to do is watch the numbers go up – and when they go down, add some more wood in. It's transformational.
We tried a fair number of recipes – both for pizzas and my favorite, calzone. The oven can do a lot more, but let's master the basics first. As the dough got better and we regulated the temperature more easily – and kept it high – the pizza got better and better, and the process got easier and less intense. That's why it pays to work at it, and get through the difficult times, and be willing to make mistakes.
This pizza oven delivers on many levels – but don't expect you to get through the education process without getting covered in flour (I managed to get flour in my eye on one occasion); find yourself racing through the kitchen to get another pizza in before the temperature falls and, as I mentioned, getting a base stuck on the peel just as you open the door.
Put off yet? I hope not. Because there really is nothing like the pizzas you'll make. Ooni advertises its pizza ovens as part of the process of making childhood memories, which is a bit of a stretch – but the Karu 16 is the ultimate culinary addition to an outdoor living experience and if mastered, can be a regular part of your summer evenings.
Setting up the Ooni Karu 16
I went straight out of the box to set up in around 15 minutes. The oven is heavy (28kg / 61lbs) and barely portable, but with decent instructions was a breeze to get into shape. All of the elements fit together quickly. Setting it up entails putting together the nine different elements – chimney, the main body of the oven, the glass door, etc. – and felt intuitive and easy to follow.
Using the Ooni Karu 16
Unlike some other pizza ovens, Ooni's Karu 16 is a breeze to use. We tried the multi-fuel option but owing to a shortage of propane in our area, we've been using wood. The fuel hatch is at the back of the oven and after chucking in a couple of firelighters and 2-3 bits of wood to get things going, you'll quickly build a flame. You'll need a flameproof glove to access the hatch safely as the flames can flare up when you remove the hatch to add more wood, which you'll need to do every 5-10 minutes or so to get it up to temperature.
The oven itself is very heavy and designed for external storage rather than a truly mobile cooking/camping experience like some of Ooni's other products. Ooni sells a pretty good-value range of tables, as well as covers. The body itself is well insulated and sturdy. The clear-view glass on the door is a big win, and enables you to check on the progress of your pizza without having to open the door, which inevitably reduces the temperature.
Once lit, the oven took around 20 minutes to get to temperature. The low and slow approach to getting to temperature definitely pays off, but you could easily meet the 15-minute target Ooni set by putting more wood in early.
We started to cook the pizzas once the oven reached 750˚F. The pizzas took approximately 90 second to cook and, well, were delicious – the crispy, bubbled base you dream of.
Once used, the oven cooled down quickly and needed little maintenance. Our glass door blackened up a bit, but it's easy to wipe down with damp newspaper or paper towels.
How does the Karu 16 compare to Ooni's other ovens?
Ooni has a range of ovens – the Karu, Koda, Fyra and Pro. Of the 12" (meaning you can cook a 12" pizza in them) ovens, the Fyra is the entry-level model – it uses wood pellets. Only the Karu and Pro are multi-fuel (wood and propane), and deliver 16" pizzas. The Karu 16 is the premier option, with a bigger viewing door and easier accessibility. In other words, it's the highest-spec, although not suitable for anyone looking to live the cooking-pizza-by-the-camper-van dream – the 12" models are better for that.
Our verdict
Pizza ovens take a bit of getting used to, and reward a bit of effort. Make sure you have a handful of goes to try it out before inviting your friends over for the pizza party you've been dreaming about. When they come, they'll see that Oonu's Karu 16 is by some distance the leading pizza oven of its type available. For a pizza oven of this size and spec – a real crossover between the pro models and consumer-friendly versions – it's very intuitive and easy to use, with some smart features (not least the digital thermometer). It's not a portable model, but for summer afternoons on the patio, it really can be the center point of an al fresco lifestyle.
About our review – and our reviewer
Jason Orme is one of the UK's leading homes and property experts. He has worked in homes media for over 20 years, appearing in all the mainstream national newspapers as well as many specialist magazines, including Homebuilding & Renovating, which he edited for 12 years. Author of The Self Build Dream, he gives advice to hundreds of homeowners looking to renovate and build their own home each year, and has renovated and built houses from scratch.
He was sent this product to test at home in the backyard, which is how we like to test all pizza ovens and BBQs. We are not given any compensation for our reviews, but may be allowed to keep the product, meaning we can test it over a greater length of time.
Sign up to the Homes & Gardens newsletter
Decor Ideas. Project Inspiration. Expert Advice. Delivered to your inbox.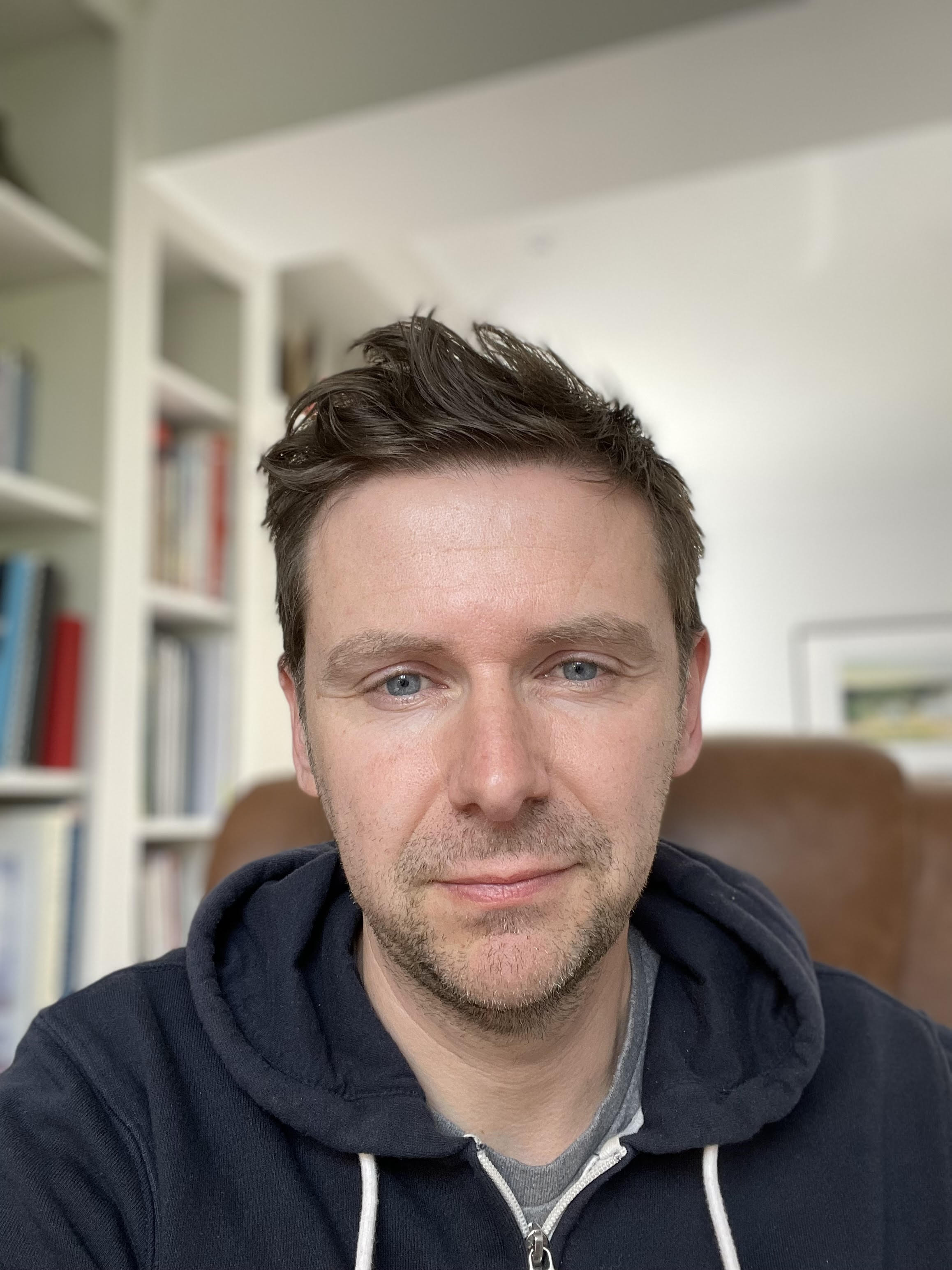 Jason is one of the UK's leading homes and property experts. He has worked in homes media for over 20 years, appearing in all the mainstream national newspapers as well as many specialist magazines, including Homebuilding & Renovating, which he edited for 12 years. Author of The Self Build Dream, he gives advice to 100s of homeowners looking to renovate and build their own home each year, and has renovated and built houses from scratch.