The Ooni Volt 12 is my new favorite pizza oven: here's why
I was skeptical of Ooni's new indoor pizza oven, but the Volt has fully converted me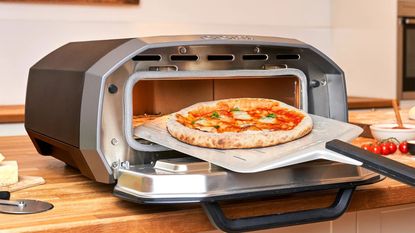 (Image credit: Ooni)
Offering a hybrid of indoor and outdoor pizza cooking, the Ooni Volt 12 is an ambitious launch that's paired with an intimidating price tag. In our tests though, it surpassed all expectations.
Reasons to buy
+

Foolproof design

+

Surprisingly heatproof

+

Heats up fast

+

Maintains consistent temperature

+

No assembly needed
Reasons to avoid
-

Large and heavy

-

No wood-fired flavor

-

An expensive option
You can trust Homes & Gardens. Our expert reviewers spend hours testing and comparing the latest products, helping you choose the best for you. Find out more about how we test.
The Ooni Volt 12 is Ooni's first indoor/outdoor pizza oven, but this landmark oven is now the brand's most expensive product, retailing at an eye-watering $999.99. Before this was released, one of the things I like best about Ooni is that they offer something for almost every budget. I tested and loved the Karu 12, so when I heard that the brand was releasing a new oven at triple the price, I knew it'd have to seriously wow me to seem worth it.
To put the Ooni Volt 12 through its paces, I invited over a group of friends for a pizza party. Some had used a pizza oven before, but others had never handled a pizza peel, meaning I was able to gauge how beginner-friendly this oven is. We took turns cooking Neapolitan-style pies, and were all impressed by how fast and evenly the Ooni Volt 12 cooked our pizzas.
Based on how well it held up in testing, I certainly feel that the Volt deserves a spot in our guide to the best pizza ovens.
Millie Fender is Head of Reviews at Homes & Gardens. She started working for the site in early 2021, when she headed up our cooking and kitchen appliance content. This means she's tried out some of the top pizza ovens, grills, and air fryers on the market, and can compare them for ease of use and performance.
Millie has been to Naples, the home of pizza, to learn about the art of making authentic home-cooked pies, and she's also spoken to dozens of industry experts to find out about the latest innovations in the industry.
Ooni Volt 12 specifications
Swipe to scroll horizontally
| | |
| --- | --- |
| Fuel: | Electric |
| Weight: | 39.2lbs |
| Pizza size: | 12 inch |
| Preheat time | 20 minutes |
| Dimensions | 24.2" x " x 20.8" x 10.9" |
| Warranty | 2 years |
Unboxing and setting up the Ooni Koda 12
Setup was easy, but lifting the Ooni Volt 12 onto my counters was a two-person job. Inside the box, you'll find the fully assembled Volt, which is ready to be plugged in for instant cooking. The pizza stone comes in a well-protected pouch, and slides into place inside the oven in seconds.
Although it weighs nearly 40 pounds, the Volt comes with a handle and a groove at the back to make carrying it that little bit easier. This oven is by no means portable, which means that it's taken up pretty much permanent residence on my kitchen countertops. Ideally, I'd have liked to be able to lift it into place and put it away before and after each use.
Inside the box, there was also a pretty comprehensive manual, and an essentials guide to get you started.
Given the dimensions of the oven, I was struck by how small the actual cooking surface seemed. It's 13.27" x 13.27", which is standard for a pizza oven, but it goes to show that a lot of space is taken up by the heating elements on either side and to the back of the oven.
The controls are pretty straightforward, although you must familiarise yourself with the manual to understand what they mean. The power button is touch-controlled, which took me a few seconds to realize, and there is a rear switch you'll need to turn on in order to start the power. The rest of the buttons are dial-controlled and confirmed with a press, all of which feel very high-quality.
The first dial is the timer dial, which is totally optional. I didn't use it for my first test but have used it since for cooking pre-made pizzas. This goes up to 20 minutes; it's unlikely that many pies will take that long to cook, but it's good for other options like flatbreads or grilling vegetables.
Second, is the temperature dial, which goes from 250°F (150°C) to 850°F (450°C). The third dial is the balance dial, which toggles where the heat in the oven comes from. You can split this evenly from the top and bottom of the oven, or change depending on your toppings or what you're cooking. This is the most tricky one to wrap your head around, but it's a mechanism similar to a toaster oven. If you're totally lost, the quick start guide offers different suggestions depending on the type of pizza.
Making pizza in the Ooni Volt 12
I started by making the pre-made pizza dough mix that Ooni sent, which came out really well. This is the most time-consuming part of making a pizza, but you can also buy pre-made dough which reduces the entire process to just a few minutes. Since first testing the oven, I've used pre-made dough a number of times to make speedy 15-minute dinners, which is something I'd never thought I'd say about a pizza oven.
Ooni claims that the pre-heat time is 20 minutes, but I found that it was actually closer to 15 even when I turned the temperature up to the very highest setting. I simply let it heat up and got on with preparing my ingredients.
The convenience of this is undeniable, but you do get the trade-off of no wood-fired flavor and a lot less charm than you'll get with a more traditional outdoor pizza oven. For me, someone who lives in a colder climate and has a smaller outdoor space, I'd much rather have the option of using a pizza oven indoors and outdoors, and I'm confident that this will mean I use the oven a lot more than I'd use an outdoor one.
The biggest problem we had in testing was the pizza sticking to the peel before we were able to place it into the oven. Even with this oven, there's a knack involved in getting it right.
You can watch your pizza cooking through the triple-paned borosilicate door. It started to rise and bubble after the first minute or so of cooking, and we then used the peel to remove it and spin the pizza around to cook every side evenly.
With most of the pizza ovens I've tested, there's been a 'first pancake' effect, where the first pie I've made has always gone wrong. This is the first time I've tried a pizza oven that hasn't done this, much to the relief of my friend whose pizza went in first.
There are some hacks to making the most of this oven. If you twist the middle dial completely back on itself between uses, it boosts the temperature of the bottom heating element to bring your pizza stone back to its desired temperature faster. This means you can cook pizzas back-to-back really easily, as opposed to waiting a few minutes between uses while the pizzas you've already cooked go cold.
Using the Ooni Volt 12 indoors
Hitting 850°F, I was concerned that the Ooni Volt 12 would turn my kitchen into a sauna. The risk of smoke is also pretty high when you're using such a powerful bit of kit. As recommended, I removed anything flammable from the immediate area around the Ooni and opened a window to get some ventilation in anticipation of any burning.
We were using the oven for around an hour, so the kitchen became pretty hot, but I was really surprised that the exterior stayed at a safe temperature. There was also a distinct lack of smoke, even when we did overcook our pizzas a bit. The fire alarm was not in the least perturbed, which was a pleasant surprise.
Using the Ooni Volt 12 outdoors
I've not used the Volt outdoors yet, but as soon as the weather picks up I'll be sure to take it for a spin on my patio table. A friend of mine mentioned that she'd be worried to place it on her outdoor furniture in case it caused damage, which is totally understandable. And while you can buy a stand for Ooni ovens, it takes up an awful lot of space.
From my experience using the Volt on my kitchen counter, it didn't cause any damage whatsoever from the underside of the oven, despite having no legs to lift it away from the surface. I'll keep this review updated when I do manage to use the Volt outdoors, but I'm confident that it won't damage my patio set. My main concern is actually using electricals outdoors, but we're seeing more and more of this with the launch of electric grills such as the Ninja Woodfire anyway.
How to clean the Ooni Volt 12
The Ooni Volt 12 is marketed as being an indoor/outdoor pizza oven, but you'll have to store it indoors. You have to order a cover separately, which is a bit of a shame given the up-front price, and you're also advised not to store anything on top of or inside the oven when not in use.
With many pizza ovens you'll find that the pizza stone discolors after the first use, and that's also the case with the Volt. You're not meant to get pizza stones wet, so the best way to keep your pizza stone clean is to flip it between uses. This means the most recently used side will face down, toward the heating element, and any debris will be burned away from the stone.
I was impressed that the glass door didn't steam up in use, which meant I could check on my pizza while it cooked. It did get flecked with bits of flour from the peel though, and Ooni suggests wiping this with a dry cloth to keep the door free of debris. As with all electricals, you should be very careful when cleaning with water.
How does it compare?
First launched in 2021, the Breville Smart Oven Pizzaiolo is actually one of the first pizza ovens I tested when I started working at Homes & Gardens. In my review I called it 'unbeatable', so let's see if that's the case. There aren't many indoor pizza ovens on the market, so if you're considering buying one, it's likely a choice between the Pizzaiolo and the Volt.
Looks: This one depends on your preferences, but the Breville is the one I'd go for based on looks alone. It's a little bit smaller and I enjoy the stainless steel finish.
Price: They're both expensive, but the Breville is a little cheaper than the Ooni.
Ease of use: This one goes to the Ooni. In the Breville, I actually had a couple of (small) fires inside the oven. They were never dangerous, but they did make me feel more wary of the oven, and it's definitely a bit less user-friendly. The Breville's controls also felt a lot less user-friendly and took longer to pre-heat.
Taste: Something about the Breville felt a little more authentic than the Ooni. The crusts got that classic leopard-spotted finish that you'll find in a wood-fired oven. Although, that might've been because of the literal fire I managed to start inside of the oven.
Versatility: Both are designed to cook pizzas, and it's likely that you have an actual oven in your kitchen that you can use to cook other things, so I can see why there's less of a push to experiment with both ovens. That said, you can definitely stick a skillet under the Ooni in a way you might struggle with in the Breville. This is because the pizza stone lifts toward you when you open the door, so all of your cooking will need to be done with the door closed.
I'm not afraid to hold my hands up and admit when I'm wrong, and I think I'd have to retract my earlier statement that the Pizzaiolo was unbeatable. If I got to have only one of these ovens in my kitchen, I'd go for the Ooni.
Should you buy the Ooni Volt 12?
If you can spare the money, the Ooni Volt 12 definitely lives up to all its claims. It's a smart countertop pizza oven that can make pizza in just a couple of minutes. With that being said, you lose some of the charm of more rustic Ooni ovens such as the Ooni Fyra 12 when you opt for an electric model, so the trade-off for all that convenience and ease of use is a less authentic and novel experience, and a slightly less smokey wood-fired flavor.
Is it worth it? To me, yes. I don't live in the kind of climate that would allow me to cook outside all through the year, so the Volt effectively means I can now cook homemade, authentic pizza indoors and outdoors, year-round. It reheats a lot faster, cooks more evenly, and allows you to actually talk to your friends when you're having a pizza party as opposed to constantly tending to a fire and turning your pies while they cook.
Sign up to the Homes & Gardens newsletter
Decor Ideas. Project Inspiration. Expert Advice. Delivered to your inbox.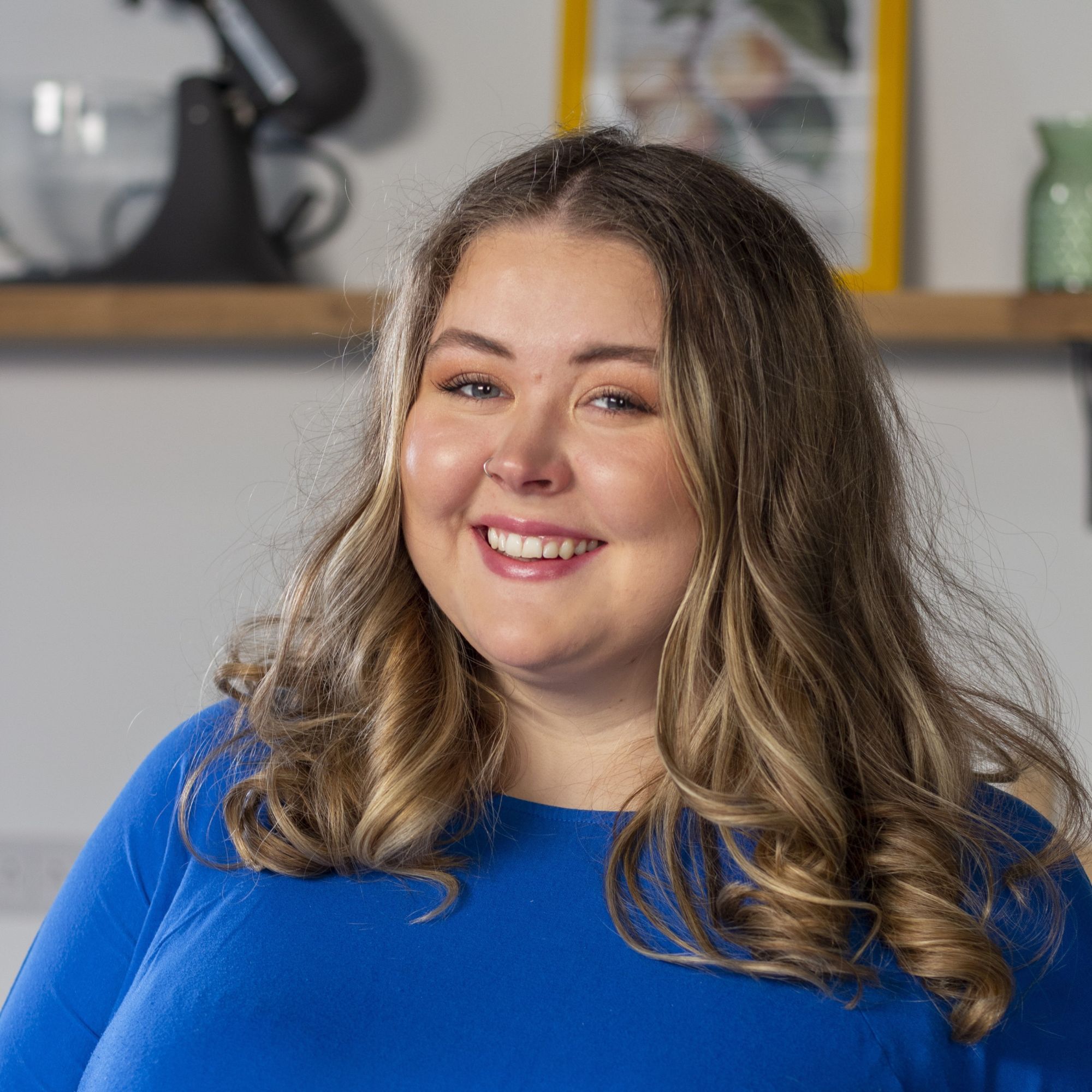 Millie Fender is Head of Reviews on the Homes and Gardens Ecommerce team. She specializes in cooking appliances, such as the best kettles, and also reviews outdoor grills and pizza ovens. Millie loves to bake, so she will take any excuse to review stand mixers and other baking essentials. When she's not putting products through their paces in our dedicated testing kitchen, Millie's reviews are conducted at home, meaning she uses these products in her own day-to-day life.