Ooni Koda 12 pizza oven review: reliable gas garden oven
The Ooni Koda 12 ditches the traditional wood pellets for reliable gas – but can it deliver the same flavor?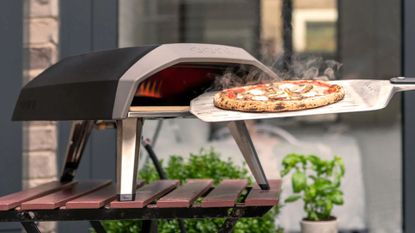 (Image credit: Helen McCue)
The Ooni Koda gas fired pizza oven can produce pizza that's just as crisp and tasty as its wood-fired sibling, the Ooni Fyra. It's a compact, portable pizza oven that's great for small spaces. It's simple to use and heats up fast, but can only cook 12 inch pizzas.
Reasons to buy
+

Easy to use

+

Compact and portable

+

Heats up in 15 minutes

+

Pizzas cook fast

+

Produces excellent crust
Reasons to avoid
-

Doesn't give an authentic wood smoke flavor

-

No door to keep heat in
You can trust Homes & Gardens. Our expert reviewers spend hours testing and comparing the latest products, helping you choose the best for you. Find out more about how we test.
Pizza is always a winner when you're feeding a crowd. But making pizzas at home can be hit and miss. The best pizzas need to cook fast at super high temperatures and that's where pizza ovens come in. Ooni is one of the brands at the forefront of the new trend of backyard pizza ovens, and with a great range of gas as well as wood fired models, it's easy to see why.
The Ooni Koda is a gas fired pizza oven. I tried the Koda 12 which can cook pizzas up to 12 inches, though there is a 16 inch model, for those with the skills to create bigger pizzas. I reviewed it alongside the Ooni Fyra 12 which is its wood fired sibling and it was interesting to compare the two.
Personally I like to cook on wood and charcoal when I'm cooking outdoors and I usually shun gas. So I will admit that I went into this review thinking that the Ooni Koda would leave me craving the more rustic and smoky experience that you get from wood or charcoal. But I was surprised, not only at how much I enjoyed the Koda, but also that the pizzas were just as good as in the wood fired Fyra.
Ooni Koda 12 specifications
Swipe to scroll horizontally
| | |
| --- | --- |
| Fuel: | Gas |
| Hosel: | 36 inch |
| Weight: | 20.4 lbs |
| Pizza size: | 12 inch |
| Preheat time | 15 minutes |
| Dimensions | 24.4 x 15.5 x 11.7 inches |
| Warranty | 3 years |
Unboxing and setting up the Ooni Koda 12
My Ooni Koda arrived ready to go. The set up involved little more than sliding the pizza stone into position and unfolding the legs. What's more, the packaging is virtually all cardboard, so it's easy to recycle and won't end up in landfill.
The gas hose is already fitted to the pizza oven, so I just had to connect it to my propane canister and it was ready to start up. However, it's worth putting some thought into where you intend to position the pizza oven in your backyard. Make sure you have a heat proof table that's convenient to stand and cook at.
The gas controls are very simple, a gas flow knob that includes automatic ignition is positioned at the back of the pizza oven. The gas flow and therefore flame, can be turned up or down which gives you instant control in a way that you don't get with a wood pizza oven such as the Ooni Fyra.
The Koda 12 is a streamlined and compact pizza oven that doesn't take up too much space. So not only is it perfect for smaller spaces, but it's also portable, you can even buy a carry case so you can take it camping or to a friend's house.
There are several things I learnt along the way that are worth knowing before you start making pizza in your Ooni. Firstly, there are some must-have accessories that you will need. They don't come with the oven unless you buy a bundle, which I would recommend considering. The first is an infrared thermometer, which allows you to check the temperature of the pizza stone and is crucial for knowing when it's hot enough to add your pizza. The other essential accessory is a pizza peel, as getting your pizza in and out of the Ooni will be very impossible without one.
My next tip is to do some research. Download the Ooni app, which includes recipes as well as a helpful dough calculator tool. Then head to the Ooni website and watch some of the YouTube tutorials on making and stretching dough, as well as launching pizzas into the pizza oven. Spending just a small amount of time learning before your first cook will enhance your experience.
When it comes to making your pizzas, don't overload on toppings, as this makes the pizza harder to handle. Nor should you try to cook several pizzas back-to-back. Allow the temperature of the pizza stone to rise between each pizza — I learnt this the hard way.
Making pizza in the Ooni Koda 12
Despite a passion for sourdough pizzas, I started by making the classic pizza dough recipe on the Ooni website. The dough is easy to make and stretches into a round pizza shape without too much trouble.
Once the pizza oven is fired up, it takes around 15 minutes to preheat. You'll be looking for a temperature of around 750-950°F on the pizza stone. Unlike the Ooni Fyra, the Koda doesn't have a door that you can close to keep the heat in, so I noticed that on a windy day it struggled to maintain a hot enough temperature and needed to be in a more sheltered spot.
Launching the pizza off the peel and onto the hot pizza stone can feel a bit daunting at first, but the action becomes second nature once you've done it a few times. And I think it's easier if you dust the peel with semolina instead of flour. Once it's in the oven, you'll need to turn the pizza every 20-30 seconds to ensure the crust crisps and browns the whole way around.
Ooni says your pizza can cook in as little as 60 seconds, but mine took around two minutes, which still feels super quick. Some of my creations included a classic margarita which I made a few times as well as pepperoni, and a cheesy garlic pizza bread.
Even from the very first pizza I made in the Ooni Koda, the quality and flavor of my pizzas far exceeds anything I've made in a regular oven. The crisp base and puffed-up crust with its charred bubbles tasted superb. I was very impressed with how quickly and easily I could make professional style pizzas, and the results were comparable to the wood fired Ooni Fyra.
It's worth noting at this stage that even if you're not much of a cook, you can still enjoy an outdoor pizza oven. Ooni sells frozen pizza dough online, so all you need to do is stretch it out, add some toppings and get cooking.
Making chicken in the Ooni Koda 12
It took me by surprise that a pizza oven could be used to cook foods other than pizza. But a quick browse of the Ooni recipes online had me inspired to give it a go. Fortunately, I had a cast iron skillet that fit inside the Ooni Koda as this is the best thing to use since you can't cook meats and vegetables directly on the pizza stone.
I preheated my skillet before adding chicken thighs. They started to char quite quickly, but after I turned down the gas, they began cooking more evenly. The heat inside is fierce and there was a lot of smoking and spitting, so I turned them frequently. After around 15 minutes, the meat was cooked through and the outside of the thighs was charred and crisp and absolutely delicious, with a slight smoky flavor.
Making roasted vegetables in the Ooni Koda 12
Cooking on the skillet got me thinking that this would be the perfect way to cook up a sizzling vegetable fajita mix. I preheated the skillet once again but this time added chopped bell peppers and onions coated in oil and my favorite fajita spice mix. Within 10 minutes I had the perfect sizzling charred vegetables that were far superior to those I usually cook on my stove.
Cleaning and packing away the Ooni Koda 12
Pizza stones don't require regular washing, as they get sanitized by the high heat inside the pizza oven, which also burns away any residue. The most I did was brush off some ash that had collected on the stone once it had cooled. I also wiped the outside if there was any grease on it, but really there's not much cleaning to do.
My Ooni was cool enough to move and store away within an hour of cooking my last pizza. It should be it should be kept out of harsh weather, so you should store it indoors if possible; a garage is ideal. The legs fold flat for neater, more compact storage, or you can buy a carry case and store it inside that.
How does it compare?
If you're craving a wood fired pizza oven, but unsure about whether it's worth the hassle, the Ooni Fyra is an excellent choice. It's designed to burn tiny wood pellets that are clean and easy to use, and it heats up just as fast as the Koda. The only difference is that you need to keep an eye on the fire and load it up with more pellets when needed so that it continues to burn hot. And while it does require a little more attention, it's arguably more rewarding, as well as being more portable since you don't need to take a gas canister with it.
For those that are undecided and don't mind upping the budget, the Ooni Karu 16 is the top-of-the-range Ooni. It's a multi fuel model, so you can choose to burn either gas, charcoal, or wood, depending on what you prefer. Plus this larger capacity model has space for bigger 16 inch pizzas as well as a built in thermometer. If you're looking for the best Ooni has to offer, this is it.
Should you buy the Ooni Koda 12?
For just under $400 the Ooni Koda offers exceptional value for money. It really will elevate your homemade pizzas to the next level and it's great fun to use. As someone who isn't usually a fan of outdoor cooking on gas, I was mightily impressed with its ability to produce charred crisp pizzas just like the wood fired version, albeit without any wood smoke flavor.
This compact and portable pizza oven is so versatile it'll not only reinvigorate your backyard cooking, but you can take it just about anywhere and cook exciting meals in minutes. So if firing up a wood pizza oven doesn't sound like your thing, you'll love the ease of this gas model.
Sign up to the Homes & Gardens newsletter
Decor Ideas. Project Inspiration. Expert Advice. Delivered to your inbox.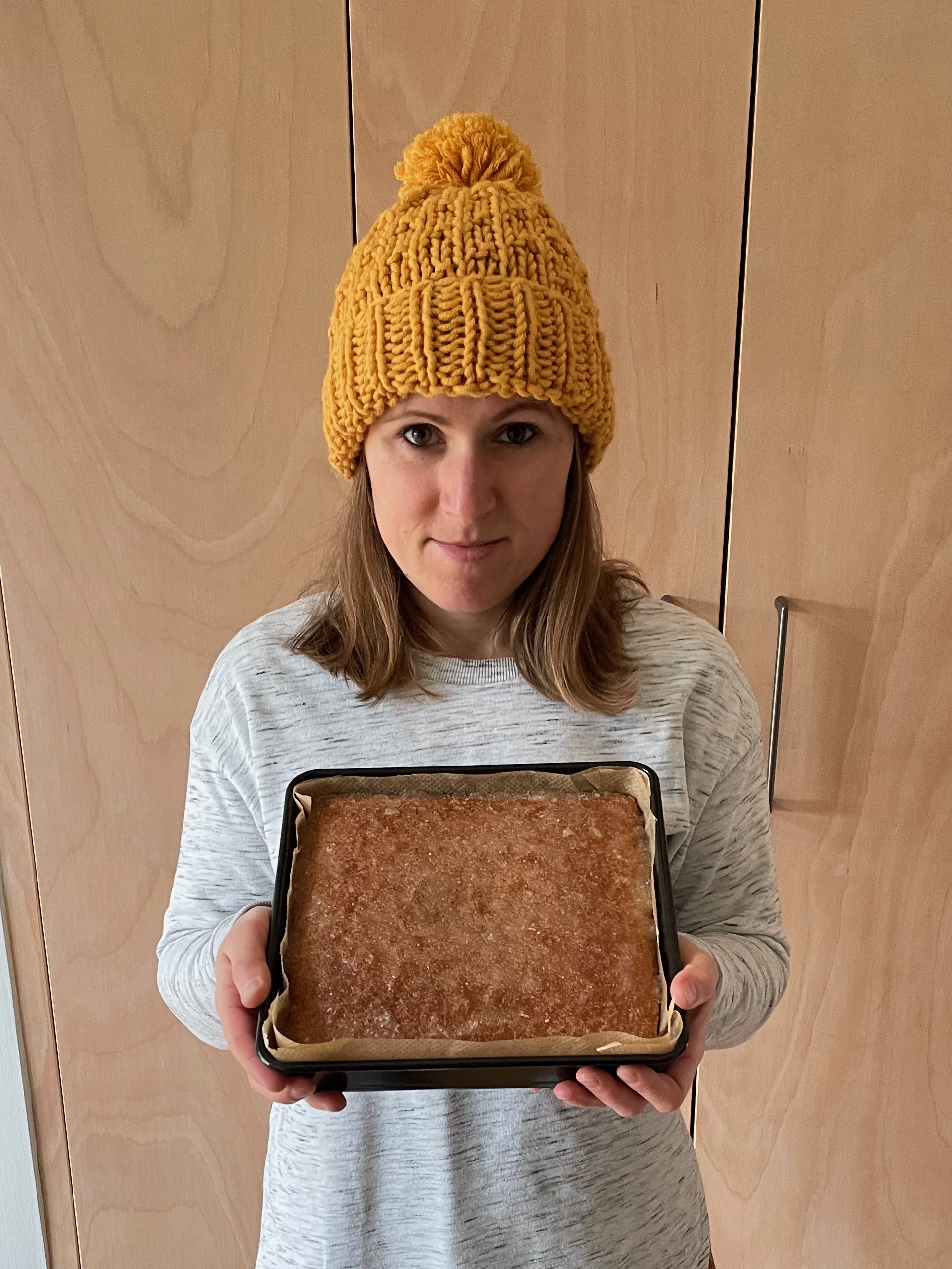 Helen McCue is a freelance contributor who trained as a Home Economist. After starting her career in the food industry, she moved into home appliance reviews, utilising her cooking skills and experience to put all kinds of products to the test, and over the years has reviewed hundreds of home and kitchen appliances for a variety of publications.
Having completely renovated her current house, Helen reviews kitchen appliances from her open plan kitchen at home in a beautiful Berkshire village. When she's not working, Helen can be found enjoying the local countryside or dreaming about her next house renovation project.