Gozney Dome review: an outdoor oven that smokes, roast, bakes and more
The Gozney Dome reaches impressive high temperatures and has great heat retention, too. Here's what else we thought about it...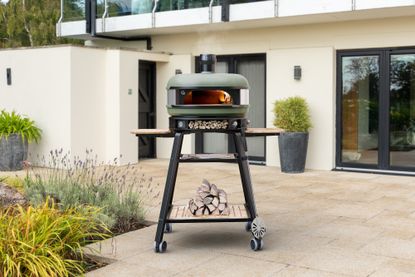 (Image credit: Gozney)
The Gozney Dome is a versatile outdoor oven that allows at-home cooks to use gas or wood to create a deluge of recipes from pizzas to salmon, steaks, and vegetables. With the Dome, users can roast, steam, smoke, and bake in an oven that reaches up to 950 degrees. Thanks to durable and high-quality materials that trap the heat, you can cook even after the fire has died down.
Reasons to buy
+

Two different color options

+

Wood and gas-powered

+

Can reach up to 950 degrees

+

Built-in digital thermometer

+

Extreme heat retention capability

+

Can steam, roast, smoke, and bake

+

Possible to cook with pellets and charcoal, too

+

Accessories include a stand, steam injector, and more
Reasons to avoid
-

Currently lacks a front door

-

Interior cooking space could be larger in height
You can trust Homes & Gardens. Our expert reviewers spend hours testing and comparing the latest products, helping you choose the best for you. Find out more about how we test.
Sign up to the Homes & Gardens newsletter
Decor Ideas. Project Inspiration. Expert Advice. Delivered to your inbox.
Thank you for signing up to Homes & Gardens. You will receive a verification email shortly.
There was a problem. Please refresh the page and try again.
The Gozney Dome is, as the name implies, a dome-shaped oven. You've seen these types of ovens in backyards, at your favorite pizza shop, sometimes even in Latin American markets. But I guarantee you've never seen anything like the Gozney Dome.
Gozney has long been known as a leader in portable pizza ovens and that's how I became familiar with them. I had a blast testing out their Roccbox pizza oven, for example, and making delicious Neopolitan pizzas in a minute with friends. Perhaps most impressive about the Roccbox was its capability to reach temperatures of up to 950 degrees farenheit. When I heard that the Gozney geniuses had created a larger oven with similar temperature capabilities, I was intrigued.
People who love cooking in outdoor ovens will discover that the Dome is made of high-quality materials and superb craftmanship, resulting in a fantastic outdoor cooking tool. I know this to be personally true, too, because I tested the Dome myself.
Read on to see exactly how I fared using the Dome at my home then, check out our best pizza ovens guide for more indoor and outdoor ovens that we've had the pleasure of reviewing – plus some other Homes & Gardens-approved models.
Gozney Dome key specifications:
Power source: Gas and Wood; pellet attachment available; can use a few pieces of charcoal with wood
Cooking floor: 30 mm cordierite stone
Oven mouth: 5.1 inches tall and 16.1 inches wide
Exterior dimensions: 26" H x 24.8" D x 28.8" W
Dimensions when on the stand: 5.41 ft H x 2.5 ft D x 4.375 ft W
Weight: 128 lbs
Temperature capacity: 950 degrees farenheit
Warranty: 5 years
Setting up the Gozney Dome
There are two ways you can order the Gozney Dome: the Dome by itself or the Dome with the stand. For my testing purposes, Gozney sent me the stand and the Dome through a delivery system. I had the option of putting the stand together or having it set up for me – I opted for the latter, so I could get to cooking on the Dome right away.
The stand is on roller wheels, so the delivery driver rolled it pre-assembled to my garage. The Dome and its many accessories came in an organized pile of boxes. As for my part, I had to get the Dome onto the stand and add a few of the included parts to the Dome.
Since I'm a single woman who lives alone, I hired a Task Rabbit guy to come out and help me to do this. The Dome is incredibly heavy and there is no way for a single person to lift it on its own (it's also safer not to – why risk dropping and cracking it?). While the Task Rabbit guy was there, he helped me look over the instructions and set up the thermometer, detachable flue and cap, and ash tray. We also test lit the Dome together using a gas can I had on hand.
With a partner, it took about 30 minutes to set up the Dome. One thing I will point out on the set up process. There is a point in the instructions where you're told to cut the straps that have been placed on the bottom part of the Dome. These straps are what you use to lift the Dome onto the stand. If you think you might want to transfer the Dome to a built-in outdoor kitchen one day, don't cut those straps. They may look a little silly, but they're very helpful in lifting the Dome on and off the stand if need be.
What's the Gozney Dome like to use?
Before I could cook on the Gozney Dome, I had to cure it, which basically means burning off any contaminants and 'seasoning' the flat cordierite stone placed on the bottom of the oven.
Curing
Curing the Dome involved connecting it to a gas tank (which was super easy) and then lighting the oven with the built-in starter knob. (You can also cure it using wood fuel.) I will say that the first time I tried to light the Dome with gas, it took longer than I expected. The instructions were clear that this would be the case. Have a little patience and turn the starter exactly as you're instructed, and the flame will catch.
The Dome has a stone floor puck and a circular metal ash insert. There are only two spots to place these inserts inside the Dome. Where you put them depends entirely on what type of fuel source you're using. For instance, when you're cooking with wood, you put the stone puck on the left side. The metal puck with holes goes on the right side so when the wood breaks down, it'll filter into the ash tray beneath that insert. When cooking with gas, the pucks or inserts go on the opposite sides.
Like with the Roccbox, the Dome is set up so that when you're using gas, it will have a rolling flame along the top of the oven. This creates an almost-wood fire cooking experience (but of course, without the flavoring that wood provides).
I let the Dome cure on a low temperature for about 30 minutes and then stored it away before using it to cook for the very first time. Because I had the stand, all I had to do was roll the Dome into my garage and then lock the wheels in place.
When I was ready to cook on the Dome, I pulled it out and set it up to cook a wood fire. My best friend and I wanted to cook a ribeye and vegetables on skewers and I figured the wood fire was the best way to go. Gozney sent me thin rectangular bits of wood to use in the oven, though you can do beech, ash, elder, oak, hickory, or fruit woods – never use lighter fluid!
Steak: prep work
To get the fire going, I stacked the 8 pieces in what I can only describe as a Jenga tower. This left some space for air to flow through and to stuff kindling in. Lighting the tower took a little bit of patience, but once the wood pieces caught fire, it burned consistently. After 10 minutes, I used a long grilling tool to push the wood pile to the left side of the oven. It sat there for 10 more minutes as I added more wood to the fire, and then I finally pushed it to the right side over the ash grate for another 10 minutes.
Steak: cooking
When making the steaks, I followed a phenomenal recipe that Gozney included in a packet with the Dome. The instructions called for the Dome to be at 900 degrees before placing the steak inside. To check that, I hooked up one of the thermometers included in the packaging to the digital thermometer. Then I stuck it into the oven and watched as the digital thermometer read the interior temperature. It took about 40 minutes for the Dome to get to the desired temperature. Remember – this was only my second time using the Dome. It heats up much faster now that I've cooked on it multiple times (I'm also a lot better at lighting fires now!).
When I was ready to cook the steak, I added it to a skillet and slid the skillet inside. After flipping it once and checking the temperature with the probe to make sure it was cooked to 130 degrees, I pulled out the steak and let it sit for 20 minutes. It took about 10 minutes in total to cook. I set the skillet on one of the shelves of the Dome and covered it with a lid.
While the steak cooked, I didn't add any more wood fuel but let the fire die down a bit, so that the Dome wouldn't be scorching when I was ready to put the vegetable skewers in. I placed them in a skillet, covered them in olive oil and spices, and put them into the oven soon after pulling out the steak. The oven was still pretty hot so I had to pull the skewers out occasionally and turn them around in the skillet so they wouldn't burn. This wasn't much trouble and it helped the vegetables cook quickly and evenly. They were done in no time and my best friend and I were ready to feast. When I say this was one of the best steaks I've ever had, I'm not overexaggerating. It was phenomenal!
By the time we were done eating, the oven was still very hot. It took about six hours for it to cool down. That's impressive if you ask me! I could have probably slow-cooked other recipes in the oven for another two hours, which tells me that the Dome would be the perfect cooking tool for an all-day barbecue or family event.
Pizza
The second time I used the Dome, I made pizza pockets with homemade dough, cheese, and pepperoni. I didn't have a lot of time to start a fire, so I hooked the Dome up to the gas tank. In doing this, the Dome warmed up much quicker than if I had used wood. The pizza pockets took less than three minutes to cook. If you have a family or want to cook something quickly, you'll be glad the Dome has gas capability.
Fish
I think my second favorite meal that I cooked in the Dome was salmon on a cedar plank. Again, I used the recipe in the Gozney booklet that came with the Dome. I felt like using wood fuel would make for a tastier salmon, and it did! When the temperature was at 700 degrees, I slid the salmon onto the cedar plank and into the stove.
I will admit that cooking the salmon was trickier than the steak. It started to cook a little too quickly so I had to consistently move the cedar plank around so all sides of the fish would get cooked. I even had to push the plank father from the fire so it wouldn't cook too fast. I think I overcooked the salmon just slightly, but it was my first time cooking fish in an outdoor oven with wood fire and all the best things take practice.
Things to note
I'd like to point out a few notable things in my Dome testing experience. First, I wish the Dome was taller inside the cooking space. I'd love to cook a whole bird in the Dome, but some birds are going to be too tall to fit.
I should also note that if you want to use a few charcoal pieces when cooking with wood (for flavoring), you can. I have it on top authority from a chef at Gozney that this is A-okay. And if you prefer using wood pellets, you'll be glad that Gozney has an attachment for that too.
Lastly, the Gozney Dome lacks a front door. This could be concerning with kids, but you shouldn't create a fire that's so big it's roaring out of the oven. I have also heard that the Dome may come with a front door in future iterations.
Gozney Dome accessories
Dome stand
While you don't have to order the stand for the Dome, unless you have an outdoor kitchen that you plan to install the Dome in, I highly suggest you get one. These are available direct from Gozney for £289 / $ 299. When the Dome is on the stand, it's very tall. I'm five foot five inches and I think it was slightly taller than me. The opening of the Dome should still be accessible to those who are shorter than I am.
You can use the stand in multiple ways. It has two very spacious shelves below the Dome where you can store grill tools and your wood fuel or gas tank. I was very thankful for the two adjustable shelves on either side of the Dome. I used them to prepare dishes, place oven mitts on, or check the temperature of different meats. When not in use, the shelves can be folded down which may make it easier to store the Dome.
Turning peel
If you plan to use the Dome to make pizzas – which you should – I would highly suggest ordering the Gozney turning peel (£59 / $79) that's specifically designed for the Dome. It has a long handle which means you can turn the pizza in the oven without having to feel the heat of the oven on your skin. The same goes for the Dome's Placement Peel.
Other things to note
Gozney wants to make the Dome as versatile as possible so they offer a variety of accessories for different types of cooking. While I didn't have a chance to test the steam injector, it's available for those who want to bake bread in the Dome. It will create more moisture in the oven thereby resulting in longer rising dough and crispier crusts.
The other most notable accessory of the Dome is a quick-connect accessory port where you can add a cold smoking attachment or an automated pellet burner. This can take your Dome cooking experiences to different levels.
What's the deal with the 5-year warranty?
Okay, so the Gozney warranty is a little bit confusing. The website advertises a five-year warranty but look at the fine print and you'll notice that the warranty for Dome products is 1 year from the date of the original purchase. However, you can extend it to 5 years if you register your purchase on the Gozney website (look for the page titled "Register your product") within 60 days.
Under the warranty period, Gozney promises that if there are material defects or workmanship, the Dome will be replaced or repaired. Rust, weather, water damage, and discoloration is not covered under the warranty, and surprisingly, neither is hairline cracks, small cosmetic chips, or cracks caused by thermal shock – as long as it doesn't affect the Dome's overall integrity (which I'm guessing Gozney will decide upon review).
It's important to point out that certain parts of the Dome are covered for certain years. For instance, the thermometer, steam plug, and air inlet puck are only covered under a 1-year warranty, but the stone floor, dome cover, and Gozney thermometer are covered under a two-year warranty. The Dome stand is covered the longest at three years of warranty!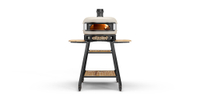 If you can't wait to get your hands on the Gozney Dome, don't forget that you can sign up TODAY to be one of the first (in the world) to hear when it drops.
How does the Gozney Dome rate online?
In April 2021, there were a limited number of Gozney Domes available for purchase, so it quickly sold out. That said there aren't a ton of reviews available. On the Gozney site, there are 20 reviews with a 4.4 (out of five) star rating. I can see this rating on Google but when I go to the Gozney website, I can't find the reviews and thus cannot share what the first users of the Dome had to say.
How does the Gozney Dome compare to similar models?
The Gozney Dome is not advertised as a pizza oven, but if you try to research other comparable outdoor ovens, they'll be listed as 'outdoor pizza ovens.' So is there anything comparable to the Dome?
The VEVOR Outdoor Pizza Oven, for example, can reach up to 930 degrees, whereas the Dome has a maximum 950-degree temperature capability. They differ in that the VEVOR uses only charcoal as a power source. The VEVOR is more suited to baking as it comes with a baking stone, a stainless steel baking tray, and an iron-carbon mesh. It's much cheaper than the Dome and has a stand that allows it to be moved around your home. However, it's not as stylish as the Dome, nor can it do as much as the Gozney product can.
I had a difficult time looking for ovens that could reach up to 950 degrees like the Dome can. Forno Bravo has some pizza oven kits that are dome-like in structure and can be permanently placed in an outdoor kitchen. Their Primavera Outdoor Pizza Oven is probably most similar to the Dome in size, though the cook surface is larger.
It only allows for wood fire cooking, whereas the Dome has gas, pellet, and cold smoke attachments. Forno Bravo sells stands but they don't have rolling wheels. Astonishingly Forno Bravo claims that the Primavera heats up in as little as 20 minutes – which is impressive. I'm not sure how hot they can get because it's not advertised on their website. Forno Bravo ovens are attractive in an Old World Italian way, but I think the Dome wins out in versatility – and price!
Homes & Gardens verdict: should you buy the Gozney Dome?
Gozney made a smart move when they created the Dome. There really isn't anything that's super comparable on the market. For the price, you get a great, durable product that can reach temperatures up to 950 degrees. Plus it retains heat like few products can do!
Furthermore, you can use gas, wood, charcoal, and wood pellets as your fuel source and cook different recipes in a variety of ways: smoking, baking, roasting, slow roasting, cold smoking, and more. With the additional accessories, like the amazing stand, the Dome is maneuverable so you can cook where it's best for you.
While I do wish the inside of the oven was a little bit taller, it's not really that big of a deal. I can't bake a fully-formed turkey, but I can cook an endless amount of recipes in the Dome. If I really want that turkey, I'll just cut it up and put it in a pan to cook (probably more thoroughly and in less amount of time).
So should you buy the Dome? That's a resounding YES.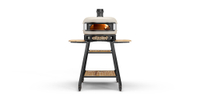 If you can't wait to get your hands on the Gozney Dome, don't forget that you can sign up TODAY to be one of the first (in the world) to hear when it drops.
ABOUT THIS REVIEW, AND OUR REVIEWER
Alex Temblador is a Dallas-based award-winning author and freelance writer that has covered home, design, architecture, and art in publications like Real Homes, Gardeningetc, Home & Gardens, Dwell, Architectural Digest, Artsy, Neighborhoods.com, Culture Trip, among many others. She recently bought her first home, a green Sears & Roebuck house that's over 100 years old, sits on half an acre of land and features a stunning wraparound porch, original hardwood floors, pocket doors, and a butler pantry. Alex loves to test products for Gardeningetc, Real Homes, and Homes & Gardens buying guides and reviews which has helped to expand the richness of her first-time homeowner life. The Mixed Latinx writer can usually be found working or relaxing in her outdoor spaces.
As with all our reviews, the Gozney Dome was tested first-hand in Alex's backyard, using it just as you would so you know exactly what you are buying. The products are given to us free of charge and we test them for as long as possible before sending them back to the brand unless we are able to keep it as we are with this grill. This means that we can continue to use the product which gives us the opportunity to return to our reviews for updating, so you can keep up-to-date with how it's fared over a period of time.
Sign up to the Homes & Gardens newsletter
Decor Ideas. Project Inspiration. Expert Advice. Delivered to your inbox.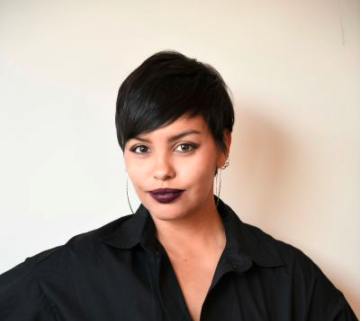 Alex Temblador is a Mixed Latinx award-winning author and freelance writer based in Dallas, Texas. Her work in the home space has appeared in outlets like Real Homes, Dwell, Architectural Digest, Culture Trip, and Neighborhoods.com, among many others. She writes on a wide variety of topics for H&G, and has tested everything from vacuum cleaners to fitness equipment and pizza ovens in the name of product research.