KitchenAid Variable Speed Corded Hand Blender review
KitchenAid's most powerful immersion blender gets put to the test in this KitchenAid Variable Speed Corded Hand Blender review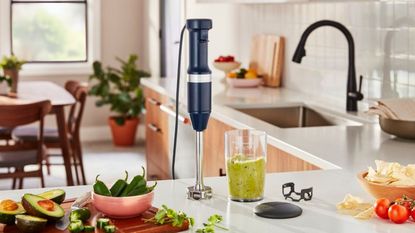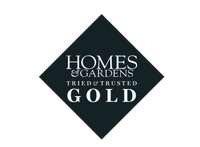 (Image credit: KitchenAid)
The KitchenAid Variable Speed Corded Hand Blender is KitchenAid's mightiest immersion blender, with a smart and sensitive variable control button that makes it easy to make sauces, soup and dips.
Reasons to buy
+

Huge color range

+

Attractive design

+

Second-best for smooth sou

+

Uncluttered design

+

Pan guard

+

Blending cup comes with lid
Reasons to avoid
-

No extra attachments

-

Controls were not the most comfortable for prolonged periods
Why you can trust Homes & Gardens Our expert reviewers spend hours testing and comparing products and services so you can choose the best for you. Find out more about how we test.
The KitchenAid Variable Speed Corded Hand Blender is KitchenAid's most powerful immersion blender, with a variable speed button that leaves the controls of the blender completely up to the user. It comes with a sparse range of attachments when compared to some of the best immersion blenders, which can often come with whisk attachments and even mini choppers. The KitchenAid Variable Speed Corded Hand Blender comes with just an eight-inch blending wand and a blending cup.
However, if you're someone who doesn't want the clutter that can come with a multifaceted hand blender, or you already have one of the best food processors or best hand mixers in your arsenal, you may not need to pick up an immersion blender with all the extras. All you might be looking for is an excellent hand blender that works wonders on hot soups, and won't scratch up your favorite pans.
If that sounds like you, we think the KitchenAid Variable Speed Corded Hand Blender might be the perfect option for your kitchen. It has a scratch guard that can be used to cover the sharp metallic edges from the blending wand. The blender arm is dishwasher-safe, the blending cup comes with a lid that can go into the fridge after use, and the user experience was seamless in testing.
KitchenAid Variable Speed Corded Hand Blender specs
Colors: 10 (Empire Red, Onyx Black, Contour Silver, Ink Blue, Matte Black, Blue Velvet, Candy Apple Red,Charcoal, Aqua Sky, White)
Type: Hand mixer
Weight: 1lb 6oz
Speed settings: Variable
Dimensions: 2.5 x 3.56 x 16.3 inches
Unboxing the KitchenAid Corded Variable Speed Hand Blender
We review a lot of small appliances, and many come in excessive packaging which is wasteful and unnecessary. The KitchenAid Corded Variable Speed Hand Blender, however, came in a very small box, and we were pleased to see that most of the packaging was cardboard and easily recyclable.
Included in this immersion blender you will get the handle, which we tried in Onyx Black, a blending cup with a removable lid for storage, and a blending arm that is covered by a pan guard. If you use non-stick pans or you have a precious Le Creuset cast iron pan, you will make good use of this plastic cover, which is not something you'll get with every immersion blender on the market.
In terms of looks, the KitchenAid Corded Variable Speed Hand Blender was certainly one of the more striking models we tried. Unlike the brand's stand mixers, which are finished in smooth metal, it does have a plastic coating. However, it feels high quality when in use, and the plastic construction will contribute to the lightweight feel of the blender. When we weighed the handle it came in at 1lb and 6oz, which was the second lightest immersion blender we tested.
Using the KitchenAid Corded Variable Speed Hand Blender
In our immersion blender reviews we make sure to test every attachment that comes with a product. In the case of the KitchenAid Corded Variable Speed Hand Blender, we tested it alongside a selection of blenders from Cuisinart, Braun, Smeg, and NutriBullet. For blenders with whisks we timed how long it would take egg whites to reach stiff peaks, and for blenders with mini chopping attachments we blended some pesto and assessed how smooth the finished result was.
For this immersion blender though, there is only one attachment to assess. We decided to test this with a pea and mint soup because this is a tricky soup to get to a consistently smooth consistency. The skin of the peas can often escape the blender, leaving a chunky texture.
We divided our boiled mixture into the blending cups included with each immersion blender. Two ladlefuls went into each cup, but it's worth noting that the KitchenAid Variable Speed Corded Hand Blender has a four-cup capacity, which is one of the smaller of the cups we tried.
To make the test fair we ran each immersion blender on its highest setting for 45 seconds, and then did a taste test to compare which soup was the smoothest after this. We recorded the noise of each blender during this test and the KitchenAid Variable Speed Corded Hand Blender came in at 86dB, which is one of the quietest we came across.
The control on the KitchenAid Variable Speed Corded Hand Blender is variable. There is no dial you can turn to set the blender at a constant speed, which may not be ideal if you want to run at consistently low speeds because this will depend on your ability to hold the button down ever so slightly for prolonged periods.
For soup though, we enjoyed the controls on this blender. The button is very sensitive and the control is intuitive. It was also comfortable to hold for short periods, which cannot be said for every immersion blender we tested.
It did feel that this immersion blender was designed for right-handed users. We had a right-handed and left-handed tester in the kitchen, and the right-handed user found it a more comfortable to hold the button down for long periods of time.
As for the soup, there was a clear winner in this test, which was the Braun MQ9007 MultiQuick. This immersion blender also has a variable control, but it was universally more comfortable than the KitchenAid in longer spurts, but pretty indistinguishable for the 45-second test. The KitchenAid Variable Speed Corded Hand Blender was our second pick though, with a very smooth overall consistency that could only be differentiated because it had a slight bit more graininess than the Braun.
How does the KitchenAid Variable Speed Corded Hand Blender compare?
If you want an immersion blender but aren't interested in additional attachments, this is our top choice for you. The Braun beat it in testing, but it comes with an almost-overwhelming amount of attachments that will only create clutter if you just want a smooth soup or the occasional emulsifying hand blender.
This blender is corded, but you can also pick up a very similar model from KitchenAid, which looks very similar but is cordless. We really liked this blender when we tried it, but it did not beat the corded model in terms of smooth soup.
If you plan on blending straight into a pan, the KitchenAid Variable Speed Corded Hand Blender's included pan guard will be a lifesaver. Even great immersion blenders can scuff up pans if you use them on non-stick or cast iron casseroles, because the metal edges on the blending attachments can disturb a non-stick coating easily.
Cleaning
The blending attachment and cup can go through the dishwasher. We also like that the blending cup comes with a lid, making it easy to store in the refrigerator when you've made a salad dressing or soup from scratch.
Should you buy the KitchenAid Variable Speed Corded Hand Blender
The KitchenAid Variable Speed Corded Hand Blender is a great mixer for those who don't want a multi-tasker, and are more concerned with a quality investment for making soups every winter, and salad dressings every summer. It looks the part in any kitchen and comes in a lovely range of colors.
We found that the controls could get a little tricky after a few minutes. Because the KitchenAid Variable Speed Corded Hand Blender has a variable button that increases the speed of the blender the more you press it down, it means you need to hold the immersion blender constantly to keep it running. Moreso than that, you will need to hold it very precisely if you want to run it at low speeds.
About this review, and our reviewer
Millie Fender is our Editor for all things small appliances at Homes & Gardens. She spends a lot of time testing everything from toasters to air fryers in her own apartment and recommending the very best ones to readers.
Millie put this immersion blender to the test at Future's testing facility in Reading. She ran it side-by-side against a selection of immersion blenders from leading brands, and was able to compare the taste and texture of the soups and sauces she made directly. After testing Millie had to return the blender to KitchenAid, so in the case of this immersion blender we are unable to provide any long-term testing.
Millie Fender is Head of Reviews on the Homes and Gardens Ecommerce team. She specializes in cooking appliances, such as the best kettles, and also reviews outdoor grills and pizza ovens. Millie loves to bake, so she will take any excuse to review stand mixers and other baking essentials. When she's not putting products through their paces in our dedicated testing kitchen, Millie's reviews are conducted at home, meaning she uses these products in her own day-to-day life.