Braun MultiQuick 9 Hand Blender MQ9199XL review: packed with power
The Braun MultiQuick 9 Hand Blender MQ9199XL is the most powerful immersion blender we tried but its abundance of attachments could cause clutter in smaller kitchens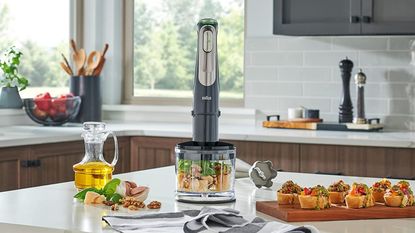 (Image credit: Braun)
The Braun MultiQuick 9 Hand Blender MQ9199XL comes with every attachment you could need for both a food processor and an immersion blender, and possibly a few you don't. If you have the space though, we think this fully-equipped blender is worth the cupboard space.
Reasons to buy
+

Outperformed the competition when blending soup

+

Comes with a mini chopper, whisk, and much more

+

You get a lot for your money

+

Very powerful

+

Easy controls
Reasons to avoid
-

Lacks restraint for chunky chopping

-

Comes with a lot of kit, making storage tricky
You can trust Homes & Gardens. Our expert reviewers spend hours testing and comparing the latest products, helping you choose the best for you. Find out more about how we test.
Sign up to the Homes & Gardens newsletter
Decor Ideas. Project Inspiration. Expert Advice. Delivered to your inbox.
Thank you for signing up to Homes & Gardens. You will receive a verification email shortly.
There was a problem. Please refresh the page and try again.
German design is known for quality and utility, and the Braun MultiQuick 9 Hand Blender MQ9199XL is a classic example of this. Although the blender does not have the most aesthetically pleasing design when compared to many of the best immersion blenders we've tried from KitchenAid and Smeg, it's certainly the most powerful and best-equipped option we've tested.
We tested the MQ9199XL, which comes with a food processor attachment, a handful of different slicing and shredding blades, dough blades, and pretty much everything else you'd expect in one of the best food processor. This aside, it's also got a blender attachment, whisk, potato masher, and a mini chopper. Keen home chefs who will make the most of all these functions can't go wrong with this immersion blender, but for those who just want to make tasty soup it may be overkill.
Braun MultiQuick 9 Hand Blender MQ9199XL: specs
Colors: Black / silver
Functions: Hand blender, food processor, mini chopper, whisk and more
Weight: 1lb 11oz
Speed settings: Variable
Dimensions: 2.68 x 2.68 x 16.14 inches
Getting set up
Unsurprisingly, the Braun MultiQuick 9 Hand Blender MQ9199XL came in a large box, and required quite a lot of effort to get set up. It comes with dozens of parts, some of which we would struggle to store safely due to how sharp they are. We would have appreciated a storage bag to keep everything safe and prevent any attachments from getting lost.
The MQ9199XL is the most equipped of the MultiQuick line, but there is also the Braun MQ9037X which costs not a lot less but only includes the mini chopper, whisk, blender, and mashing attachment. If you already have a food processor you're happy with, we'd go for this one.
We tested the Braun MultiQuick 9 Hand Blender MQ9199XL alongside a range of immersion blenders from Cuisinart, KitchenAid, and Smeg. You can see a selection of them below, laid out with all of their component parts for context. Two of the immersion blenders we tried were cordless, and the rest were corded.
The Braun is a corded model, which we've found leads to a more powerful performance. The cord is nice and long, but the unit weighed the most of the immersion blenders we tested. 1lb 11oz without the blending attachment, and 2lbs 2oz with it attached. We didn't struggle to hold it at this weight, but if you struggle with mobility or you would just prefer something lighter, it might not be the immersion blender for you.
Making soup
We made a very large batch of pea soup and distributed this evenly amongst the blenders, using the blending cup that came included with each. It might be the case that you plan on blending straight into your pots, but these blending cups are useful nonetheless for emulsifying or making smoothies, so we wanted to try them out.
The Braun cup was one of the flimsier ones we tested, a surprising contrast to its sturdy handle and attachments.
For this test we blended continuously for 45 seconds on the highest setting. The controls on the Braun MultiQuick 9 Hand Blender MQ9199XL are continuous, with a trigger that blends faster the harder you press down on the variable paddle.
There is also a safety feature, which requires you to first press down on the top section of the handle before pressing the trigger. Handy for the clumsy, or those with kids.
The blender has what is called an ACTIVE Blade, meaning you can move the blade up and down while blending to reach deeper into a pan and increase circulation.
We really enjoyed the soup that we made in the Braun MultiQuick 9 Hand Blender MQ9199XL. The onions, mint, pea skins, nothing phased it. Our soup was immensely smooth, and the easy winner of our test on consistency alone.
However, we did find that this immersion blender was by far the noisiest of those we tested, reaching 89dB.
Using the whisk
Again, we found a discrepancy with the whisk compared to the rest of the attachments with the Braun MultiQuick 9 Hand Blender MQ9199XL. It's quite flimsy and feels cheap, despite how high-quality everything else felt with this immersion blender.
We whisked three egg whites until they reached stiff peaks that stayed upright when we removed the whisk, and the MultiQuick actually look the longest to do this of the blenders we tried.
The whisk felt small compared to the handle and we could feel it wobbling as we held it for the 2 minutes and 21 seconds it took to reach our stiff peaks. We did find that the bubbles were very evenly distributed, but it was unfortunate that we had to hold the container when whisking.
This is because the container had no grips at the base, something we had with the mixer from KitchenAid, which meant it spun around if not held. If we were making meringues we'd have struggled to whisk continuously while also incorporating sugar.
Making pesto
Where an immersion blender included a mini chopper, we used this to make pesto. There's no bad way to enjoy pesto, some prefer a more rough consistency while others would prefer it to be very smooth, but it was useful for us to see how powerful each chopper was when used side-by-side.
In our test we used the Cuisinart cordless immersion blender and the KitchenAid cordless, so the Braun was our only corded model. This gave it an advantage as we found that the corded models are typically more powerful.
The mini chopper with the Braun MultiQuick 9 was also the largest of the three, with an optional dough blade that can be used instead of the chopping blades we used for the dip.
We found that the lid goes on very firmly and there was no chance of spilling, but it did trap some basil that then was not incorporated into the dip. After 30 seconds of blending our pesto was by far the smoothest of the three we made, with a true sauce-like consistency and no trace of large chunks of garlic or pine nuts.
Mashing potatoes
This immersion blender comes with an exciting mashing wand that we couldn't wait to try. It has a plastic base which we appreciated because it could be used on non-stick without scuffing up the coating.
We boiled some potatoes and added salt, pepper and butter before putting the mashing blade to work.
It worked by pushing the potatoes around and through the small holes at the top of the wand, meaning you get little worm-shaped trails of mashed potato coming out of the top. Some stirring is required to get rid of these shapes, but we did enjoy the relatively lump-free consistency of our mash. Delicious.
Using the food processor
This is an immersion blender review, but you do get a food processor attachment included with this machine, so we felt that we should test that out too. The 8 cup food processor comes with a handy dicer attachment and can also be used to slice, shred, julienne, chop and knead.
The main test of a quality food processor is its chopping ability, so we added a few onions to the bowl and blitzed them for a few seconds.
Unsurprisingly, the onions were completely blitzed virtually instantly, but when we went in with a spoon we found that it was almost reduced to mush as opposed to finely chopped pieces of onion that won't catch quickly when cooking. We should have used a lower speed to make sure that we gave the onion at least a fighting change against this powerful chopper.
Should you buy the Braun MultiQuick 9 Hand Blender MQ9199XL?
If you love a smooth soup and a finely-chopped sauce, look no further. This immersion blender has everything you could possibly hope for, and a few extras you probably won't get much use out of unless you're a very eager home chef.
We don't recommend this for those with neat little kitchens that require order and are easily cluttered. Those colorful shredding attachments will easily get lost in drawers or cupboards, and the KitchenAid Variable Speed Corded Hand Blender is a more minimalist alternative for those who simply want a good soup. It also came second in our soup test, so if you don't want all the extras, that's the one we'd suggest.
However, there is no denying that this immersion blender packs in value for money and has some innovative features you won't find anywhere else. It's guaranteed to get a lot of use and save you some serious time in the kitchen, just be prepared to start on low power once you realize how much power this immersion blender really has.
About this review, and our reviewer
Millie Fender is our Editor for all things small appliances at Homes & Gardens. She spends a lot of time testing everything from toasters to air fryers in her own apartment and recommending the very best ones to readers.
Millie put this immersion blender to the test at Future's testing facility in Reading. She ran it side-by-side against a selection of immersion blenders from leading brands, and was able to compare the taste and texture of the soups and sauces she made directly. After testing Millie had to return the blender to KitchenAid, so in the case of this immersion blender we are unable to provide any long-term testing.
Sign up to the Homes & Gardens newsletter
Decor Ideas. Project Inspiration. Expert Advice. Delivered to your inbox.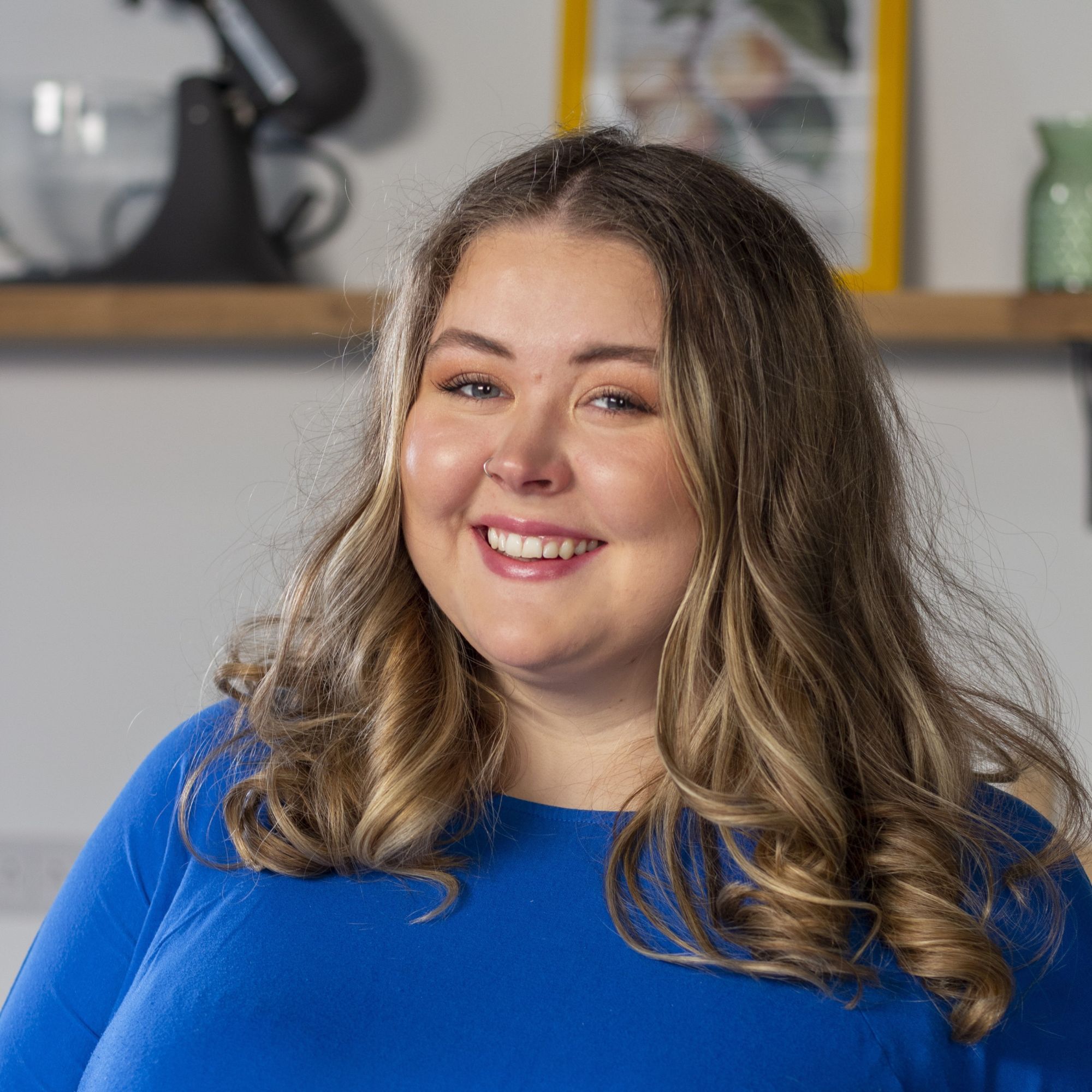 Millie Fender is Head of Reviews on the Homes and Gardens Ecommerce team. She specializes in cooking appliances, such as the best kettles, and also reviews outdoor grills and pizza ovens. Millie loves to bake, so she will take any excuse to review stand mixers and other baking essentials. When she's not putting products through their paces in our dedicated testing kitchen, Millie's reviews are conducted at home, meaning she uses these products in her own day-to-day life.