Vitamix A3500 Ascent Series Smart Blender review: unbeatable power
The Vitamix A3500 Ascent Series Smart Blender might just be our new favorite, but it's an expensive choice. Here is how it performed in our hands-on tests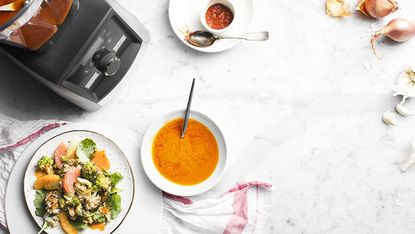 (Image credit: Vitamix)
The Vitamix A3500 Ascent Series Smart Blender is astoundingly good, with a selection of settings for desserts, smoothies, and hot soups
Reasons to buy
+

Unrivaled power

+

Works on all sorts of recipes

+

Recipe book included

+

Makes great soups

+

Tamper included

+

Large capacity

+

Smart display
Reasons to avoid
-

Blades heat up after prolonged use

-

Better on large quantities

-

Very noisy

-

Not dishwasher-safe
You can trust Homes & Gardens. Our expert reviewers spend hours testing and comparing the latest products, helping you choose the best for you. Find out more about how we test.
Sign up to the Homes & Gardens newsletter
Decor Ideas. Project Inspiration. Expert Advice. Delivered to your inbox.
Thank you for signing up to Homes & Gardens. You will receive a verification email shortly.
There was a problem. Please refresh the page and try again.
The Vitamix A3500 Ascent Series Smart Blender is one of the most powerful blenders on the market, with a very large capacity and a touchscreen display to activate the numerous settings. It doesn't come cheap though. In fact, it is one of the most premium blenders on the market.
While it may not be the most compact or stylish options, there's no denying that the Vitamix A3500 is one of the best blenders you can buy. I realized that after only a few hours of testing it, and it's not disappointed me since.
In this Vitamix A3500 review I made all manner of delicious dips and drinks to test each of the on-board settings included with this machine. Some of my recipes were freestyled, and a few were based on the very comprehensive recipe book that came included with the blender.
Vitamix A3500 Blender
Colors: black and silver
Type: multi-serve blender
Weight: 18.74 pounds
Speed settings: 10+
Modes: 5
Material: plastic pitcher, stainless steel blades
Dimensions: 11 x 8 x 17 inches
Motor: 1,500 watts
Setting up
The Vitamix A3500 is known as the Vitamix A3500i in the UK, but both US and UK buyers will be able to pick up the exact same machine. The blender came in a large and weighty box, so I was surprised to find that the blender jug was made of lightweight plastic when I removed it from the box. The weightiness comes from a hefty blender base, with ten power settings and four modes to make frozen desserts, smoothies, hot soups, and dips. There is also a self-clean mode.
Included with the blender was a tamper to help move around more solid ingredients when blending, as well as a quick-start guide which explained all the basic functions and gave advice on how to get started with your first drink. The included recipe book, 'Simply Blending', is filled with beautiful images and heaps of inspiration for your new blender.
The blender jug doesn't need to be screwed onto the base. Instead it slots into place, which means you can place the handle at any angle on the machine. This is great for left-handed users like myself, and it also makes the whole process a lot smoother.
When plugged in, the display on the blender will show the Vitamix logo at all times. I would prefer if it shut itself off after a few minutes of inactivity for the sake of preserving energy, but if this bothers you enough you could always unplug it between uses.
Making smoothies in the Vitamix A3500
The Vitamix quick start guide gives instructions on how to structure your first smoothie. I first washed the inside of the blender jug and then added milk, kale, frozen berries, nut butter, and a wedge of lemon.
I pressed the smoothie mode, the first one on the Vitamix panel, and then pressed the start/stop button to begin.
The smoothie slowly worked up from speed 6 to 10+, and it shut off when the drink was finished. It had no issues integrating all of my ingredients, even the tough kale and the frozen blueberries, which have caused issues when blending in the past.
The resulting smoothie was very smooth and creamy, with no trace of kale fibres and the lemon skin and seeds completely blitzed. Although many blenders that cost a fraction of the Vitamix A3500 can produce a similar smoothie, I was off to a good start.
Making soup
I usually rely on the best immersion blenders to make my soups on the stove, but when I saw a recipe for tomato soup in the Vitamix cookbook, I had to give it a try. The Vitamix A3500 doesn't have a heating element, but the blades are so fast and powerful that after prolonged use they will heat up soup ingredients and cook them as they blend.
The soup required onion, fresh tomatoes, a carrot, some tinned tomatoes, garlic, and plenty of herbs. I was sceptical about adding raw onion and garlic to the blender and letting it cook at the same time as the rest of the ingredients, but the soup mode goes on for around 10 minutes, which is plenty of time to result in a steaming hot soup.
I clicked the lid into place, which has a reversible cover for the pouring spout and a clips either side of the Vitamix A3500. Then it was just a case of starting the soup button and pressing the start/stop control.
Because the heat is created by the blades turning, the Vitamix A3500 blends continuously as it cooks. I watched my raw ingredients turn into a bright orange soup, and after ten minutes of very noisy blending (I recorded 87dB) my lunch was ready.
The soup was very creamy and so smooth it almost resembled a canned soup. The consistency was the best I've ever had with homemade soup, but it did taste a little of undercooked onion. To tackle this I just cooked the soup for a little longer in a pan on the stovetop, which cooked off that raw onion flavor and left me with a restaurant-quality tomato soup that I served up with some grilled cheese.
There's no denying that the Vitamix A3500 can make amazing soups and sauces, but if you plan on cooking things that take a little longer to soften up, I'd recommend browning your onions or par-boiling potatoes before adding them in to cook in the blender.
Making dips in the Vitamix A3500
I was going to make a hummus dip in the Vitamix A3500, a recipe for a spicy beetroot dip caught my eye, and I had some beets that needed to be used. I added my roasted beets, nuts, honey, chilli, chickpeas, tahini and garlic to the blender and decided to use the tamper to make sure the blender didn't leave any ingredients un-incorporated.
The Vitamix A3500 comes with a setting for dips, so I simply switched it on and watched my dip turn bright pink in the pitcher. The dip was ready in a few minutes of noisy blending, and it came out very creamy and almost aerated. Because the inside is grooved, it's tricky to scrape every bit of sauce from the blender, and even trickier to get underneath the grades to remove any lodged-in dip.
Beets can stain, so I was worried that the inside of the blender jug would tint, but I was pleased to find that it cleaned off very easily using the self-cleaning setting and a little extra scrubbing.
Making smoothie bowls in the Vitamix A3500
Smoothie bowls are the ultimate challenge for any blender, but given how well it had held up with my tests thus far, I was confident that the Vitamix A3500 would do a good job.
I added frozen banana, blueberries, and strawberries to my jug with a dollop of yogurt and some lemon and honey, and switched on the 'frozen dessert' mode.
This was the recipe I struggled with the most when testing the Vitamix A3500. I used the tamper to stir the ingredients and make sure they were mixing, but the mix stopped moving quite often, and it took a lot of intervention to make sure my frozen banana was fully mixed.
When I was finished, my smoothie bowl was very well blended, but a little runny. I figured that this was because I left it to blend so long that the blades started to heat and melt my frozen consistency,
Cleaning the Vitamix A3500
The jug and lid of the Vitamix A3500 cannot go through the dishwasher, which makes it a little trickier to clean after you're done.
There is a self-clean mode though, so you just need some water and dish soap to clean the blender. Just make sure the blender lid is secured before you start!
The self-clean mode does struggle to reach every corner of the blender, especially the lid, so after you've finished with the self-clean mode I would recommend rinsing it down and then wiping it dry to prevent any watermarks from forming.
Should you buy the Vitamix A3500?
The Vitamix A3500 costs $599, and in the UK the Vitamix A3500i costs £675. For a blender, that's an awful lot of money. The real question is, is the Vitamix A3500 worth it? To this I'd say yes. It created some of the best smoothies and soups I've ever made, and even with tricky recipes like thick dips and smoothie bowls, it held up far better than other blenders on the market. If the Vitamix A3500 is more expensive than you'd like, or you want something with a more style-led design, I would also recommend taking a look at our Zwilling Enfinigy Countertop Power Blender review. It lacks the soup modes, but its design is more tactile and also very powerful.
If quality blending is your only concern, there's no question that the Vitamix A3500 is the best I've tried. Home chefs and those who care about quality American-made appliances should look no further.
About this review, and the reviewer
Millie Fender is our Editor for all things small appliances at Homes & Gardens. She spends a lot of time testing everything from toasters to air fryers in her own apartment and recommending the very best ones to readers.
All our reviews are tested from home, and this Vitamix A3500 review is no exception. Millie put it to the test for a number of weeks to make morning smoothies and soup for lunch.
Sign up to the Homes & Gardens newsletter
Decor Ideas. Project Inspiration. Expert Advice. Delivered to your inbox.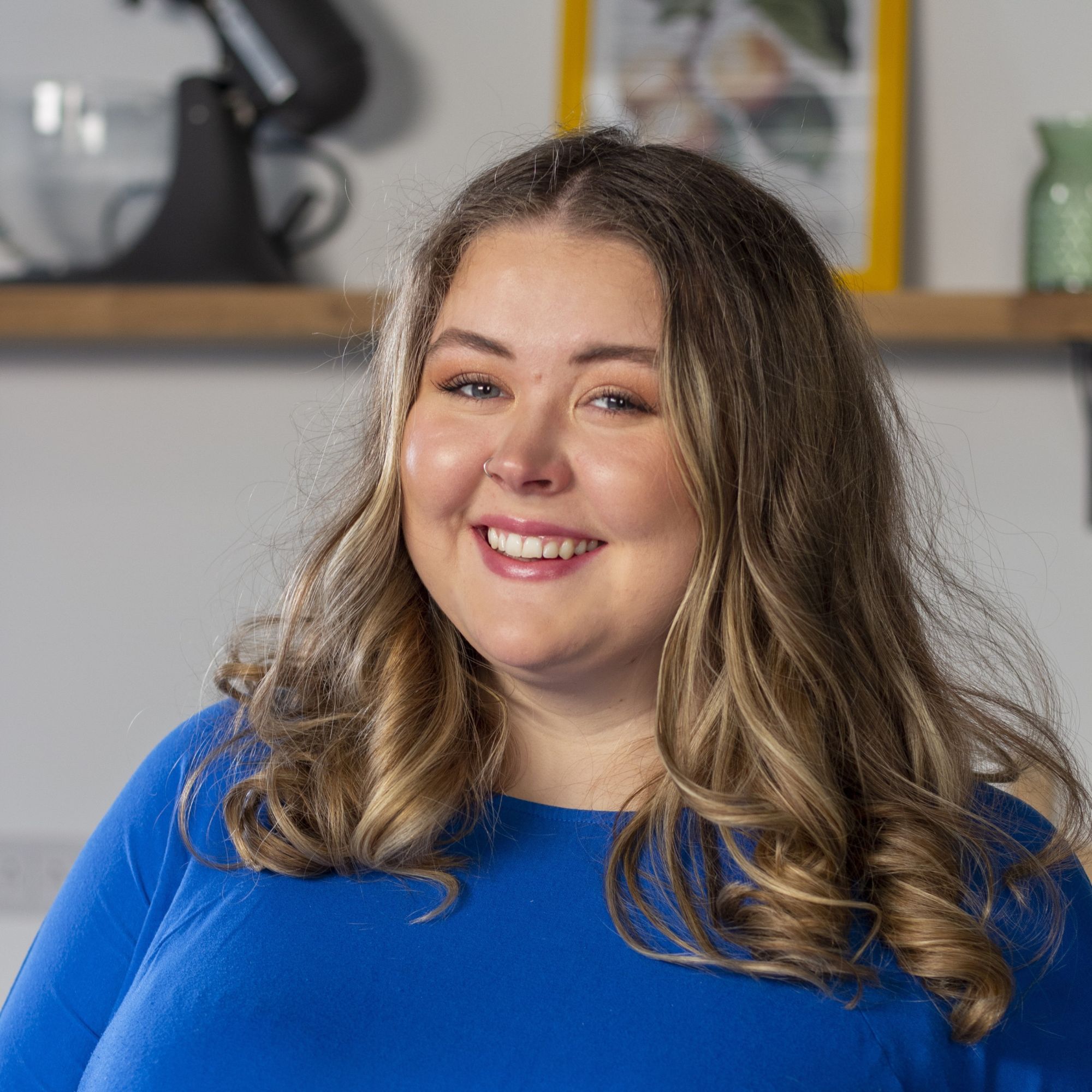 Millie Fender is Head of Reviews on the Homes and Gardens Ecommerce team. She specializes in cooking appliances, such as the best kettles, and also reviews outdoor grills and pizza ovens. Millie loves to bake, so she will take any excuse to review stand mixers and other baking essentials. When she's not putting products through their paces in our dedicated testing kitchen, Millie's reviews are conducted at home, meaning she uses these products in her own day-to-day life.