Blender vs food processor: which should you buy?
Which is better for you? A blender or food processor? This guide demystifies the differences, and pros and cons of each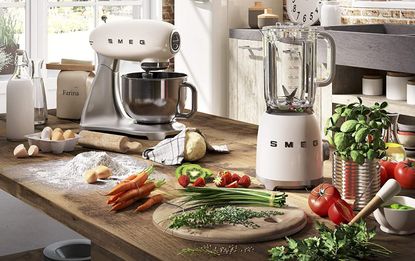 (Image credit: Smeg)
Sign up to the Homes & Gardens newsletter
Decor Ideas. Project Inspiration. Expert Advice. Delivered to your inbox.
Thank you for signing up to Homes & Gardens. You will receive a verification email shortly.
There was a problem. Please refresh the page and try again.
Wondering which will suit you more, a blender or food processor? Or perhaps you're not sure of the difference? And what are you missing if you buy one over the other? Both are designed to chop food, and both are capable of making light work of a wide variety of healthy recipes.
But each one is designed to serve different purposes in the kitchen and choosing what's right for your cooking habits will mainly boil down to your food preferences, and how complex your recipes tend to be.
In an ideal world, a well-equipped kitchen will have both appliances on hand and, as both machines excel at different tasks, we think it's well worth the investment.
However, if you have only got space in your kitchen for one, we'll guide you through the various pros and cons of each to ensure your next purchase is the smartest choice for you – and that you can pick the best blender and/or best food processor to suit your needs.
Blender vs food processor: what is the difference?
The key difference boils down to liquids vs solids. We go into more details of which is best for some of the most popular dishes and ingredients, but as a general rule:
Blenders are unbeatable when it comes to liquidizing and will pulverize fresh fruit and vegetables to make delicious and healthy smoothies, soups and sauces with ease. They often have built-in spouts to make pouring out your delicious concoctions a mess-free affair.
Many are designed so you can drink directly out of the canister you blend in, saving on washing up, and are often supplied with a lid for fresh smoothies on-the-go. Since you can throw ingredients in without peeling, they're speed demons, too.
Food processors on the other hand offer a lot more functionality, like dough making, grating, shredding and chopping at various speeds. They're less about the liquids – although they can do that too – and all about getting dinner on the table.
The mixing bowls tend to be bigger (unless you buy a mini model) and, while a food processor is a bit more labor intensive to set up, it will help you deliver a far greater menu range.
Blender vs food processor: which is healthier?
Blenders: A powerful blender will annihilate peel, pulp and pith to a drinkable smoothness, rather than throwing half your fresh fruit and veggies into the compost bin. It's often the skin that contains the most vitamins and nutrients, as well as fiber, which is essential for gut health and digestion, so eating them is really good for your health. This is a real bonus we discovered comparing juicer vs blender, too.
Food processors: By contrast, many food processors recommend an element of food prepping, primarily peeling and coring, before fresh ingredients are added to the machine. You can miss out on a lot of health benefits by processing rather than blending, but, on the flip-side, food processors can handle plenty of healthy ingredients like nut butters and seeds, that most blenders cannot.
Blender vs food processor: which is best for pro chefs?
Food processors steal the lead when it comes to chef-grade performance – think of them as a handy sous-chef for your counter. Depending on the attachments supplied, they can chop, pulse, slice, grate, puree, spiralize, kneed, whip and whisk their way around all manner of recipes.
They are less hot when it comes to liquids, especially hot ones like soup, which can spill out or seep through the lid unless done in multiple small batches. Some of the whizzier models, like Ninja's 3-in-1, include a separate blending jug attachment so you really do get the best of everything. If you're serious about cooking or just looking to be more adventurous about mealtimes, we'd recommend a multipurpose food processor/blender combo.
Blenders will blitz out a quick smoothie or soup and can be used to make dips and sauces. Some have crush or pulse buttons to regulate cutting power, but most are designed to produce super smooth results and are no good if you want chunky vegetable soup, for example.
Top-end blenders, like Vitamix, are capable of cooking all manner of dishes from scratch, including hot soups, frozen desserts and baby food, but normal blenders are far more basic, and specialise in velvety smooth results.
Blender vs food processor: which is better value?
Food processors: While you can buy reasonably priced food processors, there's often a pay-off in terms of quality and longevity. It's better to think of them as investment pieces and go for a reputed brand like Magimix, KitchenAid or Cuisinart. This will also make it easier to get parts should your appliance ever need to be repaired or attachments replaced further down the line.
Blenders are much easier to pick up at lower cost, especially if you keep an eye on Amazon's Lightning Deals and Prime Day sales. As they have fewer parts, there's less to go wrong or get damaged, so an inexpensive blender should carry a reasonable lifespan, and not end up in landfill before it's put in very good service. You'll often find the best portable blenders are the most affordable options.
Blender vs food processor: which is easier to use?
Blenders are by far the most straightforward to use. Simply add your ingredients and press go. They're also easiest to clean, with the part that gets the dirtiest going straight in the dishwasher (depending on model) – and the top half of immersion blenders are easily wiped clean with a damp cloth.
Cordless versions will take the annoyance of trailing cables out of the equation can be used anywhere in the kitchen, or even at your desk, not just where there's a socket to hand.
Food processors without lots more parts and attachments are rare to find and can rarely be used straight out of the box, without studying the instruction manual. It's also unusual to find a food processor that doesn't require at least some handwashing as many of the blades and strainers are not suitable for dishwasher use.
Fiddly cleaning is one of the reasons many people will reach for a mini food chopper for daily use, only dragging out the 'big' food processor when the amount of prep required justifies the time spent unclogging food debris from its many, many parts.
When to use a blender vs a food processor
Below, we take you through the most common recipes so you can see which might be best for you.
Blender vs food processor for pesto
A food processor is best for creating a pesto that has the consistency it should – like it's been hand-made with a mortar or pestle. A blender will, on the other hand, make it too creamily smooth.
Blender vs food processor for smoothies
A blender is best for making smoothies – if you love them frozen, look for one that works well when crushing ice or frozen ingredients. We reviewed the KitchenAid K150 3 Speed Ice Crushing Blender, and you won't be surprised to know it aces smoothies.
Blender vs food processor for hummus
A blender is best for hummus, assuming you like your dip creamy and smooth; a blender will also mean you won't be fishing out chickpea skins since it can take care of those easily.
Blender vs food processor for nut butter
A food processor is better for grinding hard ingredients like nuts, though if you want a really super creamy nut butter, a blender will do the job. If a blender can handle ice, it can handle nuts.
Blender vs food processor for salsa
Both a food processor and blender can handle the job of making a mean salsa, but if you are picky about consistency, you may find this differentiation useful: blenders will make salsas super creamy and smooth; food processors will give you more texture (think chunky guacamole vs soupy guacamole).
Blender vs food processor for soup
Simply speaking, a blender is a better option for items with a lot of liquid, like smoothies and soups. A food processor is best suited for foods that are mainly solid and require more labor-intensive handling, such as chopping and slicing
Blender vs food processor for baby food
We think a food processor is a more versatile appliance for baby food. 'When my kids were babies, I found my food processor more useful, not just for tackling a range of ingredients, but also because it allowed me to gradually make the food chunkier as I started to wean my babies on to solid food,' says Lucy Searle, Editor in Chief, Homes & Gardens. 'My blender is still great for making them smoothies, but there was only a limited time that they were on very soupy baby food. Once that period was done, it was food processing all the way. If you have the space and can afford both, I'd go for it!'
Blender vs food processor for puree
A blender is the best buy for making purees; like soup, it can be made in a traditional blender but immersion blenders will work really well, too. As ever, ensure the bowl you use is deep so that the puree doesn't splatter everywhere.
Blender vs food processor for coffee beans
You can use both a blender and a food processor to grind coffee, though obviously you might like to check out our list of the best coffee grinders, since these will give you the best results. If you only have room for one appliance, look for one with a 'grind' or 'pulse' function.
Blender vs food processor for meat
A food processor is always better for ingredients that are solid and not intended to be soupy, so will be much better for chopping meat.
Blender vs food processor: which do I need?
While it is definitely a matter of personal preference, we think a blender is the way to go if you are a smoothie fiend or juicing goddess.
Anyone plotting their place on MasterChef should invest in a food processor, preferably one with an attachable blender.
Sign up to the Homes & Gardens newsletter
Decor Ideas. Project Inspiration. Expert Advice. Delivered to your inbox.
Linda graduated from university with a First in Journalism, Film and Broadcasting. Her career began on a trade title for the kitchen and bathroom industry, and she has worked for Homes & Gardens, and sister-brands Livingetc, Country Homes & Interiors and Ideal Home, since 2006, covering interiors topics, though kitchens and bathrooms are her specialism.